Recently, we dispelled a handful of desintation wedding myths that deter some people from pursuing their dream Mexico ceremony. Registering at #1 on our list, "They're too expensive" was immediately debunked, considering the all-inclusive wedding packages that most wedding resorts offer. Yes, complimentary wedding benefits are stellar budget savers. But what if you want to save even more money on your wedding? Look no further than Mexico's economical wedding resorts.
What constitutes an economical wedding resort? Along with cheap, yet impressively elegant wedding packages, a stay at one of these budget-friendly resorts can cost anywhere between $80 to $130 per night. Now, that's a bargain. Delivering a glorious tropical experience while not breaking the bank, Mexico's economical wedding resorts are perfect for newlyweds and guests who desire a frugal, yet lavish destination wedding. Of the vast selection of economical wedding resorts in Mexico, we have narrowed the options down to a concise list for you to digest and bookmark:
Occidental Tucancun Weddings
Cancun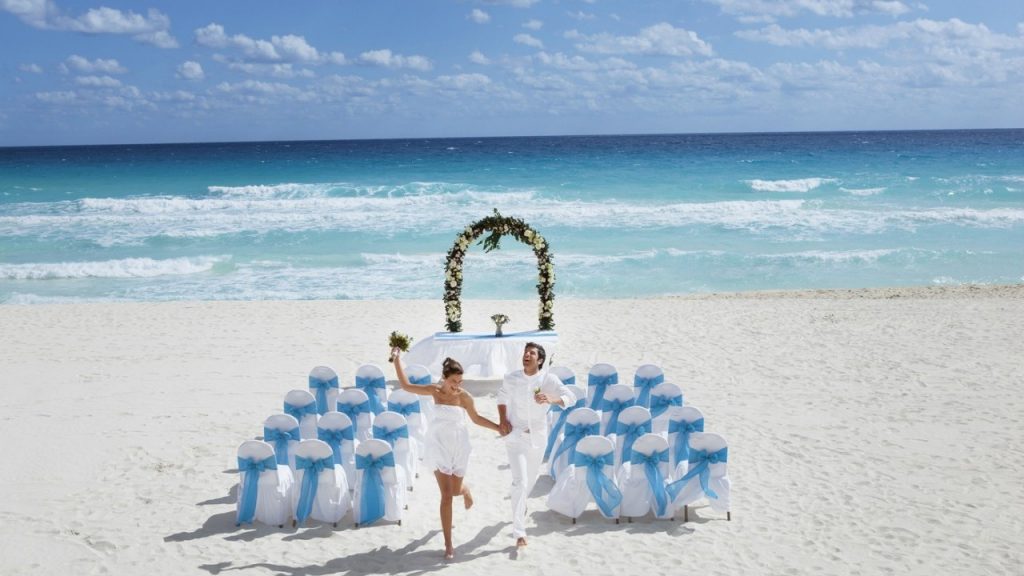 Occidental Tucancun
The first stop of our tour brings us to the lovely sun-soaked resort hub of Cancun and its opulent gem Occidental Tucancun. A family-friendly resort that offers an all-inclusive stay and multiple customizable wedding packages, the Occidental Tucancun provides 2 gorgeous venues capable of accommodating between 100 to 200 guests. Towards the higher end of the economical rate, the average price per person per night is $100-$125. Boasting endless nightlife and shopping options in the nearby Kulkulkan shopping area, the resort is optimal for wedding parties seeking a budget-friendly, all-inclusive Caribbean experience.
Allegro Playacar Weddings
Playa del Carmen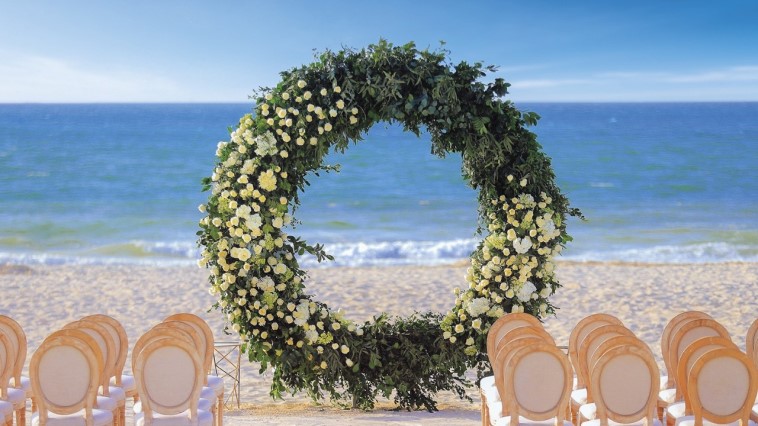 Allegro Playacar
Just a short drive 15-20 minute drive from Cancun, Playa del Carmen offers an unparalleled contemporary tropical retreat. Considered one of the more luxurious regions of Riviera Maya, Playa del Carmen's resorts, though immaculate and perfect for some, can hurt a couples' budgets. Allegro Playacar represents an idyllic candidate for this aforementioned budget. An Allegro Playacar wedding can not only supply a complimentary wedding package but also guarantee a pristine vacation for you and your guests, all at a rather manageable rate.
RIU Santa Fe Weddings
Los Cabos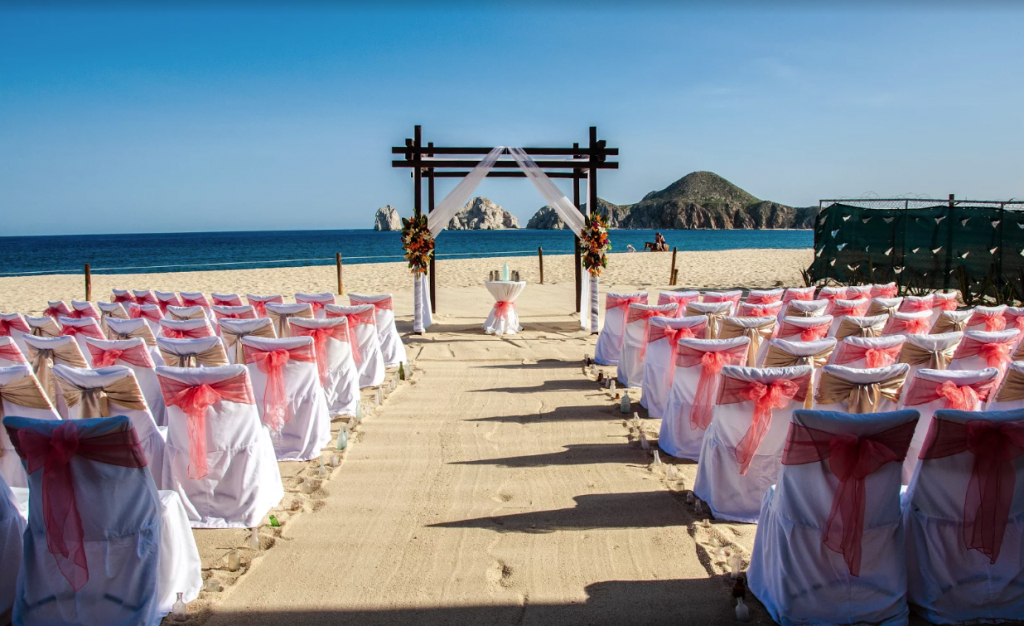 RIU Santa Fe
Utter the phrase "Cabo" and you'll most likely get one of two responses: "YES, best spring break place EVER" or "I wish I had enough money to visit." Fortunately for couples seeking an inexpensive destination wedding at this oceanfront haven, RIU Santa Fe can deliver the quintessential Los Cabos ceremony while saving you and your guests a few dollars. What qualifies the beachside resort as an effective economical destination wedding resort is its expansive selection of affordable wedding packages and a plethora of accompanying exclusive amenities. Whether you're celebrating your special day on the sea breeze-kissed beach or under an intricately crafted wooden gazebo, RIU Sante Fe will ensure a quality, refined destination wedding.
Villa del Palmar Beach Resort Weddings
Puerto Vallarta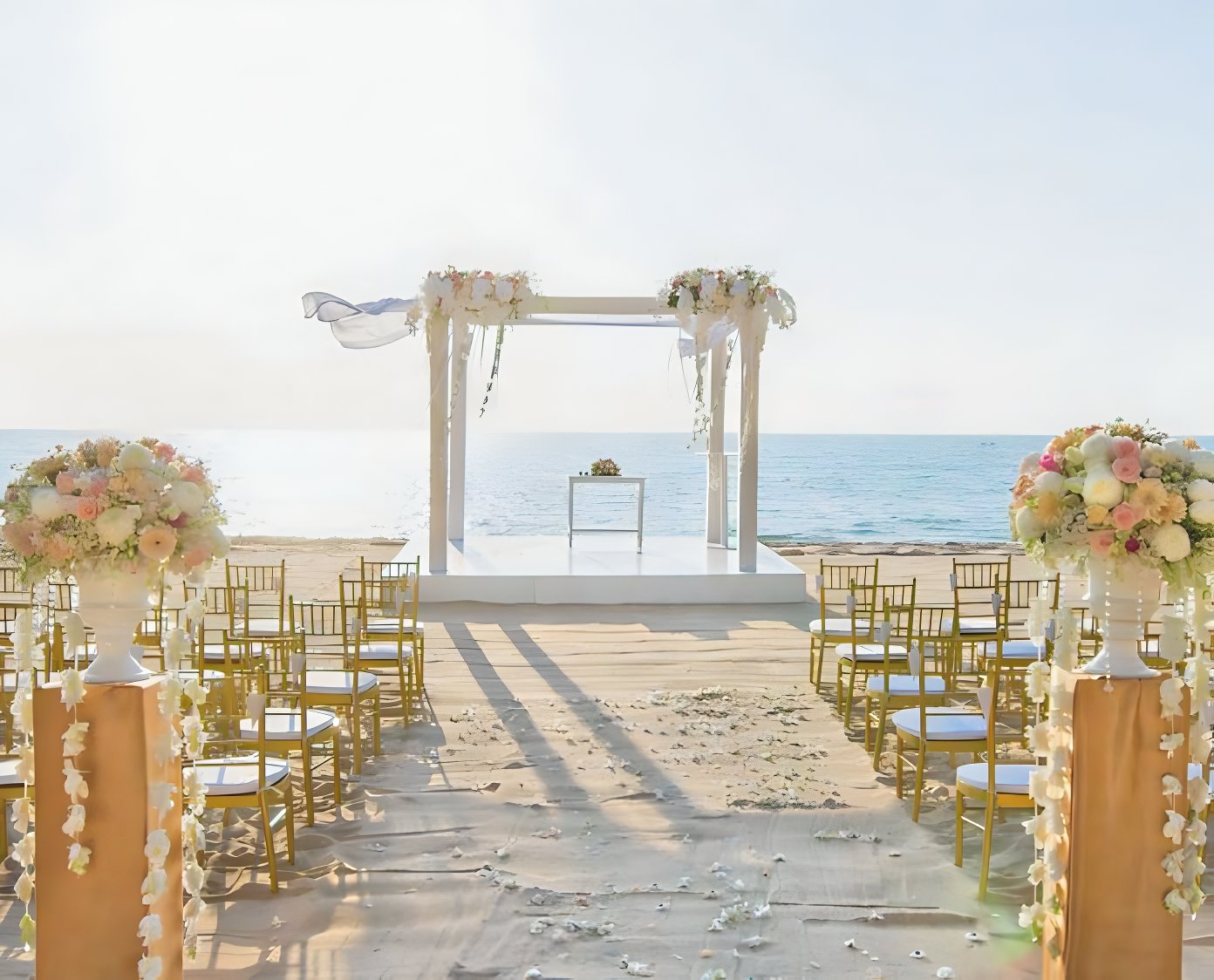 Villa del Palmar Beach Resort
Situated a convenient 10 minutes from the Puerto Vallarta International Airport, the Villa del Palmar Beach Resort provides a tropical oasis infused with gourmet restaurants, adrenaline-pumping outdoor excursions, and Zen-laden wellness facilities. With complimentary wedding accommodations, as well as a variety of incredible packages (available at an additional cost), Villa del Palmar Beach Resort weddings are devoted to providing your dream Puerto Vallarta ceremony. Considering the resort's entry-level package instead? Villa del Palmar Beach Resort's entry-level package is one of the least expensive offers featured amongst our hotel options.
Some destination wedding resorts might be unrealistic for specific couples, and that's okay. The worst thing couples can do during the planning process is overestimating their budget. However, an additional lineup of resorts including our highlighted properties can ensure an inexpensive final bill, while providing the destination wedding of your dreams.
Want to learn more about our expansive variety of inexpensive destination wedding resorts? Learn more about the perks of free wedding packages or follow the button below to estimate your ceremony's cost and discover the perfect resort for your budget: