Price Matching
At Destify, we pride ourselves on being able to offer our clients the lowest rates available. That's why, if you've found a lower room rate than that which we've offered you, we are happy to price-match.
Price matches are not guaranteed, but please understand that every effort will be made to honor your request to get you the best possible rate. We reserve the right to deny the request if it does not meet our Price Matching terms and conditions. Once a price match has been confirmed and validated, any additional changes or modifications will be subject to the current rates. Any requests sent after hours or on weekends may take up to 48 business hours to process.
Please note, we can only match room rates and transfer costs. We cannot match insurance or special promotional add ons such as offers for resort credits, honeymoon packages, etc.
When can I submit a price-match?
You can price match within 24hrs after submitting your booking/deposit with Destify, as long as it is more than 20 days prior to your travel date.
If price matching after 24 hours, the initial deposit of $150 per person will be lost and added as a fee to your new reservation. 
**Any price match submitted after final payment date will not be permitted.
Only one price match per reservation will be approved.
Make sure the following criteria are met when you are considering price-matching your rate:
It is within 24 hours of making your original booking with Destify, and more than 20 days prior to your travel date.
The lower rate you've found includes the exact same elements (room category, number of travelers, resort, dates, airfare, etc.) as that which you booked.
Your reservation was not made as a part of a contracted group or room block.
The lower rate you've found is not exclusively for members of a specific organization, group, or loyalty/rewards program (examples: Expedia Rewards, Priceline VIP, timeshares, resort brand membership programs, AAA, Military discounts, senior discounts, etc). We also cannot match any "Deal of the Day" or similar rates offered by some websites.
The lower rate you found is not a non-refundable or semi-flexible rate (must be refundable or "flexible")
The lower rate you found is taken from a desktop site – not on a mobile device.
The lower rate you've found is from one of the following US based companies or websites:

The resort direct website
Expedia.com
Orbitz.com
Priceline.com
Hotels.com
Cheapcarribean.com
Travelocity.com
I've met the above criteria, how do I submit a price-match request?
Step 1: Create your reservation on the group website and submit your deposit. Price Matches will not be approved until the deposit has been submitted.
Step 2: Reply back to your "Deposit Payment Confirmation" email (automatically received after your deposit is placed). The reply must come from one of the guests on the reservation to be price-matched. Price matches cannot be submitted on behalf of other guests. Make sure you reply within 24 hours of submitting your deposit and attach a screenshot of the price you found including all of the information below:
Total price with taxes and fees included (Final "checkout" page)
Resort name
Room category
Dates of Stay
Number of travelers *
Current date and time **
URL address
Add-ons, such as transfers, if applicable.
*On some sites, including www.Priceline.com, an additional screenshot showing the search parameters and results will be required if this is not included in the final check out page.
** Please note: If more than one screenshot is required to show all of the necessary information, all screenshots must have the current date and time stamp from the computer visible.
Step 3: A Guest Services Specialist will contact you regarding the approval of your price match inquiry.
Additional Requirements for Price Matching with Airfare:
If you are price-matching a package that includes airfare, the screenshot(s) must also include the following for both the departure and return flights:
Airline name

Note: We cannot book or match packages split between multiple airlines (departure and return flights must be on the same airline).

Departure and return airports
Flight time
Flight numbers
Class of service (economy, coach, first class, etc.)

Note: We cannot book or match Basic Economy flights.

Some websites (Expedia, Orbitz, Hotels.com, Travelocity and more) will require additional screen shots. Please make sure to send over the pages showing the trip details, which include the flight details showing the class of service and the final cost page of the reservation. Please click on "Next: Final Details" and include that final print screen as well.
Example of a valid price-match screenshot (necessary elements marked in red):
How to Screenshot for Window OS Or Mac OS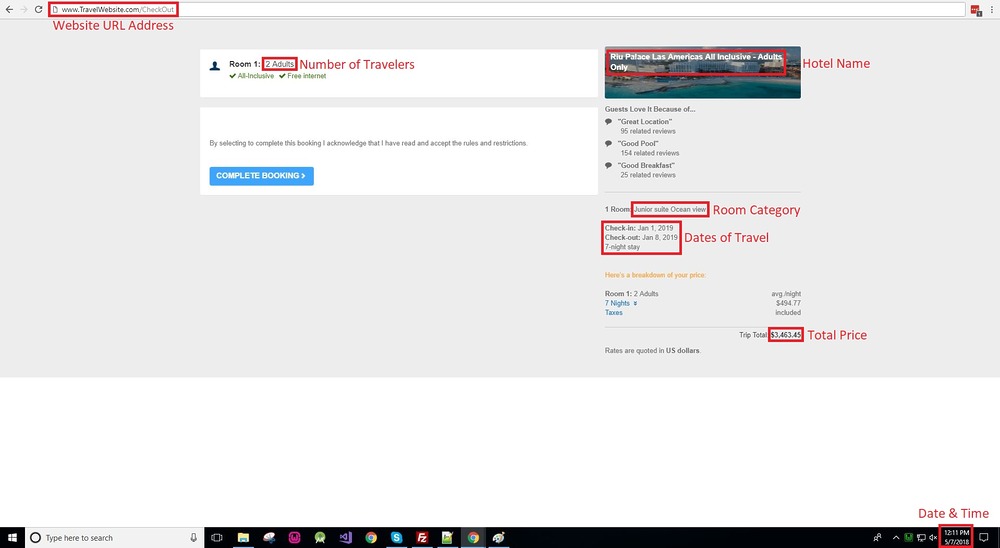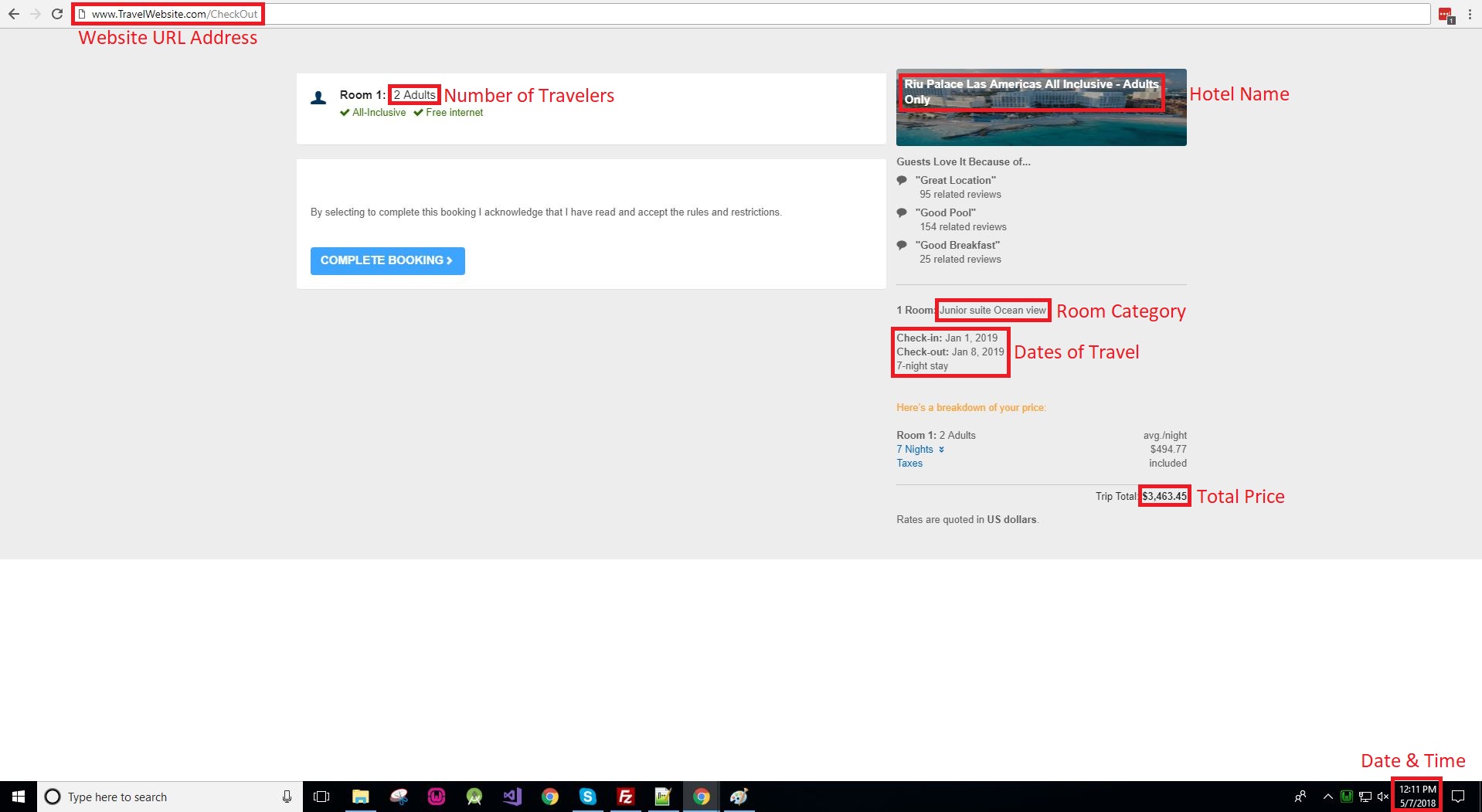 I've booked my stay and want to make a modification, what happens to my price match?
Price matching can only be done at the time of booking. If you have already secured your reservation with a Price Match and now want to make a modification, you will lose the price matched rate and your reservation will be adjusted to the current pricing at the time of the modification.
I've booked my stay and found a lower rate online, can I still price match?
Price matching can only be done at the time of booking. If your reservation has been secured for 24+ hours, we would need to cancel your current reservation, resulting in a loss of the initial deposit amount. Then, we will help you create a new reservation, place a new deposit and submit your price match.
I've booked my stay WITH INSURANCE and found a lower rate online, can I price match?
We are only able to price match the room rate and comparable transfer costs – we cannot match insurance offered by another site/carrier, because coverage varies between policies/providers.
Price Matching can only be done at the time of booking when the initial deposit is placed, and must be completed within 24hrs. If you would like to price match after securing your booking, we would need to cancel your current booking which would forfeit the insurance you purchased on the reservation. If you wish to still have insurance, you can repurchase it on the new reservation at 75% of its original cost.
Please note that in order to confirm the price match with insurance you will need to submit the new insurance payment within 24 hours of when your price match is approved. This does not apply to bookings with insurance purchased through a third party (e.g. TravelGuard).
Additional Information to Note:
Price matching is not allowed for groups with contracted rates.
Some restrictions may apply (i.e. basic economy flights, non-refundable rates, special promotions, booking window too close to travel).
Price matches are only approved at the time of making the original booking. If you need to make any modification to a price-matched reservation, you will be subject to the current rate and any price match will be forfeited.
Price matches with a $1,000 or 40% differential or more of current price are subject to further review and are not guaranteed.
Destify may decline a price match request due to reasons above and beyond our control."