The wedding industry is a business like any other but luckily involves the process of uniting couples, and their families, in love. There are many sectors of the wedding industry, from caterers to event planners, with perhaps the largest growing sector being destination weddings. There are two defined benefits to destination weddings that are attributing to this rise in popularity: lower costs and ease of planning. Now, of course, these factors may not come into play for every couple. Some choose to host large and extravagant destination weddings, but for the average pair, these are two great perks.eat perks.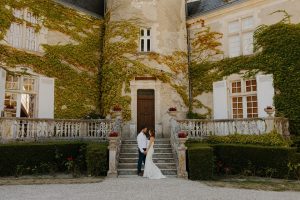 A Sample Destination Wedding
Modern Times
It might be helpful to think about destination weddings as a segment of the wedding industry. Dresses and cakes can be considered their own segments as well. Couples may prefer destination weddings over a traditional wedding because they can combine many of these aspects into one easily digestible process. There are typically fewer services you must utilize. For example, a destination wedding service may simply have a travel agent to ensure the lowest rates and to assist with guest reservations, and an on-site coordinator to help plan your wedding decor and events.
A wedding research resource from the Library of Congress estimates that 1 in 10 U.S. weddings are now destination weddings, "a massive increase over the last decade". Americans today are well-traveled and happy to see visit new places. They consider a destination wedding as something more exotic. Past labels for destination weddings include "elopements", but that is simply not a fair assessment for modern times, not to mention that gives a negative connotation to elopements, which are not always the case either.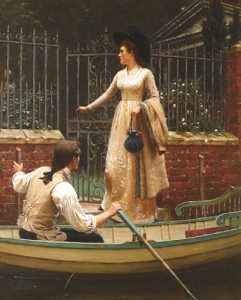 "The Elopement" by Edmund Blair Leighton
A Brief History
But maybe elopements are a great entry point for looking at the history of destination weddings. An elopement is defined as a wedding ceremony performed in secrecy and is often considered a common way to dodge complications with families. Most can recall seeing a scenario of an elopement that didn't quite work out through television or dramatic movie, often ending in a tragic reveal to the very people the couple was hiding from. It could be true some choose elopements for parental opposition or an unexpected pregnancy but that's not always the reason. The other truth is, some couples choose elopements as a way to wed quickly, to make their marriage a part of a vacation, or even to avoid costly expenses for themselves or their families.
Celebrities have likely played a part in raising awareness for destination weddings too over the years. Many famous couples have gotten married in intriguing places. From Keith Richards and Patti Hansen in iconic Cabo San Lucas to more recently Kanye West and Kim Kardashian in Florence, Italy. Celebrity weddings in foreign places draw in huge amounts of press from international media outlets, and mimicking it on a much smaller and more affordable scale can be exciting for your average couple.
This is where the Caribbean has really come to the forefront of the destination wedding market. During the 60s, the Caribbean began transitioning first into a celebrity destination rather than to a destination with resort options most anyone could afford. So too did tourism grow, from an increase in water-related activities (snorkeling and scuba diving) to world-class golfing opportunities. Parallel to this grew the Mexican vacation market, with hot destinations including Acapulco and spring-break haven Cancun.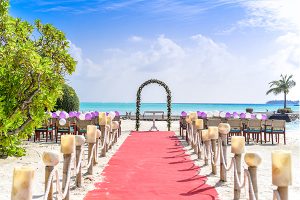 A Sample Caribbean Wedding
Growth In Popularity
Today's Caribbean and Mexican locations offer a tremendous amount of hotel rooms to accommodate any budget, while offering unique beach settings you can't find stateside. The popularity really gained traction during the United States' recession in 2009. These new levels of economic stress allowed for the destination wedding market to grow in order to meet the demands of a couple regardless of their budget.
In conjunction with this the all-inclusive market has grown substantially. Most guests want as much bang for their buck as possible, and a major perk of booking an all-inclusive resort is that you have the majority of your costs visible from the start. Since they were both growing at the same time, the all-inclusive market and destination wedding market have formed their own pair, combining into a unified front with resorts now having their own dedicated wedding departments. Their goal is to offer a memorable wedding, with savings and included food, drinks and entertainment serving as the fuel to bring in customers.
What compliments do wedding couples typically give about our resort? Great food and service, amazing views, outstanding staff, and being stress-free! What would be my favorite part of a destination wedding? That a wedding becomes a vacation with all of your family and friends!
How It Benefits You
Other than the ability to keep costs low, the Caribbean and Mexico offer a wide variety of appealing landscapes and cultures. In Mexico, you have the stunning cliffsides of Cabo and the variety of Mayan Culture to explore along the Eastern coast. The Dominican Republic has endless pristine beaches amongst multiple colors of sand. The Reggae vibes of Jamaica just may be something you wish to take home with you. When you get into the smaller locations, such as Aruba or St. Martin, you will find stunning settings paired with the friendliest of locals. All promise their own kind of get away from reality and make for ideal wedding venues.
Over everything, the big draw for destination weddings appears to be the time it allows you to spend as a couple or with close family and friends. Sure, it provides numerous routes to save a bit of money, but it also extends a wedding beyond the one "big day". Numerous couples seem to find as much joy in spending a vacation with their guests as they do in their actual ceremony, and guests generally find the entire experience exciting. With a beautiful beach as the one constant for the duration of your wedding, many will agree a destination wedding is a perfect decision.