Cancun has some of the best all-inclusive resorts for destination weddings.
Known for its world-famous Hotel Zone, Cancun is one of Mexico's premier destinations. Unbeatable tropical climates meet clear, shallow waters, lush jungle plant life, and exciting downtown nightlife.
No wonder we've sent thousands of couples to Cancun for their fairy-tale destination weddings!
The gorgeous backdrops and all-inclusive amenities at the luxury resorts make for an unbeatable combination that our couples and their guests flock to!
We're here to highlight 5 of the best Cancun wedding resorts!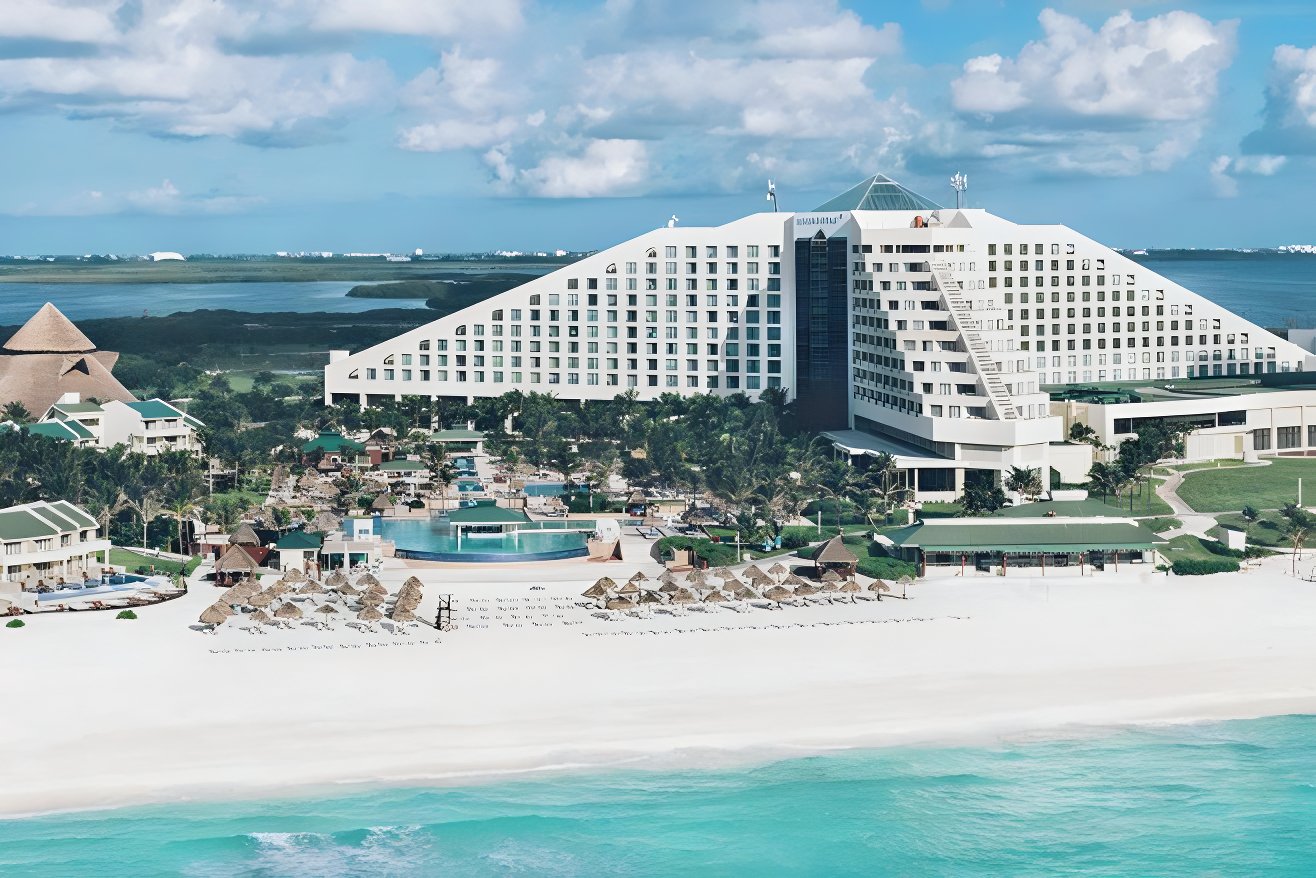 Iberostar sets the gold star standard for Cancun destination wedding resorts. The brand has been operating for many years and is consistently one of Destify's and our couple's favorite properties. 
Iberostar Selection Cancun is no different. The resort offers breathtaking views of Nichupte Lagoon, an opulent golf course, the nearby Cancun Mayan Museum, the Aqua Fun kids club, and 6 gourmet restaurants, including the Italian Trattoria La Horma.
The resort's pyramidal design is among its most distinctive features. This unique structural style gives all of the suites ocean views, guaranteeing breathtaking sights of the sun setting against the perfect blue waters of the ocean.
Big days at Iberostar Selection Cancun are equal parts affordable and attractive. With wedding packages ranging in price from $999 to $2,899, weddings at Iberostar Selection Cancun are ideal for couples on a tight budget.
The resort's affordable wedding venues are simple yet elegant. Their white sand beach is the perfect backdrop for the ideal 'beach wedding,' and has been the location of hundreds of our couples' special days.
For something a little more secluded, try their Garden venue. This vast, lush space can host up to 300 guests and is surrounded on all sides by the local verdant plant life.
Resort Features:
24/7 room service
7 Bars 
5 Restaurants
3 Pools
Star Camp children's activity program
Splash pool
Mayan Barrier Reef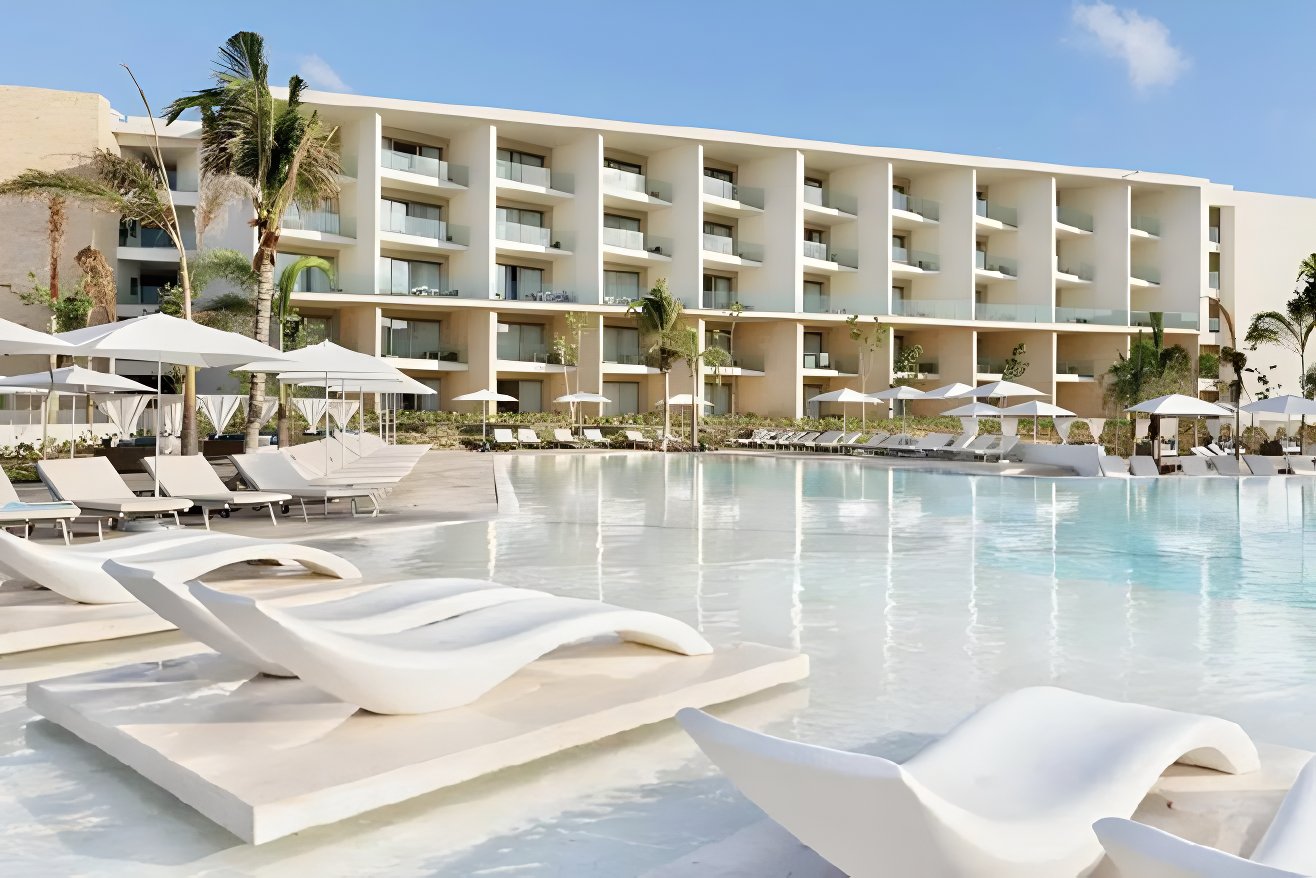 Grand Palladium Costa Mujeres is a gorgeous and sprawling ocean-side oasis and another ideal resort for couples and guests on a budget.
This resort option is especially engaging for large family groups with children. The Family Selection service provides baby, kid, and teen clubs, and facilities with themed activities aimed to keep the kids interested and delighted while their parents kick back and get some well-deserved R&R.
Children aren't the only ones who may have fun at this resort; the bustling Village Zone is home to chic boutiques and exquisite dining establishments. Active travelers may conclude their nights at the Eclipse Sky Bar, toasting their drinks beneath the Caribbean night sky, after days spent swimming in the pool or wandering on the white-sand beaches.
There are several gorgeous venues offered at this idyllic property, such as the Deck in the Village or the Deck by the Beach. 
More than anything, Grand Palladium Costa Mujeres is known for its fantastic and customizable wedding packages. Award winning party planner Karen Bussen designed these offerings as excellent starting points for couples' destination weddings.
4 of these packages, 'Evermore,' 'Bliss in Bloom,' 'Timeless,' and 'Waves of Love,' all start at $2,690 and feature different pallets, aesthetics, and vibes.
Grand Palladium Costa Mujeres is one of our favorite and best Cancun wedding resorts because it brings a high level of customization and luxury to couples on a tight budget.
Resort Features:
24/7 room service
15 Bars 
8 Restaurants
5 Pools
Modern convention center.
Incredible amphitheater with 180 degree visibility.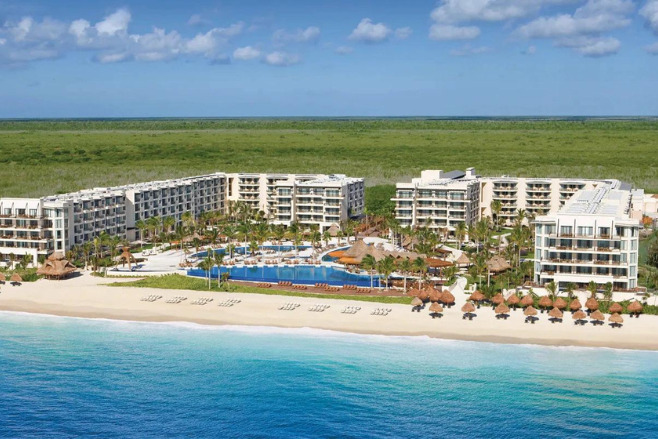 AMR brand properties, like Dreams Riviera Cancun, are one of Destify's favorite resort partners. In fact, 30% of Destify weddings take place at AMR brand resorts!
Why all the AMR love? 
AMR resorts bundle fantastic properties, all-inclusive amenities, and wedding packages that fit multiple budget ranges.
Dreams Riviera Maya has quickly become the cream of the AMR crop. It has a series of newly built suites with unique colonial-inspired design schemes, 6 gourmet restaurants, daytime cooking classes offered at the leafy Chef's Garden, and several elegant venues for your ceremony and reception. 
We especially recommend tying the knot at the Ceiba Tree venue. This green, intimate space features the namesake Ceiba tree. It was considered the most sacred tree in ancient Mayan cultures and symbolized the universe.
This unique, sacred locale is a great way to honor the local culture that this luxurious resort is built atop and to tie the knot in a lush, natural wonderland. 
Resort Features:
24/7 room service
6 Bars 
9 Restaurants
3 Pools
On a white-sand beach with relatively calm waters.
Airy rooms all offer private balconies.
Tasteful room decor, with teak wood and marble floors.
Marble bathrooms have separate showers and Jacuzzi tubs.
Beautiful indoor/outdoor spa has Jacuzzis and plunge pools.
Modern fitness center with a Pilates/cycling studio.
Kids' club and plenty of daily activities.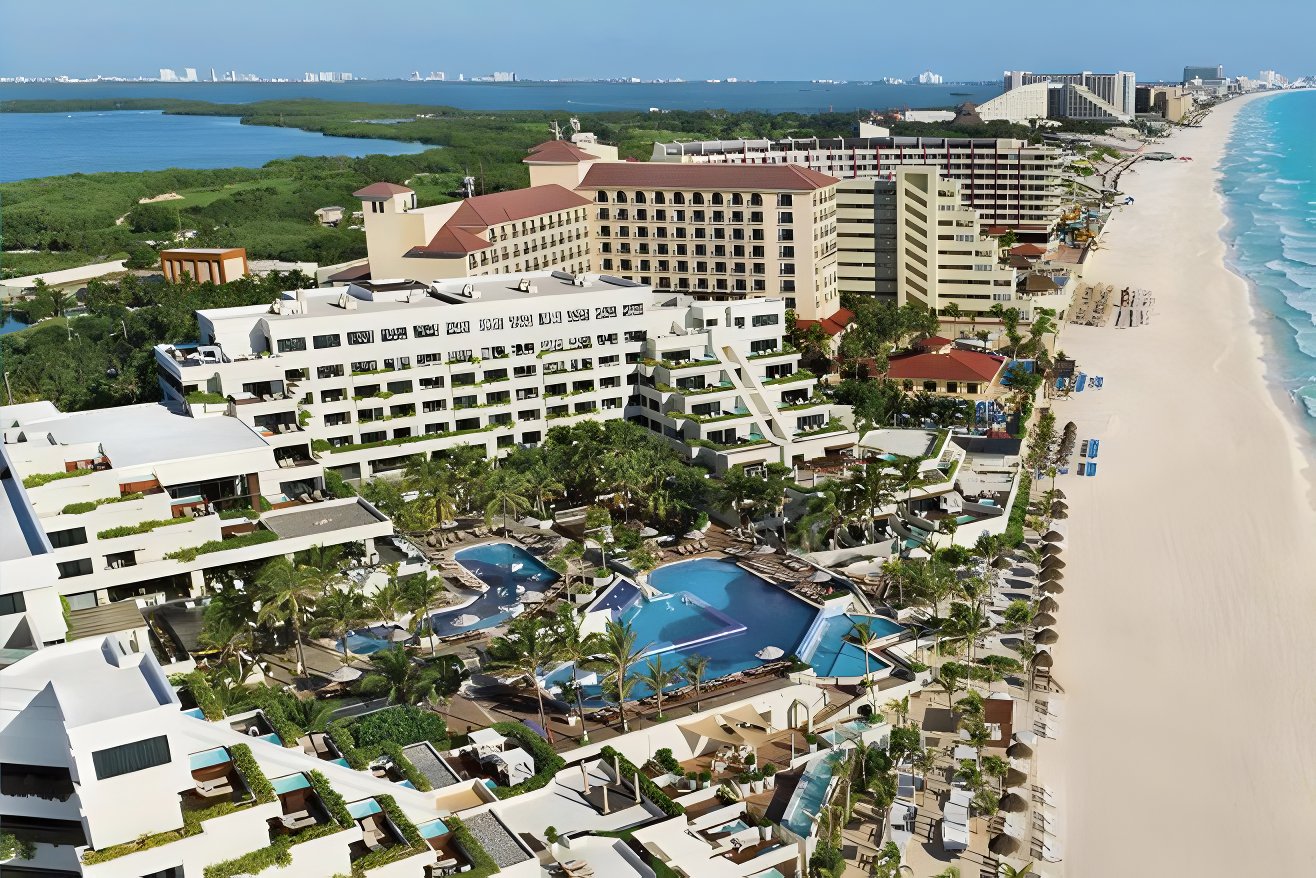 Ready to slip the diamond ring on your finger at this sparkling gem of an all-inclusive Cancun destination wedding resort?
Now Emerald Cancun is another fantastic AMR property that gets its green name from the surrounding jungles and nature. 
This resort combines that natural beauty with modern amenities like a stylish golf course, a kids' activity club, three heated pools, a contemporary fitness center, and much more. 
Now Emerald Cancun is also popular with our couples because of their affordable wedding packages. Ranging from $999 to $3,799, these packages give couples everything they need for a destination wedding without compromising on luxury. 
We recommend their highest-priced offering, the 'Divine Wedding' package. At $3,799, it offers several bonus inclusions that make the higher price point worth it, such as complimentary photography and video of your ceremony, Swedish massages for couples, a dedicated on-site wedding planner and wedding coordinator, and tons more. 
Resort Features:
24/7 room service
7 Bars 
8 Restaurants
3 Pools
This stunning property is the perfect mix of natural beauty and modern luxury.
A 13-minute drive from Cancun International Airport.
Beautiful white sand beach.
With adults-only pool designated areas.
Fitness center & evening entertainment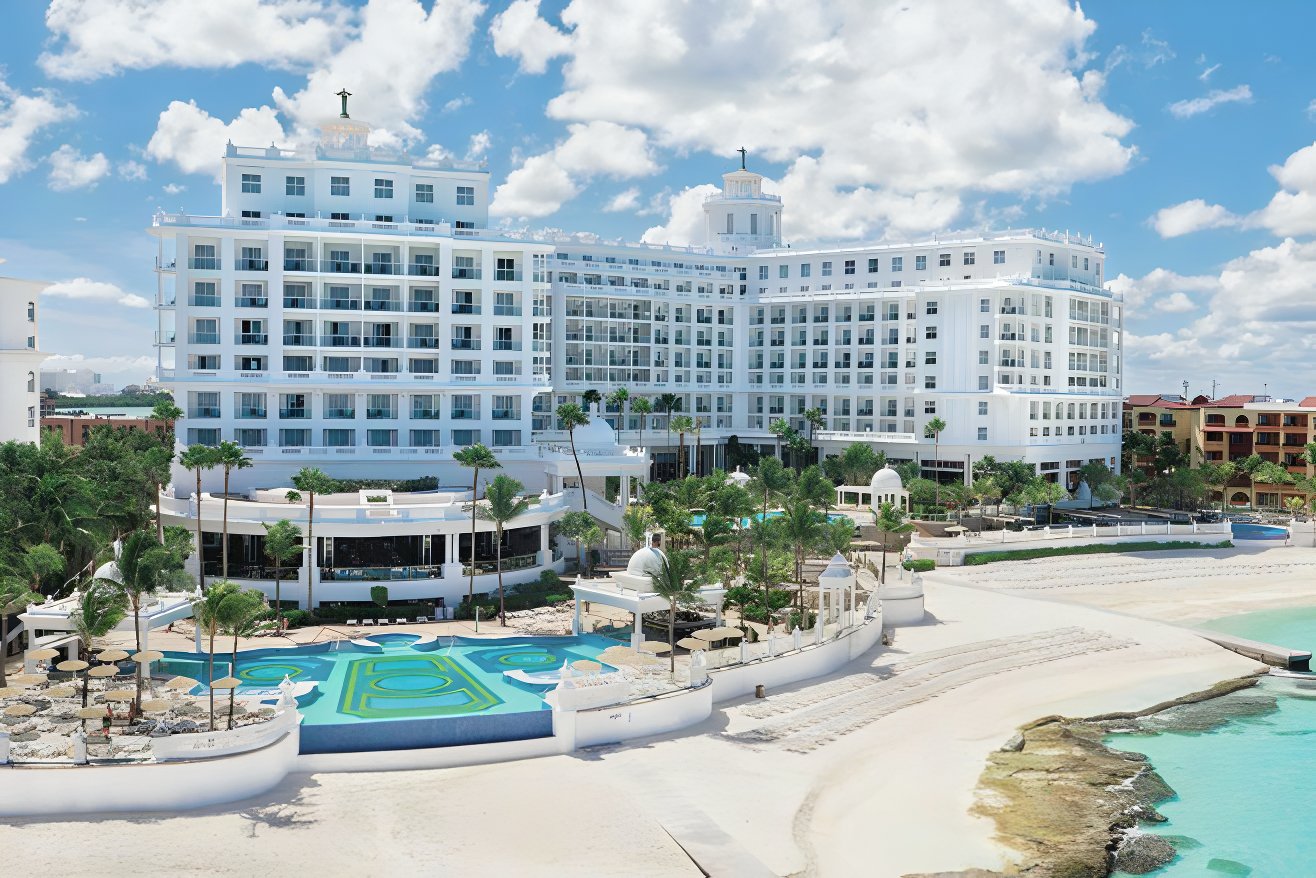 Put your crowns on and prepare for a royal experience at this palace.
The adults-only Riu Palace Las Americas is another flexible and budget-friendly all-inclusive wedding resort. (sensing a theme here about which resorts we love sending our clients to?)
Newlyweds should take advantage of the candlelit open-air dining options, with food options ranging from fusion, Italian, Mexican, and Japanese. This gourmet romantic experience is the ideal way to have your first dinner together as a knot-tied couple. 
After dinner, stroll to the newly built Lounge 24 or Capuchino. These boutique spots serve up treats, ice creams, and pastries perfect for hand-in-hand walks lit by the moonlight. 
Several excursions are available if the resort's abundant grounds aren't thrilling enough for you and your wedding guests. We highly recommend a trip to Chichen Itzá's Kukulkán Pyramids. 
These almost ten-century-old Mesoamerican structures should be on every traveler's "must-see" list!
Resort Features:
24/7 room service
5 Bars 
7 Restaurants
2 Pools
Adults-Only
Bathrobe in the guest rooms
International drinks with top brands
Speciality wine list (additional charge)
Romantic open air dinner (additional charge) 
Get Ready to Book Your Dream Wedding Today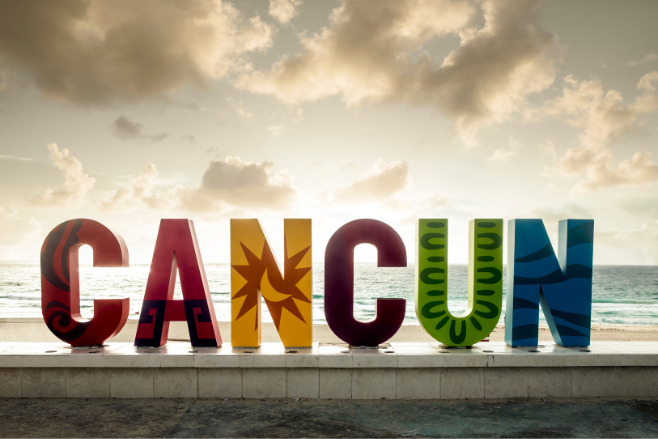 Have you fallen in love with these Cancun all-inclusive destination wedding resorts? 
We aren't surprised!
After planning thousands of weddings at these Caribbean Sea shores, we can't recommend a Cancun destination wedding any higher!
Make your Cancun dreams a reality and talk to one of our wedding experts today!