Cabo San Lucas is known for being a social and cultural hub of Baja California, as well as a stunning location for a destination wedding. With the Pacific Sea and the Sierra de la Laguna mountains' close proximity to the city, this is one of the most unique wedding destinations in all of Mexico. While it's a great thing that there are many superb resort options in Cabo San Lucas, it can make the process of narrowing down your venue choices a bit challenging. At Destify, we want to give you all the insight you can get during your wedding planning so that you can find the proper location that is going to provide you with your dream wedding experience. For today's blog post, we'll be breaking down the Best 5 Cabo San Lucas Wedding Venues.
Breathless Cabo San Lucas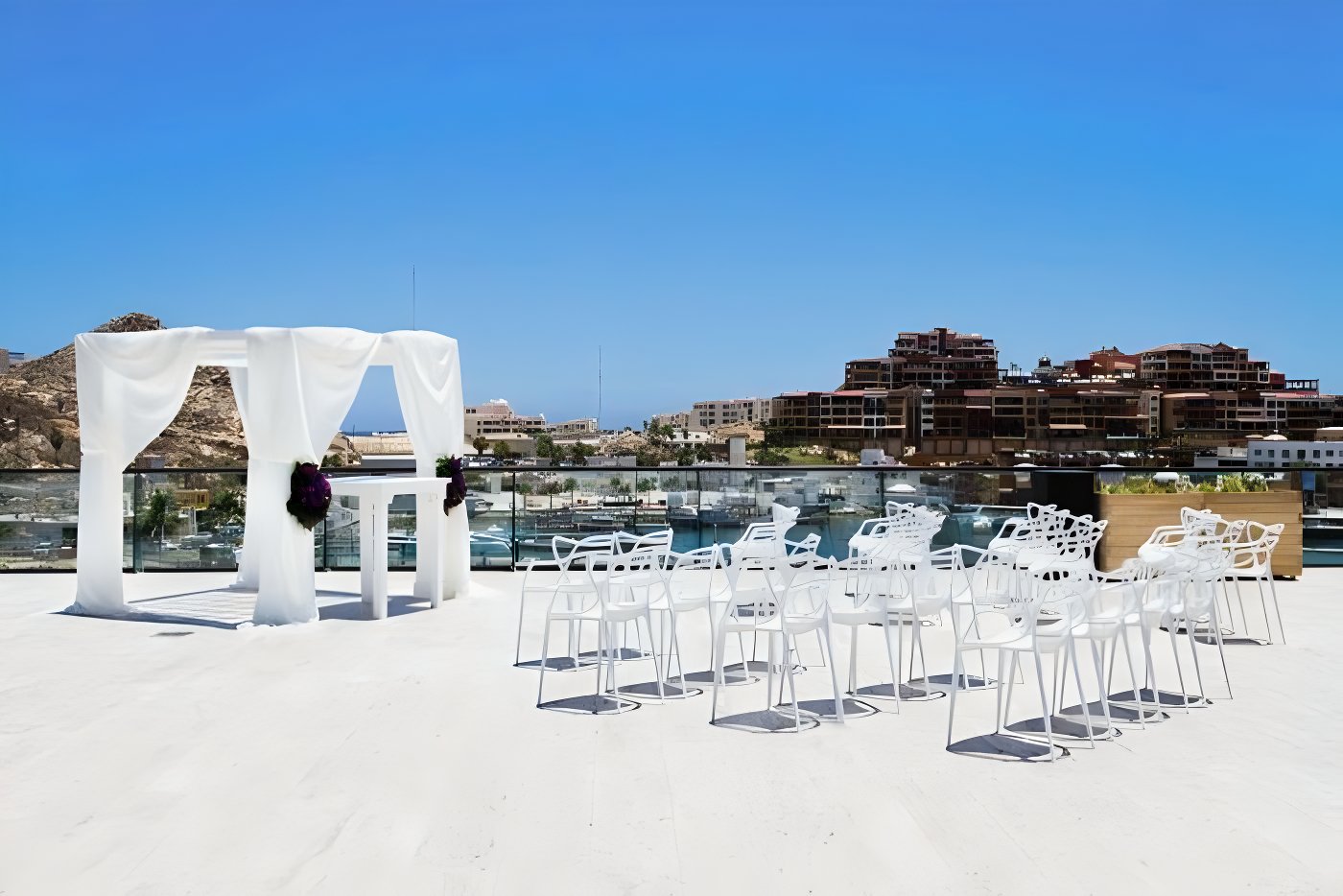 Breathless Cabo San Lucas
Kicking off our list is Breathless Cabo San Lucas, which sits on the edge of El Medano Beach at the tail end of the Cabo San Lucas boardwalk. El Medano is the most swimmable beach in Cabo, which pairs well with the active and social vibe of the property. Another plus is that as an AM Resorts preferred partner, Destify is happy to offer additional amenities to couples at Breathless, including breakfasts in bed, discounts on spa treatments, and romantic dinners free based on your group size.
The wedding ceremony venues at Breathless Cabo San Lucas are among the best you can find in Mexico as well as the rest of the Caribbean. While beaches are beautiful yet largely unswimmable due to currents, Breathless has gone above and beyond in creating and maintaining three terraces, each of which is stunning and elegant in its own right. The poolside terrace is spacious and can accommodate up to 120 guests, the Senses terrace is chicer and holds up to 60, and the marina view terrace is the most intimate and seats a maximum of 30 guests. Each terrace offers spectacular views of the Pacific Sea, the cliffs that graze the shores, as well as the city of Cabo San Lucas.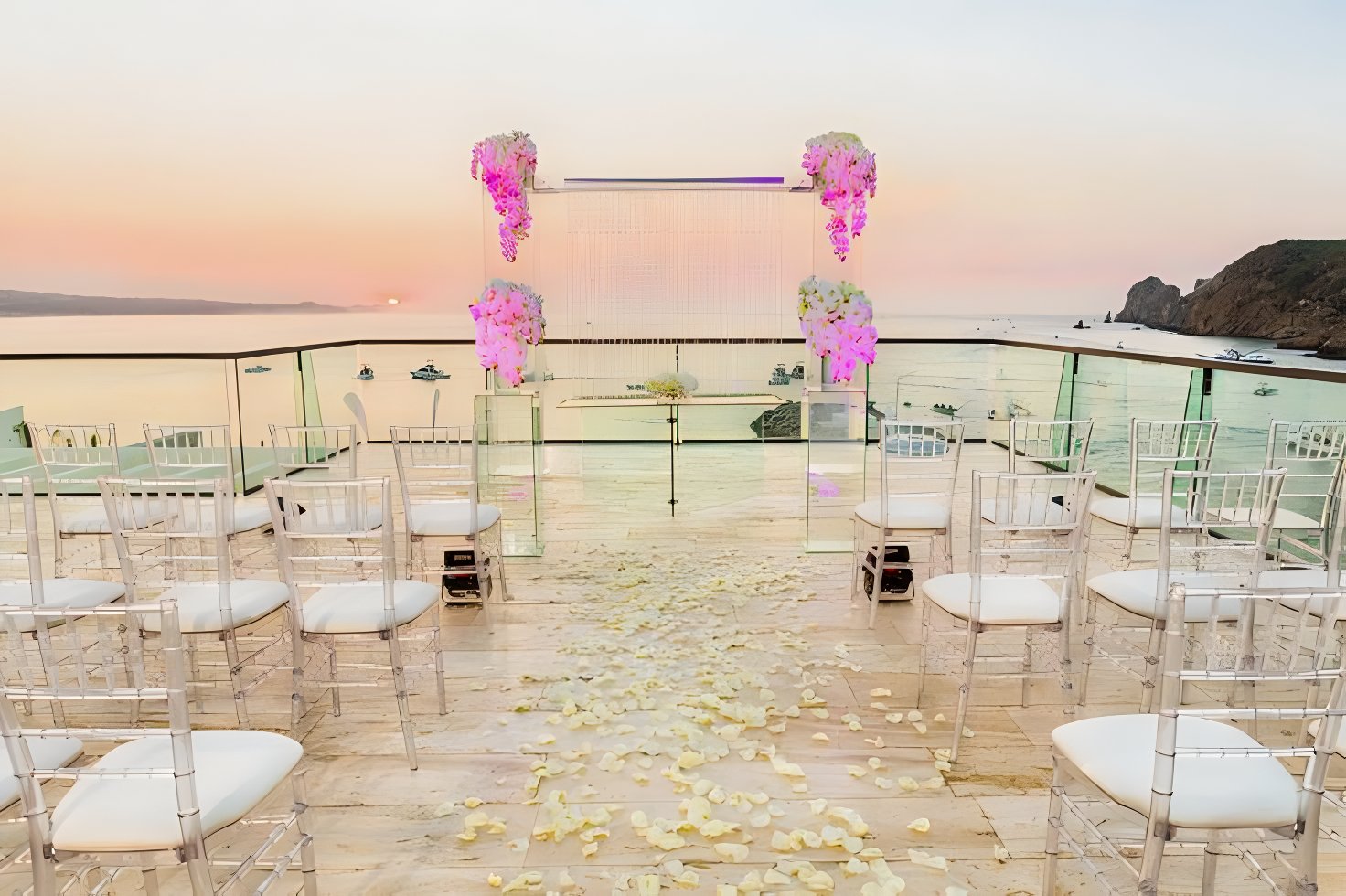 Breathless Cabo San Lucas
By the combination of a professional wedding coordinator's expertise and the wedding ceremony amenities that Breathless offers, destination weddings at any of these terraces are straight out of a dream. The fourth wedding venue is the vision breakout room, a smaller indoor space for elegant and intimate ceremonies that still achieve the magnificent views and captures the essence of the city. Between these four superb wedding venues, Breathless Cabo San Lucas was an easy choice for the best 5 wedding venues list.
Pueblo Bonito Los Cabos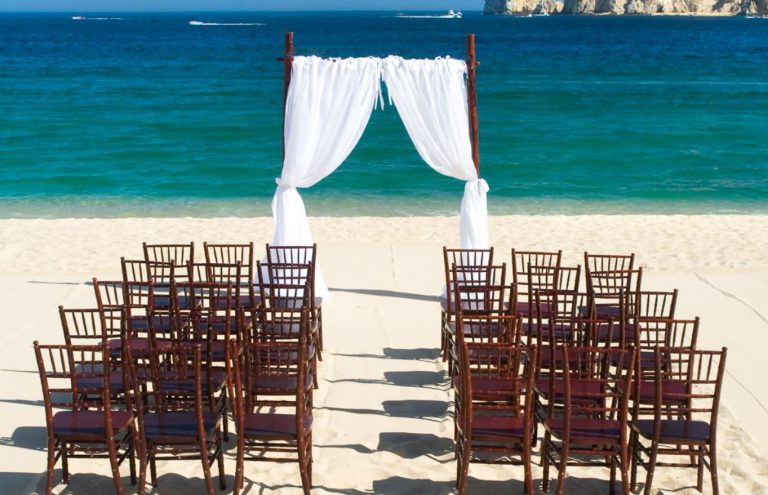 Pueblo Bonito Los Cabos
The next property in our list is Pueblo Bonito Los Cabos. Situated on the very swimmable Playa El Medano beach, Pueblo Bonito boasts Mediterranean-inspired architecture, while maintaining the tropical themes of the area. The resort is less than 10 minutes from downtown Cabo San Lucas so you and your guests can enjoy the best nightlife that Mexico has to offer with ease. Additionally, there are round the clock performances available, from musicians to live shows, to keep you entertained throughout your stay.
The wedding venues at Pueblo Bonito Los Cabos are absolutely jaw-dropping, as they overlook Land's End and the Sea of Cortez, providing you and your guests with the purest sights and sounds of this Caribbean beauty. Each of the four ceremony venues offers something unique and can accompany up to 100 wedding guests. The beach is as you'd imagine it. A picturesque decorated gazebo with flower petals and linens draped along the aisle and chairs, with the sounds of the waves crashing just behind you.
The hotel terraces and gardens offer lush scenery from a higher vantage point, putting together all the natural elements that make Cabo San Lucas a breathtaking destination. The oceanfront terrace offers a balcony set up just over the beach, where you can appreciate the closeness to the water without having to put your toes in the sand. The pool decks provide an elegant and upscale vibe in a quieter, more secluded location. Between these four choices, you and your partner can envision your Los Cabos wedding ceremony and venue in any way you'd like. You have numerous options for the tone, quietness or excitement, and ambiance of your momentous occasion, which firmly lands Pueblo Bonito Los Cabos among our best 5 Cabo San Lucas wedding venues.
Sandos Finisterra Los Cabos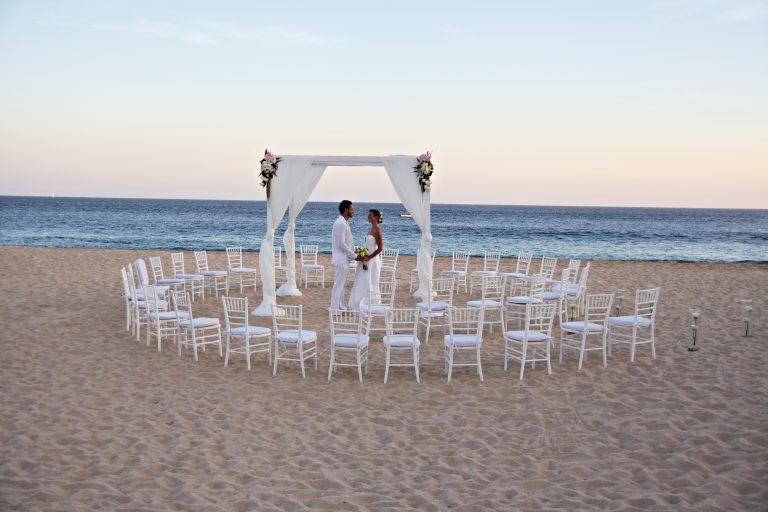 Sandos Finisterra Los Cabos
Translating to "end of the earth", Sandos Finisterra Los Cabos weddings offer unmatchable panoramic views of the Baja Peninsula, the Pacific Sea, and the surrounding marina and vista. This resort is only a few minutes walk from downtown Cabo San Lucas, making it easy and simple for you and your wedding guests to enjoy the terrific dining, culture, and nightlife of the famed city. The property sits upon a clifftop, providing constant breathtaking views and sounds of crashing waves. A great bonus of celebrating here are wedding perks that may include a complimentary honeymoon, a menu tasting, and even discounts on your wedding package based on your group size.
Sandos Finisterra offers three beautiful wedding ceremony venues. The first is a beach location, which is everything you might expect from a traditional beach ceremony setup. It includes an altar table and flowers, a lovely gazebo, and decorated chairs, seating up to 100 guests. The next is a true marvel, the mountain top terrace. Located at the literal edge of the cliff the resort sits on, there is no other wedding venue like this one, as the feeling of standing upon it and taking in the breeze and the views of the Pacific and Cabo, is genuinely irreplicable. Lastly, the third wedding venue is a fascinating creation of its own, the desert gardens. Blending tropical themes with those of the Baja California desert is such a remarkable idea for a venue that it will have you and your guests reveling in its distinctive charm. These three wedding venues, one a lovely beach choice, and the other two exceptional setups that you will only find at Sandos Finisterra are why it makes our list of some of the best Los Cabos wedding venues.
Casa del Mar Los Cabos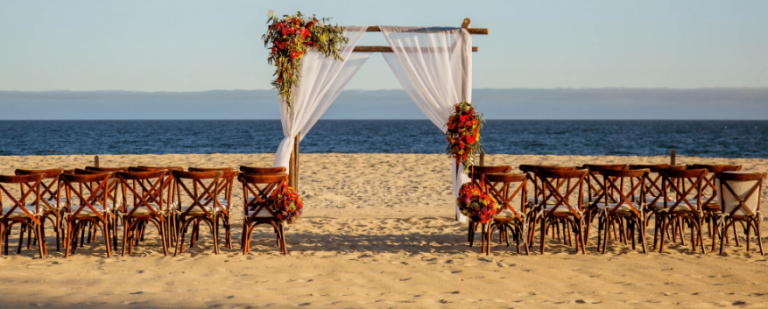 Casa del Mar Los Cabos
The next property of our 5 best Cabo San Lucas wedding venues is Casa del Mar Los Cabos. Offset slightly from San Lucas in San Jose del Cabo, this resort rests upon powdery white sands and provides a lavish, boutique experience that is distinguished and catered to thoughtfully. The resort itself is decorated with fountains, tropical trees and flowers, and sprawling grounds designed to keep you and your guests at maximum relaxation. A multi-level infinity pool and a meal plan that includes access to 11 different restaurants, bars, and snack parlors add even more goodness to the already superb accommodations and amenities.
The wedding venues at Casa del Mar are top-tier and each offers a unique and brilliant experience from the rest. The beach club, which can seat up to 150 guests, is a beautiful ceremony venue on the white sands of San Jose del Cabo, where you can commemorate your big day in front of crashing waves and under a beautiful bamboo huppa. The quiet zone is located in the resort property and is a secluded garden area that can also house 150 people. This area is covered by foliage and is ideal for couples seeking a tranquil environment for their ceremony.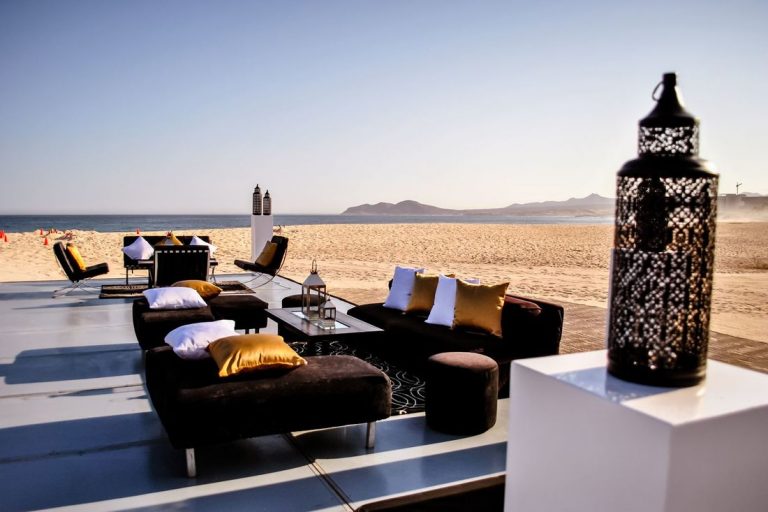 Casa del Mar Los Cabos
La Hacienda is an indoor space that seats 70 and provides ceremonies that are culturally nuanced with decorative art and tropical plants. La Biblioteca is the smaller indoor location that can seat up to 40 guests. For couples who want an intimate, serene Los Cabos wedding ceremony, La Biblioteca is ideal. Each of these locations offers something genuine and fascinating. Complete with tiki torches, seasonal flowers, and a solo violinist, Casa del Mar easily makes our list of the best 5 Cabo San Lucas wedding venues.
Pueblo Bonito Sunset Beach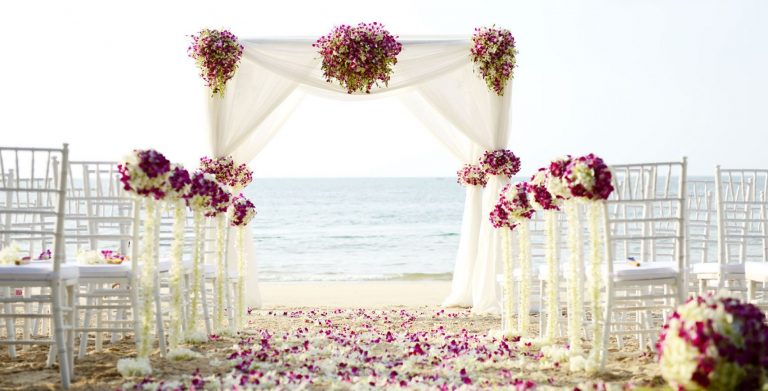 Pueblo Bonito Sunset Beach
Rounding off our list of the 5 best wedding venues in Cabo San Lucas is a sister property of another on this list, Pueblo Bonito Sunset Beach. This beautiful establishment sits at the end of a private drive and tends to stand out in terms of accommodations, facilities, and staff services from its three sister properties. With six pools, an extensive series of amenities that appeal to guests of all ages, and a remarkable view from the cliffs of Cabo San Lucas, there isn't much that could make this resort a better place to get married. Visually, it's a marvel, as massive archways, winding paths through tropical plants and trees, and panoramic pool terraces line the brilliant design of the property.
Prepare for a tough choice, as this resort has 7 stunning wedding venues, each that would make for a superb ceremony. The beach, which can seat 500, offers everything you'd come to expect (which has been covered several times in this blog). The sunshine garden and lovers meadow are lush and foliage-covered locations, seating 250 and 150 guests, respectively. Ceremonies at these venues are accented by the striking colors of tropical flowers and overhead lights.
The sunset chapel is a terrific location for Catholic ceremonies, seating up to 100. The sky pool terrace and swan terrace are more elegant, sophisticated ceremony venues, with modern architectural designs and wood finishes that seat up to 80 guests. Finally, the sunset deck is the intimate, and (obviously) sunset-themed venue. The light catches this location in just the right way, making for the most picturesque and romantic Los Cabos wedding imaginable. The number and variety of ceremonies that are possible at Pueblo Bonito Sunset Beach are what makes it our final item on our list of the 5 best Cabo San Lucas wedding venues.
As a seaside city that offers so much in terms of scenery, dining and nightlife, and superb resort options, Cabo San Lucas couldn't be a better location to hold your destination wedding. We hope our list helped you find the location of your dreams, or at the very least help you with your wedding planning.
Still looking for incredible Cabo San Lucas wedding resort options? Click the link below to explore: