How To Craft An Authentic Celebration of Love
LGBTQ+ wedding planning is kind of like setting out on an exciting journey with no map. With out years of traditional planning to explore like hetero relationships, same-sex and LGBTQIA+ weddings are carving out their own beautiful path that deserves to be spotlighted and shared from around the world.
But many questions may pop up: "Do both brides walk down the aisle?" or "Is it ok for both grooms to rock a bouquet?". The cool part is that there is no right or wrong answer.
Gone are the days of strictly following age-old wedding blueprints. Instead, we've got couples embracing their unique love stories, ditching some traditions, and creating new ones that feel just right. We've had some great chats with experts and even our LGBTQ+ couples about how they're making their big days feel genuine to them.
So, if you're piecing together your LGBTQ+ wedding plans, here's a little wisdom on weaving together a day that feels as authentic as your love story. Let's get into it!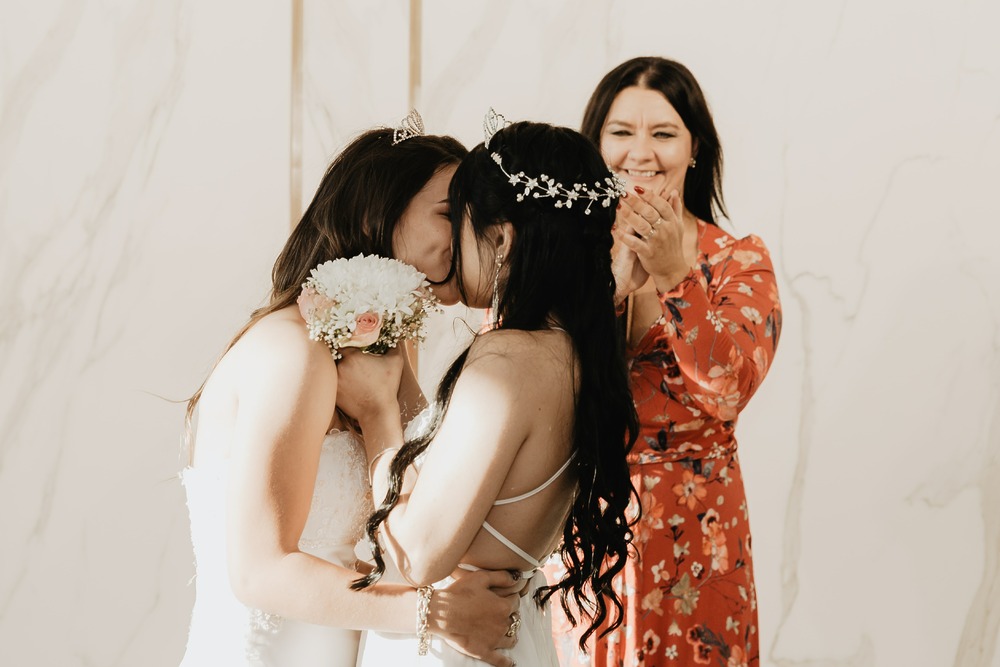 Selecting the Venue
Your wedding venue isn't just a backdrop; it's the stage where your love story unfolds. And for LGBT couples, it's important to pick a place that's all about celebrating love – not just nodding politely from the sidelines. Dig around a bit and look for venues that have a track record for rolling out the red carpet for everyone, being inclusive of your love and needs.
A top tip? Check out what other LGBTQ couples have to say. Their experiences can be like gold in helping you feel the real atmosphere of a place, seeking venues renowned for their inclusivity. It's not all about the glitz and glam but finding that welcoming vibe where your love is front and center. If you need a hand finding that perfect venue, browse more blogs from Destify, which offers a trove of impeccable destinations that champion love in all its forms.
Keep Culture Center Stage
Navigating religion and culture as an LGBTQ+ couple can sometimes feel like a balancing act. Even if the big religious picture seems a bit blurry, there's good news: many kind-hearted souls within these faiths are rooting for love in all its colors.
It might take a bit more legwork to find your appropriate venue, but trust us when you do, they'll make your day feel all the more special. They get it. And their blessings will add that extra layer of warmth and depth to your big day. It's all about finding that connection that celebrates your love both in spirit and in joy.
Embrace or Adapt Traditions
An LGBT+ or same-sex wedding ceremony is a canvas of limitless possibilities. Traditional norms? They're just starting points. From modifying the processional order to infusing unique symbols that represent your journey, there's freedom in reinvention. Let your love story dictate the rituals, and if something doesn't resonate, craft your own traditions.
After all, your celebration should mirror the authenticity and uniqueness of your bond. Embrace the past, but don't be afraid to pave your path forward. It's your day, and the traditions should be as special and "unconventional" as your love story.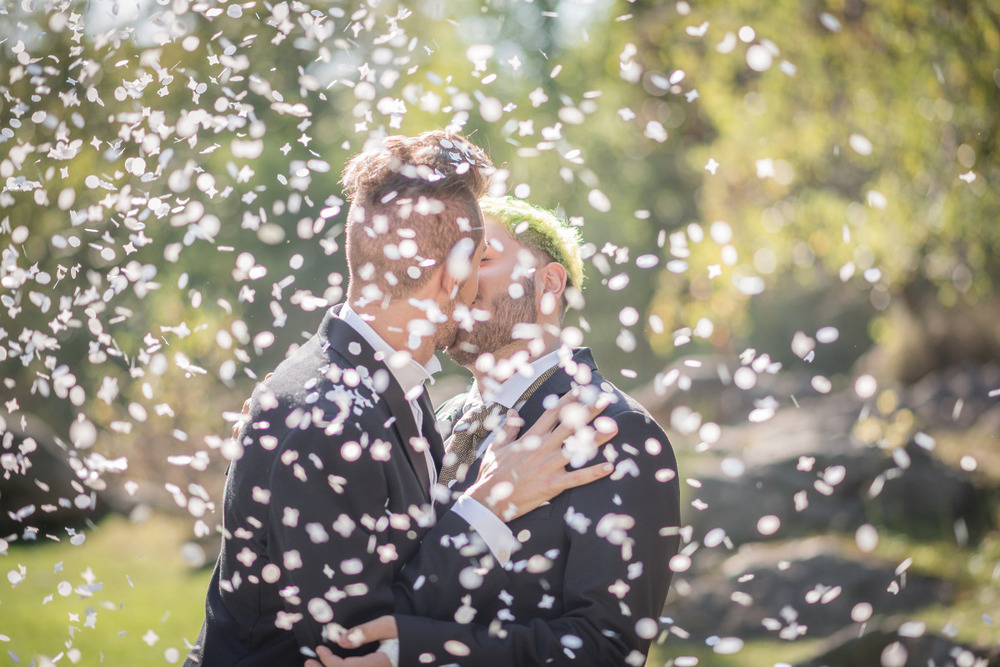 Dress Code Freedom
Your wedding attire should echo your true self. Gone are the days of rigid dress codes. With popular lesbian wedding ideas embracing chic bridal suits and gay weddings for men showcasing vibrant tuxedos, the horizon of fashion choices is vast.
Whether it's a twist on the traditional or a completely avant-garde look, let your outfits celebrate your individuality. After all, it's about wearing your heart on your sleeve, quite literally.
Pre-wedding Celebrations
Remember when pre-wedding events were split into 'his' and 'hers'? Well, times have changed, and it's all about coming together and celebrating love without limits. Fancy throwing a joint bachelor or bachelorette party? Why not? And a combined wedding shower? Sounds like double the fun! The goal is to make every pre-wedding moment just as unforgettable as the day you say "I do." If you need a little spark of inspiration, Vogue offers a treasure trove of innovative LGBTQ+ wedding ideas that embrace both tradition and novelty, ensuring your pre-wedding festivities are as unique as your love story.
Designing A Wedding of Dreams
LGBTQ+ celebrations stand as poignant reminders of love's universal resonance. Recent strides put same-sex couples at a unique crossroads: honoring long-standing traditions while also breaking new ground. The questions and decisions can be daunting, but remember, they offer an opportunity to craft a wedding that truly speaks to your love's individual journey.
From venue selection to harmonizing traditions and cultures, the choices you make will set the stage for a celebration that's both authentic and memorable. Embrace the freedom to blend time-honored customs with contemporary touches, ensuring every aspect of your day reflects the depth and richness of your relationship.
In the end, it's about more than just a ceremony or a festivity. It's a profound testament to the progress made and the enduring power of love. To all LGBTQ+ couples stepping into this beautiful chapter: may your wedding not only reflect the love you share but also inspire and uplift others on similar journeys.