Food plays an important role in any wedding. Menus for weddings can range from buffets to seated dinners and from pasta bars to roast carving stations. More casual wedding food ideas include taco bars and pizzas. Food can play an even bigger role in a destination wedding. Destination weddings give couples and their guests the opportunity to explore local cuisines and enjoy a dinner reception with items they might not have back home.
How do you incorporate local cuisine into your destination wedding menu? What do you need to consider when planning the food for your dinner reception?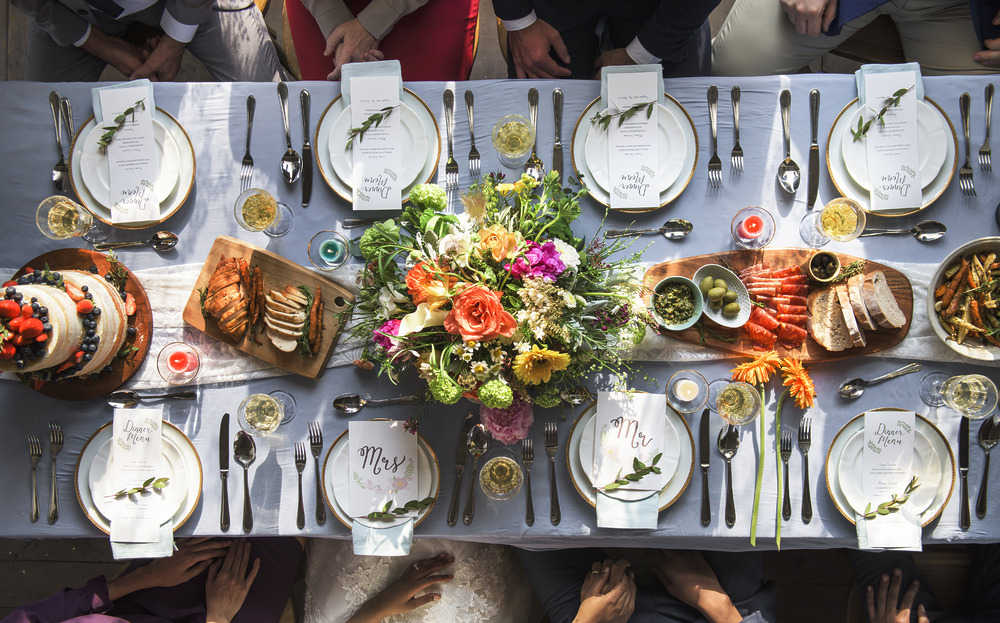 Wedding Food Ideas for Destination Weddings
Once you've chosen your destination, and your venue, it's time to start planning the menu. Incorporating local flavors and traditional dishes into your wedding menu is a great way to experience the local culture. If food is incredibly important to you, you can even pick your destination around the food.
Prior to meeting with local caterers or a resort's catering team, do your research. Look into what the traditional wedding meals are, and what other traditional food items you want to incorporate. If there is a "must-try" item that you want to try, but it may not fit into the formal dinner reception menu, you still have options.
Destination weddings often last at least a few days, giving you plenty of opportunities to experience the local cuisine. Traditional food items can be enjoyed as part of a welcome dinner, or breakfast the day after you say "I do!" or anywhere in between.
Don't forget to incorporate local beverages into your celebration. Is the country known for its coffee, prepared a certain way? Is there a national drink to try? Enjoying a genuine Mexican margarita, and then some Horchata to calm back down can be an important part of a Mexican adventure. Have a drink made with local rum in Jamaica, and try some rum punch for a taste of Jamaica.
Planning a menu for any event, stateside or a plane ride away, can come with special considerations. Do you, or your soon-to-be spouse, have any dietary restrictions or food allergies? What about your guests? Do you need vegetarian or vegan dishes on the menu? Dealing with dietary restrictions back home can be difficult, but working around them in a different country where there may be a language barrier can be a bigger challenge.
When planning your destination wedding menu and researching local cuisine to incorporate, be sure to let your venue's wedding planning team and your Destify experts know of any restrictions and allergies. Having an allergic reaction during your wedding is one of the last things anyone would want.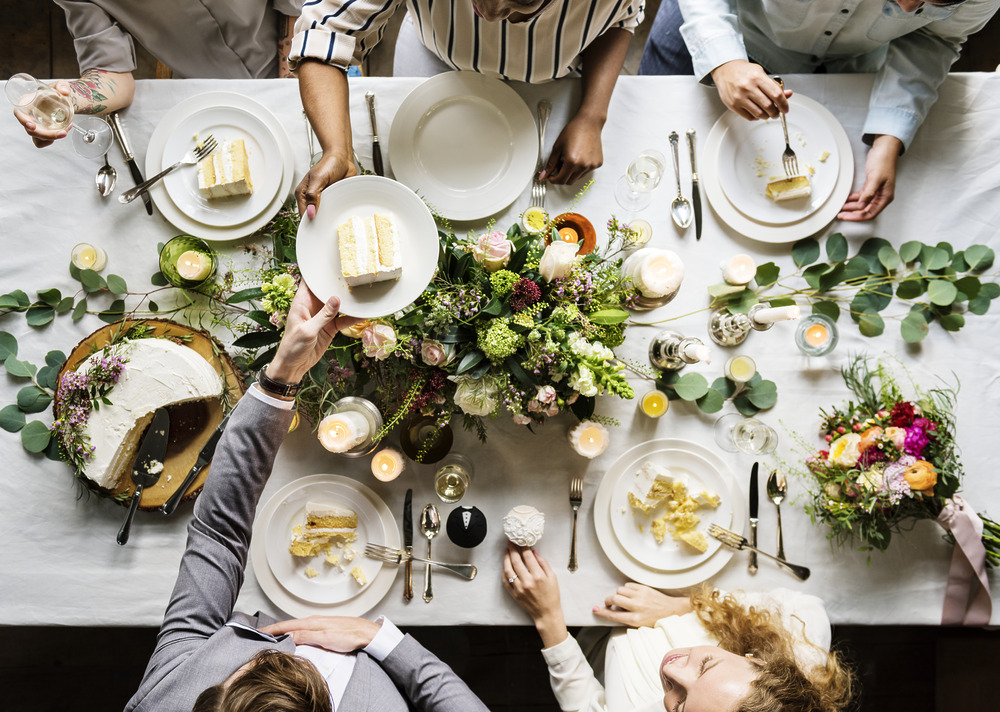 Your wedding food ideas will vary based on location, as the local cuisine will vary based on location. Here are some traditional wedding dinner reception ideas from some of our favorite destinations.
Mexico
When you think of Mexican food, you probably think of Taco Tuesday and Margaritas. You wouldn't be wrong. Even formal Mexican events feature the same or similar items that we can find at a local Mexican restaurant. Only better. Traditional Mexican wedding menus can include tamales, pork carnitas, enchiladas mole, chiles rellenos (stuffed peppers), and of course fresh warm tortillas and rice.
The key to Mexican wedding menus is variety. There will be multiple options for meat, sauces, and salsas. Tamales are both a delicious staple of Mexican food and a time-consuming, communal meal to prepare. Having traditional tamales at your wedding can be a symbol of the effort and community support needed for a successful marriage.
Jamaica and the Caribbean
The Caribbean includes thirteen different countries and hundreds of individual islands. While the local cuisine, food, and culture are unique to each country and area – from Jamaica to the Dominican Republic to the Bahamas – there are some menu items that reflect the general local cuisine of the region. Jamaica is known for jerk chicken and curry chicken.
Cou-cou is one of the national dishes of Antigua and Barbuda, Barbados, the British Virgin Islands, and the U.S. Virgin Islands. This is a dish made with cornmeal and okra and is incredibly common. Local cuisine across the Caribbean Islands includes traditional rice dishes, curried goat, flying fish dishes, and fried plantain. Fresh fruit is also a huge part of the local cuisine and is great to incorporate into the dessert part of a dinner reception.
Costa Rica
Traditional Costa Rican wedding menus include local and fresh seafood dishes for a formal meal or a more casual beachside barbecue. However, the most common traditional meal in Costa Rica is casados. Casados is a marriage of other popular Costa Rican dishes including rice, steered meat, plantains, and possibly salad. Casados may be too casual for the menu for a wedding dinner reception, but finding the time to enjoy this local tradition at some point during your trip is a great way to experience the local cuisine.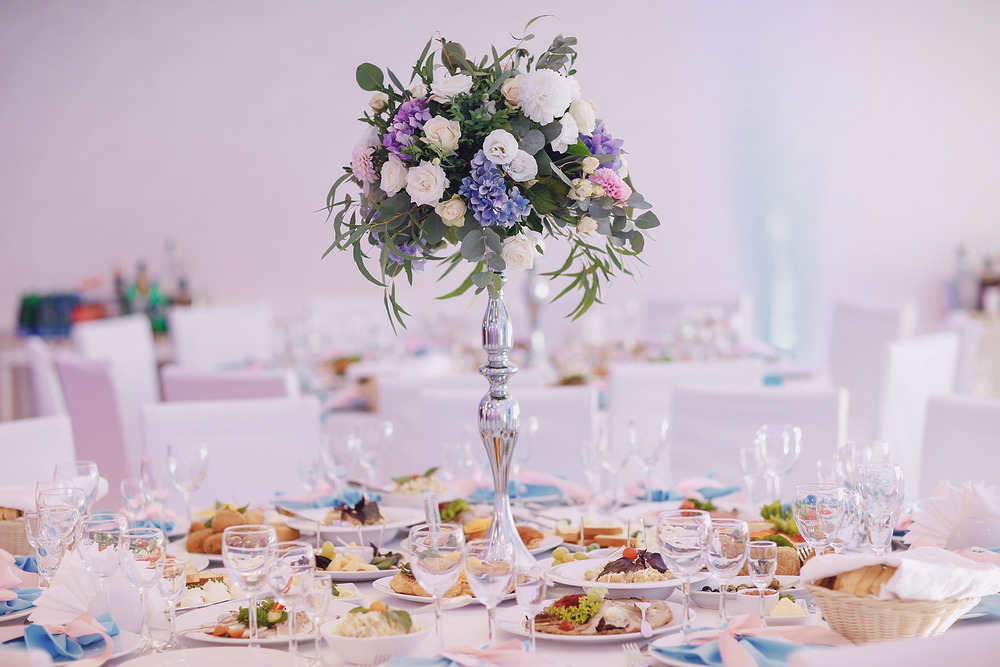 If your wedding venue is all-inclusive and you have less control over the food options during your visit, you can still work to incorporate local dishes. All-inclusive menus at resorts will often include a mix of traditional items and items that cater to tourists and visitors. Rather than ordering and reaching for what is familiar, be sure to try the local dishes. If the resort has a buffet, that can be a great way to get a taste of something new.
No matter where your destination wedding is held and what menu options you have, Destify's committed team is ready to help you plan your dream wedding. We help make meaningful memories – from your arrival, to "I do," and your first meal as a married couple. The best part? Destify's services are free. Contact us to get started on planning your dream destination wedding.