Perhaps one of the largest luxuries of hosting your group vacation or destination wedding at an all-inclusive is the access to unlimited dining and drinks. Covered in the cost of your room, a stay at an all-inclusive feature unlimited access to buffets, seaside dining, and delicious a-la-carte restaurants themed to international genres. One night you may choose Italian, and the next you may opt for a delightful teppanyaki experience. In this post we're going to cover just how endless the opportunities are for foodies, featuring elegant dinner receptions, romantic dinners on the beach, what to do if you follow certain food allergies or diets, and even give some resort recommendations for our favorite on-site restaurants.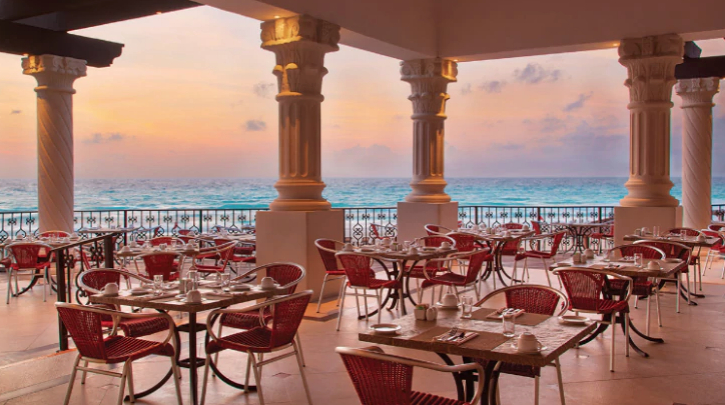 Oceana Restaurant at Hyatt Zilara
Dinner Receptions
If you're hosting your very own destination wedding at one of our Caribbean resorts, you may find that a reception is included in one form or another as part of your wedding package. Lower tiered wedding packages often include a semi-private reception at one of the on-site restaurants. This is a great feature for smaller wedding groups, resorts will often mark off a section of a restaurant for your group, and may even include special menus and items to make your wedding reception special. Just like you may receive floral package menus and menus for extra services, resorts also offer food menus with a variety of tasty food that will take your wedding up a notch.
For those wanting something a bit more exclusive, couples can always book a private dinner reception. Often the extra cost is simply in place to cover the wait staff and decor for the duration of your wedding festivities. The options are limitless here, you can order off of private menus which include deluxe buffet spreads or personalized menus your guests can order from. Our resorts feature wonderful private venues that can feature plenty of space for tables and extra room for dancefloors and more. Some of these venues include rooftop terraces, receptions by the pool after normal operating hours, or private sections of restaurants. We even feature resorts that have their own dining rooms within wine cellars, where you can receive an exclusive experience surrounded by foreign wine bottles in a luxurious setting. It's the perfect option for small groups who want secluded space to celebrate.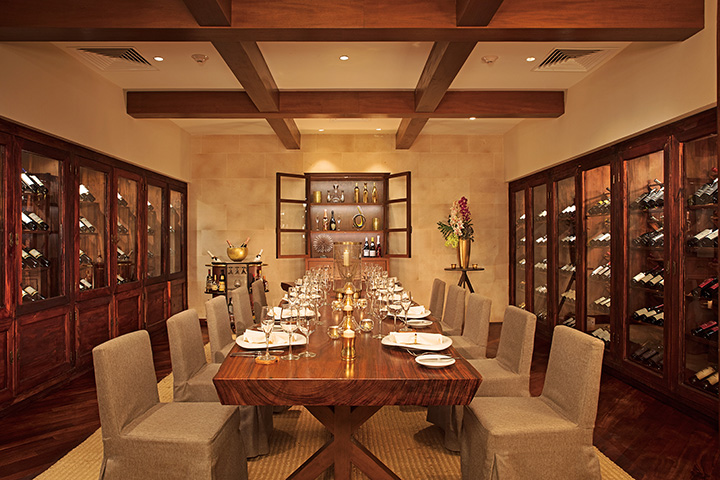 Wine Cellar at Secrets Cap Cana
Romantic and Beachside Dinners
For honeymoons, weddings, or just romantic getaways, there's perhaps no better treat than a romantic dinner for two on the beach. Our resorts offer exclusive tables with stunning ocean views, where dinner becomes a truly intimate affair you'll never forget.You can add this on to your wedding package, or it may already be included as a special inclusion for booking your wedding with a specific resort. Take the stunning family of Secrets Resorts as the perfect examples, which feature exclusive beachside venues for couples under romantic cabanas, and is sometimes included for free simply by booking during a special promotional time.
Want the oceanfront dining experience, but want to include others? That is entirely possible too! Some resorts offer special dinners for couples at tables on the beach, where you can dine with your closest loved ones underneath the stars with the soundtrack of waves crashing against the shoreline. It may require some additional fees, but just imagine how memorable the experience will be, receiving impeccable service in an unforgettable location. For a more family-friendly affair or exciting welcoming reception, resorts offer bonfires on the beach, featuring s'more stations and hors-d'oeuvres.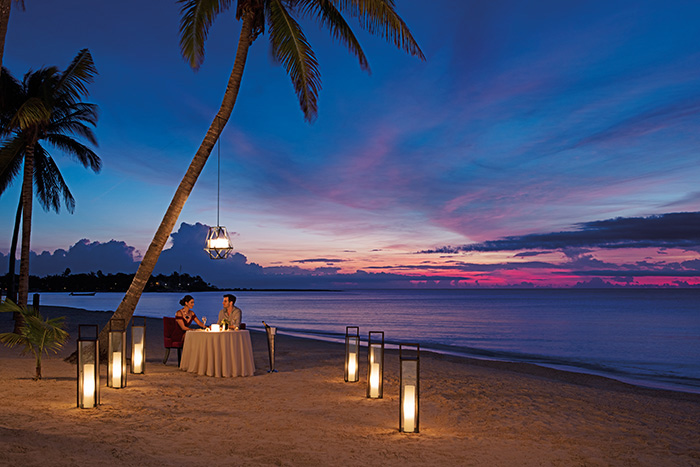 Dinner for two at Secrets Akumal
Food Allergies and Diets
A common concern for guests is if a resort will be able to accommodate any required food allergies or necessary diets. The AM Resorts are shining examples of how friendly all-inclusive resorts can be for guests, whether you have picky eaters or guests with health concerns. Some of these resorts, such as Sunscape or Dreams are ready and willing to accommodate any of your needs. You simply tell the hostess at your restaurant what dietary restrictions you have and they will go above and beyond to meet them. We've had guests get special food created just for them, with knowledgeable staff offering plenty of choices to meet a variety of standards, from vegan to gluten-free.
If you're gluten-free or vegetarian you'll be happy to know that our friends at Ocean Resorts and Hyatt Resorts have tons of items available at each of their restaurants that will fulfill your dietary needs, and fill your stomach! It may be tricky to order from the buffet if you have certain restrictions, but often you will find made-to-order cooking stations where you can watch your food prepared so you are certain there is no cross-contamination. Dining at a-la-carte restaurants will be even friendlier where your host or server can guide you to appropriate choices. If you're researching resorts or have already booked, you can always contact the resort directly to find out what will and won't work for you once you're on vacation.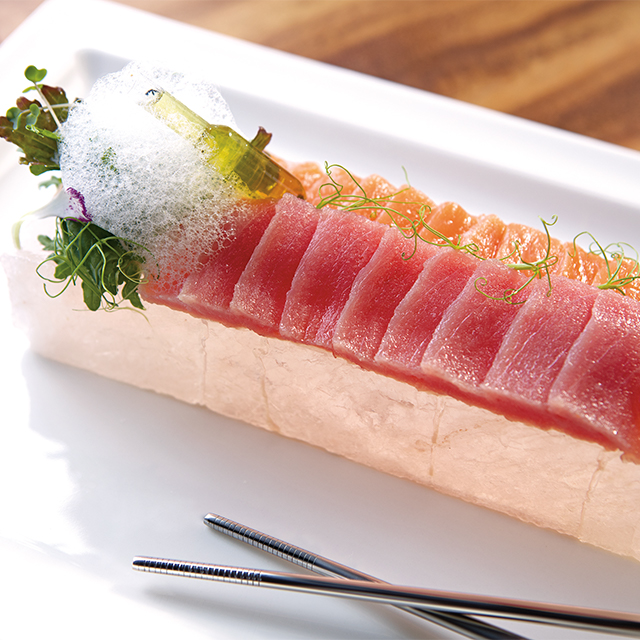 Our Favorite Resorts for Foodies
What's better than dining at a delicious restaurant? Having the ability to order as much or as little as you want unlimited! With all-inclusive resorts, there's no limit to the amount of delicious food you can partake in. Just because you're at an all-inclusive doesn't mean you're limited to the buffet. We feature tons of resorts with truly gourmet dining experiences. Our resorts feature poolside restaurants, coffee and bistros, sports bars, acclaimed chefs, and so much more to leave every guest feeling spoiled.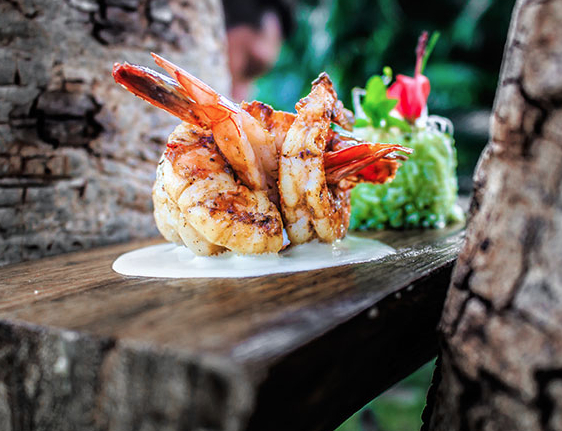 Delicious food at Grand Velas Riviera Maya
Our agents rave about the food at Secrets Cap Cana and Secrets Akumal, with impressive spreads and elegant plating that required photos before digging in. The Grand Velas Riviera Maya is a food paradise, with on-site restaurants featuring menus and food from highly regarded chefs both locally and internationally. At the Finest Playa Mujeres you'll find everything from lobster tails to Catalan inspired restaurants, and if you want to just stay in the room you'll have access to 24-hour gourmet room service.
At the sparkling UNICO 20°87° resort, you'll find a luxurious encounter around every corner, and the food represents this. You can order delectables poolside, or book a table at Cueva Siete, featuring a rotating chef program headed first by culinary expert Chef Christian Bravo. The Karisma brand resorts love food so much that their motto is "gourmet-exclusive", and at resorts like El Dorado Maroma and Azul Beach Resort Negril, you'll find sophistication and creativity in their award-winning dining across a variety of intriguing venues.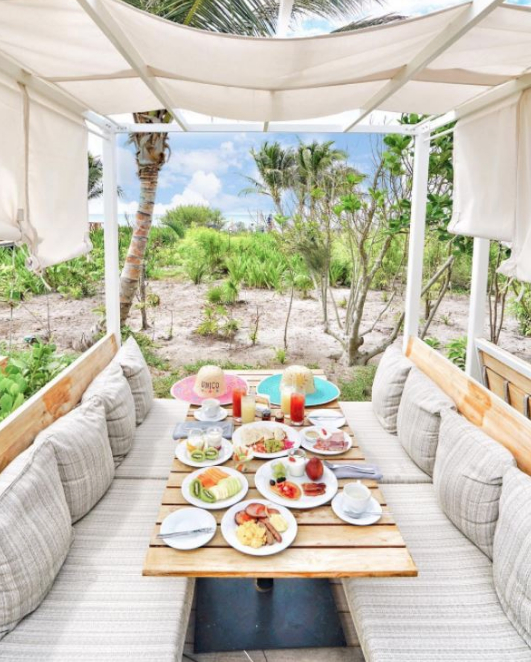 Brunch at UNICO 20°87°
Do you need a few more minutes to look over the menu, or are you ready to order? Contact an agent to learn more about our all-inclusive resorts so you can visit food-paradise.