Destify Spotlights the Crown Jewel of the Cancun Hotel Strip
Looking for a spectacular Cancun wedding resort that delivers contemporary wedding masterpieces? Welcome to one of Destify's Favorite Yucatan gems: Hyatt Ziva Cancun. This magnificent seaside wedding resort is located on the tip of the Cancun Hotel Zone, making it one of the most exclusive properties on the strip. With the Caribbean Sea on three sides, this opulent hotel offers a peaceful and beautiful setting for romantic occasions. Couples will value the property's accessibility to the Cancun International Airport as well as guaranteed privacy and exclusivity due to its oceanfront location. Let's dive into one of our most coveted wedding resorts:
(Disclaimer: Time is running out to book your 2023 Hyatt Ziva Cancun wedding! Weekend wedding dates are indeed filling up, so make sure to contact Destify to snag your preferred reservation)
Weddings at Hyatt Ziva Cancun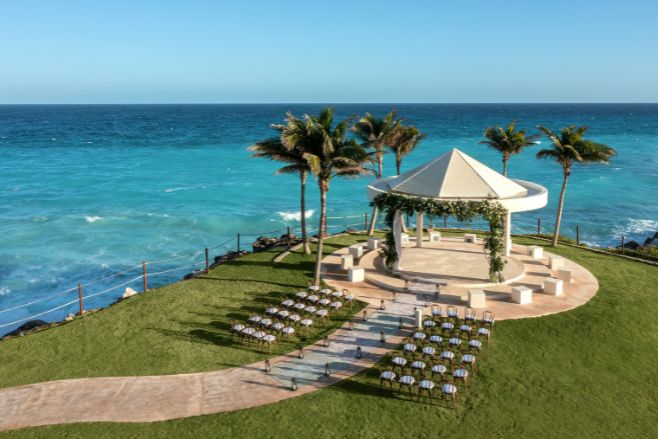 Perhaps one of the most scenic and visually appealing destination wedding locations in the Mexico-Caribbean, Hyatt Ziva Cancun showcases a variety of pristine venues perfect for every couples' vision (and guest list). And yes, we're biased for all the right reasons:
Sahara Beach: Capable of accommodating 400 guests, this beachfront beauty features stunning seascapes that'll elevate your special day. Your beach soirée dreams will come true with chic handcrafted decor and gorgeous floral arrangements available at all-inclusive rates.
Lighthouse Gazebo: Featuring contemporary designs complete with nature-inspired accents, this ceremony space frames a gorgeous snapshot of the property's lighthouse, channeling authentic Cancun luxury.
Cliffside Gazebo: Garnering a jaw-dropping view of the shimmering Caribbean and palm tree-studded beach below, this ceremony space is perfect for a small wedding or cocktail party. The gazebo at this location can accommodate up to 65 guests with additional seating leading up to the venue.
Sky Terrace: Your immaculate outdoor wedding venue awaits at Hyatt Ziva Cancun's Sky Terrace! The optimally covered venue, which is tucked away from the rest of the resort's clientele, is the ideal location for a breezy outdoor event with indoor seating options – allowing you to capture ideal Mexico-Caribbean weather without having to worry about sunburnt guests.
Punta Vista Terrace: The 270-degree ocean views on this exclusive patio will leave you and your guests speechless. And we all know what that means: Instagram-breaking wedding photos! 😍
Elements Ballroom: This gorgeous, spacious indoor location is big enough to hold both your ceremony and reception, and it has the option to be divided for a smaller gathering. The Elements Ballroom is the ideal location for everything from multi-course dinners to all-night dance battles er- parties.
Resort Activities at Hyatt Ziva Cancun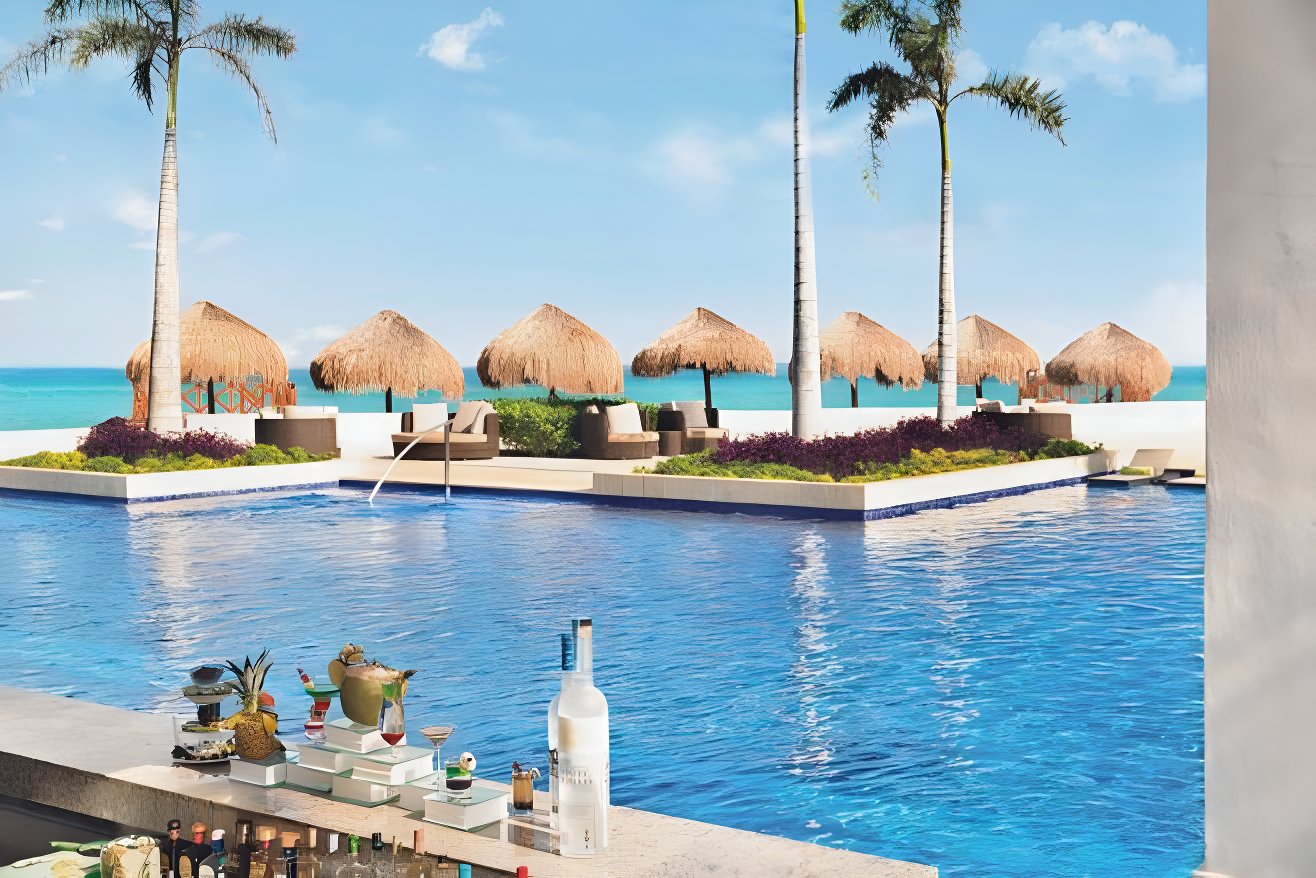 Get ready for pure relaxation…Hyatt Ziva Cancun truly has it all when it comes to delivering the quintessential Mexico vacation. Take a dip in one of the resort's three infinity pools accompanied by stunning Caribbean Sea views and popular swim-up bars. Searching for that proper royal treatment? Rent a private cabana for the day and bask in the balmy Cancun sun — all with charcuterie boards and champagne at the ready.
We hope you brought your A-game! During your stay, you'll find enough poolside and oceanside sports to start your own Hyatt Ziva Cancun Olympics! Team up with your wedding guests and challenge other travelers to a high-intensity round of pool volleyball. In the mood for exploration? Tour the stunning Yucatan Peninsula via complimentary kayaks and paddleboards (audio tour not included).
Due to its popularity amongst Destify Couples, we firmly believe this resort is in tune with its inner Zen – which could explain its top-notch yoga and fitness programs, all taught daily with state-of-the-art facilities and seasoned instructors.
Accommodations at Hyatt Ziva Cancun
The 547 beautiful suites at the Hyatt Ziva Cancun welcome you with modern furnishings and authentic Mayan-inspired decor from every angle. From the magnificently patterned rain shower tiling to the eclectic headboard designs, no aspect has been missed – greeting every glance with a splash of contemporary elegance. Speaking of, the 21st Century is alive and well at Hyatt Ziva Cancun. Complimentary tablets anchor every suite's access to the rest of the resort – making late-night quesadilla room service and live spa bookings easy.
Did we mention your daily-replenished espresso machine, snack drawer, and mini fridge? Hyatt Ziva Cancun has pulled out all the stops to satisfy your every craving…even if you're craving a morning Corona (or two). Families and groups of any size can pick from a variety of suite options, all of which feature their own furnished balconies and breathtaking views.
Excursions at Hyatt Ziva Cancun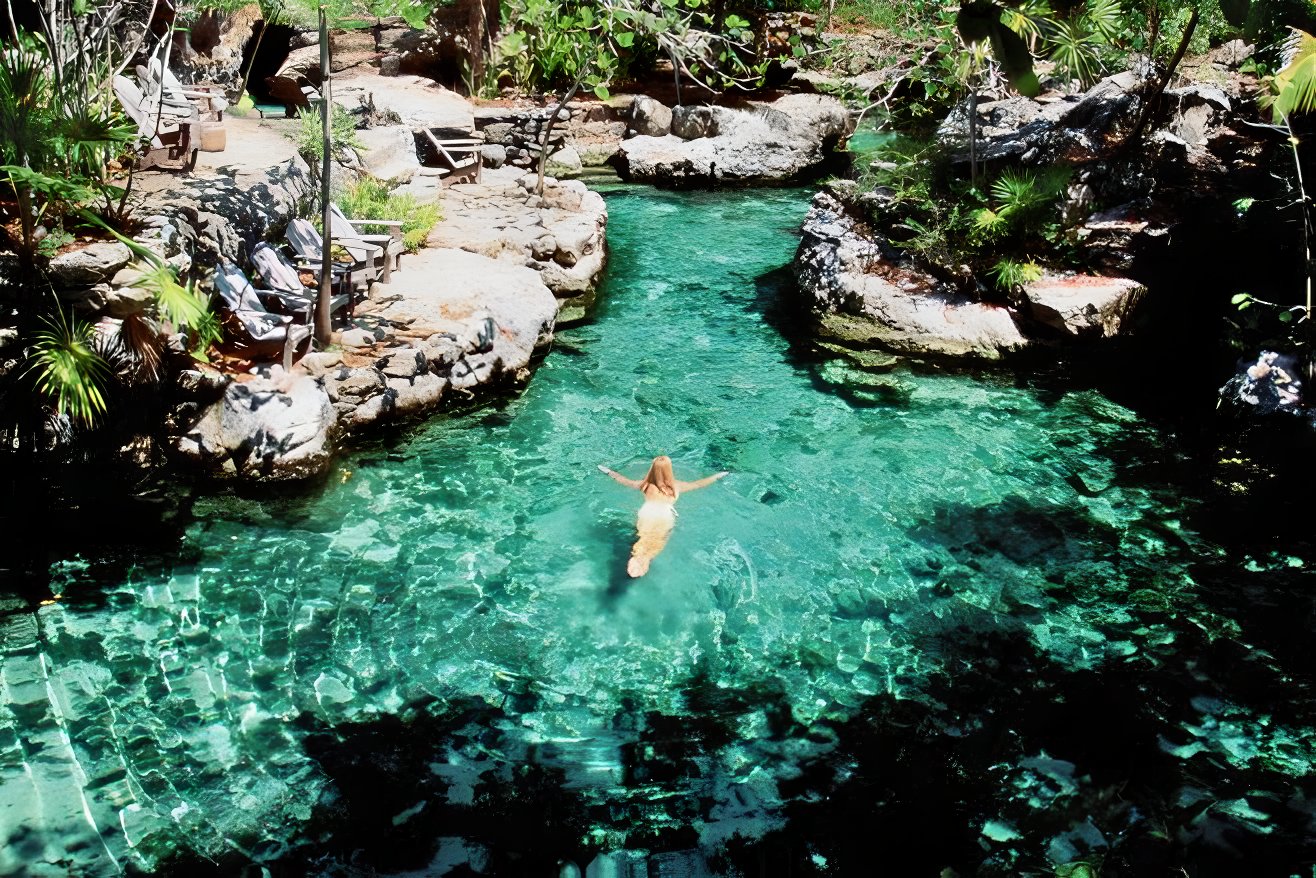 Hmm, is there anything to do in Cancun? 🤔
Ah yes, only enough to fill an encyclopedia (and more). For the sake of time, we've picked out a few of our favorites.
There are many options for visitors to experience the natural environment, marine life, and traditional Mexican cuisine at nearby Xcaret Park in Playa del Carmen. From refreshing cenotes to adrenaline-pumping waterslides, Xcaret Park is a marquee excursion that should be at the top of your planning list.
Snorkeling is one of the most popular and accessible excursions the Caribbean has to offer, and there are few better locations on the planet than Cancun to snorkel in! Whether you're exploring the vibrant reefs of Cozumel, or simply getting acquainted with the flora and fauna right off Hyatt Ziva Cancun's shores, snorkeling provides the perfect escape from the stressors of wedding planning, and a well-deserved float through the ocean.
We just couldn't finish our excursions section without referencing cenotes. 😏
The subject of many TikToks, cenotes are naturally formed limestone caves, filled with cool, clear waters perfect for an afternoon dip or social media-worthy photo opp. With daily tours accessible via resort shuttles, these historic pools offer an ideal activity for groups looking for a crisp, unique swimming experience.
Hyatt Ziva Cancun Guest Reviews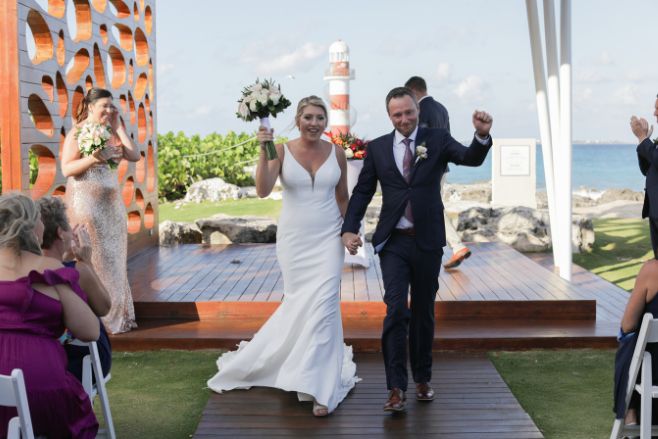 "My husband and I LOVE Hyatt Ziva Cancun! We had our wedding here this year on 1/22/22 and it was fantastic from start to finish. The wedding coordinators and team are THE BEST! Gabriella, our wedding coordinator, was so communicative with us during the whole planning process, which was amazing since we live in the United States! On the day of the events, everything went off without a hitch. We did not have to think about ANYTHING the day of the welcome cocktails, rehearsal, or wedding day(thanks to Gabby, Pau, &Elena) ! If you are considering having your wedding at Hyatt Ziva-DO IT!!" Megan P. 2/2022
"As a Globalist with Hyatt, I have been to a fair share of nice properties. I don't say this lightly; this is the nicest resort I've ever been to. The staff is unbelievable. The food is fantastic. The views are out of this world, and the property is so large that it never feels busy even when the place is packed. There is nothing they do wrong, I've been to the property 4 times now. 5/5. 10/10. 100/100 1000/1000 in that order." – Jacob M. 10/2022
"My wife and I had our wedding there in December of 2021. We go to nice all inclusives at least 1-2 times a year, and would put this one toward the top. Service was Incredible. All our guests were extremely impressed. They were all over getting you drinks at the pool, at our cocktail hour, the reception etc, and the property is gorgeous with amazing views of the Caribbean side of the ocean." – David P. 2/2022
Ready to Say I Do?
So, have the sleek, modern wedding venue and halls of Hyatt Ziva Cancun tickled your fancy? If so, we at Destify are ready to make your Cancun dreams come true! Spots for 2023 are filling up fast, so make sure to reach out to our team ASAP!
Destify Pro Tips:
For a truly exclusive wedding celebration, make sure to choose Hyatt Ziva Cancun's Intimate Elegance package – capable of accommodating up to 10 included guests with top-notch amenities such as complimentary decadent wedding cake options and couples-only massage treatments!
Tequila? More like tequi-yas! Awarded Best All-Inclusive Resort Bar by Islands, Juana Margarita and its professional Tequiliers will tantalize your tastebuds via locally-produced tequilas and other libations.
If you happen to be more budget-conscious? We still have you covered. The same luxurious wedding/resort amenities are available at more affordable rates at one of Hyatt Ziva Cancun's sister hotels: Hyatt Ziva Riviera Cancun and learn more about their wedding services here!