A destination wedding is an exciting experience for everyone, from the couple to their guests!
However, all-inclusive resorts in Jamaica are typically adult-only properties. 
A would-be-bride planning a destination wedding in Jamaica might be stressing that she can't invite her wedding guest's children. 
Don't sweat it! 
After planning thousands of destination weddings in Jamaica, we've found the best all-inclusive Jamaica family friendly resorts!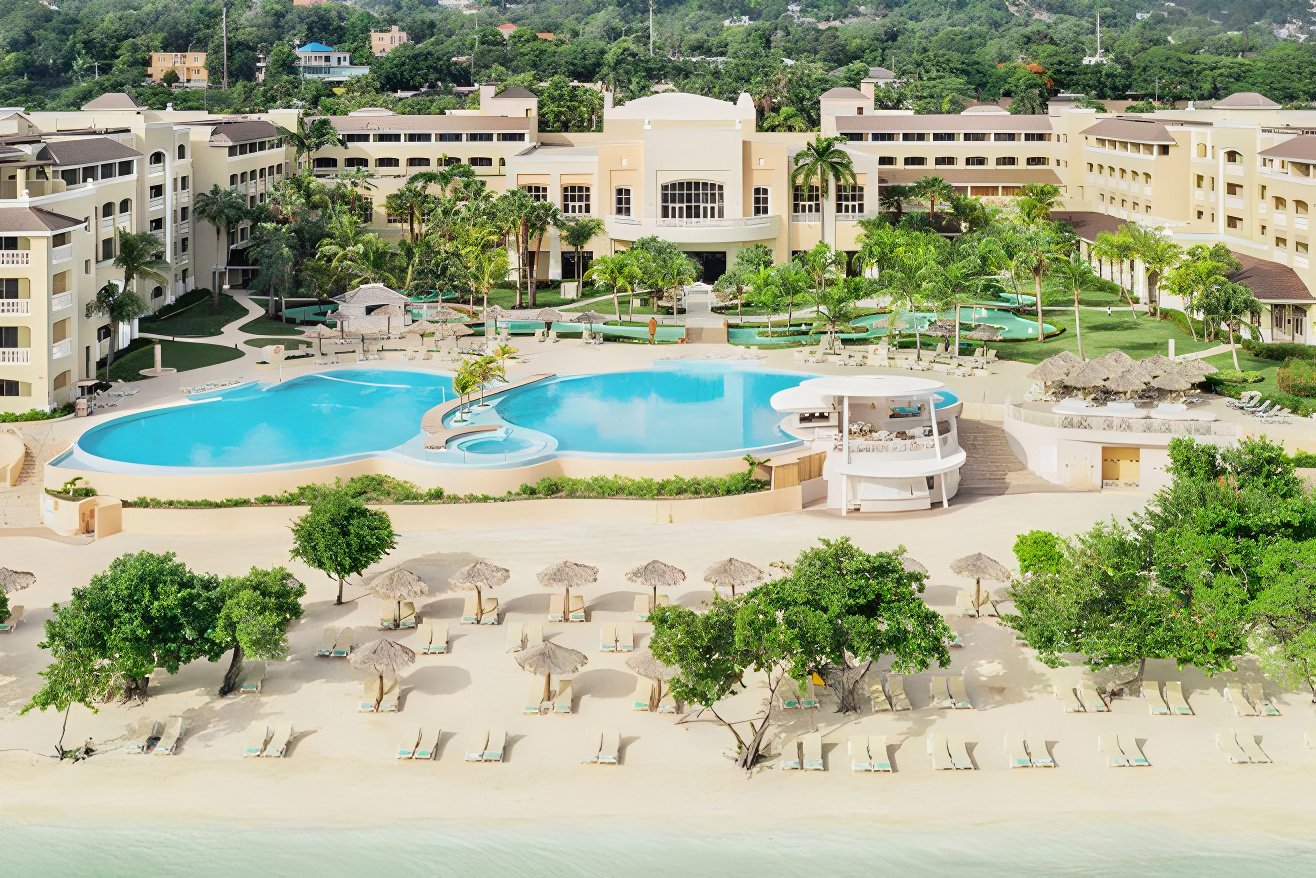 Iberostar Rose Hall is not only a great Jamaica family friendly resort, but it's a fan favorite for nature lovers. 
The resort property is built in tandem with the surrounding plant life, waterfalls, and environment. 
Destination weddings are simply stunning at this eco-friendly all-inclusive. 
Our couples have dazzlingly tied the knot at the white sand beachfront, the over-the-water Calypso Terrace, and the open-air rooftop Bob Marley Terrace. 
Why Kids Love It: 
Kiddos love Iberostar Rose Hall's Star Camp. It provides entertainment for 3 different age groups, Monkey (4-7 years old), Dolphin (8-12), and Eagle (13-17). 
This fun activity club provides a setting for the younger children in the destination wedding group to participate in cooking sessions, art classes, science experiments, or to take a dip in the Aqua Fun waterpark.
Why Adults Love It: 
While the kids are away, the adults will play! 
Adults can spend days indulging themselves at Spa Sensations, teeing off at one of the two 18-hole golf courses, or cutting loose at a live music concert!
Resort Features:
24/7 room service
5 Bars 
4 Restaurants
1 Pool
Expansive spa with salon, hydrotherapy pool, juice bar, and Pilates studio.
Massive infinity-edge pool with ocean views and swim-up bar.
Lots of free activities throughout the day.
Single-use plastic-free hotel
Coral nursery
Dressel Diver Center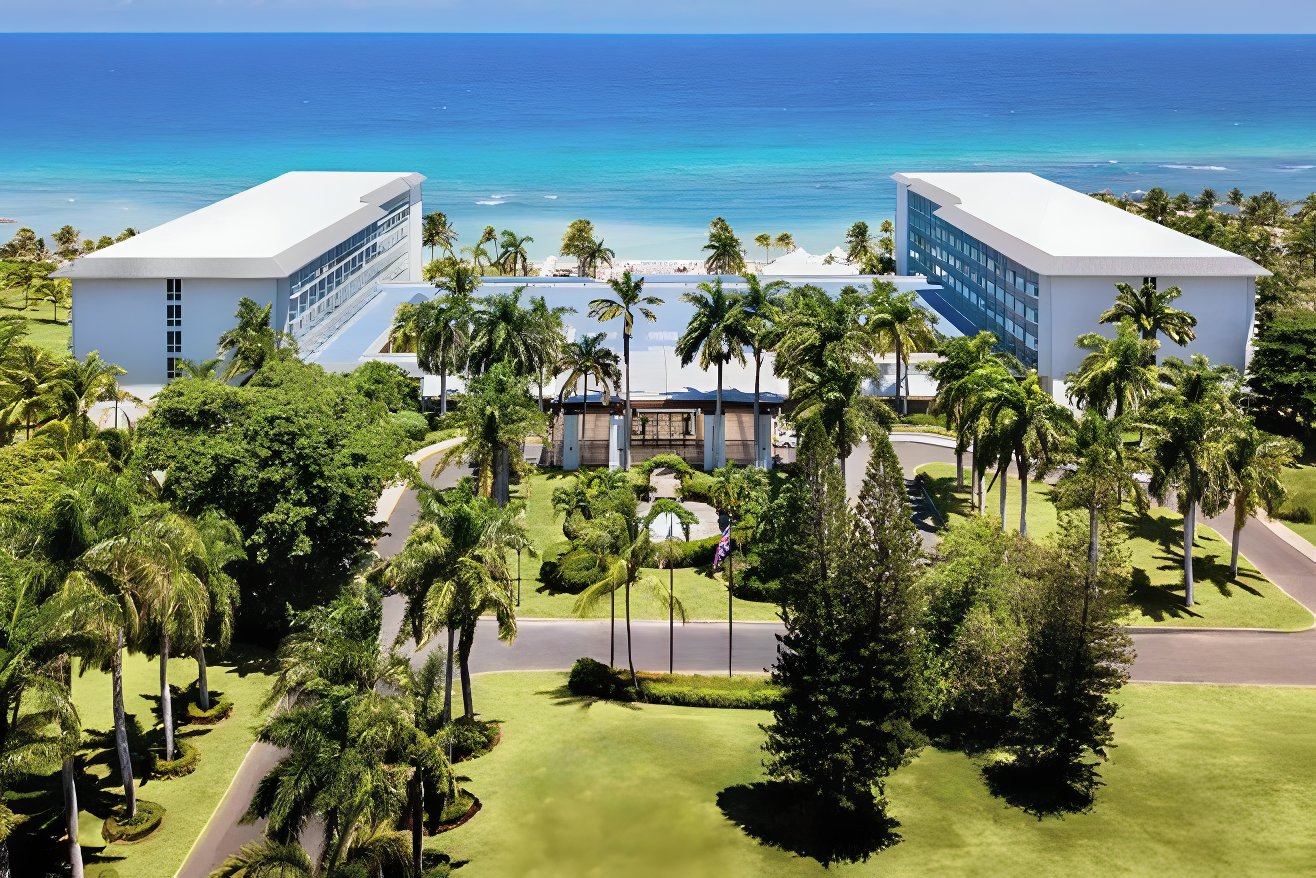 Hilton Rose Hall is built upon a historic 18th-century property surrounded by a natural paradise of waterfalls, lush plant life, and the sweeping Blue Mountains.
But beautiful nature isn't all that Hilton Rose Hall delivers. 
Hilton Rose Hall is a contemporary utopia of luxurious comforts and facilities, like an onsite waterpark, a lush golf course, 11 gourmet restaurants, a spa, and much more.
Nature-loving couples can incorporate the resort's natural beauty into their destination wedding by tying the knot at the outdoor Wedding Gazebo, the verdant West Lawn, or the historic Aqueduct outdoor venue.
Why Kids Love It: 
Hilton Rose Hall is home to a Kids Club and Teen Zone, providing a safe and dynamic space for activities like water sports, snorkeling, tennis, arcades, and even visits to the local 18th-century Rose Hall.
Sugar Mills Water Park is the largest water park in Jamaica. 
Unsurprisingly, it's super popular with youngsters at Hilton Rose Hall.
This comprehensive water park features a lazy river, lagoons, and a jungle garden with a wooden suspension bridge.
Parents can kick back and relax while their kiddos fly down the water slides of this Jamaica family friendly resort!
Why Adults Love It: 
First off, it's a quick 15-minute ride from Sangster International Airport. 
Second, Hilton Rose Hall has unbeatable connecting suites that are perfect for families and large groups.
And for those without kids, Hilton Rose Hall has enough amenities and inclusions to keep you enchanted from morning to night.
Destination wedding couples and their guests will enjoy lavish spas, a private beach, six bars, a lush golf course, 11 restaurants, and much more.
Resort Features:
24/7 room service
4 Bars 
6 Restaurants
2 Pool
Tennis courts
Kids/teen clubs
Nightly entertainment
Fitness center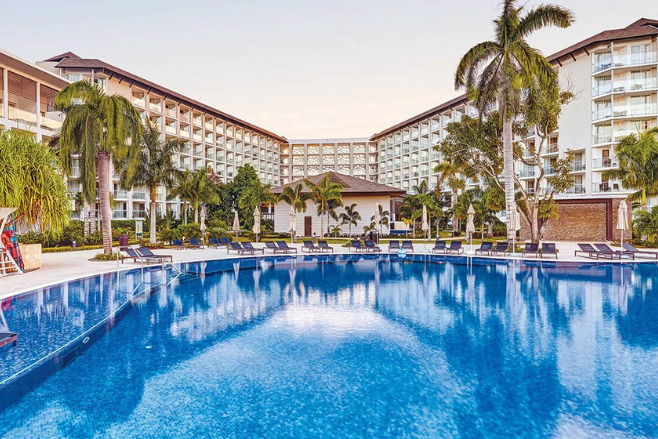 Royalton White Sands is a cocktail mixture of local Jamaican culture and extravagant amenities.
Our Destify couples consistently enjoy Royalton resorts for their affordable wedding packages. 
They range in price from $999 to $10,900, meaning that any budget tier will find a package perfect for them. 
Some of the inclusions that the basic packages at this Jamaica family friendly resort deliver are an onsite wedding coordinator, a semi-private dinner at one of the resort's restaurants for couples and their guests, and much more.
Why Kids Love It: 
The private beachfront has lots of shallow waters, making it perfect for young kids to make a splash and swim in the warm Caribbean waters.
Royalton White Sands has a Kids Clubhouse (for ages 4-12) that offers trivia games, cooking classes, and a safe environment to make new friends!
Why Adults Love It: 
While the children are off at the Kids Clubhouse, their parents can enjoy a day at the Royal Spa, a private lunch at one of the resort's gourmet restaurants, a private cocktail at one of the lounges, a live theater performance, and much more.
For guests of all kids, Royalton White Sands has fantastic suites. These upscale contemporary rooms come with cozy Dreambeds, rain showers, and private patios
Resort Features:
24/7 room service
6 Bars 
6 Restaurants
4 Pool
Main buffet restaurant, three specialty restaurants, and delicious poolside jerk hut.
Diamond Club upgrades include top-shelf bar, exclusive beach area, extra room amenities.
Kids/teen clubs
Nightly entertainment
Fitness center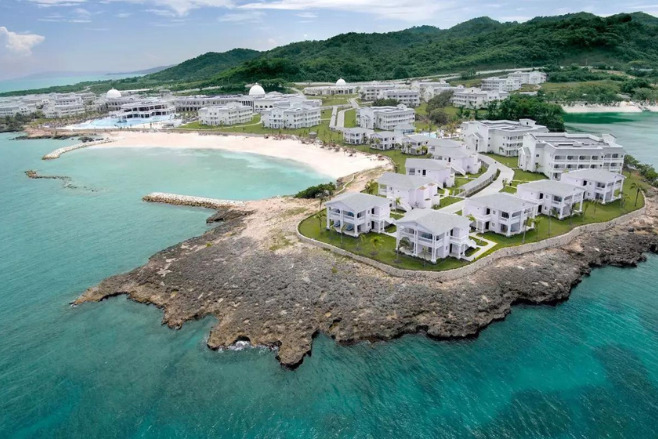 Grand Palladium Jamaica is a peaceful oasis far from the hustle and noise of downtown Montego Bay, making it a laid back Jamaica family friendly resort.
This all-inclusive property is built with Greco-Roman-inspired architecture, creating a signature contrast with the green wilds and jungles surrounding the property.
For destination wedding couples, Palladium properties feature some of the most comprehensive and affordable wedding packages in the business.
Starting at $2,690, these four packages are designed by professional event planner Karen Bussen. They feature different themes, aesthetics, and inclusions and are consistently a hit with our couples and their wedding parties!
Why Kids Love It: 
The resort property features five main pools and an infinity pool. Coupled with the beautiful shoreline, there's no shortage of aquatic fun for the little ones.
This resort also features activity clubs for kids. These facilities host events and activities like volleyball, painting class, arcades, and even their own mascot characters in the form of Raggs & Friends. 
These bright characters play music and put on shows that are a hit with the kiddos!
As if all of that weren't enough, there's also an onsite water park and mini golf course!
Why Adults Love It: 
Parents have plenty of fun and activities for themselves. 
Between 10 different restaurants and bars, like the classy El Dorado steakhouse, there's no shortage of date-night spots in this Caribbean paradise. 
To keep the kidless and carefree atmosphere going, parents should make a stop at the resort's Zentropia Spa. 
After an idyllic destination wedding, whether you're the one tying the knot or in attendance, this spa is the perfect place to squeeze every bead of stress out of your body. 
Resort Features:
24/7 room service
10 Bars 
10Restaurants
5 Pool
Zentropia Spa
Kids/teen clubs
Nightly entertainment
Fitness center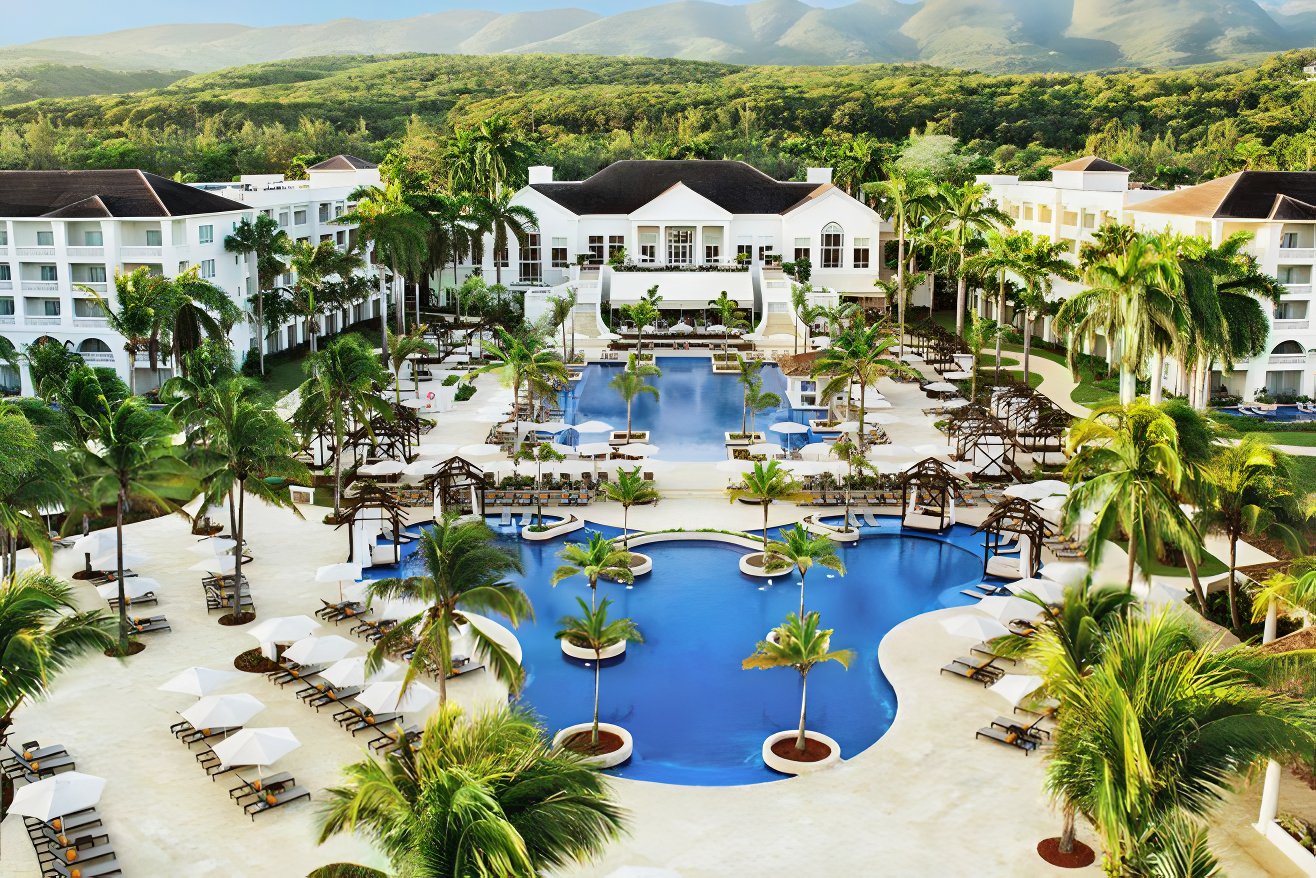 Finishing our list is Hyatt Ziva Rose Hall. 
This all-inclusive Montego Bay property is the gold standard of resort luxury.
With affordable wedding packages and stylish wedding venues, like the rooftop Sky Lounge, our couples love saying 'I do' at this elegant slice of tropical paradise. 
Why Kids Love It: 
There are two pools, a private beachfront, and a KidZ Club for water sports, art classes, ping pong, and other games.
This kids-only facility even hosts night events like disco parties, guaranteeing some nights off for Mom and Dad!
For family-fun, several activity options are included in your stay. Whether it's boogie boarding, catamaran sailing, or kayaking, families and their children are guaranteed to create some unforgettable memories.
Why Adults Love It: 
There are 16 amazing restaurant options, meaning that picky eaters have nothing to fear!
Some standout options include a seafood grill, an Asian fusion restaurant, Brazillian cuisine, or the unbelievable Barefoot JerkZ. You haven't experienced Jamaica jerk cuisine until you've paid a trip to this fantastic beachfront property. 
After dinner, there are tons of options for fun. Adults and guests of all sorts will enjoy dance classes, nightly live performances, a 24-hour fitness center with daily fitness classes, and any of the 7 excellent bars.
Resort Features:
24/7 room service
7 Bars 
16  Restaurants
2 Pool
Nightly live entertainment, like reggae bands and dance shows
24-hour concierge
Airport shuttle service
Two outdoor pools and two heated whirlpools
Invite The Whole Family and Book Your Dream Wedding Today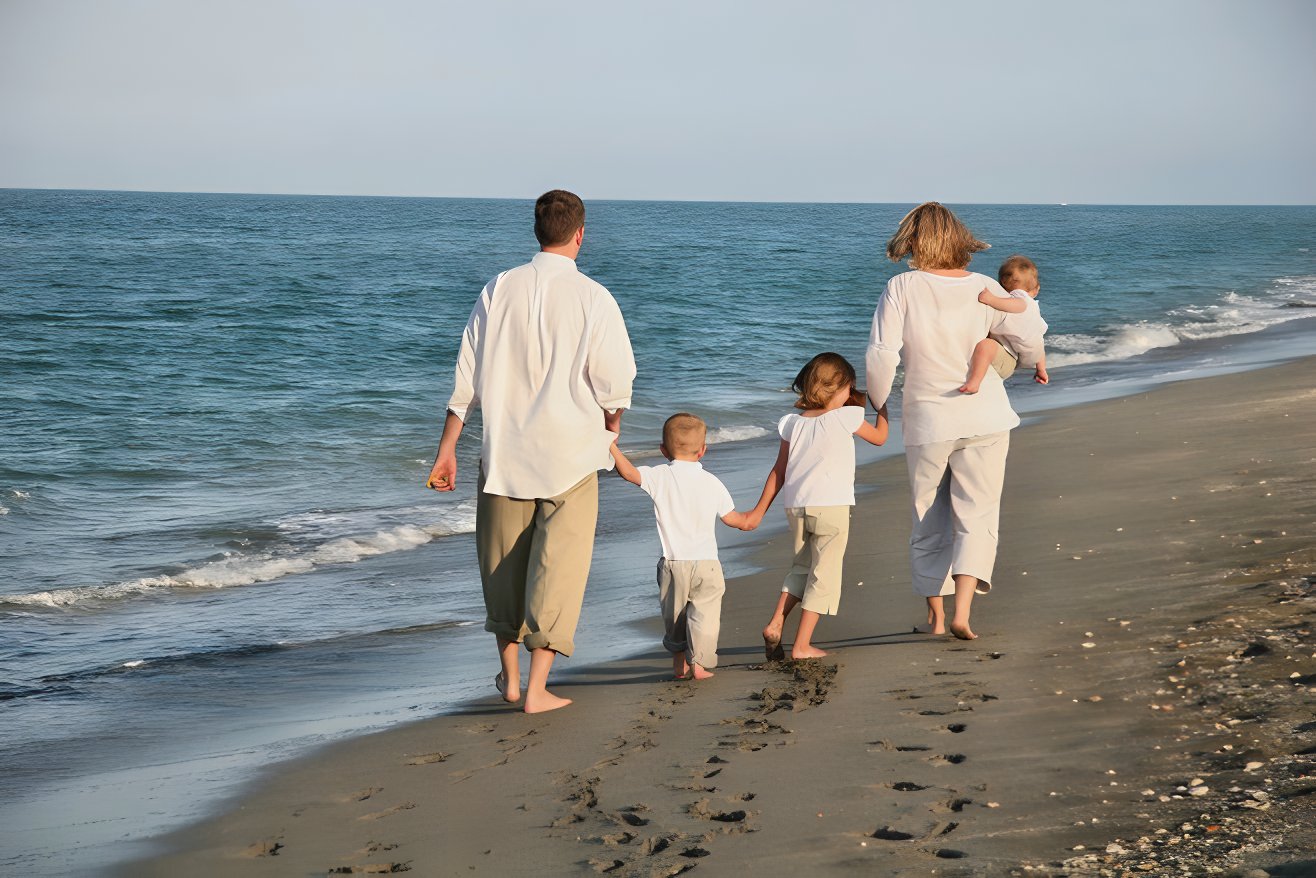 Ready to bring your wedding guest list to a destination wedding in Jamaica?
Fantastic!
Regardless of their age, destination wedding guests will feel like kids again at a Jamaican all-inclusive resort playground!
Make your dreams a reality and talk to one of our wedding experts today!