Summer is one of the finest times of the year for flowers, whether you're having a wedding or not, because so many of them are in bloom naturally between May and September. While the specific destination wedding bouquets you choose will be determined by your budget, wedding florist, and wedding style, it never hurts to have some ideas! We're presenting these summer wedding bouquets to help you decide what you like and don't like so you can communicate your vision to the pros.
Palm Leaves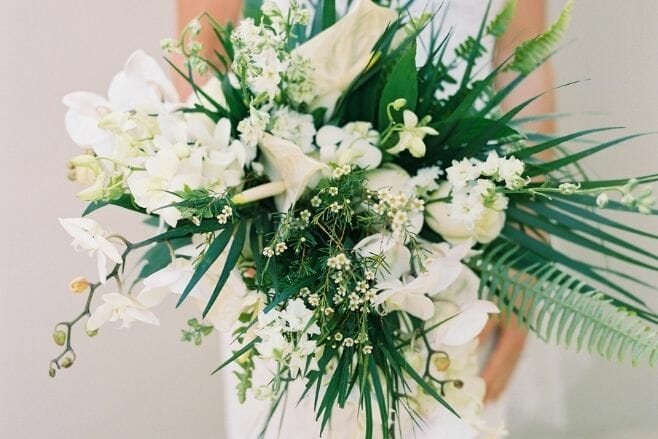 Dried palm leaves and grasses are a must-have for your summer bridal bouquet if you're going for a boho atmosphere. This arrangement's basic tones are balanced out by blush roses and orange bougainvillea.
Green and White Wedding Bouquet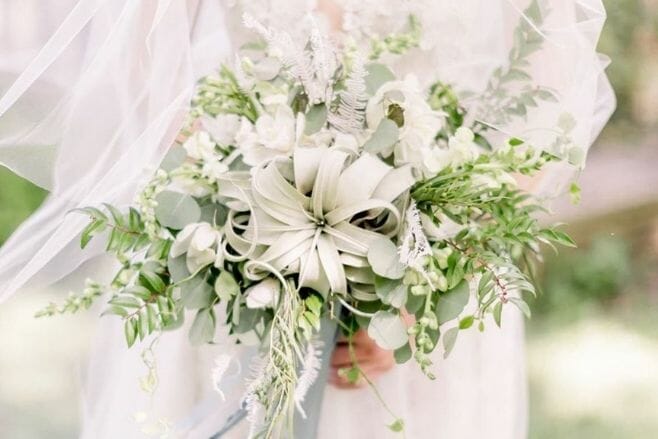 Summer destination wedding bouquets with white flowers and greenery are always great choices for a modern, sophisticated design. Lisianthus, ferns, and peonies make up this bride's luxuriant enormous arrangement.
White and Crimson Wedding Bouquet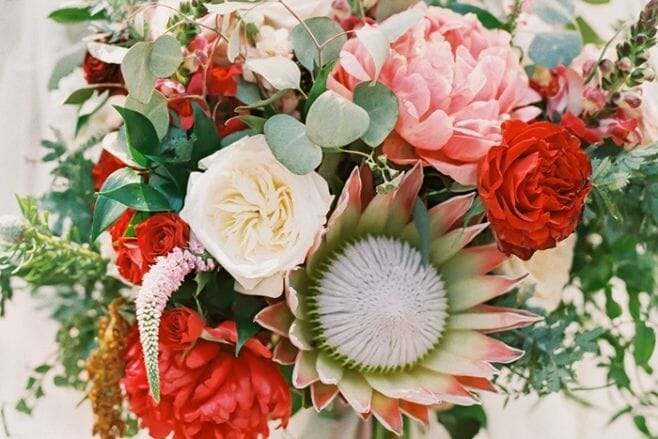 The color combination of crimson and white represents romance, love, and purity, a famous combination! Even in the tropics, it's a favorite for beach wedding bouquets. It's modest at first, but erupts with deep tones that brighten and warm the room.
Summer Red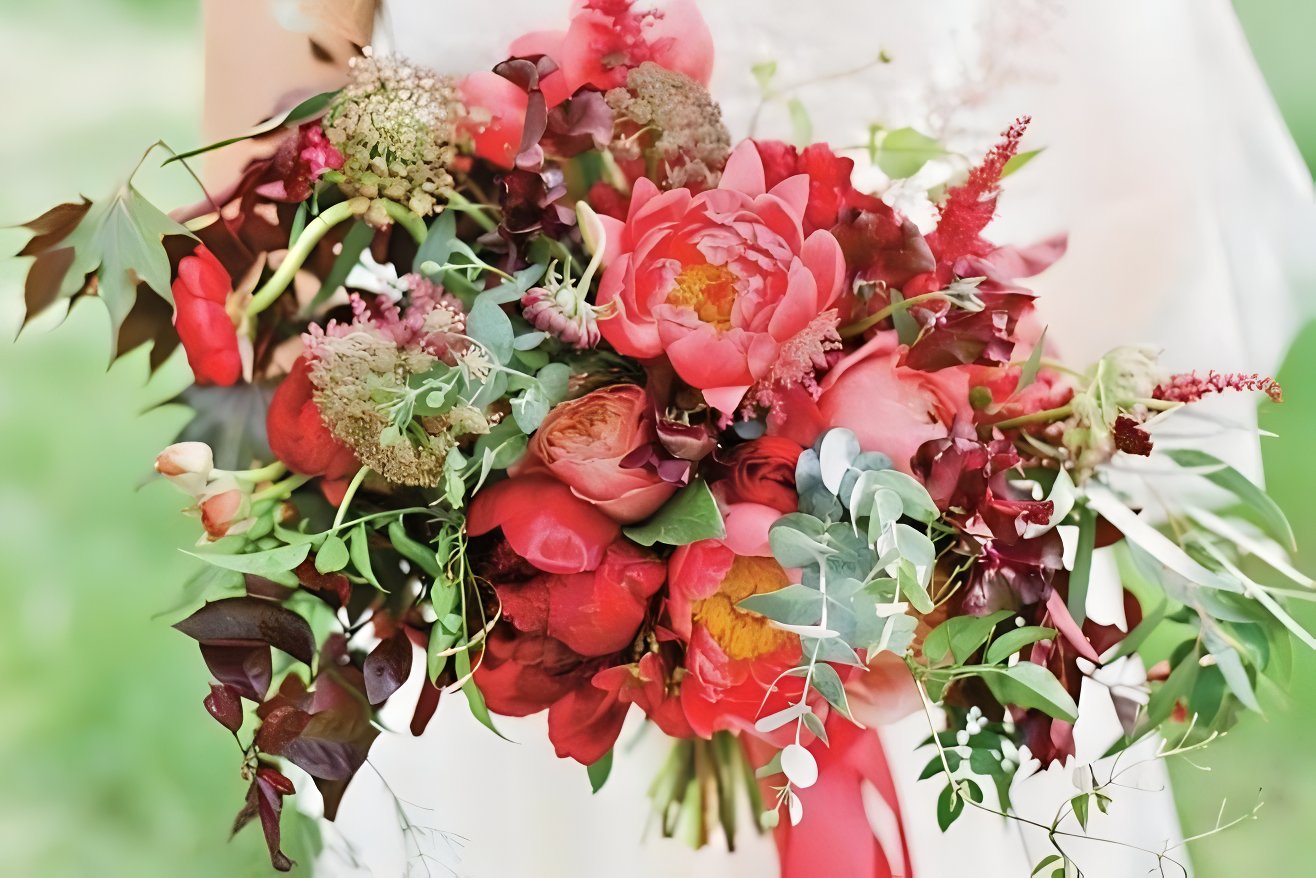 Love, passion, anger, and strength are all represented by the color red. The color red is a vivid show-stopper that is ideal for a tropical bridal bouquet. Flowers to use for your stunning red bridal bouquets include: cardinal, anthurium, poppy, red carnation, red tulips red roses, cardinal, anthurium, poppy, red carnation, red tulips
Orchids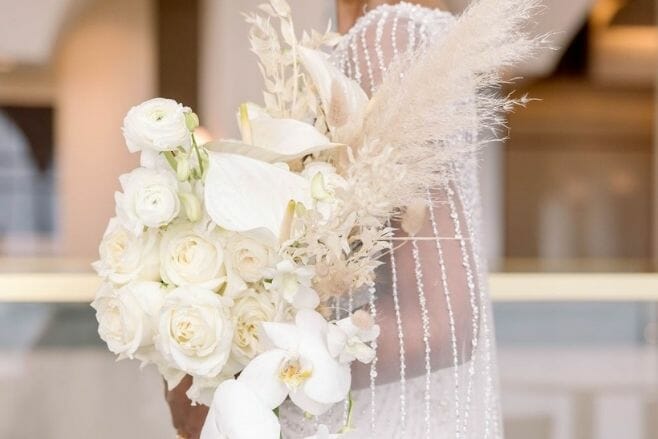 Orchids are a popular choice because they are such a beautiful, exotic flower that thrives in the heat. It also comes in a range of colors and styles to fit everyone's preferences and budget. It's the native flower of several beach wedding destinations, such as Costa Rica, so if you're getting married there, you'll be delighted to see such a diverse array of exotic orchids.
Pastel Hydrangeas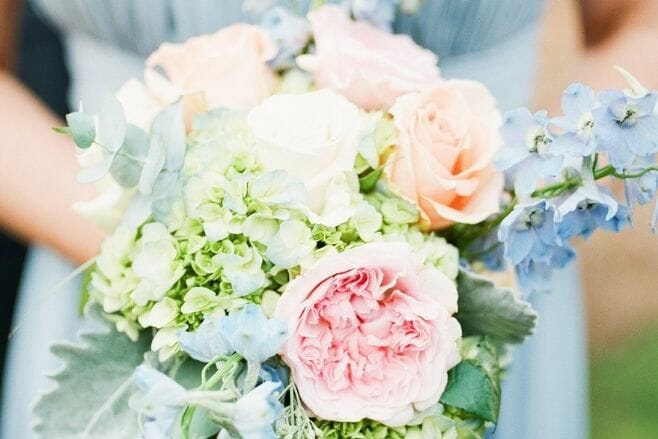 When hydrangeas are included, a blush and blue color scheme is traditional summer flair. Destination wedding bouquets with this majestic flora are given a more modern aspect with a few asymmetric elements.
Classic Rose Wedding Bouquet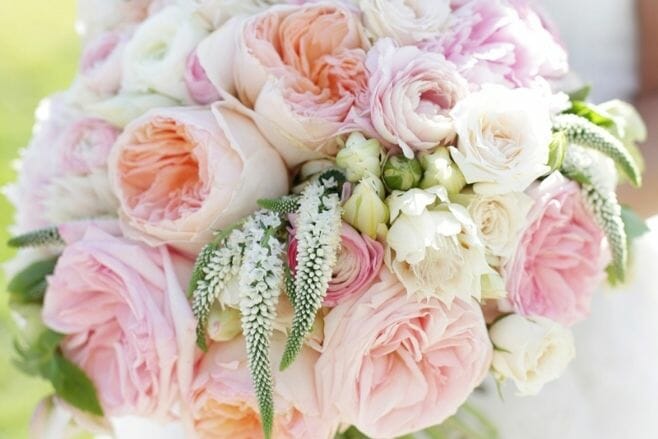 Carry a summer bridal bouquet bursting with beautiful blush and cream roses enhanced with cascading smilax vines for ultimate magical wedding emotions.
Peach-Blue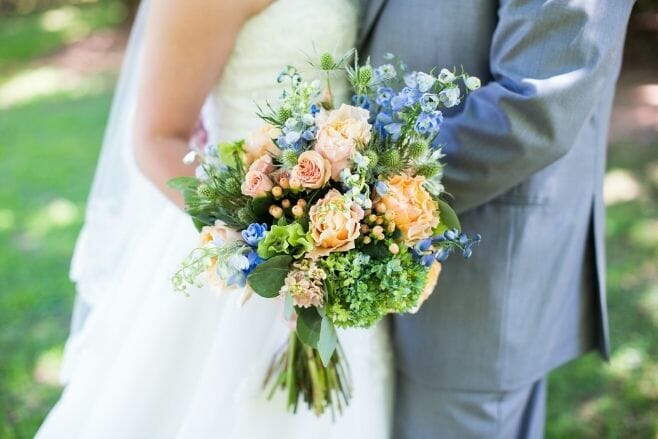 A classic effect can be achieved by matching your bridal and bridesmaid flowers. These peach dahlias, garden roses, and white anemones, as well as the vibrant peach and blue color palette, are stunning.
Calla Lilies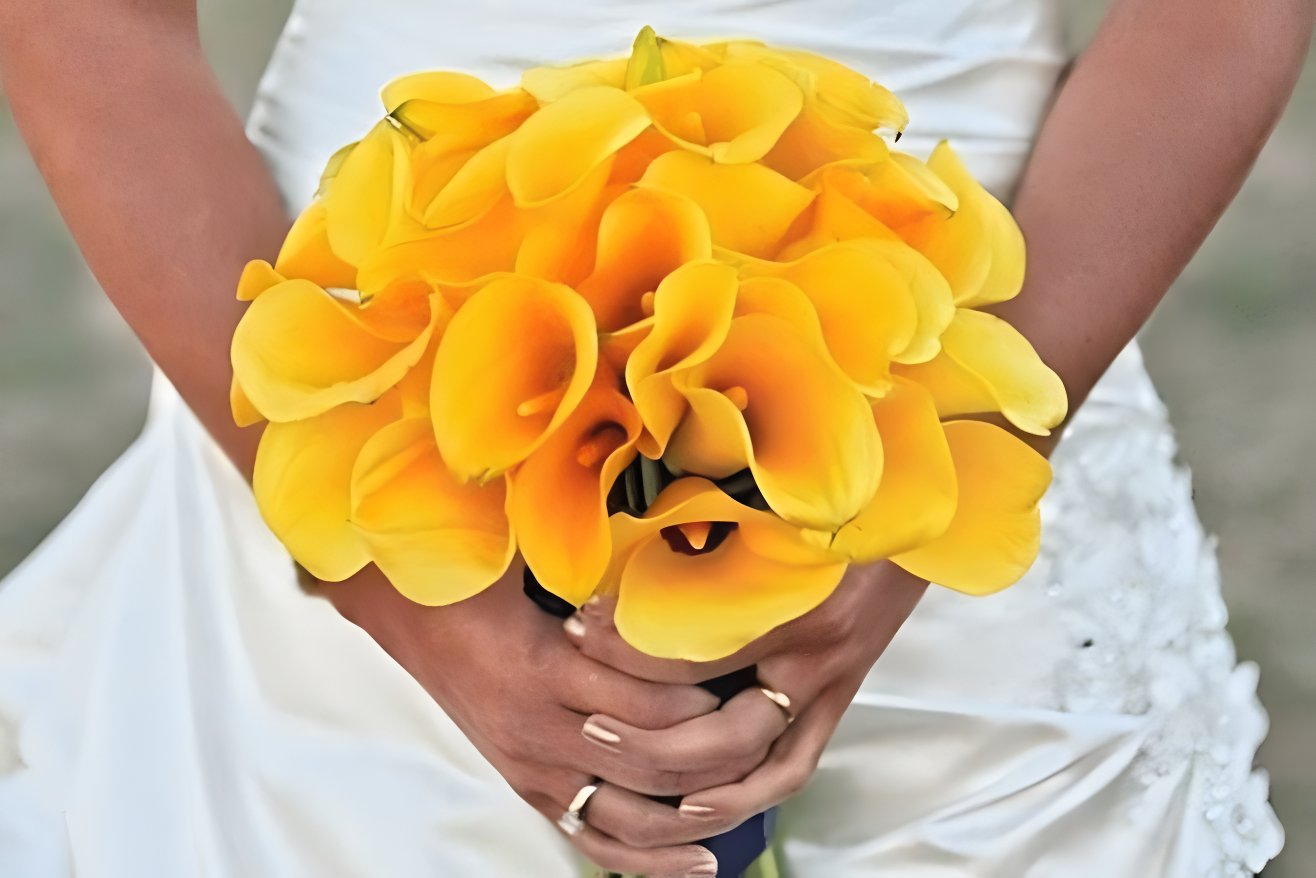 Simple, elegant, and dramatic are all words that come to mind when thinking of calla lilies. This lovely flower comes in a variety of colors, the most common of which is white. Although you would think white is boring, the bloom's tall, thick green stems and big blossoms set them apart.
Because calla lilies are a sturdy flower that can survive the heat, they are ideal for a beach wedding. They're timeless, and they'll look wonderful in a modern, laid-back beach ceremony or a more formal event.
Iris Wedding Bouquet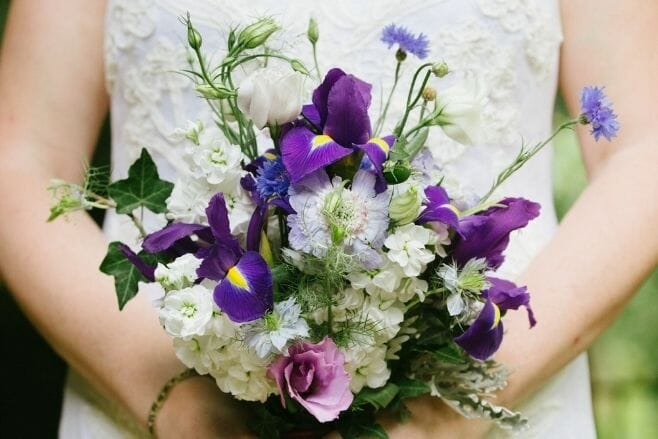 Irises are most commonly associated with a brilliant purplish color, although they also appear in a wide range of other colors, including pink, yellow, and white. Each stem is unique and gorgeous, with some even having a sunset or ombré hue. Some kinds have no perfume at all, while others may have a delicious aroma. White irises lend texture and a hint of frill to a bouquet, comparable to the look of sweet peas. A solitary bouquet, on the other hand, can provide a stunning, enticing look for a romantic wedding.
Dahlias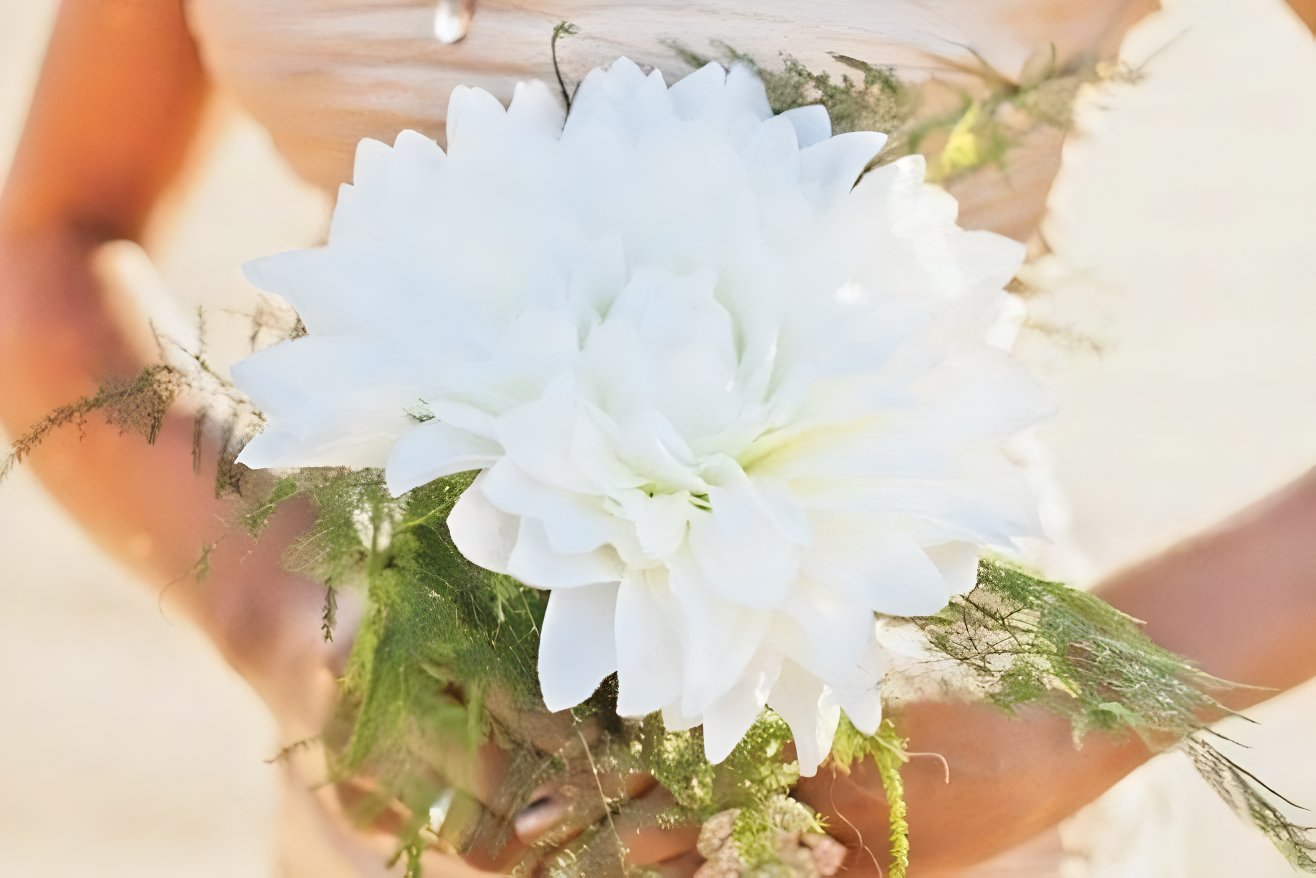 Dahlias are a stunning choice for making a statement in any arrangement or centerpiece, thanks to their exquisite texture and wide range of sizes. They don't have a scent, but they come in a wide spectrum of colors, from gentle pinks to deep dark burgundies, as well as bright oranges and plain white. You can utilize them to create a rustic atmosphere or leave them alone for a more sophisticated aesthetic.
Delphiniums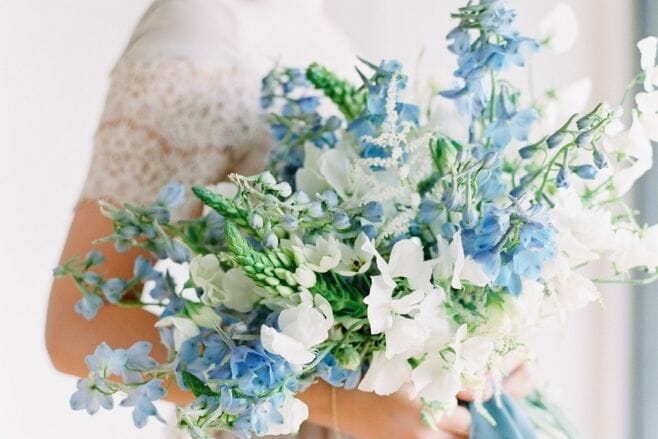 Delphiniums are tall and stemmy statement-makers that usually function well alone in an arrangement. They are available in a variety of blue and bluish-purple tones, as well as white and pink. They're the ideal floral choice for a bold, rustic mood, and they have a light aroma that won't affect any sensitive guests.
Got your perfect beachfront bouquet in mind? Connect with a Destify Booking Coordinator today and find your accompanying wedding resort via the link below: