Have you seen our favorite movie? Zoom in on a wedding at a tropical paradise, zingy jokes, and Keanu Reeves: comedy ensues. But what are real destination weddings like?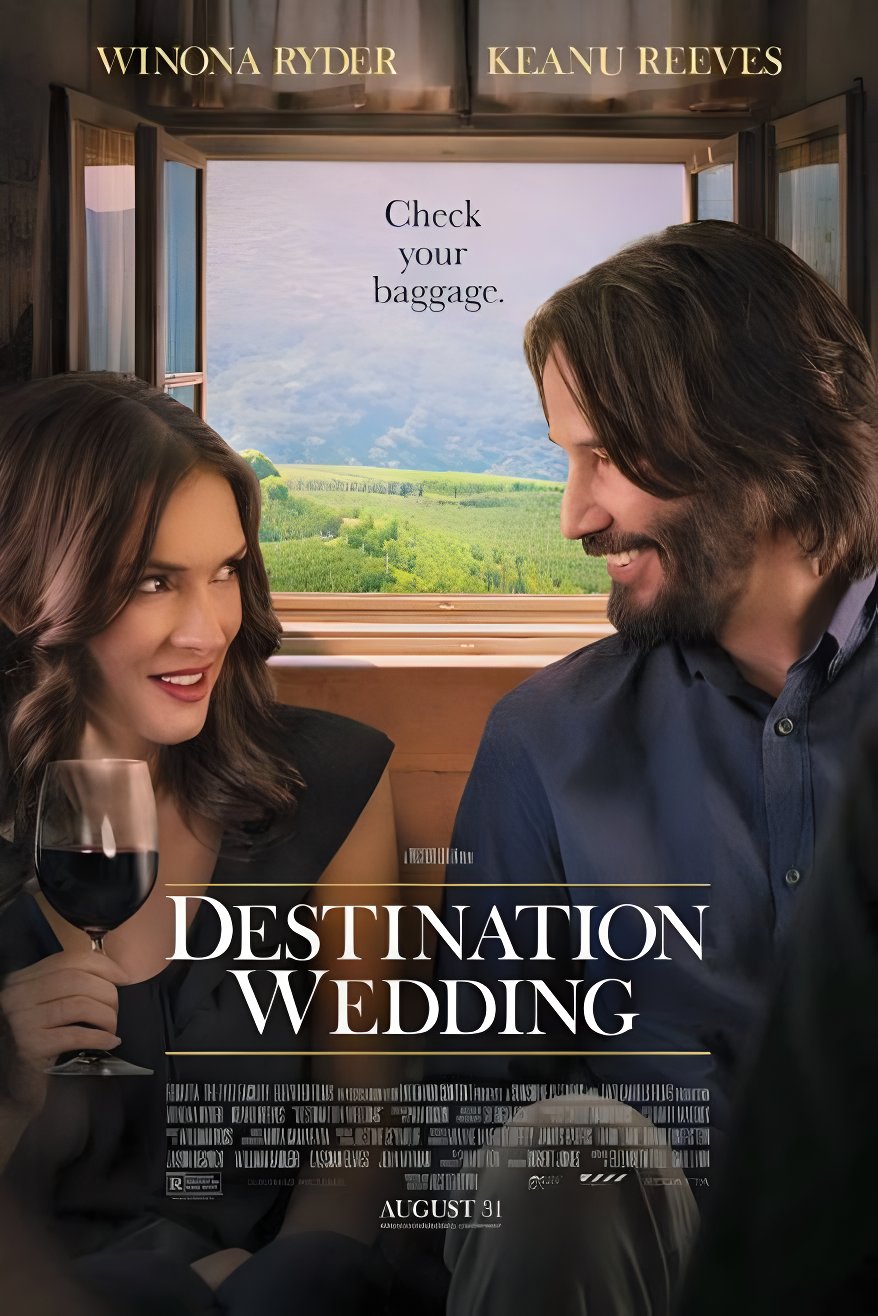 That's right, THE Keanu starred in a movie about them, and there are not a lot of these movies out there.
Besides an absence of Neo, real destination weddings are perhaps one of the most rewarding ways to walk the aisle – all while saving some dough.
For those lovebirds thinking about tying the golden-sand knot, welcome to the Destify Starter Kit, equipped with a brief, yet info-packed dive into wedding planning (Keanu Reeves not included, sadly 😭). Let's get started:
Weddings 101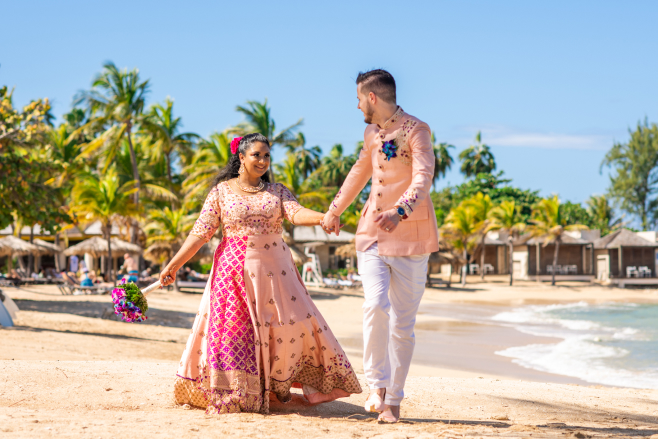 "A destination wedding is a wedding that takes place away from your home city. It's most likely held at a resort or hotel. Everything is done on-site with no need for extra travel. It's where all your friends and family come to one place to celebrate you."
Types of Weddings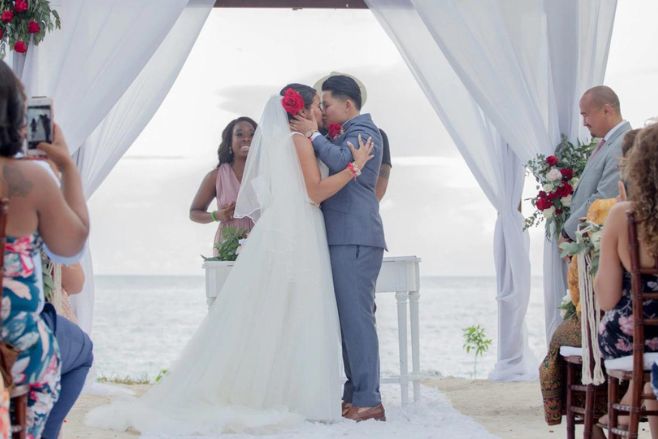 There are four types of destination weddings you can plan:
Symbolic: Most affordable, hassle-free experience. Marriage licenses are obtained in the U.S. before hosting your ceremony in paradise.
Legal: Your own Princess Bride officiant gets to oversee and legalize your matrimony. Incurs some additional fees and requirements (and lots of twue wuv).
Religious: Want to tie your religious traditions into your celebration? Great news! Most wedding resorts offer on-site chapels and Sangeet spaces to honor your spirituality.
LGBTQ+: We're proud to report that most of our destinations welcome LGBTQ+ couples to tie the knot in your own personal oasis!
Maybe we're biased, but we believe one of the BEST perks of a wedding abroad is the Hollywood treatment. And when you plan your wedding getaway with Destify… you're guaranteed the luxury of an all-inclusive stay.
But where will you stay? Well… we have some thoughts.
Destination Wedding Locations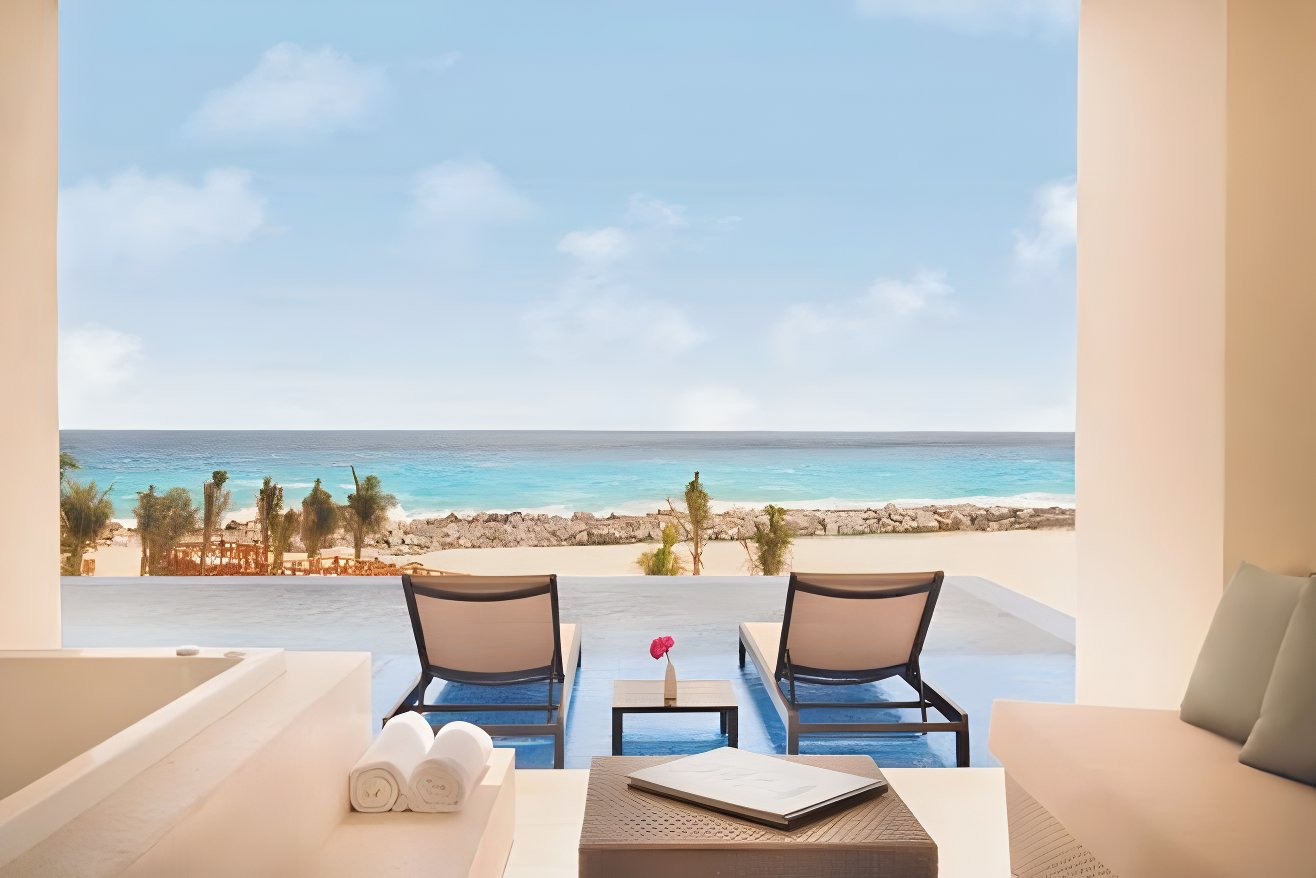 Speaking of locations, you didn't think we were gonna leave you hanging right? Ranging from sun-kissed Mexico-Caribbean havens to lakefront forest kingdoms, our Destify-certified wedding destinations will have you rushing to our Instagram for more inspo! Without further ado, here are the many top-tier locations you can choose from while planning:
Destination Wedding Packages
Imagine everything you could possibly want for your wedding: handcrafted wooden chairs, mouthwatering food stations or plated courses, your pick at a selection of lavish venues. Now put it all in one basket. You've got yourself a destination wedding package!
While they vary in cost and amenities, here are a few stellar examples to get your beachfront daydream started: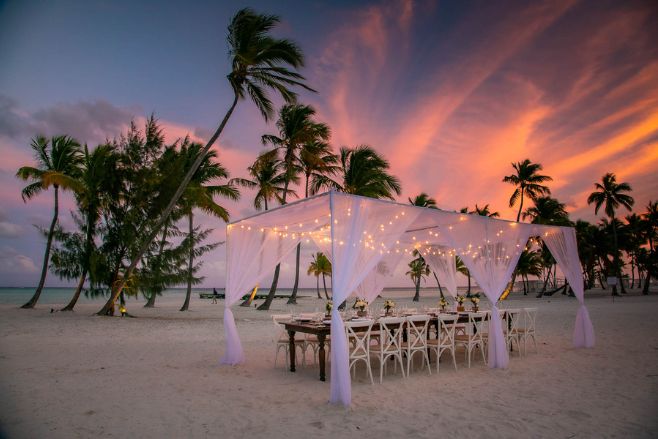 Cost: $1499
Guests: 10 included
Symbolic marriage
10 guests included (additional guests can be included with extra cost)
Ceremony and certificate, performed by a Secular Bilingual Wedding Officiant
Floral Bouquet and Boutonnière for the wedding couple
Signature Wedding cake
Special decoration of the Couple's room
Complimentary wine delivered to the Couple's room
Late check-out for the couple up to 3:00 p.m. (applies for the Couple, subject to availability)
Onsite services of a professional Wedding Specialist
Complimentary online registry and Wedding website
Ceremony table with white linen and folding Wedding chairs
Sound system for the Ceremony
Massage for the Wedding Couple (25-min each one)
Romantic dinner for the Couple
Pros: Complimentary amenities galore! Affordable and guarantees a majestic ceremony at any of the property's breathtaking venues.
Cons: Complimentary amenities galore…for the couple! Guests will still be able to leverage all-inclusive benefits during their stay, however, most entry-level packages only reward couples with those free listed perks. Therefore… ensure your guests know ahead of time you and your spouse-to-be will be a bit more pampered, and let them be a lil' jelly.
Dreams of Love at Dreams Tulum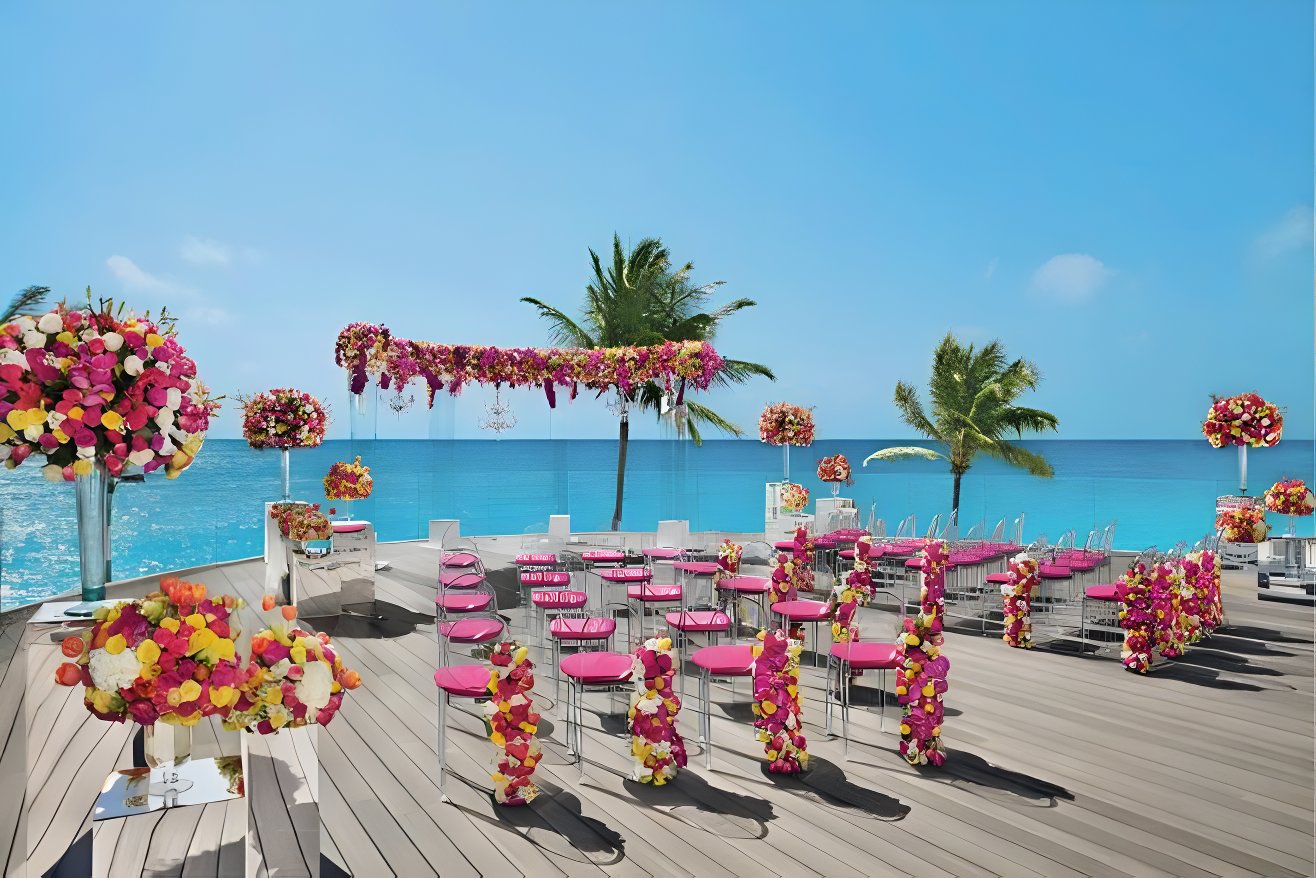 Cost: $3399
Guests: 30 included
Service of judge or minister
Wedding organization and personal touch of on-site wedding coordinator
Preparation and ironing of couple's wedding day attire
Complimentary room for one member of the wedding couple the night before the wedding (based on availability and upon request)
Bouquet(s) and/or boutonniere(s) for wedding couple
Two boutonnieres and two corsages for wedding party
Sound system with speaker and microphones
Hairstyling and makeup application for one member of the wedding couple for day of ceremony
Wedding cake and sparkling wine (up to 30 guests)
Private cocktail hour with hors d'oeuvres (Silver menu, up to 30 guests)
Private dinner reception (Silver menu, up to 30 guests)
One natural floral centerpiece for the sweetheart table (one)
36 full color photos and wedding album
Special turndown service night of the wedding
15% discount on all spa treatments (Spa boutique purchases not included)
Newlywed Package
Welcome letter
Fresh fruit
Bottle of sparkling wine
Breakfast in bed with mimosas (reservations must be made in advance with concierge)
Late checkout for the couple (based on availability and upon request)
Free anniversary nights
Pros: All of those perks…for that price? 😲 You bet! Oh and, that's not even the most expensive wedding package available at Dreams Tulum.
Cons: We see them too. "Based upon availability and upon request." We'd like to say that most, if not all, of those special benefits can be fulfilled; however, there's always the slight possibility that they might not be truly available. When in doubt, request ahead of time.
Exclusive Wedding at Royalton Blue Waters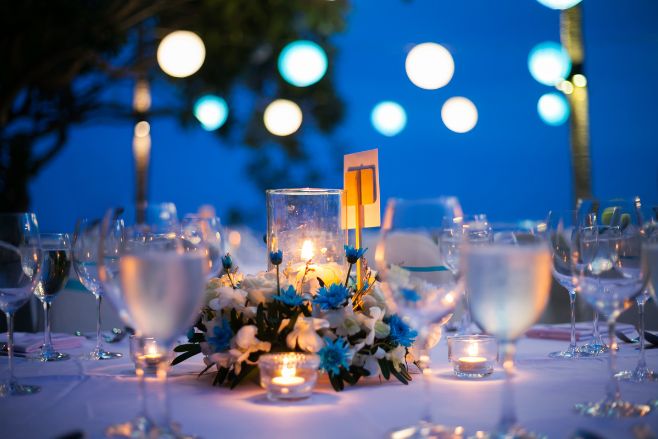 Cost: $11199
Guests: 40 guests included
Personal wedding planner & onsite coordinator
VIP welcome & late checkout for wedding couple (based on availability)
Wedding couple room upgrade (based on availability)
"Getting Ready" refreshments & fruit platter for the wedding couple on the wedding day
10% discount on spa services for entire wedding group
Breakfast in bed for the morning after the wedding
$150 spa voucher, no cash value – 6 coupons each of $25 USD value
Couples massage (25mins)
Includes 2 hours of standard open bar
2 hour private BBQ party
10 Tikki Torches
Caribbean Trio performance (45 mins)
Ceremony location
Symbolic ceremony
Chairs included
Sound system for ceremony
Ceremony table with linen & tropical centerpiece
1 tropical bouquet
1 tropical bridesmaid bouquet
1 tropical groom's boutonniere
1 tropical groomsmen boutonniere
Aisle chair tropical floral corsages (up to 8)
Sparkling wine toast
3 cocktail tables with white linen
5 appetizers from our signature cocktail menus
Wedding coupe signature drink
1 hour of standard open bar service
Solo Musician – violinist, saxophonist or guitarist (45 mins)
4 hour private reception
Includes 4 hours of standard open bar
4 hour sound system
Round tables with white linens
$300 USD reception floral centerpiece credit
2-tier wedding cake
Cake table dressed with white linen
Personalized menu cards
Pros: It doesn't get more elegant than Royalton Blue Waters. We're pretty certain it's the Oscars and Oscars After-Party of wedding packages.
Cons: A lavish package is pricey. That being said, when you think about it, you're still getting a better deal than what you would pay at most stateside locations (try $30,000 for an entry-level package 😶)
Destination Wedding Costs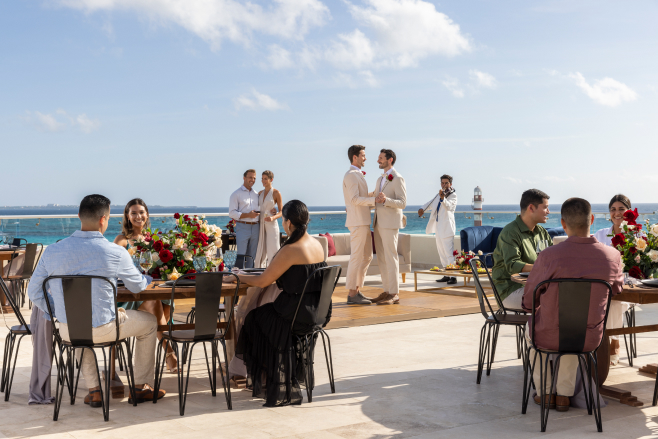 It's easy to assume that destination weddings might be more expensive than they really are. We totally get it. The extravagant resorts, airfare, and just extra perks that might cost more dough?
Here's the thing: most of our offered locations and resorts not only showcase more affordable wedding packages compared to stateside weddings, they also guarantee all-inclusive status. Quite literally everything, from poolside bites to wedding venues, are included with your package and stay. Most resorts within the US (including those Destify partners with) do build their weddings out as more a la carté fair. Consider it a polite note as you consider your budget for the big day!
Destination Wedding Venues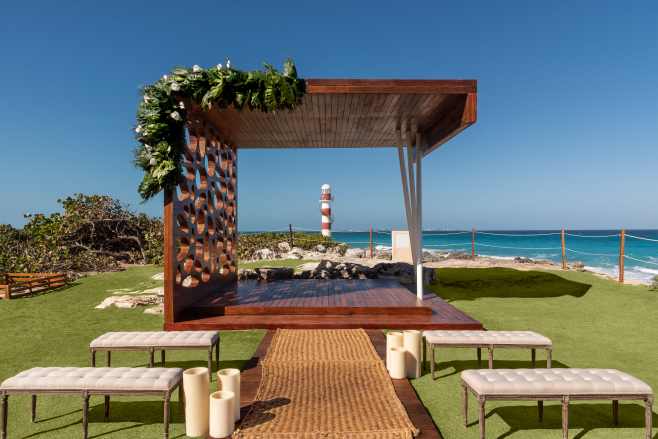 Choosing a wedding automatically increases your chances of reserving a pristine, Caribbean or mountain breeze-imbued wedding venue. ​​Be it against an ocean backdrop, lush tropical garden, or being modern and chic on a rooftop terrace overlooking it all, our resorts offer a variety of picturesque spots to tie the knot at. Here are some of our top picks:
Resort Activities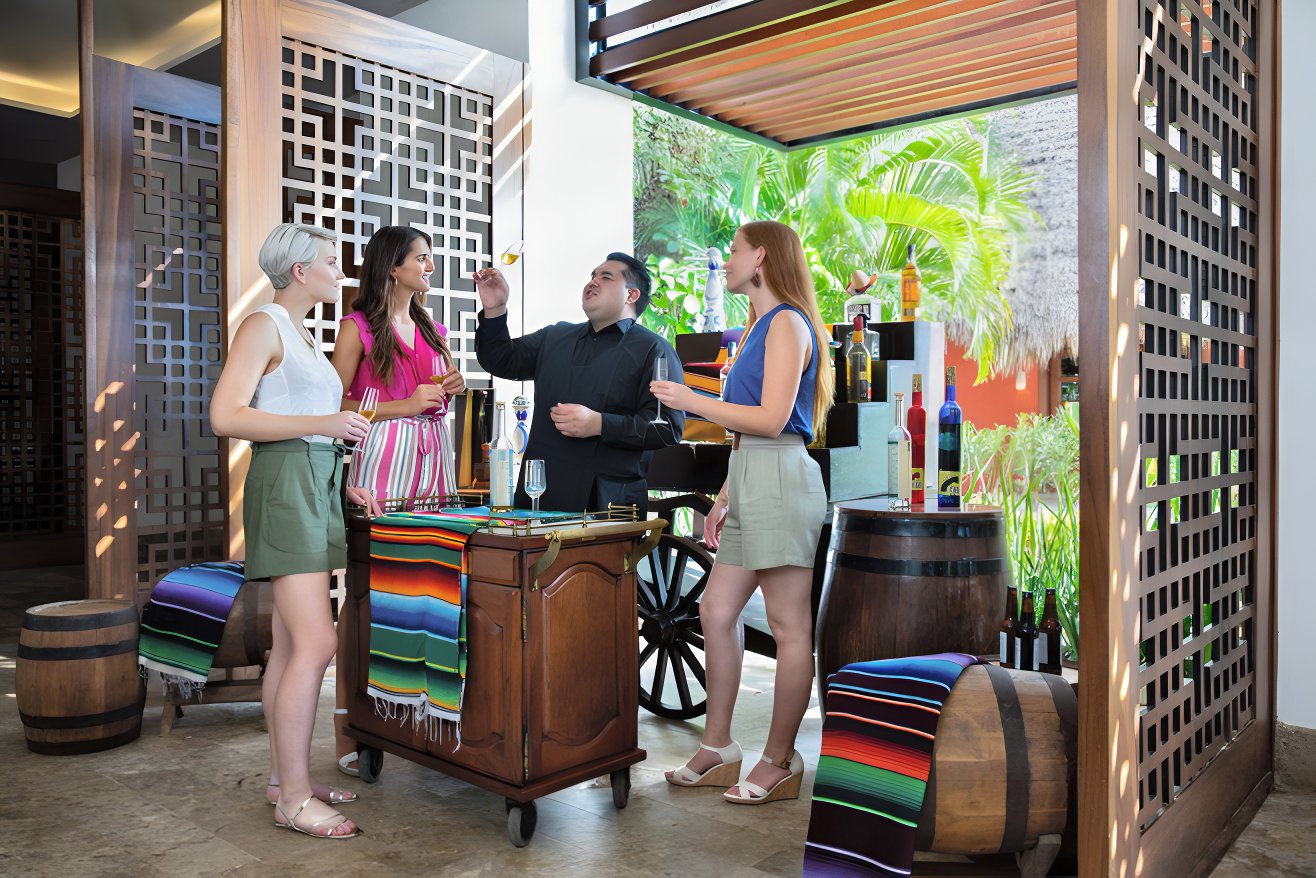 Did you know: you could hypothetically grab a hot-stone spa treatment and paddleboard just hours before your ceremony?
True story? Yes. Recommended? Erm, we'll leave that up to you.
Either way, on top of your jaw-dropping location and venue, your wedding also comes with an all-inclusive resort! And that all-inclusive resort comes with a selection of on-site luxury activities perfect for every guests' speed. From salsa dance classes to tequila tastings, the following resort activities barely scratch the surface of what you can enjoy just steps from your elegant suite:
Jet-Skiing
Hydrotherapy Circuit Spa Treatments
Flowrider Surfing (electronic wave generator)
Kayaking
Yoga Classes
Spin Classes
Live Nightly Entertainment (al fresco dancers, Michael Jackson impersonators, acrobats, etc.)
Beach and Pool Volleyball
Tennis Lessons and Matches
Excursions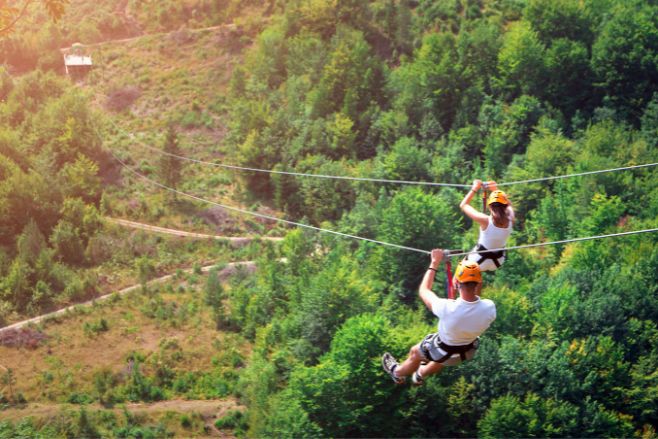 Make sure those tennis shoes and thirst for adventure are packed. Getting married in a tropical paradise brings a dizzying array of off-site excursions unique to each destination – all of which will make you and your guests perhaps spend less time at the resort!
Whether you're swimming the shimmering freshwater cenotes of Riviera Maya or embarking on Montego Bay's rum-tasting tour, you can rest assured that your wedding/travel itinerary will be saturated with more excitement than most traditional weddings.
Take a gander at a few more excursions…and see if you can keep that wanderlust under control:
Historic Mayan ruins of Chichen-Itza
Shopping on Playa del Carmen's Fifth Avenue (the Rodeo Drive/Mag Mile of Mexico)
Snorkeling off the Yucatan coastline
ATV Tours at Cabo or Cancun
Zip-Line Courses in Punta Cana
Optimal Wedding Seasonality
Yes, in theory, you can look up any stateside resort and find a wedding date that works for you and your guests to attend. But…if you're looking for more "Yes"s in that RSVP window, definitely consider a longer timeframe for planning.
Most peak tourist seasons for Mexico-Caribbean resorts tend to coincide with fall and winter holiday seasons, meaning more availability from younger guests on break from school or professionals approaching their seasonal PTO. Oh and surprise surprise, you get to leverage year-round sunshine and warm breezes.
Destify Tip: For even more savings on your wedding budget, book your celebration during the Low and Shoulder Season, where deals are abundantly available!
Wedding Director Notes
Destination weddings are inherently beautiful celebrations that enable to-be newlyweds the opportunity to truly maximize and elevate their roll-credits-worthy "I Do." Simply put, if you're looking to save money on your wedding aisle, all while tying the knot in a lavish paradise…a destination wedding might be the thing for you.
Still wondering whether or not a destination wedding is right for you? Take a look at our satisfied Destify Couples and their heartwarming wedding stories:
So, ready to say "ACTION!" on your destination wedding planning? Follow the link below to our luxury destinations, and let the daydreaming begin…