Resort: Ocean Blue and Sand
Location: Punta Cana, Dominican Republic
Resort Group: H10 Hotels
Package Costs: $600-$5500
Venues: 4
Today we're featuring the pristine all-inclusive Ocean Blue and Sand in the enchanting oasis of Punta Cana. There's an insatiable charm that imbues every corner of the property, with elegant venues and family-friendly amenities abundant and ready to deliver an optimal destination wedding. Follow below as we feature our wedding resort spotlight on the Ocean Blue and Sand resort: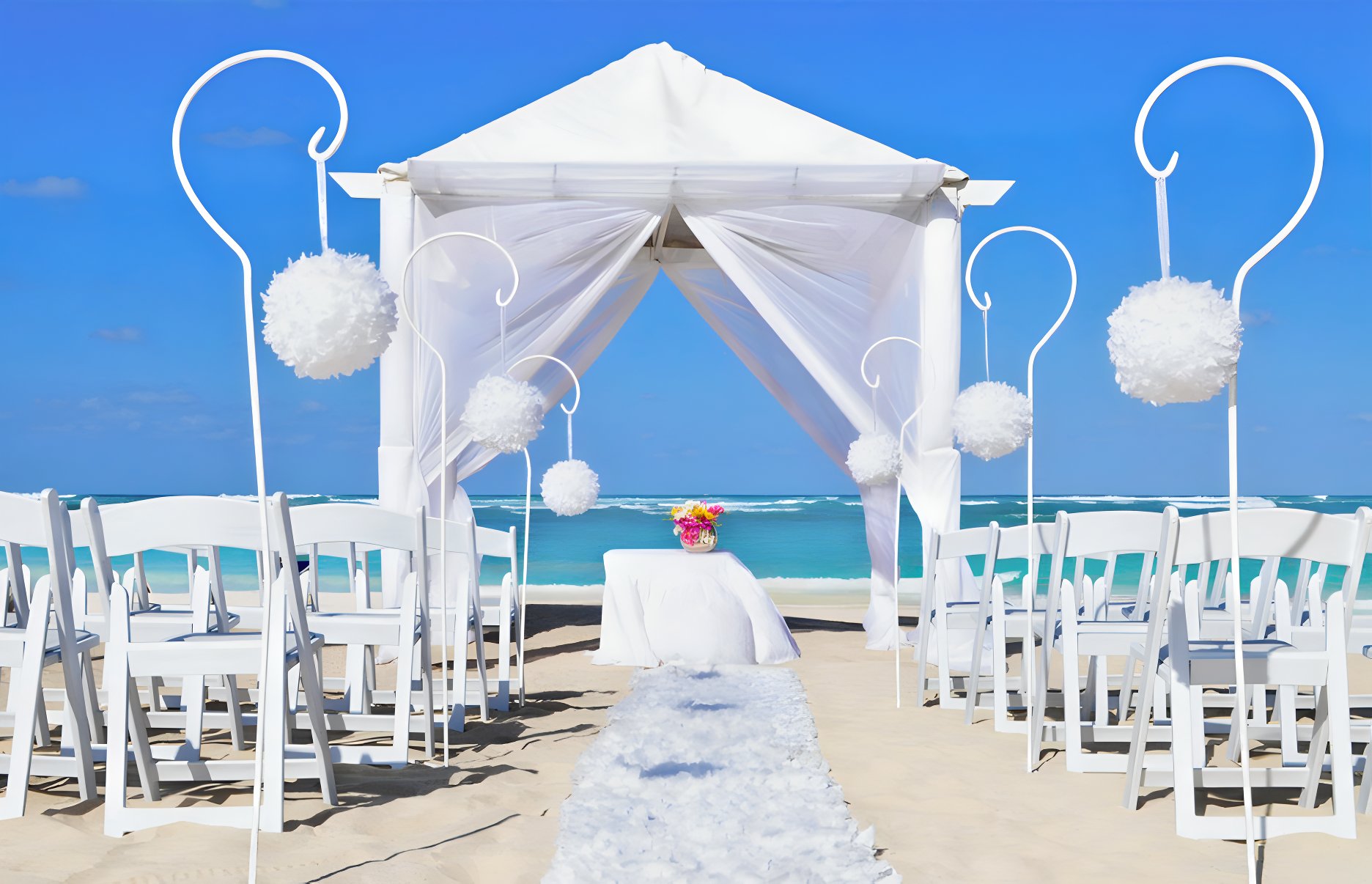 The Wedding Experience
Your dream ceremony awaits at this tropical gem, perfectly positioned on a private sugary white sand beach. The property ensures couples receive a truly secluded wedding day experience. The on-site wedding department can fulfill every preference, the resort maintains a sense of exceptional professionalism that'll turn your vision into a reality. An Ocean Blue and Sand wedding showcases a collection of customizable wedding packages and upgrades complete with valuable spa discounts and talented cocktail hour violin soloists.
Contemporary and traditional designs form a beautiful symphony at this beachside haven. Boasting handcrafted gazebos and alluring landscapes, Ocean Blue and Sand provides 4 picturesque spaces capable of accommodating anywhere from 30 to 200 guests, perfect for wedding parties of all sizes.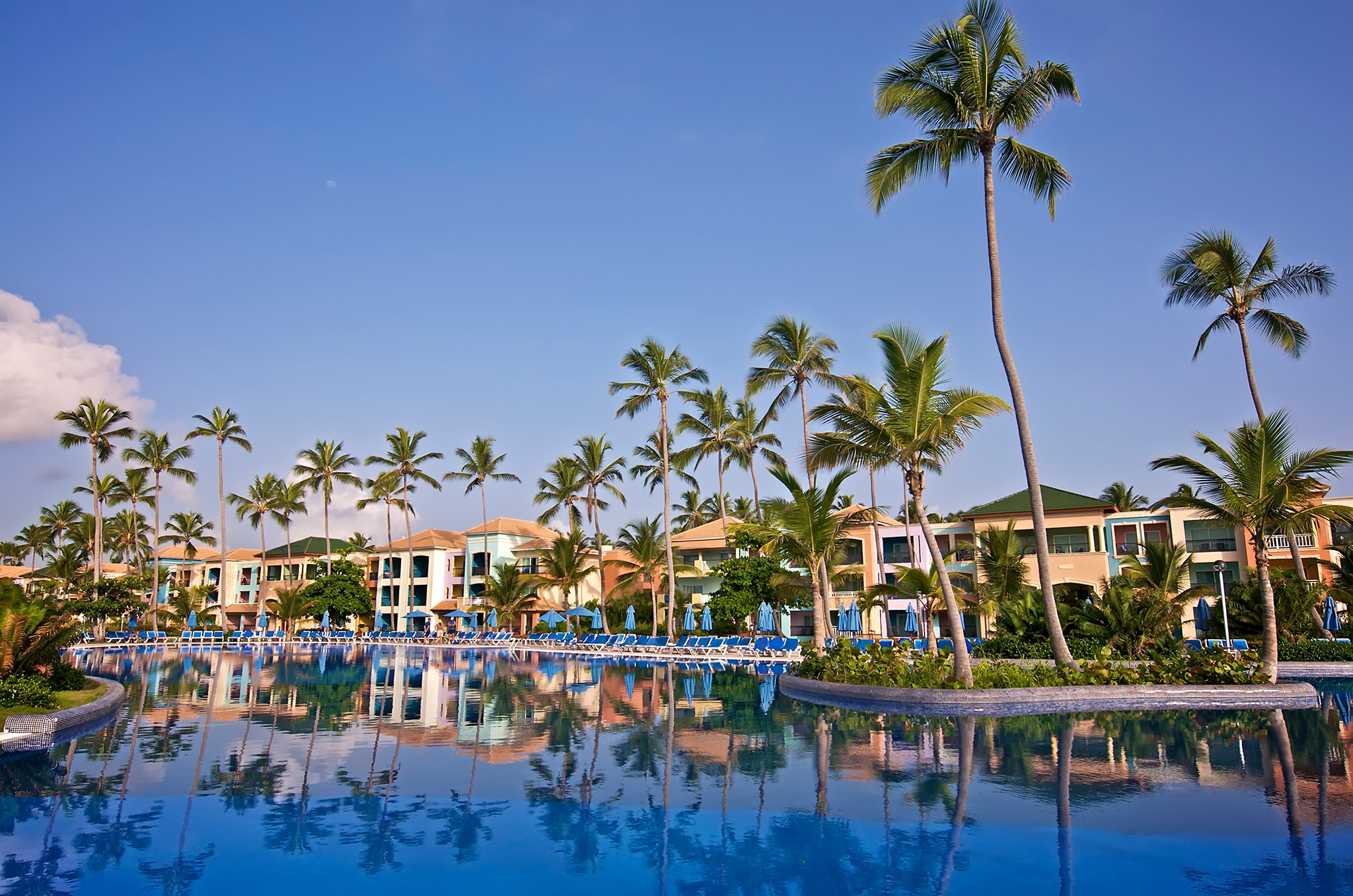 The Resort Experience
Welcome to a crescendo of Punta Cana excellence. Every day is a culinary adventure at Ocean Blue and Sand. Garnering a delectable set of restaurants and bars throughout the property, guests are encouraged to sample high-end gourmet eats and cocktails. There's something for everyone at this multi-faceted resort. With a Vegas-style casino, interactive children's club, and seemingly endless nightly live entertainment, guests of all ages will discover their personal island paradise. The best part? All facilities provide 24/7 service, meaning you can indeed take a stroll to the buffet for late-night ice cream sundaes.
Local Excursions
So you've chosen Punta Cana, one of the party capitals of the world. Nestled strategically on the majestic shores of the Caribbean and minutes away from downtown, Ocean Blue and Sand provides the perfect launching point for unforgettable nights on the main drag. Teeming with world-class nightlife, gourmet restaurants, and luxury shopping centers, Punta Cana represents the gold standard of modern Caribbean extravagance. Guests can also enjoy a bevy of nature excursions, complete with jungle zip-line courses and exciting scuba diving expeditions into a marine wonderland.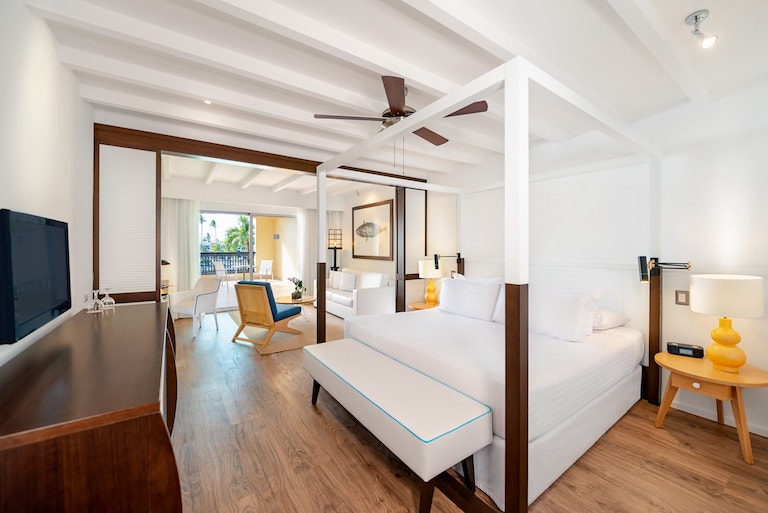 Luxury Accommodations
Ocean Blue and Sand is ideal for large destination wedding parties with big budgets. Offering awe-inspiring ocean, pool, or garden views, every room includes a private jacuzzi. The Privilege Junior Suite, Honeymoon Junior Suites, and Honeymoon Suite are the only rooms that include complimentary wifi. Considerate of traveling families, the resort maintains that children 3 and younger can stay free. All rooms in the lavish Privilege category are located closer to the beach. The resort is spacious and spread out, including buildings no more than 3 stories high, making all accommodations easily accessible.
To see more of our partnered wedding resorts, click the button below: