Our First Responder trip giveaway entry-period ended last night at Midnight Chicago-Central time. Together with Playa all-inclusive resorts, we're giving away a 4-night stay to any Playa resort in Mexico, Jamaica, or the Dominican Republic. The winning first responder will also receive a shuttle transfer to and from the airport and a credit to use towards an exciting excursion at their destination.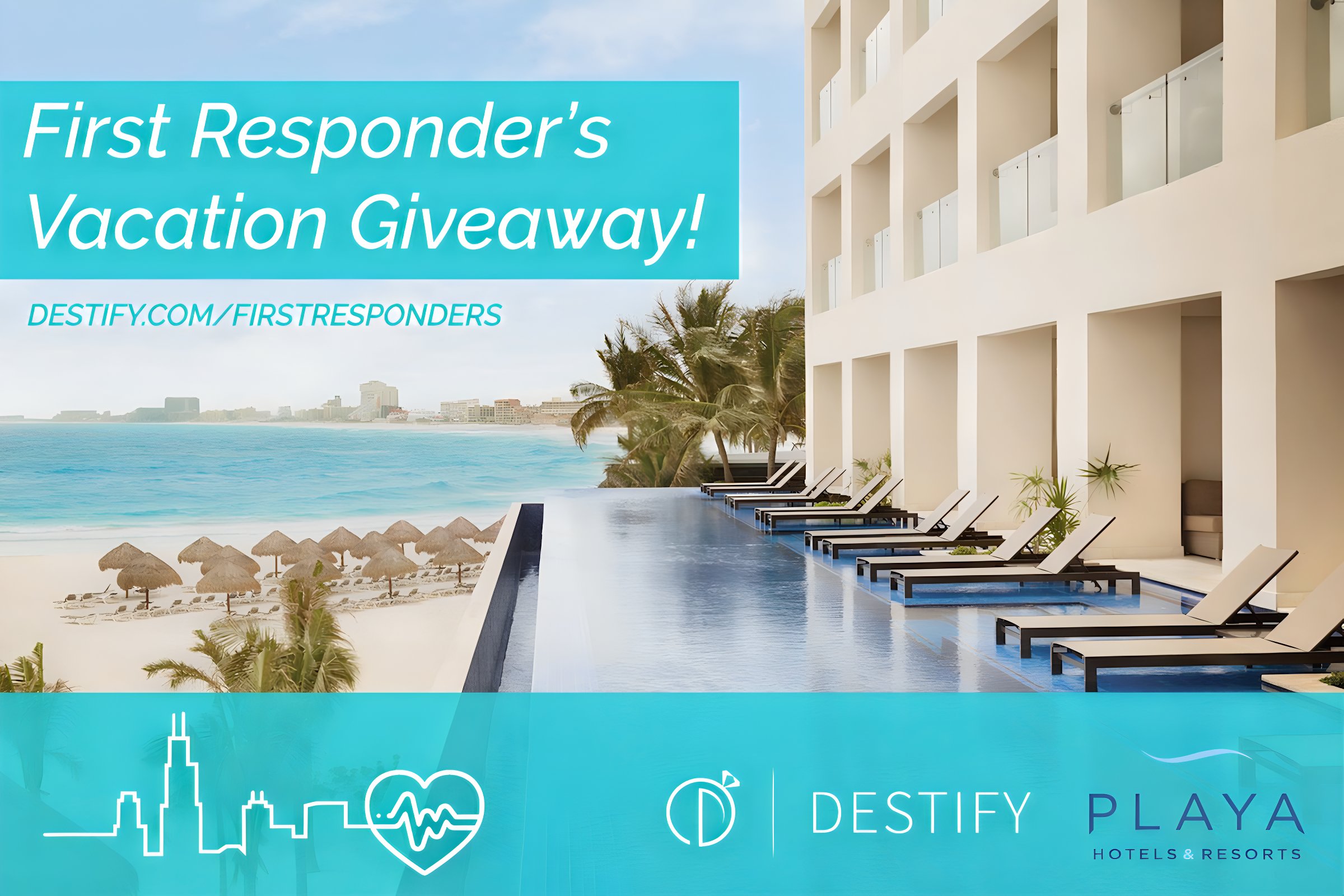 The hardest choice for the prize winner will be choosing which resort they want to stay at, from the brand-new Hyatt Ziva or adults-only Zilara Cap Cana resorts just outside of Punta Cana. To the iconic Hyatt Ziva Cancun resort, situated on its own private peninsula with 360 Mexico-Caribbean ocean views. There are also family-friendly options like the Panama Jack resorts in Mexico, or several lavish offerings in Jamaica.
Choosing the winner will be a hard task. Anyone who submitted working directly on the frontlines in Chicago, or immediately involved with the COVID-19 crisis in their local Chicago communities is certainly deserving. Our selection will be randomized after we make sure each contact form submitted today meets the submission guideline criteria and the entrant has taken the effort to share their story truthfully.
Here are some of the most powerful quotes we've read so far as we've reviewed submissions:
"For me working during this time had been difficult. My husband is a Chicago firefighter and me being a nurse puts us both at risk. Each day we go to work we, again are at risk. Seeing people go through this virus is also rough. Wearing n-95s while working long shifts is exhausting, not to mention you feel like you can't breathe and the headaches start coming in mid-shift. We both have to go to work and we have not been able to see our families and friends keep them safe. It's been really hard emotionally for us, some days are better than others."
"It's kind of scary working and not having proper PPE and working with patients and not knowing whether they are positive or not. I haven't seen my family in over a month because I work in the hospital. I'm happy when I get to discharge a patient back home but my heart aches for the ones who pass away and can't have any of their family members by their side."
"This illness is affecting entire families at once and communities; yet, there are moments in the day that gives your energy to continue pushing back against this virus. When I am able to extubate a patient and have them talk to me after days or weeks on the ventilator, it is heartwarming. It is amazing when we have an 89-year-old patient talk to us and thank us for our work. It reminds the doctors and nurses that there is hope against this. It reminds us that this is not going to be a disease with a quick turnaround, but that if we stand together with our hospital, community, city, and country can get past this."
"I am worried and sad for others who come into our department scared and sad because their family members are unable to accompany them. Being a nurse during this time is emotionally, mentally, and physically difficult. I have helped FaceTime or call family members for patients to have some connection or even sadly say their last words. I love being a nurse and I am thankful I am able to help a little during these difficult times."
"This has been the most trying experience in my nursing career. The first month of my unit being turned into a 28-bed COVID-ICU seemed like a war zone. I sent my daughter to live with her dad and stayed away from my entire family. My daughter had never been away from me for over 2 weeks and now this is going on for 8 weeks. It was horrible to watch patients and feeling like you can't help them."
"Usually I have a 'moment' at the start of my shift when I first enter the room. I feel like a man on the moon with how many things I have on just to do my job. I try to hold back the tears because I can't believe this is my job now, that this is what I now have to do to protect myself and my fiancé so that I don't bring home the virus to him."
"COVID-19 does not discriminate, and it does not skip pregnant women! My role in caring for these patients include coming up with a safe discharge plan during pregnancy or after delivery. This consists of referring patients to isolation facilities, or assisting with support if discharging home… and arranging alternative infant care for new moms who are separated from the baby after they have tested positive. As expected this takes an emotional toll on patients, partners, family members, and older children."
"As a firefighter, we've been taking extra precautions with masks, gloves, and hazmat suits. Unfortunately, the city does not have enough masks for everyone working on the front lines. We've unfortunately lost some of our own due to this pandemic and we are doing our best to keep ourselves and our city safe."
"Feeling defeated after having a bad shift is common. My face and ears seem to have permanent bruising from my N95 respirator. Feeling heartbroken that these really sick human beings can't have loved ones there with them due to hospital visitor restrictions. I try not to dwell too much on the negatives and instead try to find 5 positive things about my day every day. I've been enjoying the lack of rush hour traffic and the low gas prices. I get a chuckle at the lack of toilet paper in the stores when I go. I look forward to seeing my friends and hugging my grandparents as soon as I can."
"At the end of the day, I made it a priority to make sure families felt empowered and that patients never felt alone. After speaking with family, I would go in and tell the patient that their family member is thinking about them and loves them. It didn't matter to me that the patient was on a ventilator and maybe could not hear me. During these times, the most important thing we can do is show our support for one another, and for me, this was through patient and family communications."
——
This was just a small selection of the many heart-wrenching and empowering submissions we received from first responders. We feel very fortunate that Playa has partnered with us to give away a trip, and we work towards future opportunities to reward those most-impacted by the coronavirus while also looking forward to future travel later this summer.
We can't thank those enough who took the time to enter or nominate a worthy first-responder. It has been absolutely humbling to read your submissions, and we look forward to announcing a winner tomorrow.
Stay tuned!