Resort: Estudio Playa Mujeres
Location: Cancun, Mexico
Resort Group: Atelier de Hoteles
Opened: 2019
Package Costs: Free-$11690
Venues: 3
Today we're featuring the magnificent all-inclusive Estudio Playa Mujeres in the sun-kissed sanctuary of Cancun, Mexico. Offering pristine wedding venues complete with contemporary designs and a host of optimal amenities, this family-friendly oasis is one of Atelier de Hoteles' crown jewels. Follow below as we feature our wedding resort spotlight on the Estudio Playa Mujeres resort: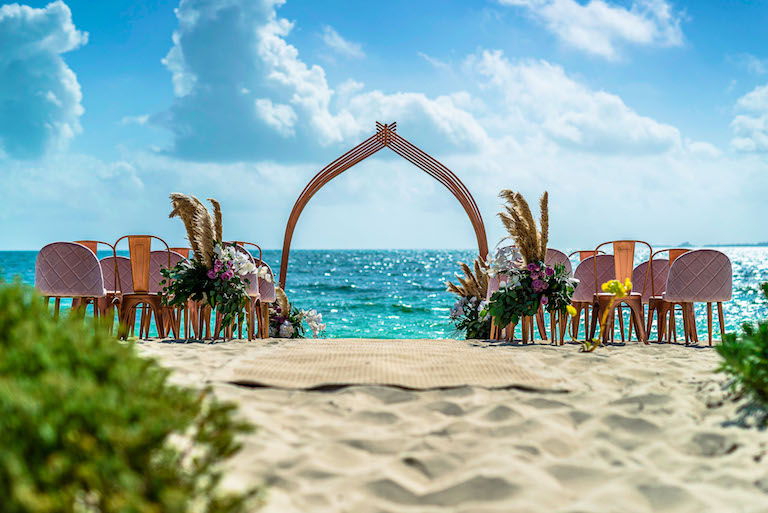 The Wedding Experience
You won't have to worry about privacy during any ceremony at this lovely resort. Although the property shares the same real estate as Atelier Playa Mujeres, Estudio strategically positions its venues to avoid contact with any potential partygoers. That doesn't mean the party has to stop, however. An Estudio Playa Mujeres wedding includes the finest wedding packages and add-ons ranging from high-end open bars to artists live painting your ceremony.
Traditional wedding set-ups never looked better. With a variety of customizable decor options and stunning backdrops, Estudio Playa Mujeres provides 3 breathtaking spaces capable of accommodating anywhere from 80 to 90 guests, making any ceremony an intimate experience.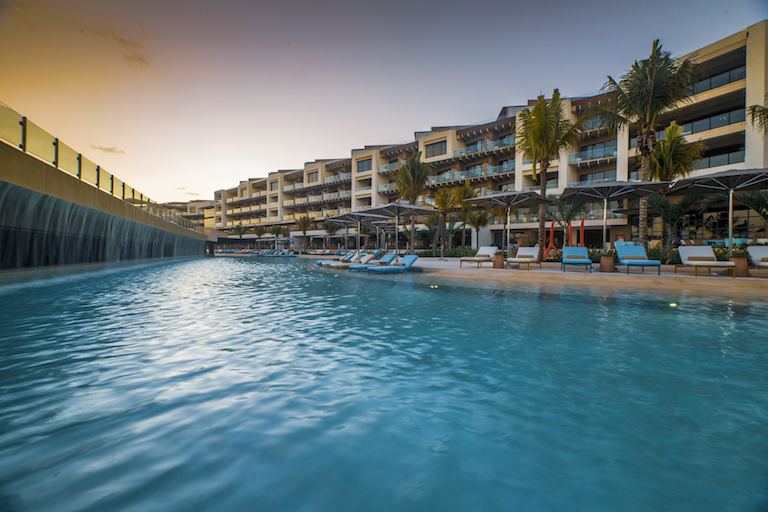 The Resort Experience
The only issue that you'll run into with Estudio Playa Mujeres is, you guessed it, not wanting to leave! There are surprises around every corner at the resort with 9 restaurants and bars serving up diverse meals that'll dazzle your taste buds and broaden your culinary horizons. Worried about entertaining your younger guests? Look no further than Doodle Land, an exciting children's club where kids can explore the Milky Way via astronomy programs or even learn how to construct authentic Mexican arts and crafts.
Local Excursions
For those night owls and afterparty enthusiasts in the group, Estudio Playa Mujeres provides complimentary shuttle service to Cancun, Mexico's bustling coastal city. Hitch a ride to downtown and let your imagination run wild when you explore the bevy of nightclubs, eateries, and other luxury resorts in the Hotel Zone. Guests seeking a more nature-heavy getaway can escape to local snorkeling spots just off the coast, or even elegant catamaran treks to Isla Mujeres.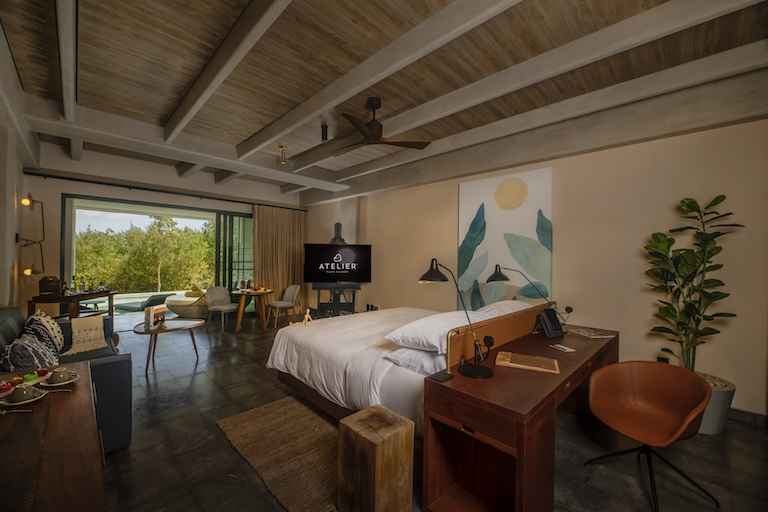 Luxury Accommodations
Estudio Playa Mujeres is ideal for large destination wedding parties with big budgets. All suites include a private terrace, flat-screen TV, bathrobes and slippers, and a stocked mini-bar. Guests looking for a more elegant resort experience will enjoy the Inspira Suites which include upgraded status and amenities, private access to the Inspira Pool, and 2 complimentary green fees at the nearby Playa Mujeres Golf Course.
To see more of our partnered wedding resorts, click the button below: