Destination weddings do NOT have to cost more than you can afford, no matter how economical your budget. It sounds simple, yet shopping for wedding resorts can become both challenging and intimidating if your budget doesn't match the 5-star Punta Cana resort you have in mind. Strap in, your wedding in Dominican Republic is going to save you money and time.
Well, we're here to tell you that you can enjoy the same extraordinary wedding week at more than half the cost. Boasting exceptional wedding packages and awe-inspiring venues, these budget-friendly Dominican Republic wedding resorts will accommodate your bank account and dream wedding inclusions:
Grand Palladium Punta Cana
Punta Cana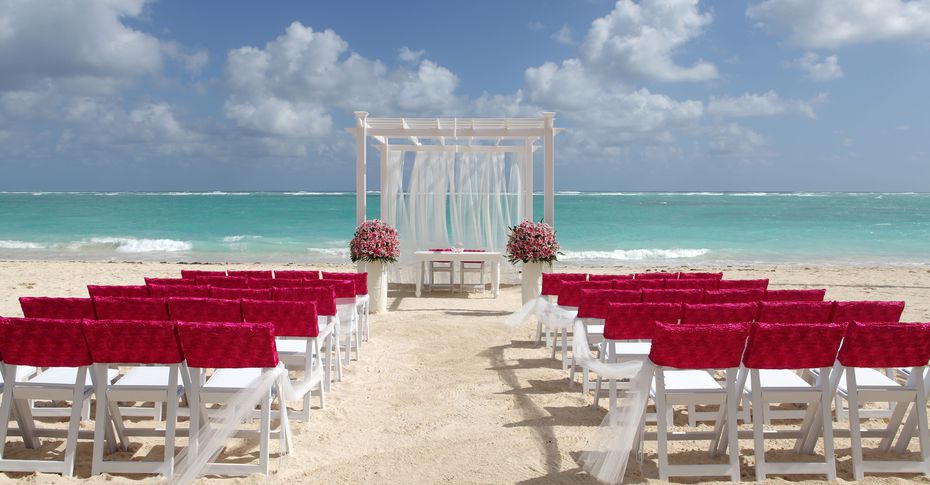 Grand Palladium Punta Cana
Supporting an immaculate guest experience, Grand Palladium Punta Cana has an ace up its sleeve: wedding packages meticulously designed by world-renowned wedding planner Karen Bussen. Spice up your ceremony when you choose from an array of exotic add-ons and perks ranging from personalized bathrobes to delectable two-tier cakes. With 2 large beach and gazebo venues overlooking the finest Punta Cana landscapes, a Grand Palladium Punta Cana destination wedding is capable of accommodating large wedding parties from 100 to 200 guests.
Grand Palladium Punta Cana presents a multi-dimensional wedding resort getaway enriched with activities and amenities perfect for every guest no matter his or her age. Situated on a four-section compound, the resort is filled with high-end restaurants and refreshing pools everywhere you walk. Complete with a vibrant Vegas-style casino and an interactive children's club, your and your guests will find something new to enjoy every day with a tiered pricing room structure that will allow every guest to purchase their level of comfort. The best part? Palladium wedding resorts offer wedding packages that are both customizable and affordable.
Example Lovebirds Destination Wedding Package:
Wedding Coordinator
Room Upgrade (subject to availability)
Symbolic Ceremony officiant
Assigned Wedding Scenery for the ceremony
"Love Birds "Personal Flowers for the Couple
White Tiffany Chairs and Signing Table Decorated with a Floating White Blossom.
Ceremony sound system (music device compatible system with microphone and speaker for duration of ceremony)
Sparkling toast immediately following the ceremony
Special turn down service
One-tiered Wedding Cake in Your Choice of "Naked" or "Butter swept" Icing with freshflowers
Breakfast in bed for the wedding couple
Romantic Moonlight Dinner for the wedding couple during their stay
Complimentary Access to the Hydrotherapy Area at Zentropia Palladium Spa & Wellness and 15 % Discount on spa treatments (not applicable to hair and makeup)
Honeymoon package
Dinner reservation at one of our fabulous restaurants (non-private, restaurant subject to availability and group size)
RIU Palace Bavaro
Punta Cana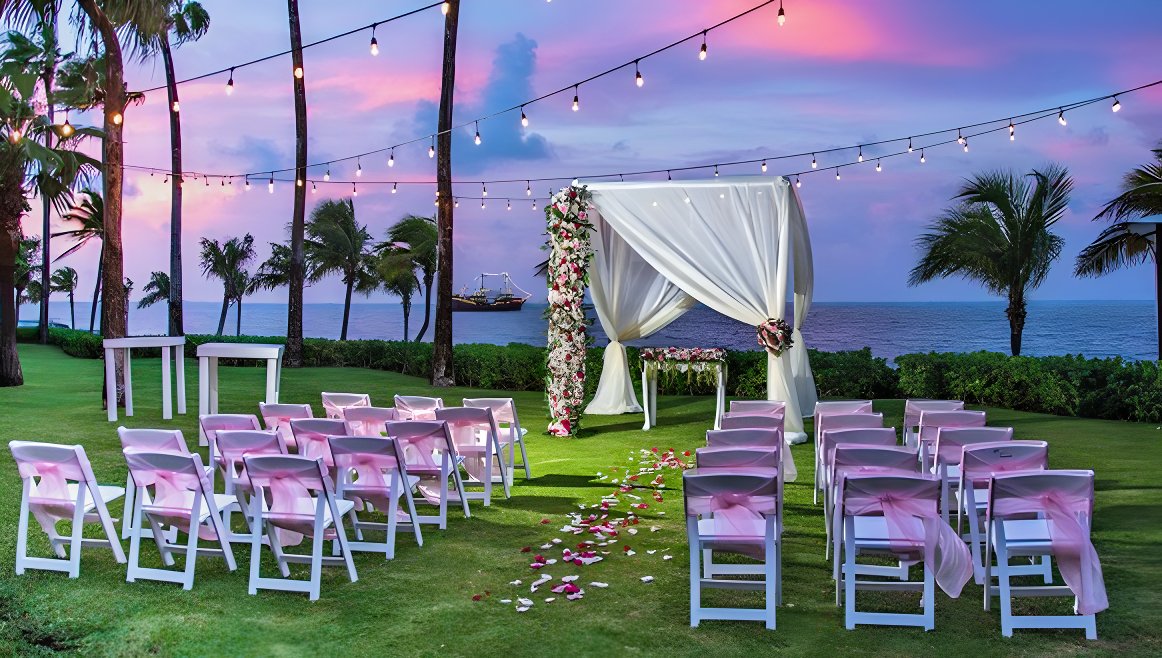 RIU Palace Bavaro
We're taking a stroll up the beach to RIU Palace Bavaro, an all-inclusive family-friendly haven designed to optimize the destination wedding experience for all guests. Coordinate your dream Punta Cana wedding on the alluring shores of Arena Gorda, where vibrant Caribbean sunsets grace every ceremony. Prefer a more nature-enriched space? RIU Palace Bavaro offers a stunning garden venue adorned with lively tropical foliage and an abundance of complementing color schemes. Couples seeking a religious ceremony won't have to worry about securing necessary add-ons, as the resort sources Catholic officiants and even huppas for Jewish celebrations.
Itineraries have never looked sweeter at RIU Palace Bavaro. Start your mornings with dips in any one of the resort's shimmering infinity pools followed by a wholesome breakfast courtesy of professional chefs. Now for the toughest decision of the day: the VIP room or an exhilarating day of jet skis. Regardless of which luxury you opt for, you and your guests will be treated to the height of Punta Cana excellence at a most affordable price point entry. Dominican Republic destination weddings at RIU Palace Bavaro will deliver your preferred wedding date and gorgeous oceanfront wedding venues.
Example Royal Destination Wedding Package:
Wedding coordinator
Decoration set up for the ceremony location
Bridal Bouquet
Matching boutonniere
Recorded music during the ceremony
Semiprivate dinner at one of our specialty restaurants (20 people)
Wedding cake (20 people)
Sparkling wine during the main toast only (20 people)
Special decoration in the room
Witnesses if required
Minister/Judge service
Marriage Certificate
Complimentary room upgrade to the next category
RIU T-Shirts for the Wedding Couple
Surprise gift
Romantic Massage for the Wedding Couple (20 min)
10% discount in all Spa treatments for the Wedding Couple
10% discount in all Spa treatments for the guests
Iberostar Costa Dorada
Puerto Plata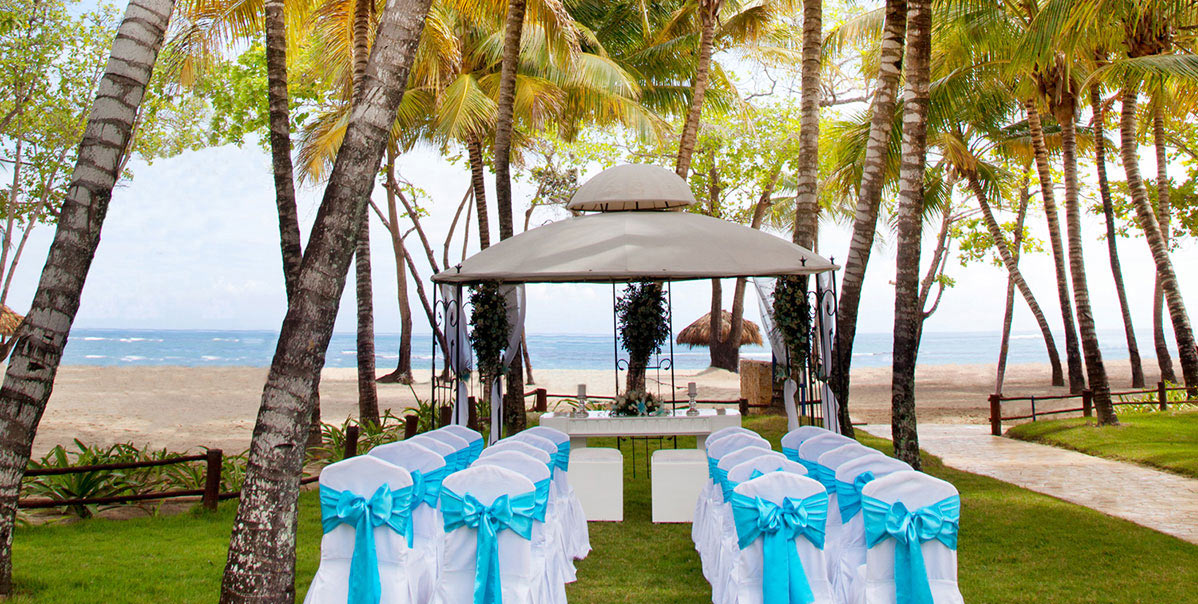 Iberostar Costa Dorada
We now venture north to the charming oceanfront city of Puerto Plata, where Iberostar Costa Dorada continuously pushes the envelope with dynamic destination weddings. Achieving a crescendo of colonial-inspired architecture and natural beauty, the resort's venues exude traditional elegance that accentuates every day of romance. Leverage Iberostar's glorious sugary white sand beach for a classic ceremony, or under a handcrafted colonial gazebo, all equipped with customizable packages, accommodations, and amenities.
Iberostar Costa Dorada also delivers a diverse resort stay, offering a wide variety of poolside activities including immersive yoga classes, competitive volleyball tournaments, and lazy rivers optimal for lounging. Although the property isn't walking distance from off-site excursions, Iberostar supplements them with modern facilities decked out with professional-sized basketball courts and dance lessons.
Example Gold Star Destination Wedding Package:
Professional services of an on-site wedding specialist
Bride's fresh floral bouquet and matching groom's boutonnière
Minister (symbolic ceremonies)
Witnesses (if required)
Setup of wedding venue (canopy, chairs and table with white linen)
Sparkling wine served after the ceremony
Fresh floral centerpiece for the head wedding table during the ceremony
Recorded music and microphone provided for the ceremony
Live music (45 minutes)
Cocktails with cold appetizers for an hour, at ceremony venue
Traditional white frosting cake decorated with fresh flowers
Wedding dinner in a specialty restaurant (one hour and a half)
Iberostar gift 10% discount on spa services for wedding guests (boutique purchases excluded)
Upgrade to the next category of room for the bride and groom (subject to availability, Presidential Suite is excluded from upgrades)
Late check out for bride and groom (subject to availability)
Hair trial and hairstyle for the bride 30-minute couple's massage
Romantic dinner for the wedding couple
Sunscape Puerto Plata
Puerto Plata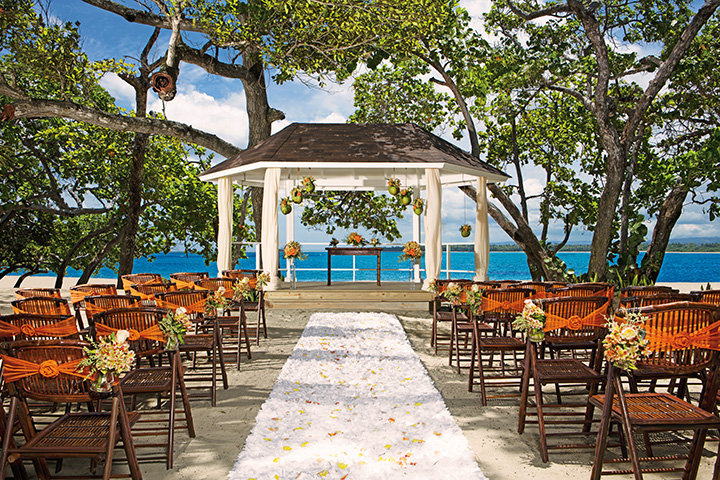 Sunscape Puerto Plata
We've come to perhaps the most budget-friendly luxury wedding resort on our list: Sunscape Puerto Plata. And they're here to demonstrate that you don't have to pay top dollar for a lavish destination wedding experience. Offering an eclectic mix of wedding packages bursting with exuberant upgrades and affordable amenities, Sunscape Puerto Plata enables couples to coordinate a beachfront ceremony without breaking the bank. While the presence of only one venue might deter most couples, the resort's beach venue is one of the most dazzling spaces in Puerto Plata, featuring a charming gazebo and shading tropical flora.
From palm tree-studded beaches to private poolside cabanas, Sunscape Puerto Plata is devoted to delivering a high-end Dominican Republic retreat. Golfing enthusiasts on your guest list can relish in the property's surrounding 18-hole golf course designed by professional golfer Trent Jones. Not far from your luxurious villa, you and your guests can also take in the sights of a colonial Spanish fort, making the perfect daily hike.
Example Sun Kissed Destination Wedding Package:
1 bouquet and 1 boutonniere
Symbolic ceremony
Semi-private dinner
Wedding Cake
Special turndown service
Sparkling wine
Late checkout based on availability
Newlywed package
15% spa discount
Bahia Principe Grand La Romana
La Romana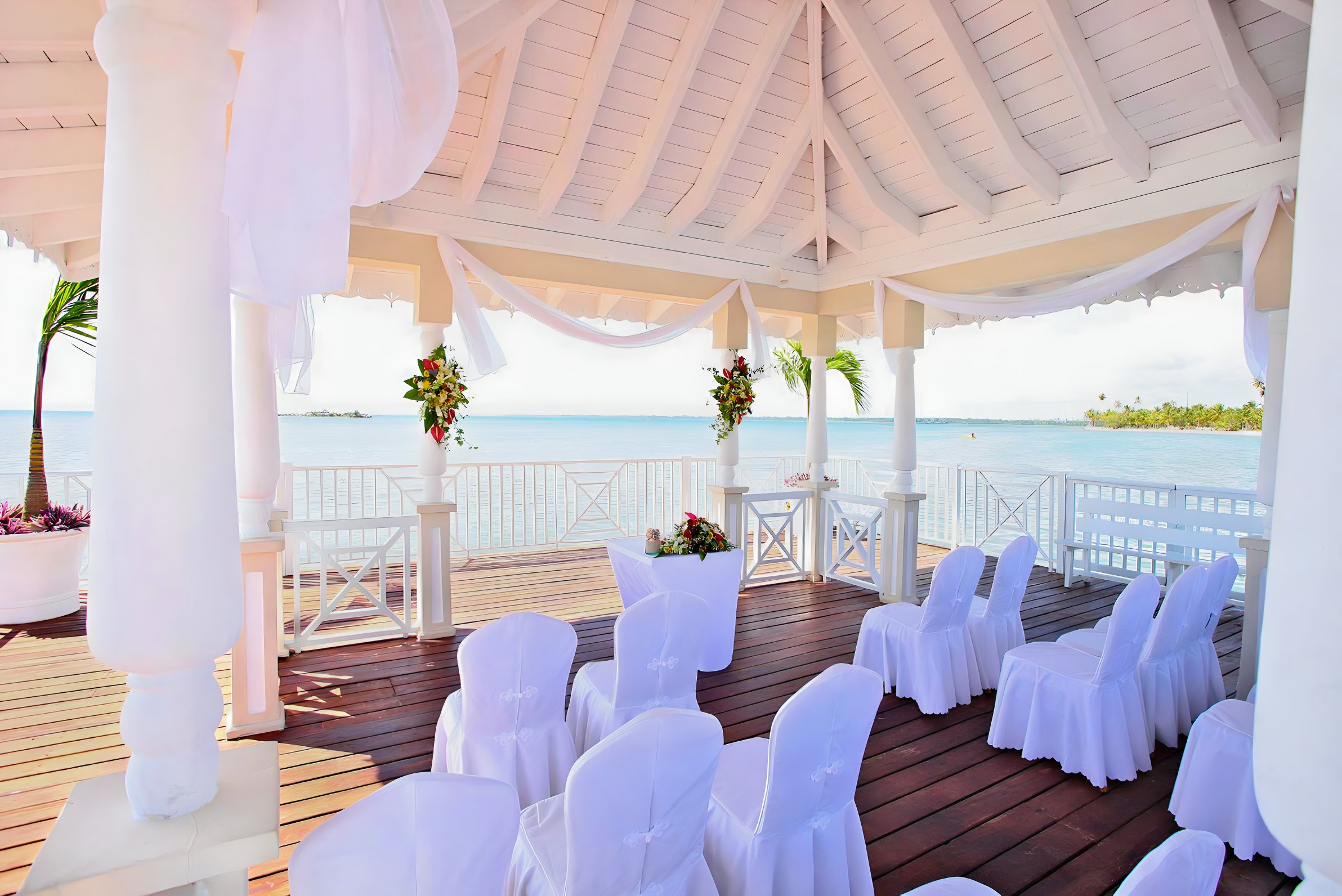 Bahia Principe Grand La Romana
Journey south through the lush countryside of the Dominican Republic and you'll find the enchanting sanctuary of La Romana. An area steeped in history and tantalizing vistas, the town is home to Bahia Principe Grand La Romana, an all-inclusive gem nestled on the warm sands of the Caribbean. Tucked away from the main drag, a Bahia Principe Grand La Romana wedding guarantees a truly secluded ceremony at any one of the property's 4 venues. Let the soft harmonies of the ocean be the soundtrack to your wedding under the intimate pier gazebo or coordinate a classic ballroom ceremony with a stellar on-site wedding department.
A hidden gem prospering on a gorgeous stretch of private real estate, guests staying at Bahia Principe Grand La Romana will be treated to the most dynamic activities and amenities available in town. Let your taste buds bask in the bevy of flavors each mouthwatering on-site restaurant serves while simultaneously soaking in a magnificent Dominican evening. Guests of all ages can attend nightly interactive dance shows, where attendees can move those hips and immerse themselves in a whimsical world of rhythm.
Example Entry-Level Destination Wedding Package:
Sparkling wine toast for ceremony
Ceremony location
Chef's spread in couple's room
10 professional digital photos
1 bouquet and 1 boutonniere
1 bouquet and 1 boutonniere
15% discount on spa treatments
Late check-out upon availability
You shouldn't have to sacrifice your bank account to experience your ideal Dominican Republic destination wedding. As fabulous as other luxury wedding resorts are, you are not required to drain your savings into an elegant ceremony. It's simply not realistic for some parties' budgets. Invest in the above wedding resorts, a collection of budget-friendly properties that will promise and deliver an unforgettable wedding week.
Curious about other budget-friendly resorts in the Dominican Republic? Follow the button below to explore money-saving options: