Planning a destination wedding in Cancun doesn't have to be an expensive process – but if you want to have an unbelievable, once-in-a-lifetime celebration of your love, you can get everything you want in Cancun.
People often choose Cancun because it is one of the easiest places for larger wedding parties to travel without having to compromise on quality. There is far more to Cancun than meets the eye, including options for upscale destination weddings, at lavish contemporary offerings, on beautiful beaches.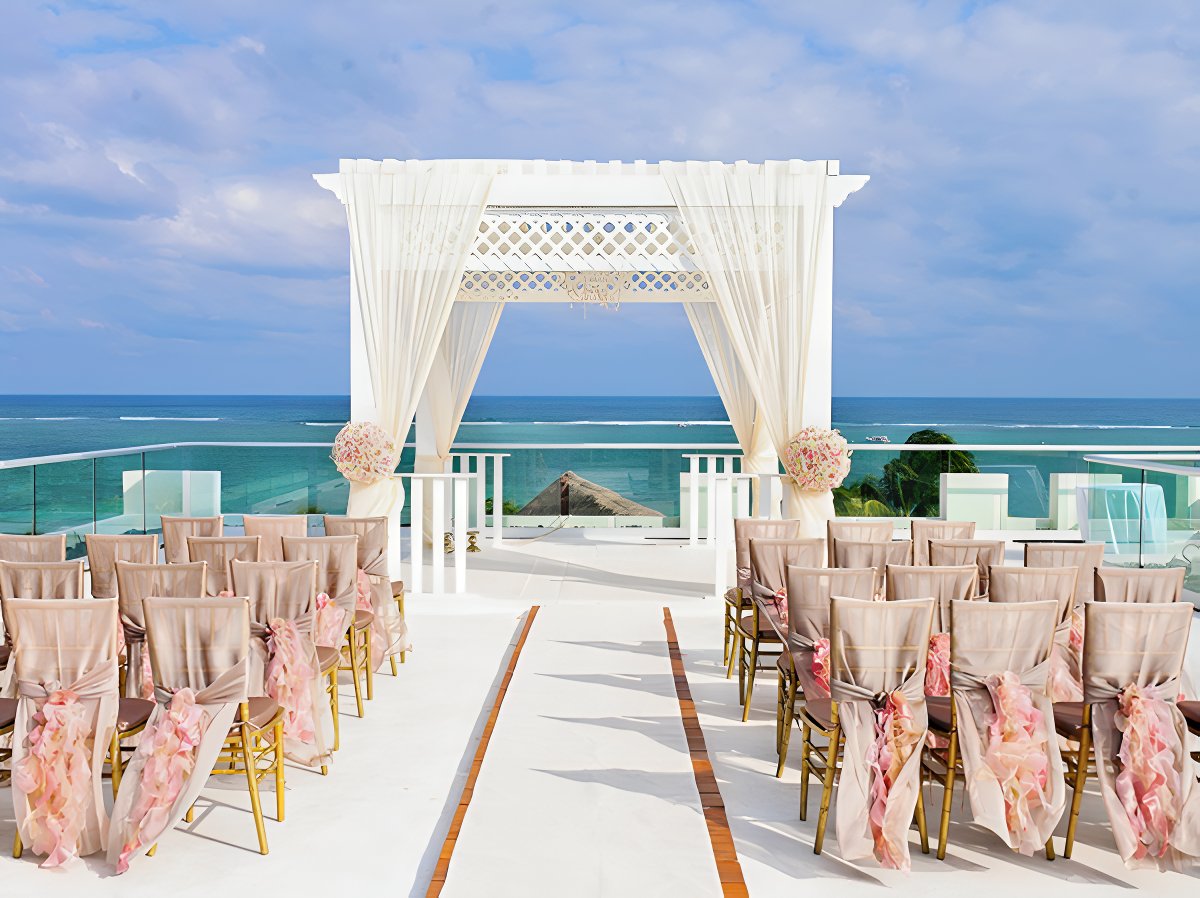 A rooftop terrace in Cancun.
Why Cancun For Your Upscale Destination Wedding?
Cancun is located right on the second largest reef in the world, the Maya Reef. This invites adventure seekers who want to scuba dive and explore caves amongst different species of fish, along with those who just want to relax on the beach, doing nothing at all except enjoying crafted cocktails and the Caribbean views. At the same time, Cancun is a cultural hub too, with many daily expeditions you can sign up for, or suggest to your wedding guests.
Cancun brings together upscale boutiques, high-class resorts, and world-class amenities like Michelin-star restaurants, world-renowned spas, and excellent shopping. Cancun has Mayan monuments and ruins to explore, that attract history buffs from all over the world. Spend the morning exploring the history and enjoy the afternoon on white-sand beaches with a drink in your hand. In short, Cancun is the ideal destination for an upscale wedding.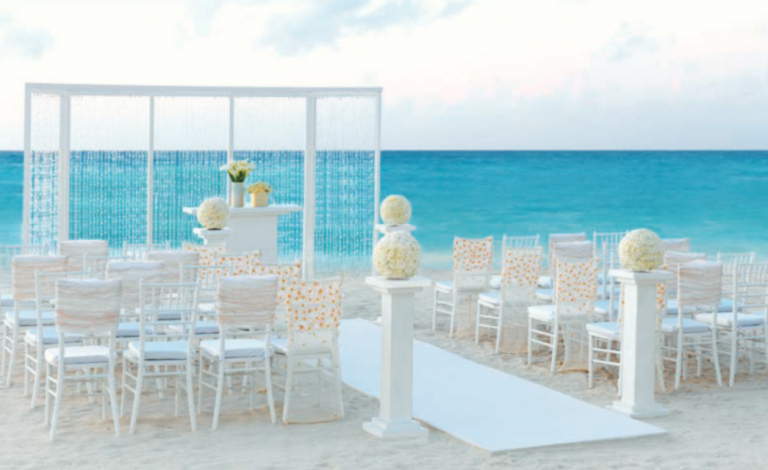 Hard Rock Cancun
Upscale Destination Wedding Packages in Cancun
Since Cancun is known as a destination wedding choice for so many couples, you will be able to choose from some of the most diverse wedding package options available, along with numerous resort options. For upscale destination weddings, you can get almost anything that you want out of your wedding. There are packages designed for elopements, starting with just the couple and a few guests, all the way up to hundreds of guests.
Included in your upfront costs, you can expect some of the most beautiful views in the world, exquisite dining, private receptions, open bars, live entertainment, and days and days of celebrations for you and your guests. Everything can be personalized to your needs and wants – and thanks to Cancun's friendly rates, you won't have to sacrifice a thing.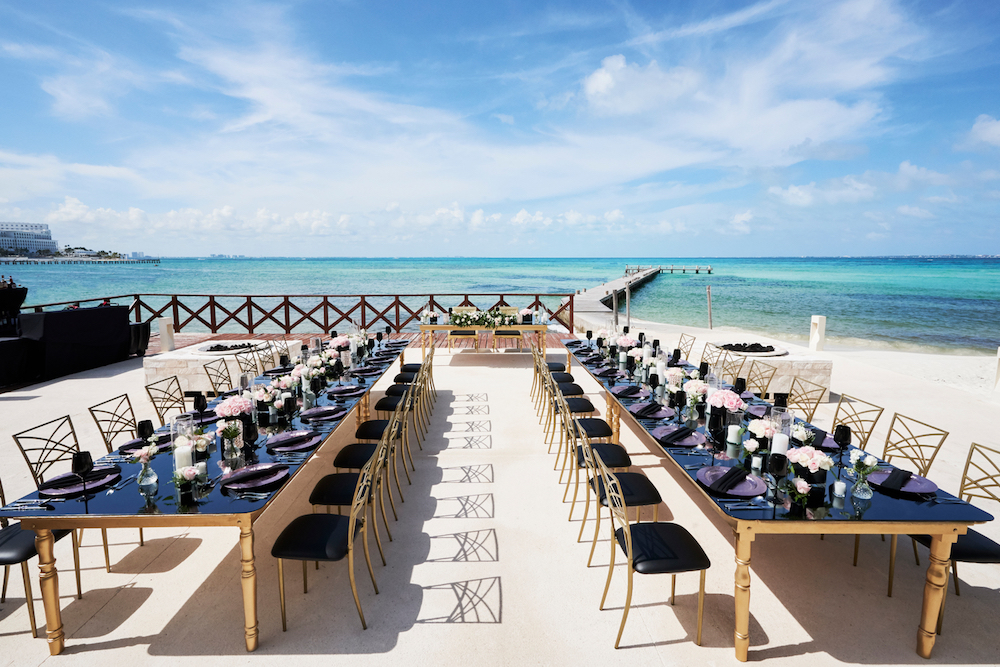 A private reception at Hyatt Ziva Cancun.
Top Resorts For Upscale Destination Weddings in Cancun
As with any location, there are some resorts and hotels that are more amenable to holding upscale ceremonies where you can get everything you desire. Sometimes, these resorts are adults-only or they could be family-friendly too. Packages may require a certain number of guests, and typically the larger your group, the more free events and exclusive perks you'll be able to gain.
For an upscale destination wedding in Cancun, start your search with the following hotels:
Zoetry Villa Rolandi: This 5-star hotel offers "endless privileges" to guests. It is a smaller hotel, so it is perfect for intimate wedding parties who want personalized attention. Holding weddings up to 80 people, your group will get everything you could imagine, amongst truly luxurious amenities. The small number of rooms available means you must book in advance though.
Hard Rock Cancun: Hard Rock Cancun offers the rockstar treatment for upscale destination weddings, with chic music-inspired rooms, and wedding decor packages designed by celebrity event planner Colin Cowie. For those who wish to have an upscale wedding with a bit of an edge, there is no better location. You can hold weddings on the beach with as many guests as you want.
Mystique Blue Holbox: For those who want a smaller but still upscale wedding destination, there is no place better than the Mystique Blue Holbox. Holding up to 80 guests, you can get anything you want at this wedding venue. Be wary of travel time though, as you must take a ferry or long car ride to an exclusive island. Expect unbeatable service in an unrivaled location.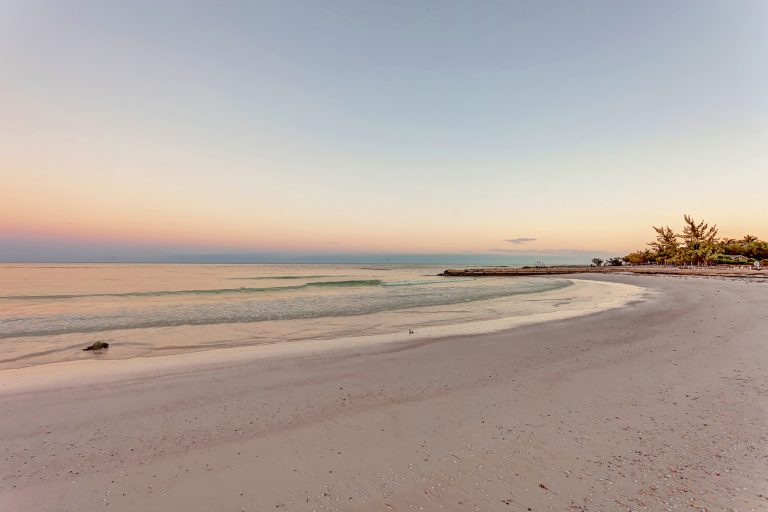 The beach at Mystique Holbox.
Beloved Playa Mujeres: For those looking to have a wedding away from corporate resorts, the Beloved Playa Mujeres is a perfect option. You will still have the amenities that you want without the feel of everything being streamlined for mass crowds. This hotel holds weddings of up to 70 guests.
Turquoize at Hyatt Ziva: The Turquoize at Hyatt Ziva is an upscale wedding venue in Cancun that holds nearly 745 people in its biggest options – or as few as 65 in its smallest venues. No matter how many people stay here, you will be treated like royalty, in this exclusive section of Hyatt Ziva.
TRS Coral Hotel: A modern upscale hotel, the TRS Coral Hotel has the latest features and perks that people come to expect when they go on vacation. On top of that, your entire day will be personalized to your needs thanks to experienced staff. You can have weddings with up to 300 guests.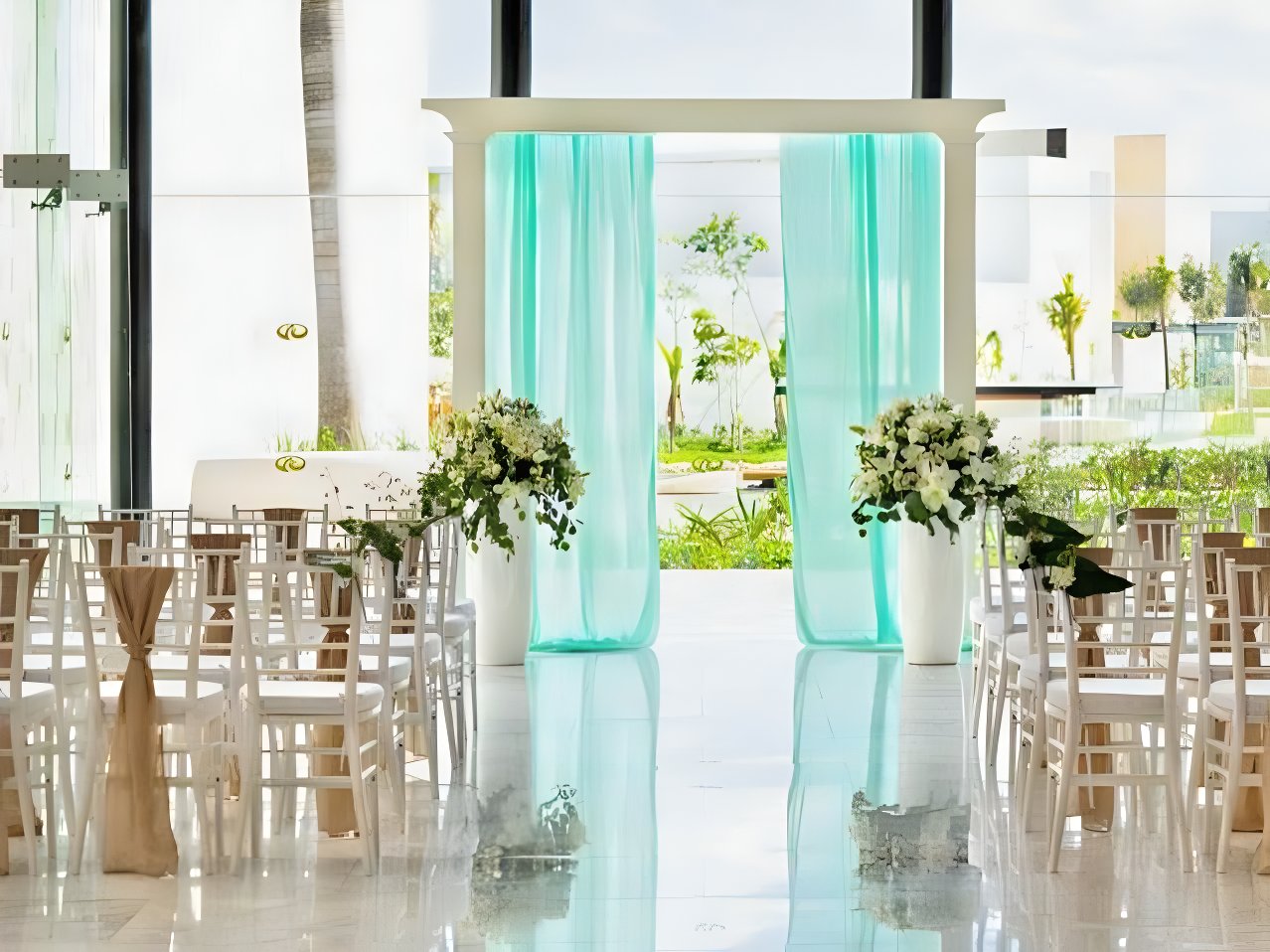 The glass chapel at TRS Coral.
Interested In An Upscale Destination Wedding in Cancun?
If you are interested in holding an upscale destination wedding, Cancun is one of the best choices that you can make. Not only is it easy to ensure that everyone in your party gets the attention and care that they deserve, but it is also one of the easiest locations to get to for most people. Ensure that everything leading up to and after your wedding is upscale – from the flights into Mexico, to your resort and the ceremony, to the food and the linens. With these wedding options, everyone will feel relaxed and ready to celebrate your love.
To see all of our Cancun wedding resorts, click the button below: