Jamaica is the birthplace of Reggae music and iconic musician Bob Marley, but whether you're a fan of the genre or not, Jamaica is the perfect place for a destination wedding in paradise. Today on the blog we're covering our Top 8 Jamaica wedding resorts, from Montego Bay to Ocho Rios. What we considered for our Top 8 Jamaica wedding resorts comes down to numerous factors, like price, location, distance from airport, and the wedding packages and venues they have to offer.
Our Top 8 Jamaica wedding resorts cover a wide spectrum of options, so there's something for families and something for adults only. At each of our Jamaica all-inclusive resorts, you'll find impeccable service, unbeatable beaches, and a sampling of some of the best wedding venues in the world.
The major tourist regions of Jamaica are located along the northern coastline and range in the landscape, and they also range in the travel time it may take upon arrival. But what you can expect from each of our Top 8 Jamaica destination wedding resorts are numerous wedding ceremony venues that will truly be unforgettable.
RIU Reggae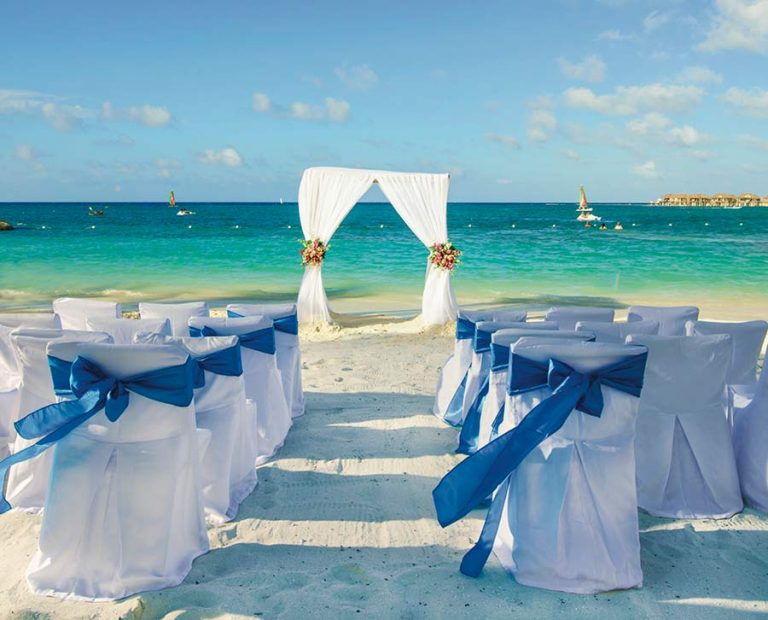 We start our Top 8 Jamaica wedding resorts in Montego Bay, at the RIU Reggae all-inclusive resort. This adults-only property is surrounded by island surroundings and island vibes, and offers destination weddings at an affordable cost, without skimping on location. Plus, as a guest, you're granted access to all of the luxuries of the surrounding RIU properties, and a brilliant location situated on a pristine treasure beach overlooking Mahee Bay.
It's fair to say that any of the RIU resorts in Jamaica could make our Top 8 Jamaica wedding resorts list, but this one stands out as a great adults-only option with inexpensive wedding packages and budget-friendly room rates while being a contemporary resort that just opened in 2016. There's only one Jamaica wedding ceremony venue on offer, the beachfront, but with the crystal clear waters as your backdrop, what else could you want from a RIU wedding?
Royalton Negril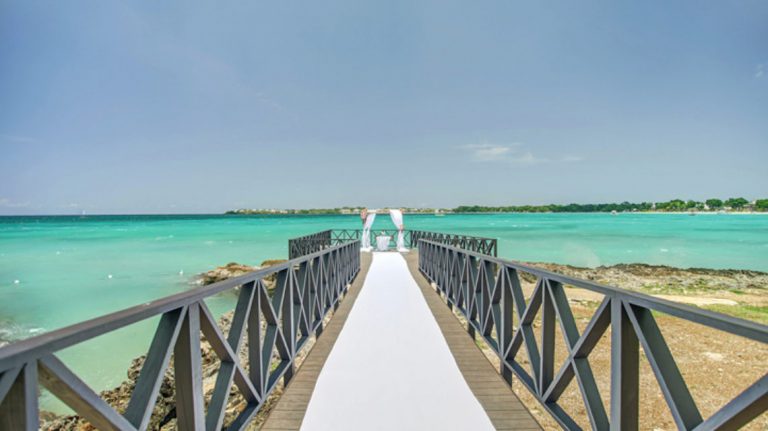 Sliding next into our Jamaica wedding resort's Top 8 list is the Royalton Negril, a family-friendly offering along a remote beachfront in Negril, Jamaica. Guests can expect delicious food, modern and stylish rooms, and signature pool complexes that capitalize on the surrounding views. This Jamaica wedding resort will take full advantage of its surroundings for your wedding ceremony too, with venues that range from intimate piers to waterside boardwalks.
There is no shortage of activities to take part in during your stay, and as one of our top 8 Jamaica resorts for weddings, guests can partake in water aerobics, kayaking, snorkeling, or venture off-site to visit local water par Booby Cay island. One thing to take into consideration is travel time though, and it can take upwards of 90 minutes to get to this lovely resort from Montego Bay International airport.
AZUL Beach Resort Negril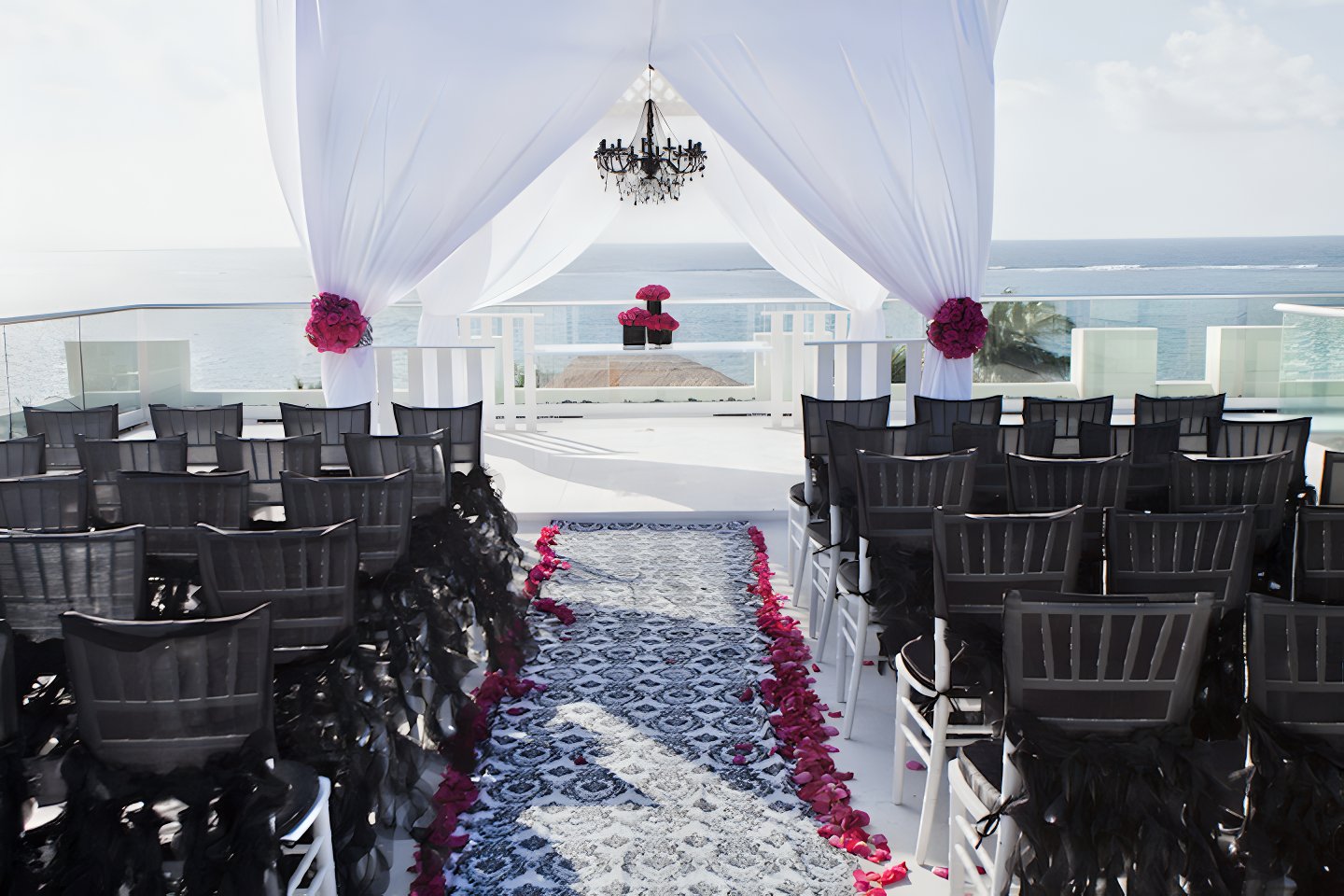 If you were a fan of Royalton Negril, then you'll love this next stop on our resort list for weddings in Jamaica, the AZUL Beach Resort Negril. Your destination wedding could be located on the world-famous 7-mile beach, consistently rated one of the top beaches in the entire world. If that reason alone wasn't enough to make the Top Jamaica wedding resort list, consider the chic rooms, stylish restaurants, and sectioned rooming wings that accommodate both adults-only groups or families too.
The wedding venues are top-notch beyond the beach, and this resort makes our top wedding resort in Jamaica list because there's also an elegant sky terrace overlooking the ocean or an enchanting gazebo that is right up to the water's edge. Recent renovations have also been completed that include new decor, furnished balconies, and updated amenities.
Couples Sans Souci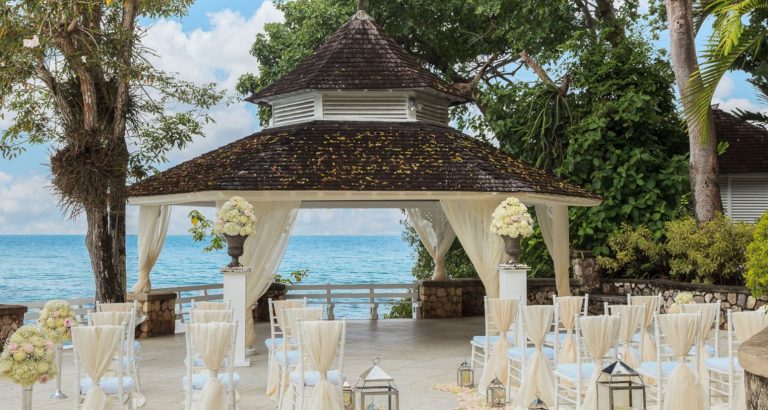 Couples Sans Souci has a beautiful name, and just like the title this top Jamaican wedding resort will whisk you away to a tropical paradise. Located on a plot of land that features preserved jungles, waterfalls, and grottos and beaches that explore it all. It's a top Jamaica wedding location because it's designed for romance, so you can expect the ultimate in intimacy and love. Feel the presence around you, so you and your loved ones can have the most memorable time possible.
Facilities and amenities include wedding gazebos, a secluded cove prime for wedding photo opportunities, and your also just a short trip away to downtown Ocho Rios. The Couples brand emphasizes romance above all, and it makes for one of the most romantic resort choices for weddings in Jamaica, where every detail will be catered too by the capable and thoughtful staff.
Grand Bahia Principe Jamaica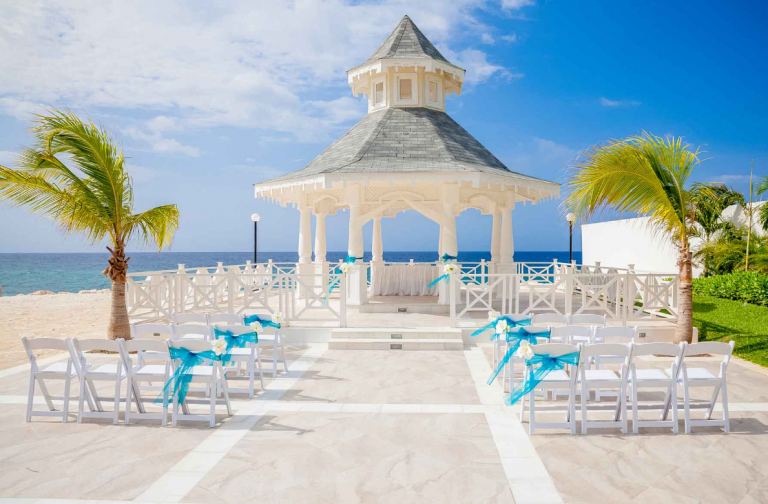 For those who are seeking a large and in charge resort choice amongst our Top 8 Jamaica wedding resorts, look no further than the Grand Bahia Principe Jamaica resort. With over 800 rooms nestled amongst a stunning outcrop of Ocho Rios, Jamaica wedding couples can have it all, and then some.
Expect fair rates, enough rooms for wedding parties of any size, and some of the most classical and beautiful venues on the entire Top Jamaica wedding resort list. Plus, wedding packages are economical too, and the entry-level wedding package welcomes 20 guests starting at $1299.
Amongst the Victorian castle-like grounds guests will be treated to an amazing beachfront perfect for Caribbean destination wedding, or they can choose instead to enjoy the colonial gazebo. There's so much beachfront to explore that there's a spot for guests of every type, from snorkelers too…nudists! Yes, you heard that right. But of course, there's plenty for families too, from the numerous restaurants to the exciting kids' clubs to explore.
Breathless Montego Bay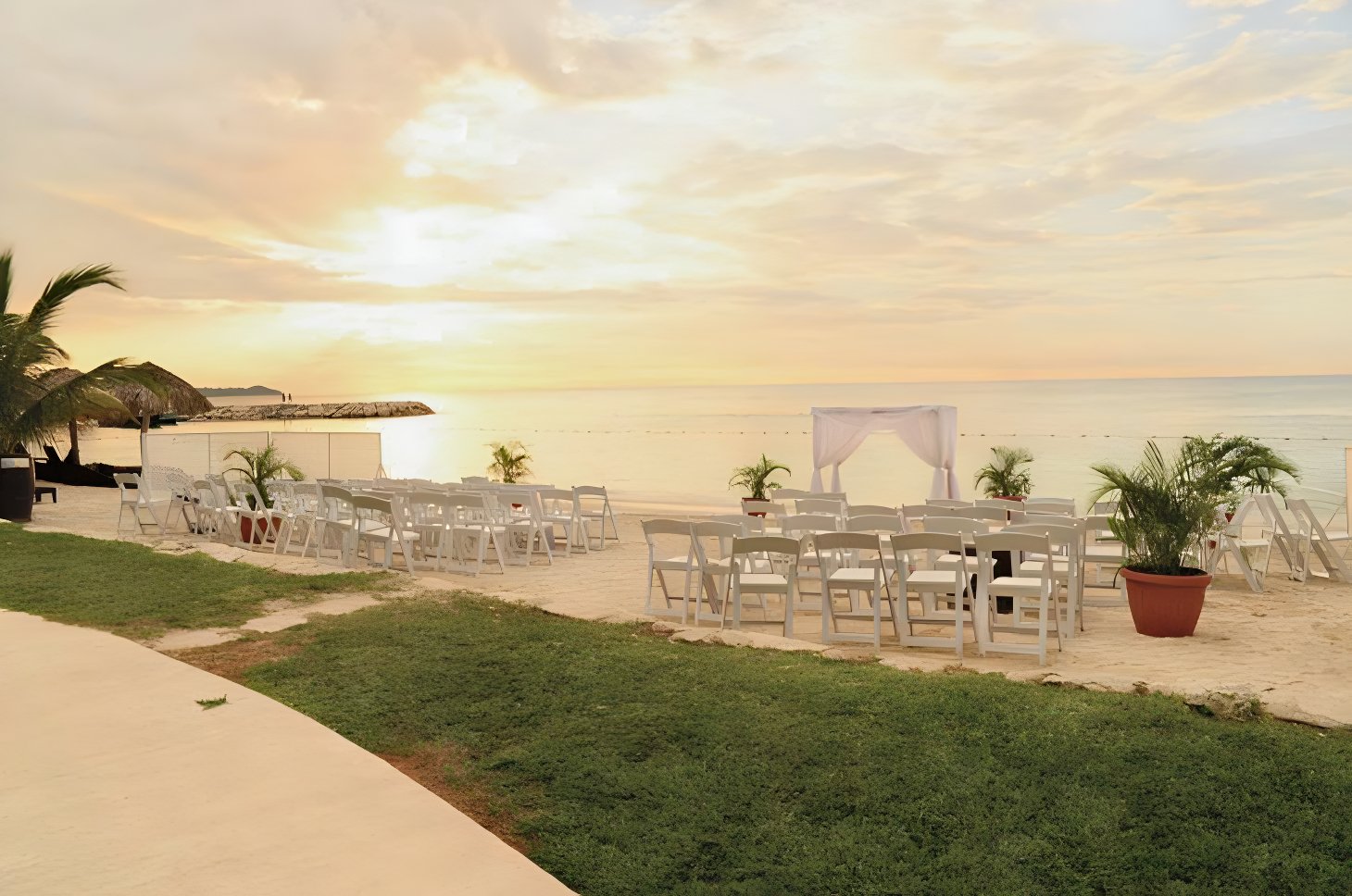 Recently opened in 2017, Breathless Montego Bay makes our Top 8 Jamaica wedding resorts list for its chic and contemporary digs. It's an adults-only paradise that emphasizes entertainment over the more romantic vibes. This is the perfect resort for Jamaica wedding resort groups who want a chic party-like atmosphere, with plenty of opportunities to explore foam parties, the relaxing Renova Spa, or enjoy the panoramic views of the mountains and bay.
The Breathless brands signature draw is its opportunity for fun. Here at Breathless Montego Bay, you'll enjoy the Xhale club suites with unique services, and which also has exclusive access to the infinity pool and bar and Indian restaurant during specific time slots. The resort makes our Jamaica wedding resort's Top 8 list because it's that perfect party resort for a gathering of like-minded friends, who just want to cut loose during your destination wedding.
Half Moon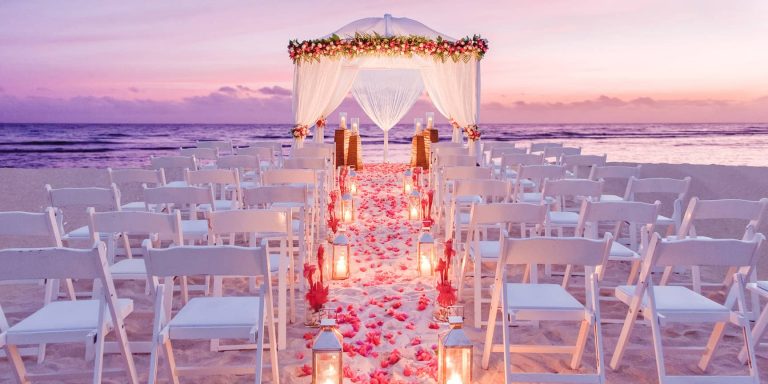 Half Moon all-inclusive resort
If Breathless sounded like just a bit too much of a rambunctious atmosphere, then consider the Half Moon resort, an all-inclusive resort that centers on a romantic getaway with intimate touches. This top Jamaica wedding resort is situated on two miles of powdery white sand, and the resort's layout includes floral pillared arches, lush tropical plants, and high-class furnishings.
Why does it make out Top 8 Jamaica wedding resorts list? Maybe it's because of the Sugar Mill restaurant on-site, named one of the premier restaurant and recent winner of Jamaica's Best Restaurant Award.
Or perhaps it's because Jamaica destination weddings here take on a unique charm, where couples can tailor wedding packages to fit their financial threshold, and final costs aren't determined until all the details are finalized. Half Moon offers the ultimate in luxury for a top Jamaica wedding resort and the customizable weddings are truly the cherry on top of the cake.
Hyatt Zilara Rose Hall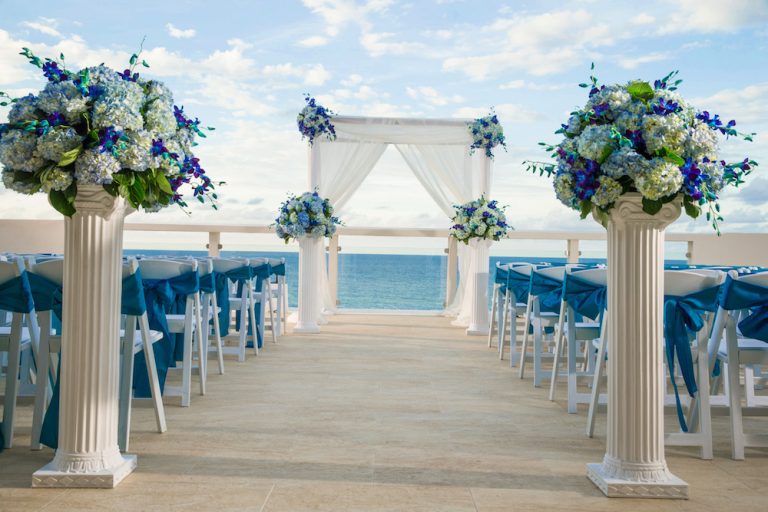 The Hyatt Zilara Rose Hall is one of the Top 8 Jamaica wedding resorts, and also just one of our top sellers in general for the country of Jamaica. The Hyatt name signals trust, and it's the perfect escape for destination weddings that want it all, from an intimate beach and elegant decor options to a lavish pool complex.
Additionally, it's near a major hub for exciting nightlife and shopping. The perks don't stop at this Jamaica wedding resort either, as guests enjoy exclusive access to Hyatt's lounge at Montego Bay International airport before and after stays, and free airport transfers.
The resort utilizes wedding venues with neighboring Hyatt Ziva, so you can choose between over 8 different locations for your wedding ceremony. It's easy to see why it made our Top 8 Jamaica wedding resort list when you see pictures of the wedding gazebo or the sky lounge.
With Hyatt, you can expect many other thoughtful touches too, like suites that include butler service, and restaurants that have some of the often-considered best cuisines in Jamaica. Guests will enjoy exchange access too, so really it's like getting two top Jamaica wedding resorts in one, with ample pools, bars, and lounges to explore.
Of course, our Top 8 Jamaica Wedding Resorts is not a definitive list, when there are just so many appealing destination wedding resorts in general across the beautiful island nation of Jamaica. But it's a great place to start. We've covered adults-only offerings and family-friendly locations too, and no matter which you choose you can expect a stunning destination wedding with access to some of the most attractive beaches in the world.
Want to see even more of our top wedding resorts in Jamaica? Click the button below to explore: