The Caribbean country of the Dominican Republic is centrally located and showcases magnificent natural beauty, from pristine beaches and aquamarine waters to rainforests and lagoons. Expect incredible dining and drinks too, as cuisines at these properties are of inspired Caribbean traditions and are prepared be premier chefs. Your destination wedding could not be held in a more serene and stunning location. Today's blog post will cover the Top 10 Dominican Republic Wedding Resorts.
Be Live Collection Canoa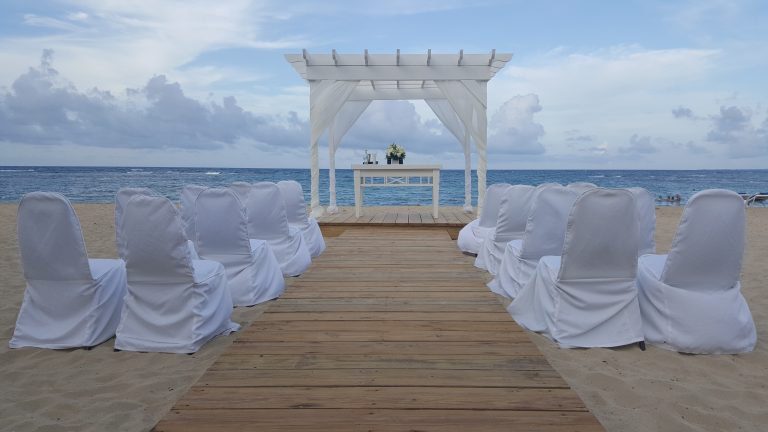 Be Live Collection Canoa
We begin our Top 10 Dominican Republic wedding resorts in La Romana, at the Be Live Collection Canoa all-inclusive resort, which sits on the famous white sands of Bayahibe Beach. Wedding guests will appreciate the distinctive tropical environment that surrounds the property as well as the brilliant resort design that meanders through it. Destination weddings at this establishment appeal to couples seeking purity and tranquility as well as those who prefer glamour and opulence from their Dominican Republic wedding resort.
Wedding planning and execution are held to the highest standard at this resort, which is a major reason why it's on this list. With the availability of extensive wedding options such as customizable ceremony and banquet furnishings and thematic celebrations, the wedding coordinator and consultant team will work tirelessly with you to ensure that your momentous day goes precisely as you had envisioned it. Be Live Collection Canoa is undeniably among the most distinctive and elegant Dominican Republic wedding resorts and could be the place where your most beautiful dreams come true.
Iberostar Hacienda Dominicus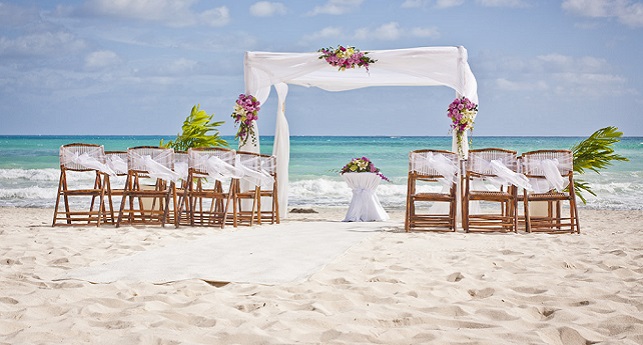 Iberostar Hacienda Dominicus
On El Parque del Este's protected land in Bayahibe rests the beautiful Iberostar Hacienda Dominicus. The preserved and naturally stunning property is an absolute dream of a location for a Dominican Republic wedding, with elegant architecture that is both Spanish-inspired as well as by the area itself. Natural lagoons and tropical foliage decorate this top Dominican Republic resort for weddings and create an intimate and indulgent atmosphere that couldn't be more ideal for a romantic getaway and celebration.
After your brilliant ceremony on the beach or in the lush gardens, you and your guests will enjoy the access it provides to Bayahibe. Caribbean villages, historical fisheries, and of course, the friendly locals are all within walking distance. There isn't another Dominican Republic wedding resort that offers this combination of size and scope, amenities and facilities, protected natural beauty, and wedding planning options. Iberostar Hacienda Dominicus earns its spot on this list with plenty of good reason.
Blue Bay Villas Doradas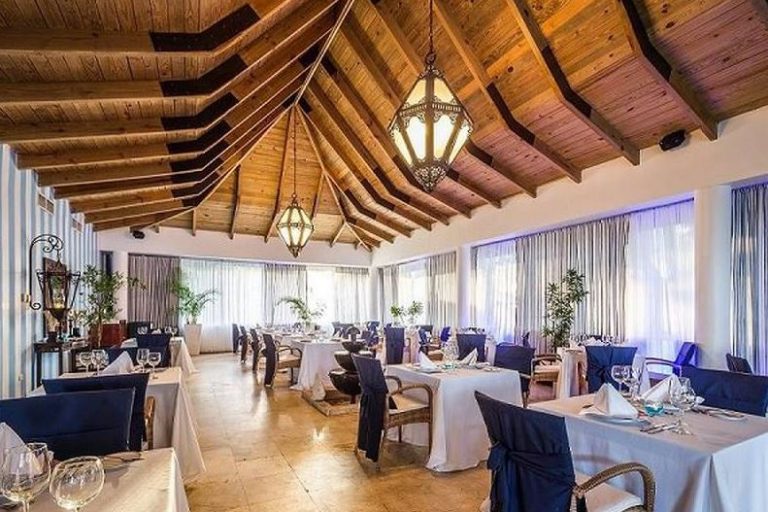 Blue Bay Villas Doradas
The next property on the Top 10 Dominican Republic Wedding Resorts list is Blue Bay Villas Doradas, which sits on the beautiful oceanfront of Costa Dorada in Puerto Plata. It's difficult to imagine a more exuberant and joyous locale for a wedding in the Dominican Republic. Fun-loving couples will absolutely fall in love with this place, as each day brings new adult-oriented activities, entertainment, and more. Cooking and cocktail making classes are whimsical, dance lessons are provocative, and volleyball tournaments are known to be healthily competitive.
After enjoying a stunning beach wedding ceremony, you and your guests can enjoy the terrific dining and nightlife of downtown Puerto Plata, just minutes from the property. Wedding couples seeking a top Dominican Republic wedding resort to be out and about, enjoy the sun, and let loose for their vacation will find Blue Bay Villas Doradas the perfect location. By its unique joviality and combination of options on how to spend time, Blue Bay Villas Doradas firmly joins the list.
Bavaro Princess All Suites Resort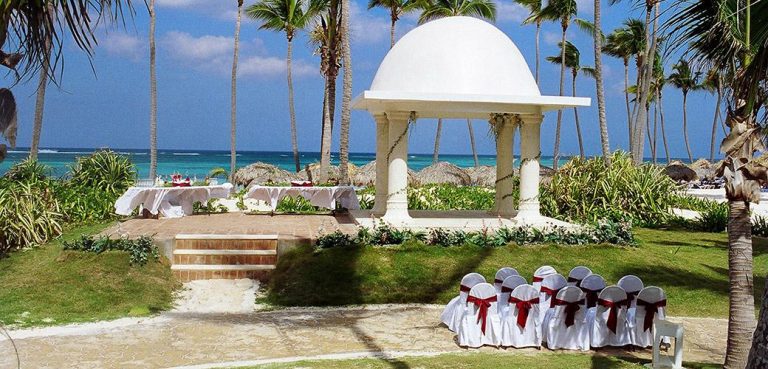 Bavaro Princess
Bavaro Princess All Suites Resort rests on a superb stretch of white sands that connect Playa de Arena Blanca and Playa del Cortecito. This resort makes our list primarily by the incomparable beauty of this part of Punta Cana as well as the sincerity of the property as a tropical paradise. The native plants and wildlife of the area have all been preserved, the latter which sees exotic birds, including peacocks, roam the resort freely and add a significant distinguishment to the resort.
Of course, the pristine white sands and crystalline waters of Punta Cana make for absolutely stunning Dominican Republic wedding ceremonies and celebrations. Additionally, there are a number of honeymoon suites that are designed with a vision of romance and intimacy, which all couples will appreciate. To top things off, Bavaro Princess appeals to wedding guests of all ages and convictions. An ecological park onsite will please families and younger guests, while a dozen bars and hopping casino will be appreciated by more thrill-seeking crowds.
CHIC Punta Cana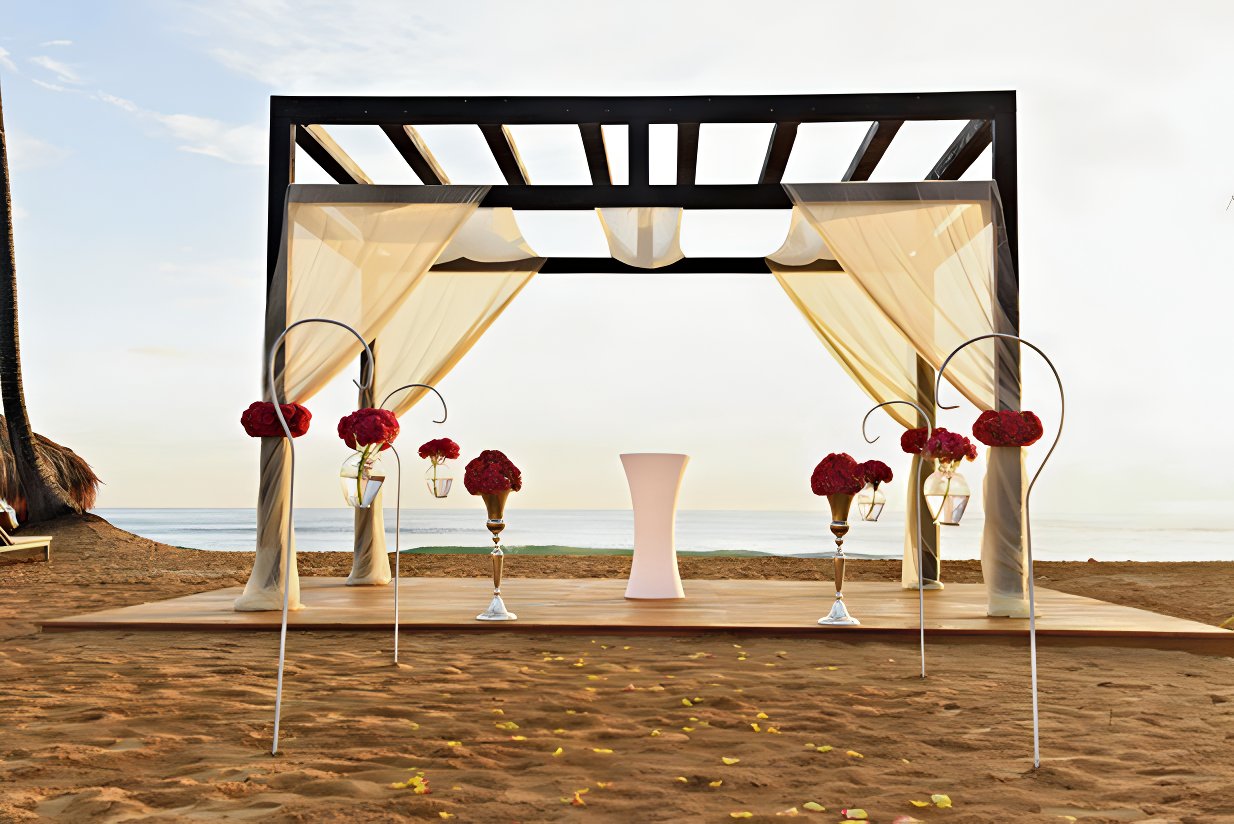 CHIC Punta Cana
The next resort on our Top 10 Dominican Republic weddings resorts list is CHIC Punta Cana by Royalton Hotels. This brilliant adults-only all-inclusive provides numerous ways to enjoy and celebrate your special time in an elegant, contemporary environment. Futurist architecture, a boisterous atmosphere throughout the grounds, and the absolutely stunning golden beaches and waters of the shores make this resort an undeniable top choice for any Dominican Republic wedding ceremony.
The orientation of this property towards couples, particularly younger ones, is conducive to making the most out of every waking moment during your stay. Party vibes are in abundance and there is no shortage of bars and patios to keep the good times rolling. The centrally located and breathtaking pool complex is the hub of the action, with opulent amenities throughout the area. The elegance of CHIC Punta Cana cannot be overstated, from the rooms, dining and drinks, and of course, wedding ceremonies and receptions.
Hard Rock Punta Cana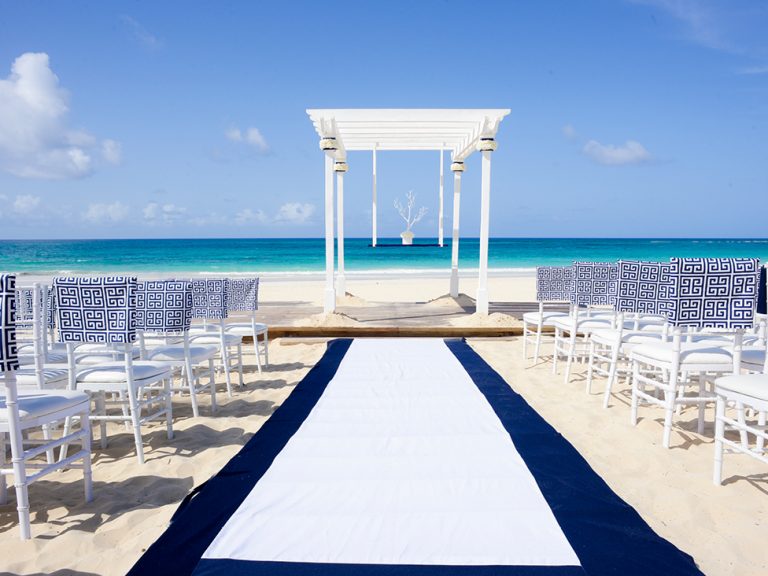 Hard Rock Punta Cana
Prepare to celebrate like a total rockstar. Next on our list is the Hard Rock Hotel and Casino in Punta Cana. This exhilarating, massive, high-octane property provides some of the grandest, most utterly awesome wedding celebrations you can find in the Caribbean. Between 13 different wedding venues as well as numerous other customization options, you and yours will have your celebrations tailor-made with the assistance of visionary wedding coordinators. A complimentary honeymoon package is included with every Dominican Republic wedding booking as well, which only adds to the already incredible offers of this establishment.
With 13 pools and an expansive beach at your disposal, you and your wedding guests will continually have space to sprawl out and relax. Entertainment options are in total abundance as well, with an 18-hole golf course, renowned top casino in the Caribbean, mini golf, nightclubs, and more available. Celebrating your Dominican Republic wedding at this resort will be an undeniably grand experience in so many ways, and that's why Hard Rock makes the list.
Majestic Elegance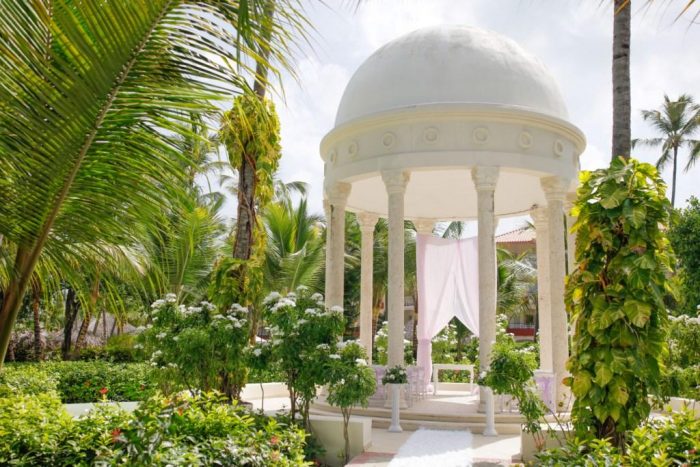 Majestic Elegance
Another brilliant resort in the Punta Cana hotel zone is Majestic Elegance. This Dominican Republic property makes our top 10 list for a number of reasons including the incredible white sands and turquoise waters of the famous Bavaro Beach, a bustling dining and night scene, and a numerous amount of activities to take part in. Majestic Elegance makes a terrific resort for weddings, maintaining premier standards in their ceremony venues and reception offerings, as well as a top-tier atmosphere that is highly conducive to relaxation and fun.
Guests of any and all ages will love staying and celebrating at this top resort. The water-sports center will draw younger crowds, while chic bars and nightclubs will appeal to adults. Majestic Elegance really captures what staying in the Caribbean is all about – the freedom to do with your time what you please at your own pace. Combining this jovial attitude with expert wedding coordinators and setup teams lands this stunning establishment on our list of best Dominican Republic wedding resorts.
Ocean El Faro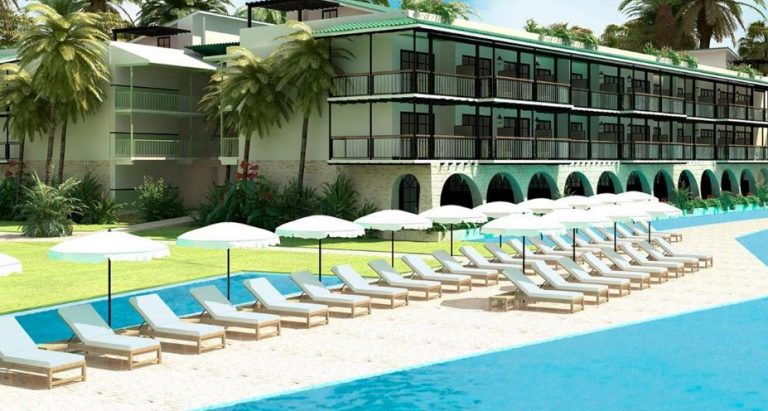 Ocean El Faro
Along the immaculate southern shores of Uvero Alto is Ocean El Faro. This resort does an exceptional job of blending the benefits of a larger resort with the quaint and charismatic culture of Punta Cana. Having just opened in late 2018, Ocean El Faro boasts the height of modernity and chic designs and amenities, as well as some of the best wedding ceremony setups and venues there are. It makes our Top Ten Dominican Republic wedding resorts list for the diversity of ways you and your guests can enjoy the stunning destination as well as each other's company while celebrating your momentous occasion.
This top Dominican Republic wedding vacation offers a number of soothing aquatic amenities including a lazy river, four large pools, and a waterpark that younger guests will enjoy. In addition to the relaxing provisions of the daytime, Ocean El Faro offers nightly live theater shows, has a bustling casino with elite dealers, and a funky late-night discotheque. From the modern, contemporary celebrations to a vast range of ways to unwind, Ocean El Faro secures a place among the best in the Dominican Republic.
RIU Palace Bavaro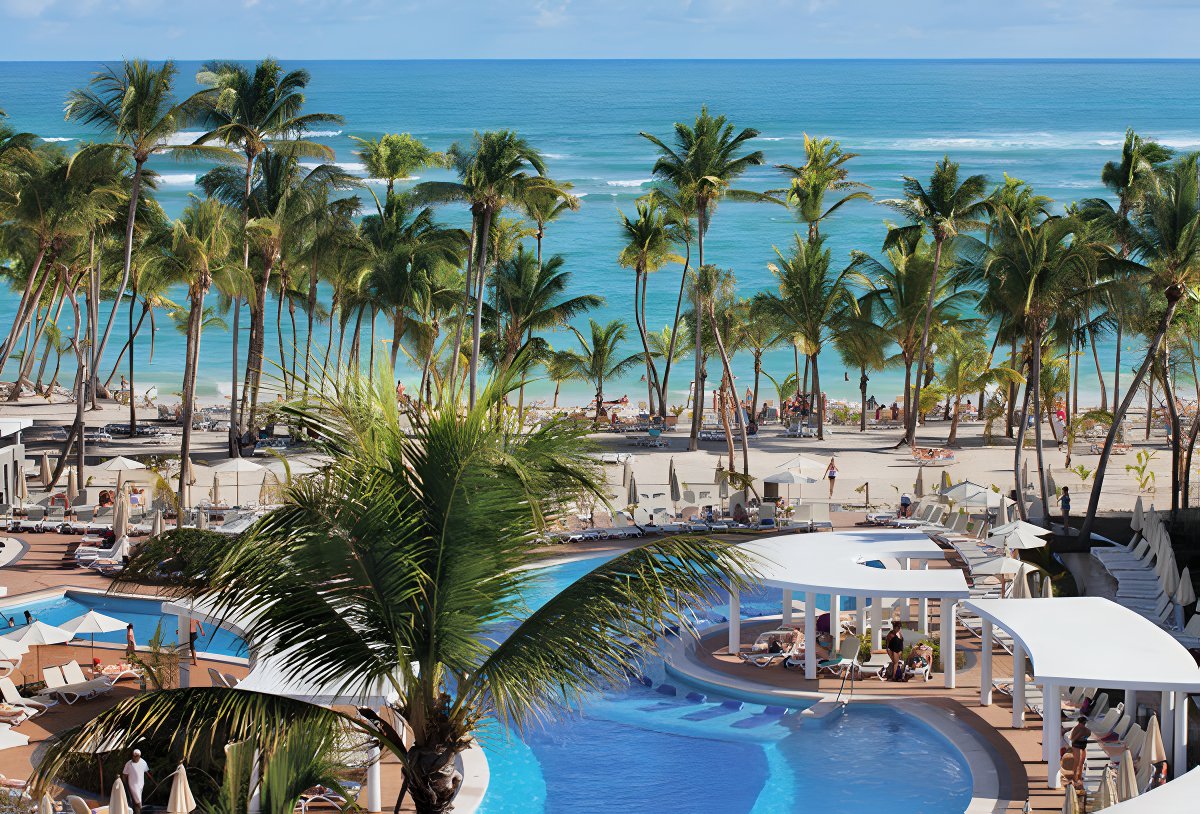 RIU Palace Bavaro
Next on our list is a grand establishment on the remarkable shores of Playa de Arena Gorda, RIU Palace Bavaro. Part of the industry standard-setting RIU Hotels and Resorts, this property offers the absolute peak of luxurious amenities while providing a high level of entertainment options and activities. Celebrating your Dominican Republic wedding at RIU would entail a potentially free wedding package, based on easy-to-meet requirements as well as VIP options that include a private pool, dining, and drinks experience.
At RIU Palace Bavaro you'll receive the famed hospitality of one of the world's most admired hotel and resort brands, but also feel a true sense of the Caribbean, as the property honors the cuisines, architectural inspirations, and local fun-loving attitude of Bavaro. Dominican Republic wedding couples seeking a totally covered and budget-friendly experience need not look a moment longer, as RIU Palace Bavaro is all-inclusive to end all others.
Royalton Punta Cana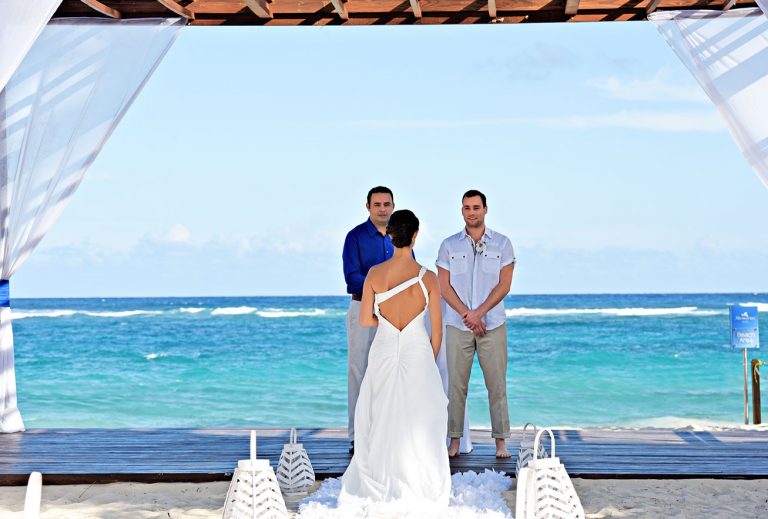 RIU Reggae
The concluding property on our Top 10 Dominican Republic wedding resorts list is Royalton Punta Cana. On the white sands at the northern end of Playa de Arena Blanca, this lovely property boasts the most elegant decor and architecture you can find in the Caribbean, as well as brilliantly laid out resort grounds. Your wedding ceremony and celebrations will be held in true magnificence at a stunning beachfront or gazebo venue, with the aid of a tireless wedding coordination team.
Despite the charming, graceful nature of the establishment, Royalton Punta Cana is a bit of a chameleon. Guests will enjoy access to the nearby Memories Splash Resort, which features the Caribbean's largest waterpark and an energized atmosphere that is fun for guests of all ages. You can shift back and forth from these two properties to match what you're feeling at any given moment, and for that reason (among others) Royalton Punta Cana closes out our list.
Looking for more incredible Dominican Republic wedding resort options? Click the link below to explore: