The beautiful Dominican Republic is centrally located in the Caribbean and is home to numerous jaw-dropping beaches, landscapes, and rainforests. From beachside ceremonies to garden gazebos and rooftop terraces, there are many brilliant resorts that offer spectacular wedding options. For today's blog post, we've narrowed it down to the 9 Best Dominican Republic Wedding Venues.
Secrets Cap Cana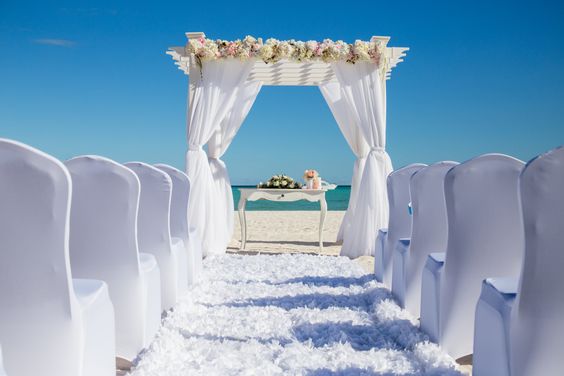 Secrets Cap Cana
The brand-new
Secrets Cap Cana
sits in an exclusive gated community in Punta Cana. This adults-only romantic paradise provides next-level amenities that range from a natural theme park with eco tours and its own protected harbor marina to stables and an equestrian center with polo fields. As an additional plus, the entry-level wedding package qualifies as free when in compliance with easy-to-meet booking requirements.
You and yours will appreciate the romantic options that this resort offers. As a preferred partner of Secrets Resorts, available upgrades include beachside dinners, continental breakfasts, and more. Additionally, every room has its own two-person soaking tub and rain showers. The combination of being built and run with couples in mind and along with the already breathtaking location, Secrets Cap Cana earns a place among our 9 Best Dominican Republic Wedding Venues.
Sanctuary Cap Cana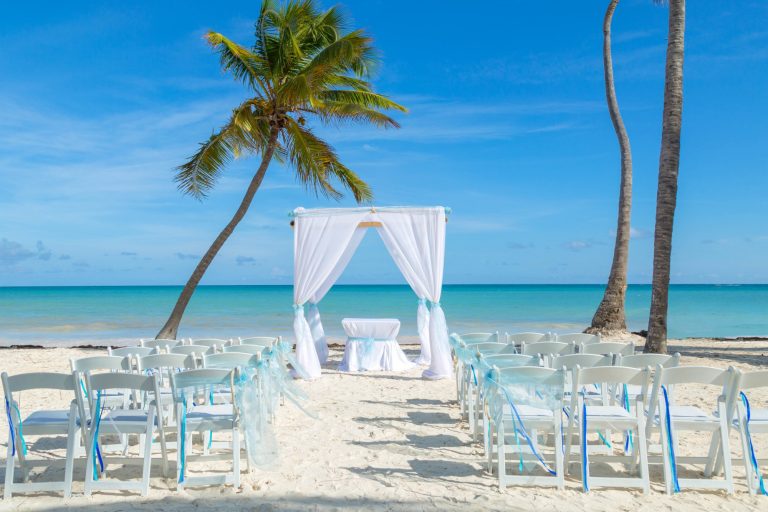 Sanctuary Cap Cana
The next property among our best in the Dominican Republic for wedding venues is
Sanctuary Cap Cana
. Much like Secrets, this resort is put together and operated with the vision of romance and weddings in mind. Designed in the image of a Spanish castle, you'll feel like royalty looking over the most beautiful white sands and turquoise waters. The resort grounds are very walkable and meander through gardens and waterfalls, creating a genuinely intimate atmosphere.
With 8 unique wedding venue options including a castle ballroom and a private island suite, Sanctuary Cap Cana provides some of the most memorable and distinguished wedding ceremonies in the Caribbean. Sanctuary Cap Cana fully deserves its spot on the 9 Best Dominican Republic Wedding Venues by the number of luxurious, stylish wedding options as well as the atmosphere it creates.
Sensatori Resort Punta Cana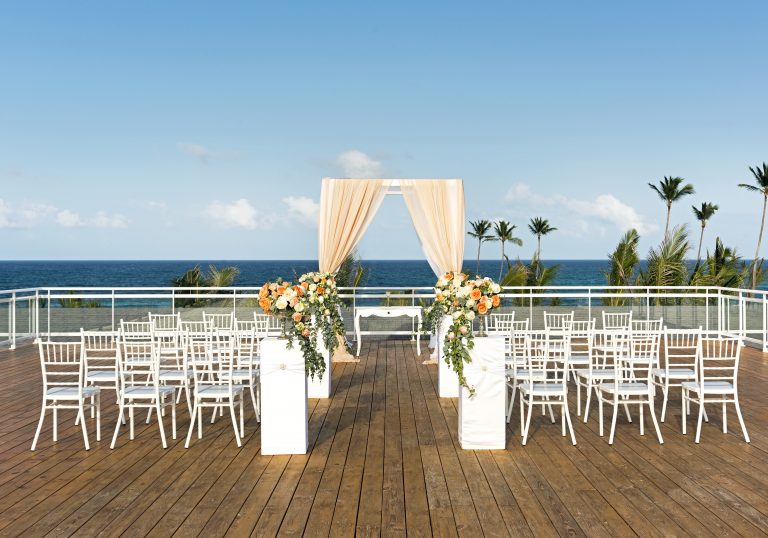 Sensatori Resort Punta Cana
Continuing the theme of
Punta Cana wedding resorts
, our next property on the 9 Best Dominican Republic Wedding Venues is Sensatori Resort Punta Cana. This meticulous establishment will blow you and your guests' expectations far and away with the quality of their dining, accommodations, and amenities. Their adults-only Kitchen 23 is ideal for couples seeking a romantic yet whimsical experience, as the restaurant's Chef de Cuisine, sommelier, and mixologist have crafted one of the Caribbean's finest menus.
You'll have the option of either a picturesque beachside ceremony or an exquisite Sky Deck ceremony. Either way, a thoughtfully designed and decorated gazebo and wedding decorations of the finest standard will take your breath away. Sensatori's specialization into these two venues has resulted in a level of craft and attention to detail that is virtually unmatched. This resort is truly one of the Dominican Republic's best wedding venues for all of these compelling reasons.
TRS Turquesa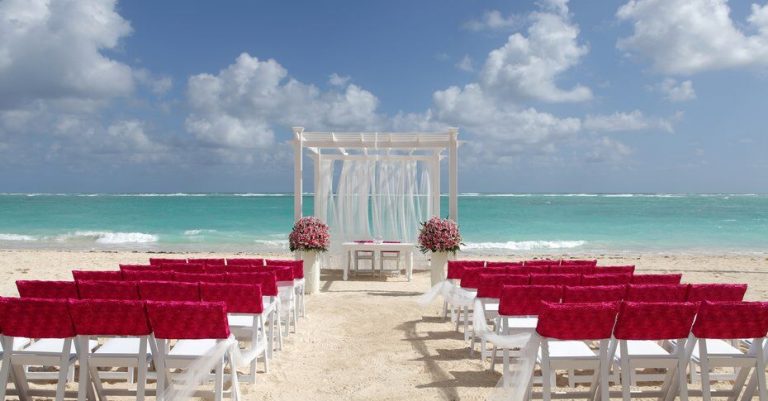 TRS Turquesa
The next resort of our 9 Best Dominican Republic Wedding Venues list is
TRS Turquesa
. Resting just off the shores of the famous Bavaro Beach, this adults-only property achieves the peak of serenity and intimacy. Everything about this resort is geared towards maximizing guests, and particularly wedding couples' relaxation. Romance suites come with a complimentary bottle of wine and two person jacuzzi, and the resort offers numerous soothing and revitalizing activities to enjoy during the day.
Built with themes of affection and enchantment at the forefront of priorities, you and your partner will find that each aspect of this resort's charming atmosphere is more romantic than the last. Whether you choose to commemorate your momentous occasion on the beach, in the lush gardens, or a gazebo overlooking the Atlantic Sea, rest assured that those in charge of your celebrations are part of one of the Dominican Republic's 9 Best Wedding Venues.
Majestic Colonial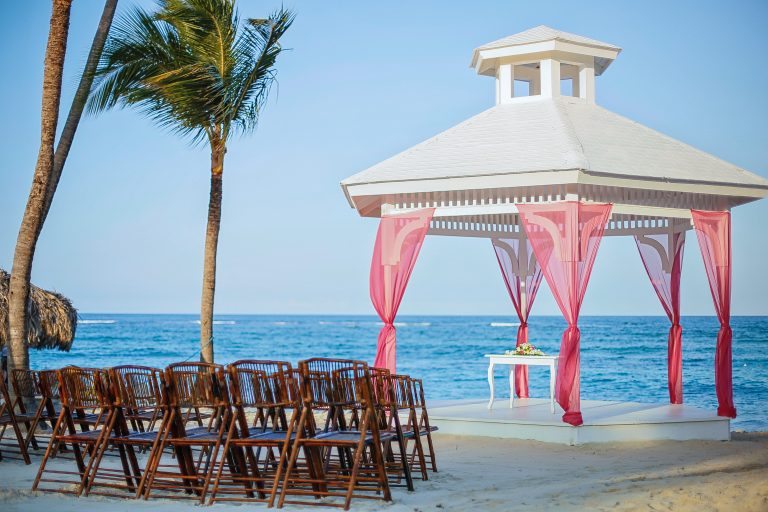 Majestic Colonial
A bit further north along Bavaro Beach sits
Majestic Colonial
. This large yet quaint property offers spectacular amenities, restaurants, and accommodations. It features lush tropical foliage throughout, creating one of the most naturally immersive experiences in the Dominican Republic. Weddings at Majestic Colonial are perfect for couples who will have families in their guest lists, as there are many activities throughout the expansive property, including a kids club with water slides.
Majestic Colonial is among the best and most popular Dominican Republic wedding venues for their wedding department's reputation. Virtually spotless, their coordinators work absolutely tirelessly to ensure that your wedding ceremony and commemorations happen exactly as you envision. Additionally, the property has a chapel perfect for accommodation at intimate Catholic wedding ceremonies.
Iberostar Dominicana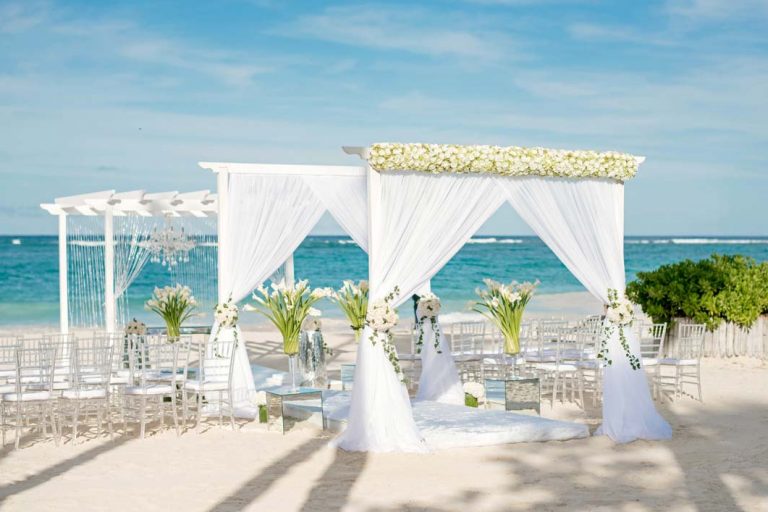 Iberostar Dominicana
Next, on the 9 Best Dominican Republic Wedding venues is
Iberostar Dominicana
. This Spanish-owned and world-renowned hotel and resort brand offers one of the Caribbean's most complete destination wedding locations. Boasting a truly magnificent blend of large resort amenities and accommodations with all the charm and attention to detail of a boutique property, your Caribbean wedding getaway at the Dominicana will be unforgettable.
The resort itself is brilliantly designed with walkways that take you through fountains, tropical plants and flowers, and to the beach, which itself is the famous Bavaro, where sands are like flour and the waters crystalline. Wedding couples and guests seeking activity during their stay will also appreciate everything from premier archery facilities to professional dance and windsurfing lessons. The sheer magnitude of Iberostar Dominicana's offerings lands it a place on our 9 Best Dominican Republic Wedding Venues list.
Luxury Bahia Principe Cayo Levantado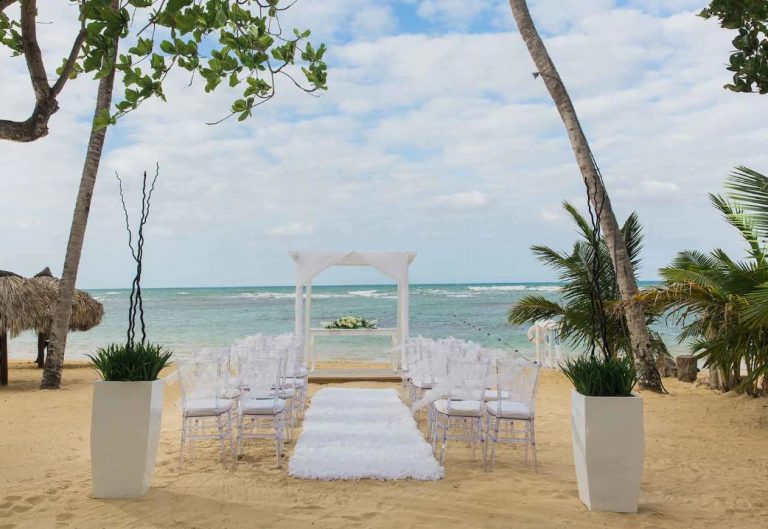 Luxury Bahia Principe Cayo Levantado
On the island of Samana just off the shores of the Dominican Republic is
Luxury Bahia Principe Cayo Levantado
. This resort makes our 9 Best Wedding Venues list for a number of reasons. It's the only resort on the entire island, which provides tranquility that can't be replicated. There are numerous romance packages and options available, including booking a luxurious beach villa with its own terrace and beachfront access. The combination of these elements will make you and yours feel like the only people in the world, blissfully immersed in romance.
Lush foliage all around, restaurants that specialize in Brazilian meats, and pristine beaches and waters just add to the already brilliant combination of offerings at Cayo Levantado. Ferries run until 3 am back and forth to the mainland, so should you feel like a night out in the Dominican Republic, you may certainly do so. Arguably one of the most unique properties in the Caribbean, Luxury Bahia Principe Cayo Levantado could not be left out of our Best 9 Wedding Venues in the Dominican Republic.
Dreams Dominicus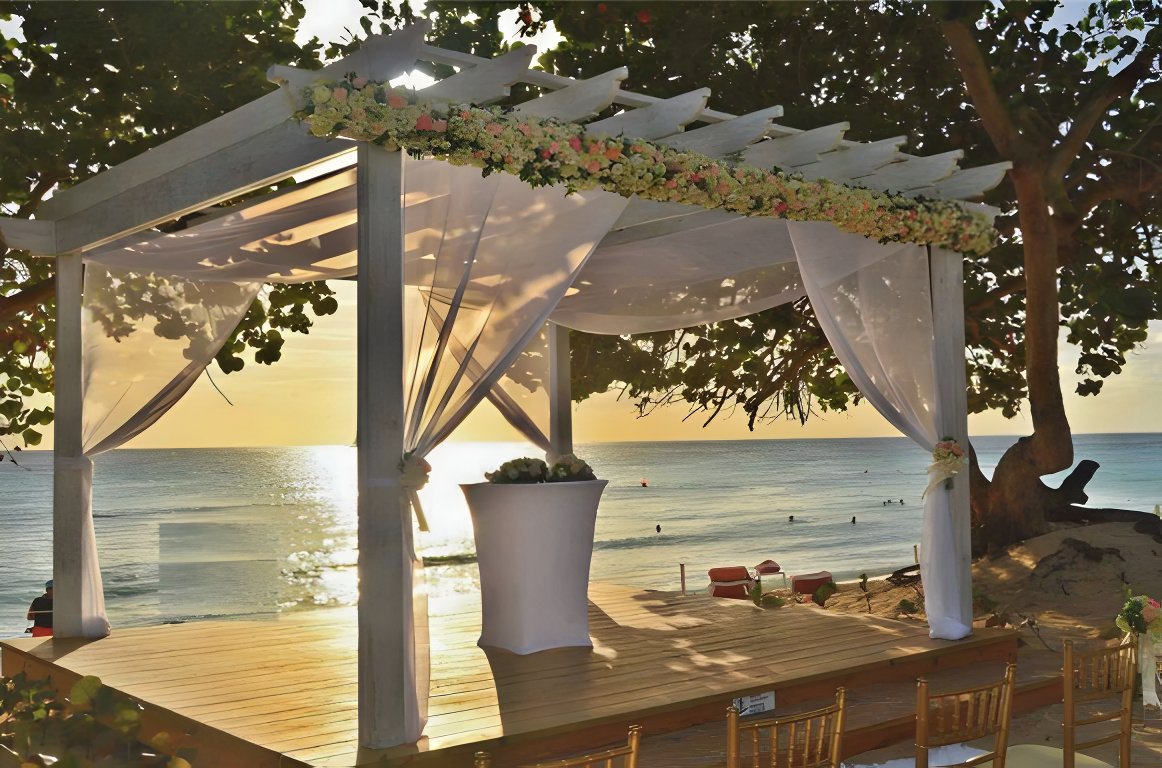 Dreams Dominicus
The next property of the 9 Best Dominican Republic Wedding Venues is
Dreams Dominicus
. This Mediterranean-inspired paradise is absolutely enthralling, with elegant decor, intimately lit walkways, and an all-around charming architectural style. The resort is sprawling and offers many hidden gems to explore and admire. With 5 different wedding ceremony locations, you and your partner will enjoy the freedom to design and envision your unique wedding moment.
The islands of Sanoa and Catalina are ideal for group excursions and are just a short ferry ride away. Romantic options are terrific as well, such as the preferred club honeymoon suites, which boast terraces with whirlpools, hammocks, and a private beach area. For these varying and objectively impressive reasons, Dreams Dominicus earns an easy spot on our 9 Best Wedding Venues in the Dominican Republic list.
Hilton La Romana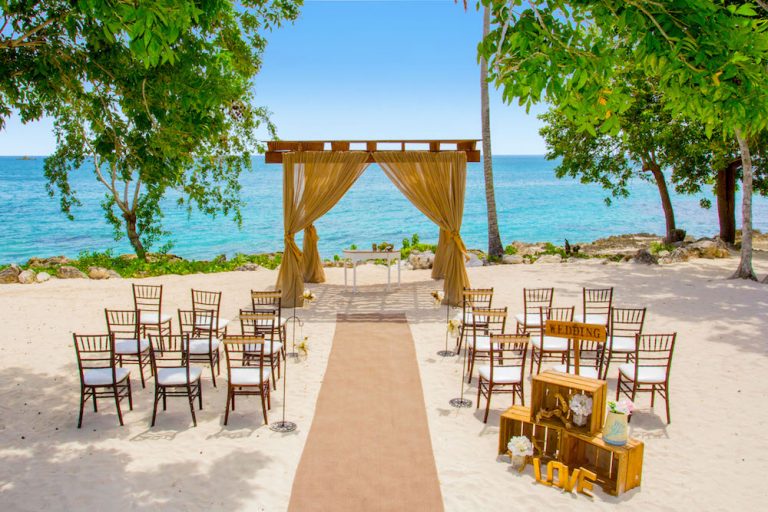 Hilton La Romana
Finally, we reach
Hilton La Romana
, the concluding property of our 9 Best Dominican Republic Wedding Venues. Situated in the southeast of the DR on powdery white sands of Bayahibe, this establishment of one of the most trustworthy brands achieves a blend of glamour and intimacy that is, frankly, superb. The size of this resort makes for access to incredible facilities and amenities, including an adults-only casino and discotheque, yet doesn't overshadow the themes of relaxation and indulgence that set the tone for the resort.
Their 5 different wedding venues combined with a dedicated wedding coordination team will ensure that you and your spouse will have plenty of excellent choices when planning your celebrations. Also, two of the offered wedding packages can be free by means of easy-to-meet room booking qualifications. By the quality of accommodations and amenities as well as premier wedding coordination, Hilton La Romana easily rounds off our Best 9 Dominican Republic Wedding Venues.
Inerested in learning more about terrific Dominican Republic wedding venues? Click the link below to explore: