There are millions of wedding dresses hanging up in closets worldwide, perfectly preserved for all time. There are also endless wedding photos portraying the same charming scene of the happily married couple. While there's nothing wrong with either, you're looking to make your special day stand out from the crowd, why not kill two birds with one stone and Trash the Dress?
'Trash the Dress' is a modern photo trend where the bride ruins her wedding dress in an over-the-top and extravagant way, often taking place in a unique and attractive location.
While this trend might not be for everyone, it's a fun and unique way to close one chapter of your life and start a new one, being a fabulous funeral pyre for your old life and an extravagant effigy for your new lives together.
Destination weddings create the perfect opportunity for couples to capture a totally unique 'Trash the Dress' picture at beautiful and picturesque locations.
Want to partake in 'Trash the Dress' but unsure where to start? Allow us to give you some ideas and show you some of the most beautiful and iconic locations to ruin your dress in style.
Walking the Waves at Royalton Blue Waters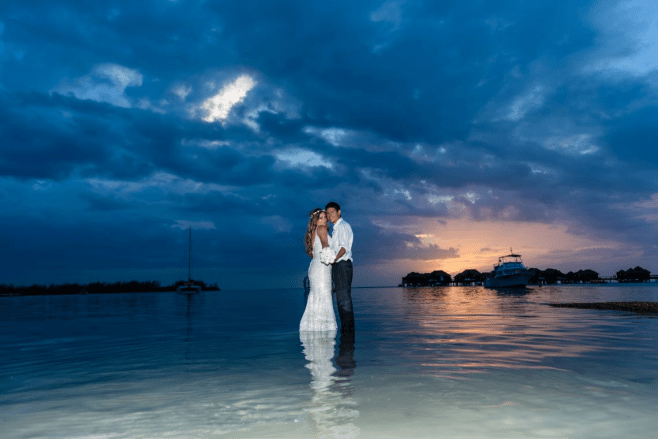 Jamaica's perfect blue coastlines attract destination wedding couples worldwide. With its pristine waters and starch-white beaches, Montego Bay's Royalton Blue Waters is the picture-perfect spot to say "I Do" before you 'rock your frock'.
Instead of posing hand-in-hand shoreside in your wedding-day bests, why not immortalize and honor your love with a photo as unique as the two of you?
We suggest: With the lapping waves washing over you, get knee-deep in the sand and give each other a smooch. While the tropical sea breezes kiss you back, snap a winner of a 'Trash the Dress' photo. The beaches of Royalton Blue Waters an excellent choice for an idyllic pic. Throw it on your social media accounts and watch the comments come flooding in!
Nestled in a Cenote at Dreams Tulum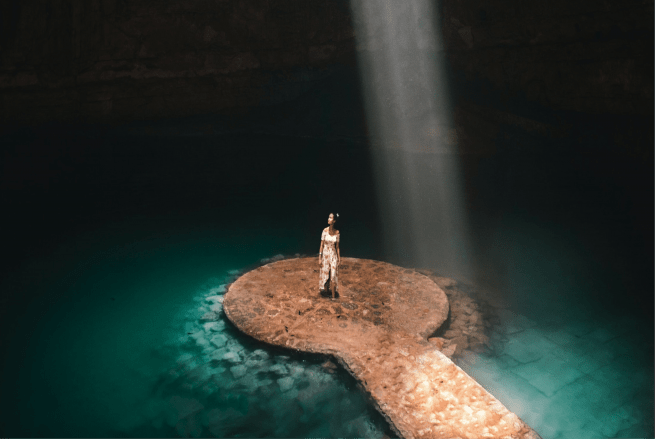 Cenotes are former caves whose ceilings have collapsed in on themselves, exposing the cavern of translucent water to tropical sunlight.
They are gorgeous grottoes important to Mayan culture, thought to be mouths to the underworld, and in present-day function as highly trafficked tourist destinations.
Located just a few miles from Dreams Tulum, Gran Cenote is a crystal clear expanse of crystal clear water flanked on all sides by the lush jungle and flora of Riviera Maya, making it a fantastically photographic locale for your 'Trash the Dress' shot.
Our photo recommendation: you and your partner take a plunge into the lucid water, nestled on all sides by the natural rock formations of Gran Cenote. The elegance of your gown in the translucent depths contrasts with the natural splendor of the cavern in a way that will make anyone who views your 'Trash the Dress' envious of the adventure of your destination wedding.
In the Deep End at Riu Palace Aruba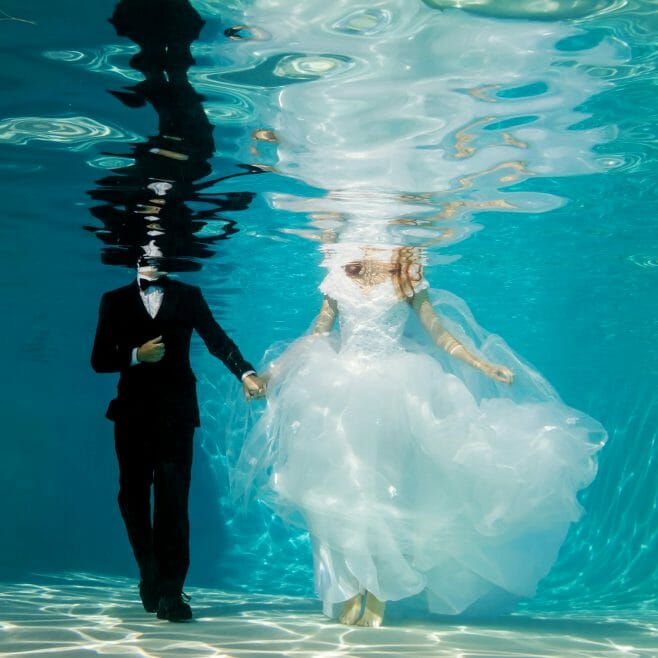 Allow us a moment to get cheeky with you: you've dipped your toes in the water entertaining the above ideas, but maybe it's time to entirely 'drown the gown' and take your 'Trash the Dress' picture fully submerged.
This classic example of the 'Trash the Dress' phenomenon is sure to wow, with your soaked dress swirling around you as if suspended in midair, creating an unforgettable and striking image, memorializing your special day with an art gallery worthy photograph.
Our idea: dive into Riu Palace Aruba's world-class resort pool — its striking design inspired by the local culture — and create the perfect backdrop for your underwater 'Trash the Dress' picture.
Under the Arch at Breathless Cabo San Lucas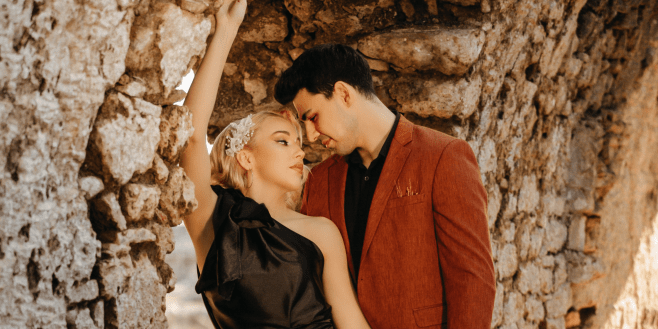 Towering over three stories high, the Arch of Cabo San Lucas is one of Mexico's most photogenic and distinctive landmarks.
Blooming from the tip of the Baja California peninsula, this arch, also known as 'Land's End,' was formed by natural sea erosion and is usually home to barking sea lions & rolling ocean waves.
However, for a couple of weeks every few years, the tide pulls back to reveal a strip of land that people can use to stand under the Arch of Cabo San Lucas.
This once-in-a-blue-moon phenomenon allows newlyweds to take a truly rare 'Trash the Dress' photo.
Our proposal: framed under the arch, lay down in the sand with your newly wedded partner, allowing the salty tide and the freshly revealed sandbar to wash over you.
Entwined in the Jungles of Royalton Bavaro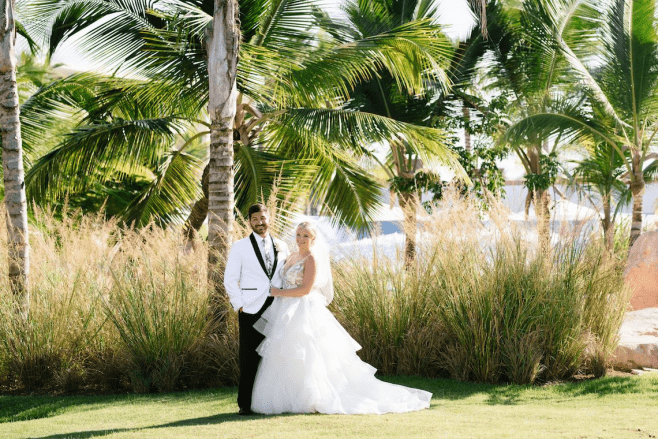 Destination weddings in the Dominican Republic don't just mean oceanic scenes of beaches and water. DR is home to swathes of jungle life, maintained by the cool, tropical climate. Verdant and vivid, these dense jungles make the perfect setting for a 'Trash the Dress' snapshot.
Our vision for your photo: surround yourself by snaking tree trunks and vines, tying you and your significant other like how you'd just tied the knot. Torn and stained by dirt and flora, your wedding dress will stand out like a majestic white cloud against that backdrop of green.
Feeling inspired to find the perfect resort and location to 'Trash the Dress'? Take the first step on your destination wedding journey by following the button below to get connected with a Destify Booking Coordinator: