Elegance awaits on the Yucatan Peninsula's northern shore. Perfectly nestled about 30 minutes away from the hustle and bustle of Cancun, Costa Mujeres thrives as a lush wonderland filled with emerald foliage and breathtaking seascapes. Garnering genuine elegance and majestic charm around every corner, terrace, and gazebo, the region's luxury resorts are idyllic getaways that'll accentuate your seafront ceremony. Without further ado, let's review the destination wedding resorts of Costa Mujeres:
Majestic Elegance Costa Mujeres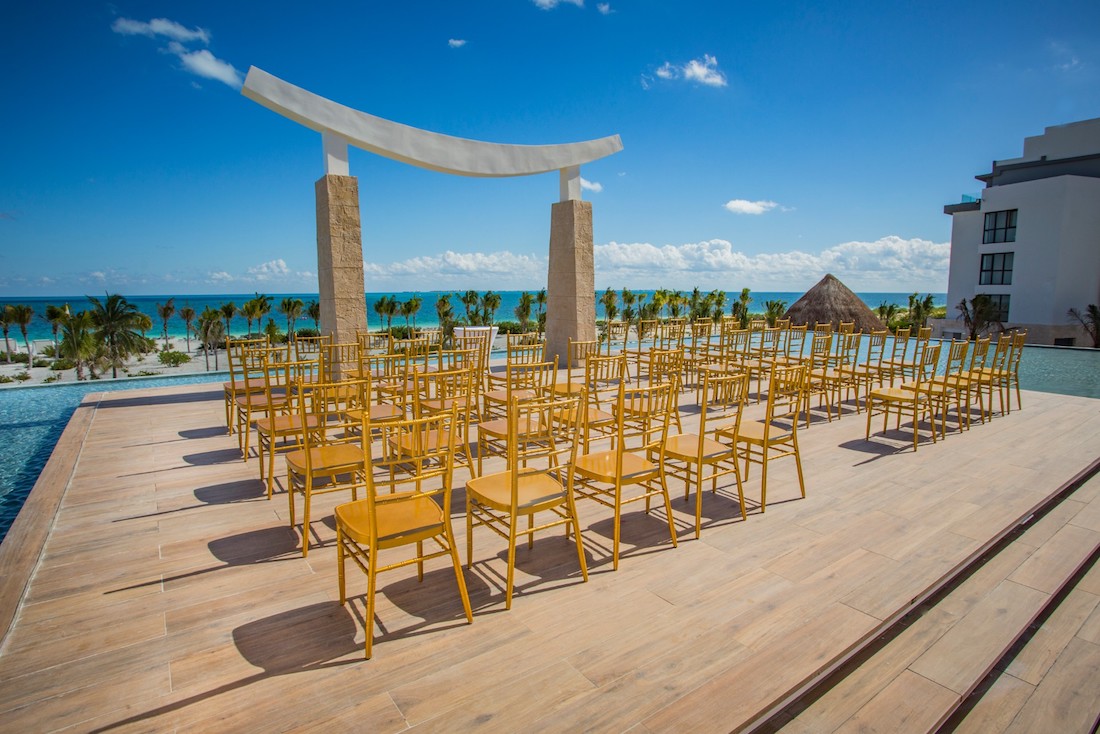 Majestic Elegance Costa Mujeres
Featuring the latest in contemporary wedding venue design, Majestic Elegance Costa Mujeres showcases alluring spaces that will add a futuristic flair to your ceremony. All equipped with state-of-the-art A/V technology, the resort provides 3 glamorous spaces capable of accommodating anywhere from 50 to an unlimited number of guests, making the property ideal for large destination weddings.
Take an immersive tour of the zen-inducing spa, where a blend of unique treatments will encourage a stress-free wedding week. Traveling with a bridal party filled with golf enthusiasts? Look no further than the Puerto Cancun Golf Course, a glorious stretch of perfectly manicured fairways just a short drive from the property. Additionally, all wedding guests are pampered with daily butler service, delivering the finest premium alcoholic beverages and delectable dishes 24/7.
RIU Palace Costa Mujeres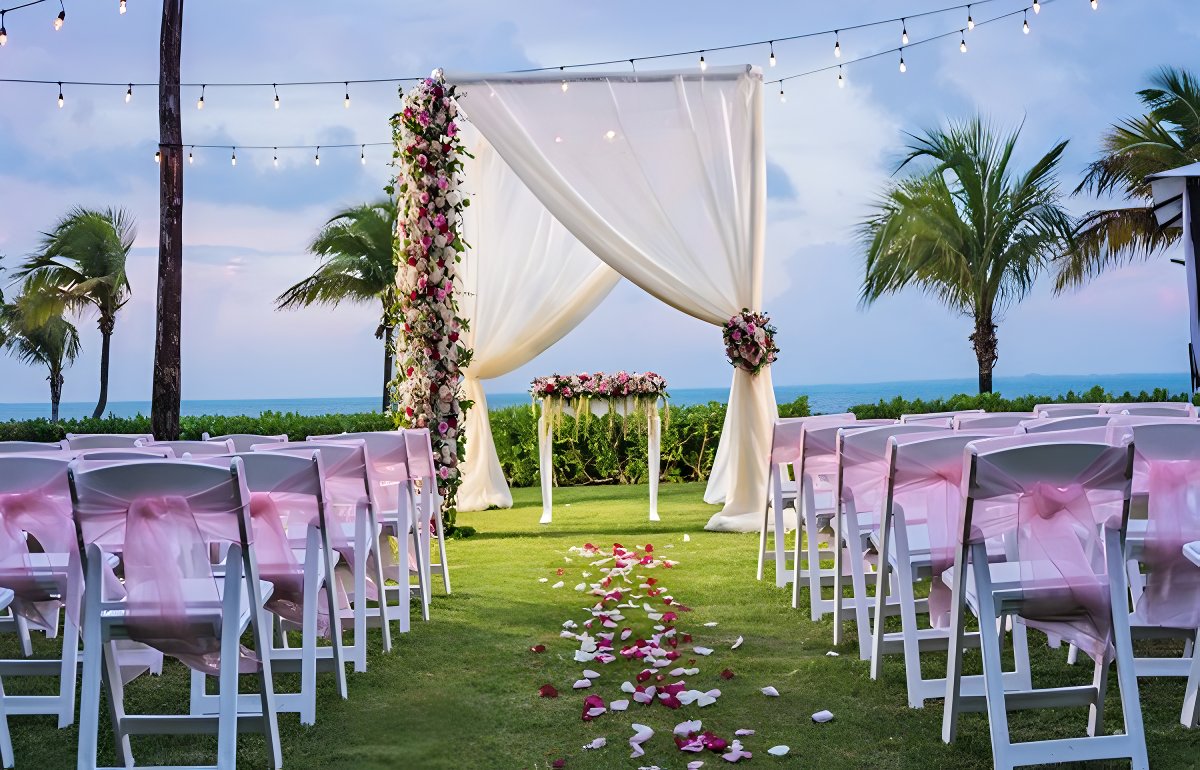 RIU Palace Costa Mujeres
The shimmering shores of Playa Bahia de Mujeres welcome newlyweds to the visually stunning wedding week of a lifetime at RIU Palace Costa Mujeres. Boasting an assortment of customizable wedding packages, couples can elevate their destination wedding with complimentary wedding cake designs, gorgeous floral arrangements, and private dinners on the beach. Parties desiring a more extravagant celebration can leverage a selection of add-ons ranging from talented live music to luxury suite upgrades.
Offering 2 picturesque venues complete with awe-inspiring backdrops, RIU Palace Costa Mujeres is the perfect location for an extraordinary tropical ceremony and a beautiful post-ceremony photoshoot. Guests staying at this opulent gem can relish in a series of all-inclusive perks. Let your tastebuds and cravings run wild at one of the property's eight fine dining establishments. After a satisfying meal, lounge poolside, or at the immersive Renova Spa, where tranquility comes with a refreshing cocktail and butler service. Searching for more all-inclusive activities to round out your Costa Mujeres wedding? Let's take a short stroll to the hotel's dazzling sister resort: RIU Dunamar.
RIU Dunamar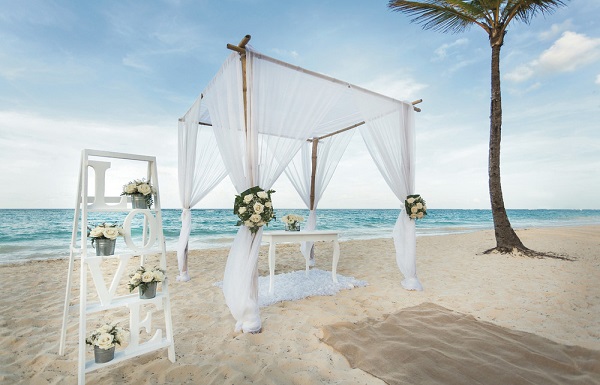 RIU Dunamar
Sharing the same pristine white sands as RIU Palace Costa Mujeres, RIU Dunamar showcases equally enchanting ceremony spaces to deliver your dream Costa Mujeres destination wedding. Whether you surround yourself with exotic tropical flora or warm sea breezes and a seemingly endless horizon of turquoise waters, the resort's magical venues will imbue your ceremony with natural beauty. Capable of accommodating 100 guests, each wedding space features modern A/V technology and contemporary designs ideal for large destination weddings.
The fun never stops at RIU Dunamar. With an expansive array of all-inclusive benefits, this family-friendly resort is perfect for younger and older wedding guests alike. Kicking off our property tour, we dive into the sprawling slides and infinity pools of Splash Water World, a glistening water park designed for maximum heart-racing adrenaline. Night owls and afterparty enthusiasts can keep the party going at Pacha Discotheque, a ravishing nightclub filled with top-shelf alcohol and rousing modern bops.
Grand Palladium Costa Mujeres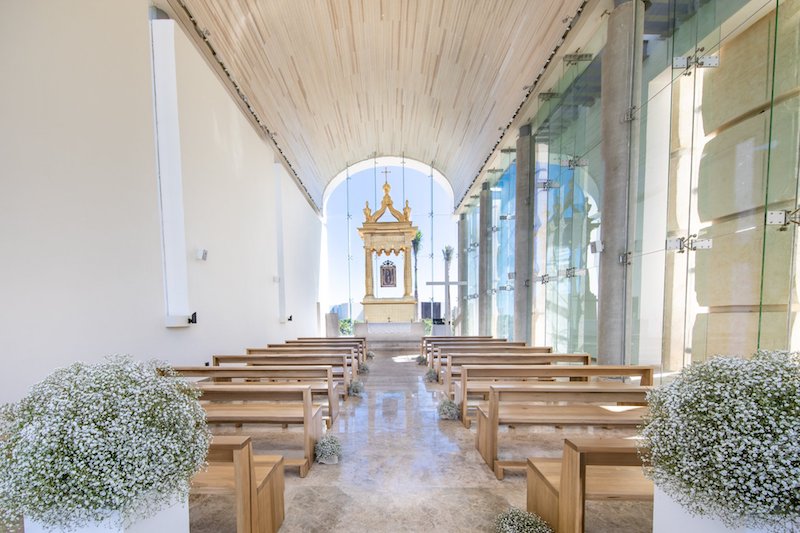 Grand Palladium Costa Mujeres
Welcome to one of the premier wedding resorts in Costa Mujeres. Prospering on the golden sands of the peninsula, Grand Palladium Costa Mujeres is a paradisal gem fitted with delightful wedding amenities. Perfectly secluded from the general population, a Grand Palladium Costa Mujeres wedding guarantees a truly private day of romance. The property's modern flair permeates throughout each ceremony space, a palpable quality reflected in the resort's handcrafted wooden pergola, naturally lit Catholic Chapel, and shaded beachside deck.
An elaborate complex, Grand Palladium Costa Mujeres features the latest in modern wedding resort architecture. Connected via a nebulous canal system, the resort's facilities are easily accessible by foot, swim, or boat. You won't have any trouble finding activities to fill your wedding week's itinerary. Practice your serve and backhands at the on-site Rafael Nadal Tennis Centre, or challenge your fellow guests to a friendly pick-up basketball game. Feeling adventurous? Hitch a ride on a catamaran or ferry to nearby Isla Mujeres, a wondrous island complete with zip-line tours and jungle biking courses.
There is much to behold from the enticing destination wedding resorts of Costa Mujeres. What truly separates these magnificent coastal paradises from the rest of the Yucatan Peninsula aren't their fortuitous locations. Rather, they utilize their natural surroundings accordingly, forming an effortless fusion between Mexico beauty and chic contemporary sophistication. Paired with a selection of alluring perks, Costa Mujeres and its wondrous wedding resorts deserve your consideration, as they can deliver your perfect Mexico destination ceremony.
Ready to start planning your dream Mexico destination wedding? Follow the button below to view more elegant Mexico wedding resorts: