It's a complicated question: what will happen to destination weddings during this pandemic? In the midst of the COVID-19 outbreak, couples have cleverly thought of ways to tie the knot. From home matrimonies to local courthouse weddings, newlyweds are, fortunately, finding solutions to remedy canceled or postponed destination ceremonies.
The celebration doesn't have to stop there, however. With 5-star resorts and venues opening their doors in July 2020, couples can leverage luxury spaces and establishments to host a glamorous destination reception! Here are a few reasons why a destination reception is a perfect way to celebrate your marriage from quarantine:
Vacation with Your Closest Friends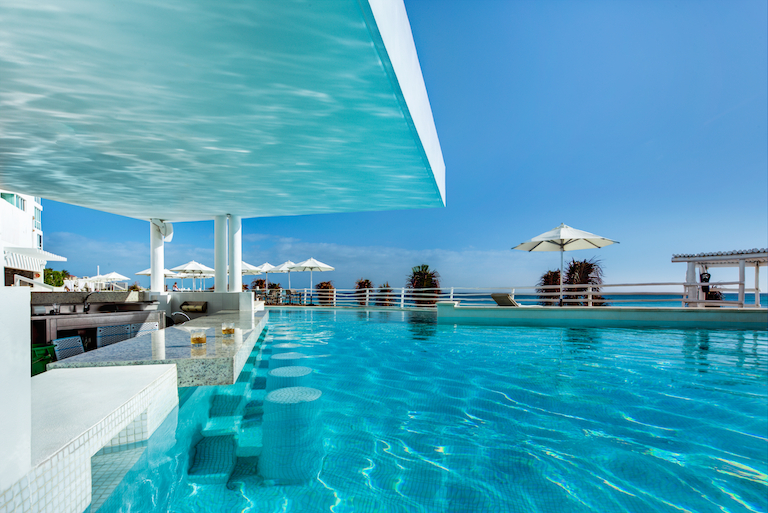 You're planning a destination reception AND a vacation? Double the fun indeed. Not only are you coordinating a romantic finale to your wedding, but you're researching luxury resorts with valuable all-inclusive amenities and accommodations that'll have your group begging to stay. Whether you're exploring the lush tropical forests of Mexico or the white sand beaches of the Dominican Republic, you won't have any trouble finding a hotel that'll fulfill your preferences and satisfy your guests. Every corner of Mexico and the Caribbean is filled with elegant resorts whose main purpose is to deliver an unforgettable stay.
Regardless of how old or young group members are, there's a stunning oasis out there with perks designed for everyone's taste and speed. Resorts like Oleo Playa Cancun include exciting adults-only benefits such as refreshing infinity pools complete with swim-up bars and top-shelf liquor. Meanwhile, family-friendly establishments like Sunscape Sabor Cozumel showcase heart-pumping water slide courses that'll keep your younger guests entertained for the entire vacation. Additionally, you and your travelers will experience the finest in-suite accommodations that money can buy, with many rooms including relaxing Jacuzzis and personalized mattresses.
World-Class Catering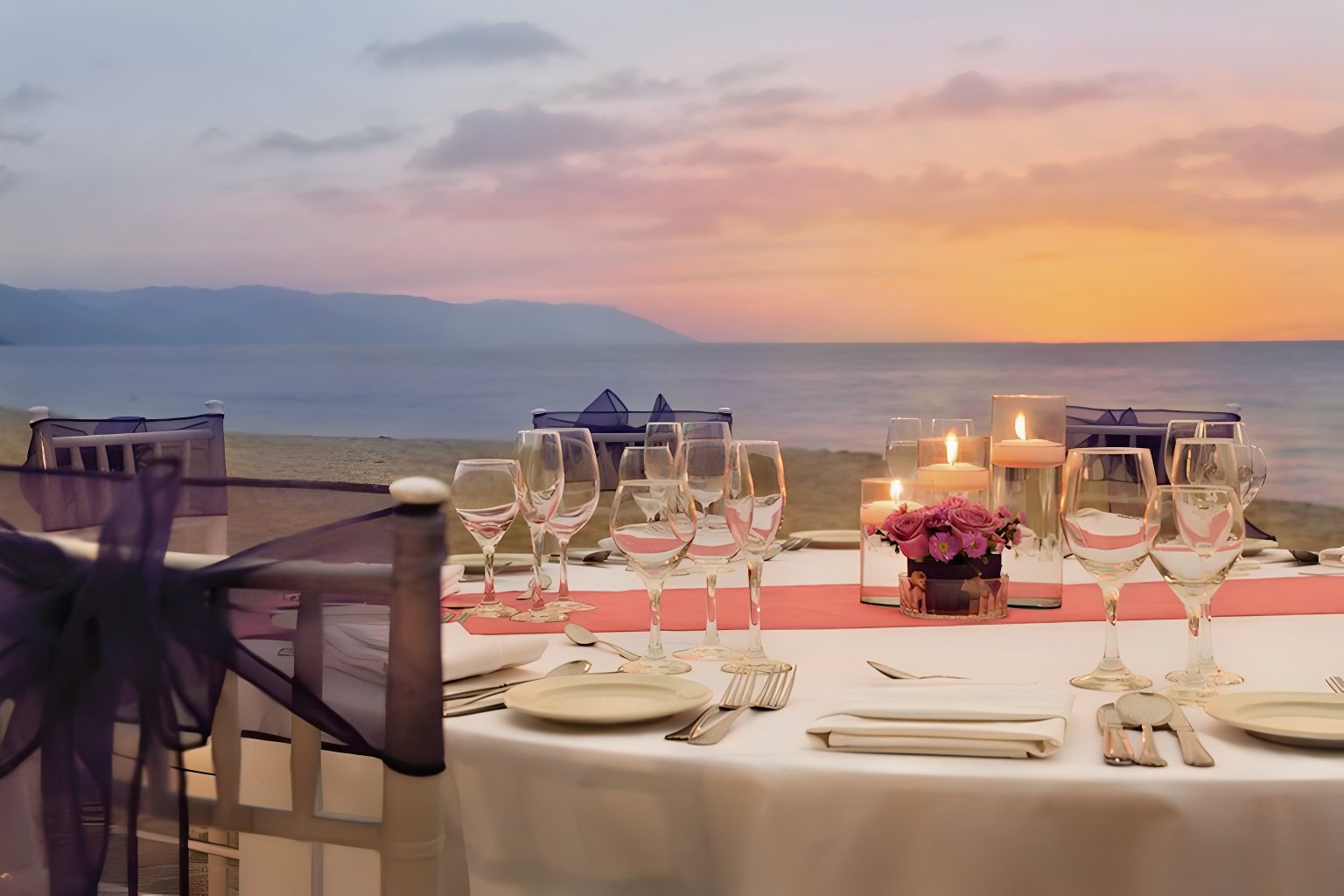 Bruschetta or tacos? Lobster or steak? These are perhaps the toughest decisions you'll have to make while planning your destination reception. It's not the worst problem, yet your celebration dishes will define the tone and success of your evening. Worry not as connected to every all-inclusive wedding resort is a dedicated team of culinary experts. They'll work tirelessly to transcend the concept of reception cuisine. No matter which type of refreshments you choose to serve, every mouthwatering morsel will impress and satiate your entire wedding party.
The possibilities are endless. Showcasing reflexible staff members, servers, and chefs, every on-site wedding department can deliver an extraordinary destination reception menu. From classic sitdown dinners to delectable food stations, the night will burst with tasty finger foods and juicy bites galore. And don't worry about beverages, every wedding package is equipped with high-end alcohol and cocktails to wash down the delicious meal, and can include private bartenders and open bars.
Professional Live Entertainment and Activities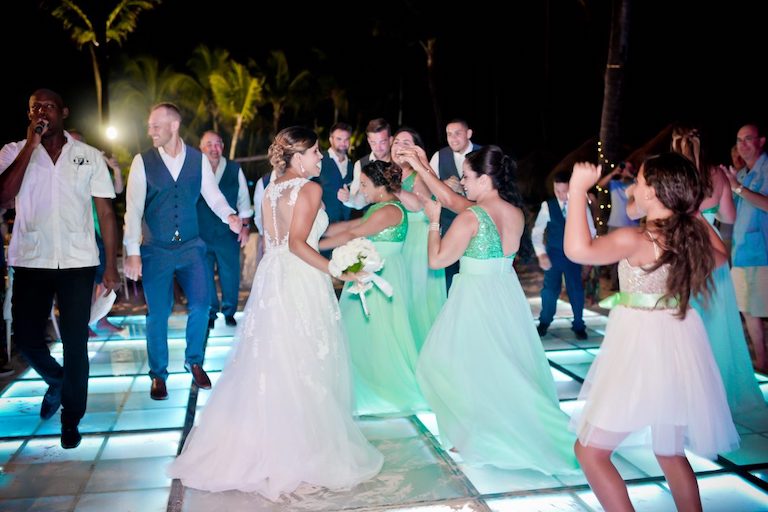 It's time to boogie! Plenty of all-inclusive wedding resorts offer professional DJs or live bands at reasonable prices. With a selection of talented musicians and producers available to book, your destination reception will be rocking with bops dazzling enough to get all of your relatives on their feet and dancing. Anxious about which songs to play? You and your spouse can submit a custom playlist that'll ensure your favorite song makes it into the first dance and guarantees a reception that's uniquely yours.
For couples looking for a more extravagant crescendo to the night, spicing up your live entertainment has never been easier. One of the more popular additions to receptions, professional artists create fun portraits of your guests or the surrounding festivities. At certain resorts, the first dance is even accompanied by a visually striking sparklers display, adding a touch of pyrotechnic magic to your enchanting moment. You can even opt for live musicians, stilt performers, Carnivale dancers, and more! Although most add-ons incur extra charges, such perks are worth spending a few more bucks to liven up the celebration.
COVID-19 and quarantine might force some to cancel destination weddings or opt for local ceremonies. That doesn't mean we can't plan for an extravagant destination reception. With a bevy of resorts opening up in the near future, the opportunity to travel and celebrate will provide a much-needed reprieve for you, your spouse, and your guests. Along with the benefits listed above, there is an incredible feeling that we can all achieve by not only looking ahead with optimism but also reclaiming our week of love.
Want to learn more about our lovely partnered wedding resorts and their venue spaces? Follow the button below to explore our Destination Receptions Guide: