Congratulations! You've recently made one of the biggest decisions of your life thus far in marrying your partner. Now, it's time to decide where to begin your life together.
In order to make things easier for couples deciding where to put roots down, we've created a ranking of the best cities in the country for newlyweds.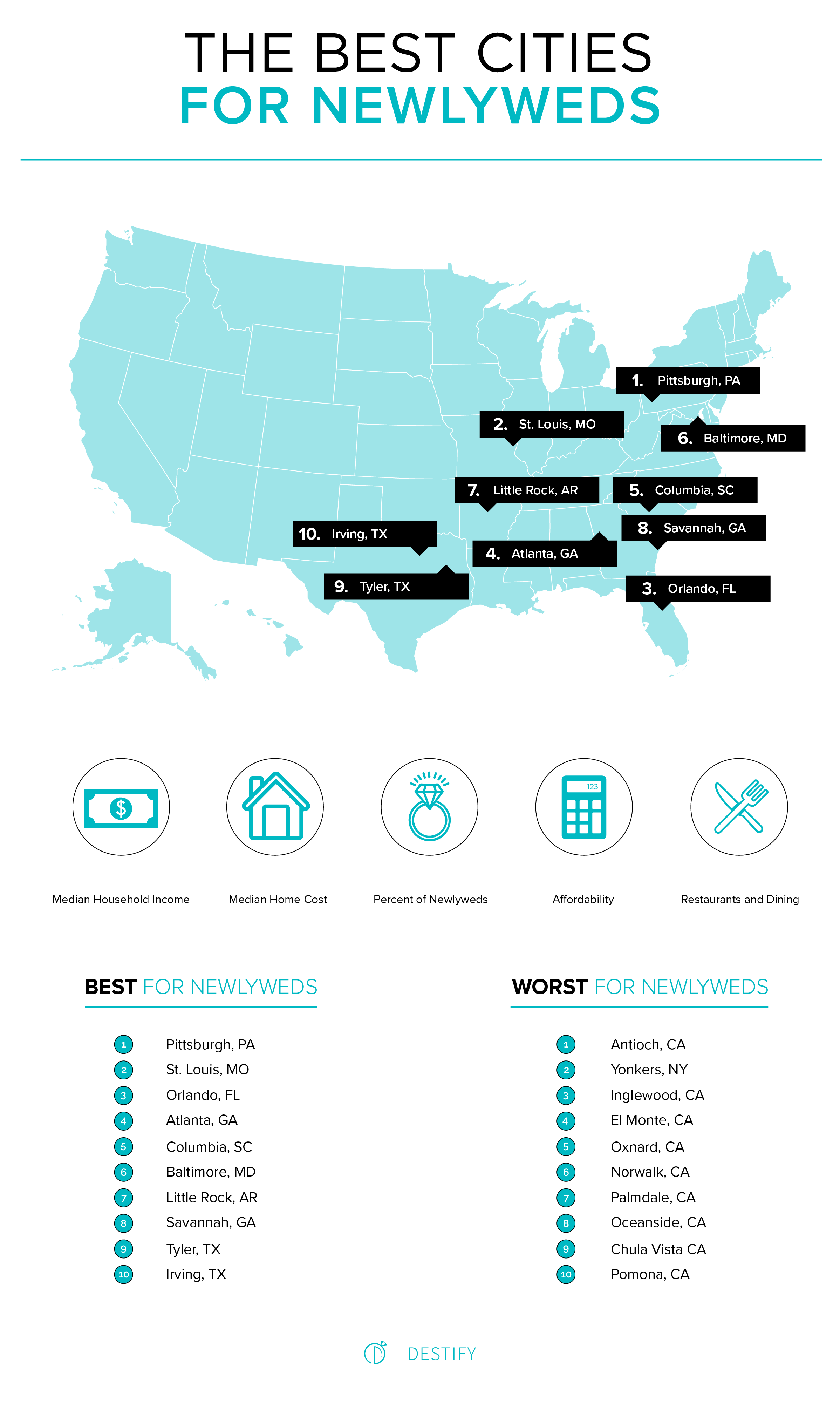 When it comes to the best cities for newlyweds, Pittsburgh and St. Louis took the top spots. Coupled with a reasonable median home value as well as overall affordability, both of these cities make for great places to settle for those who have just tied the knot. But if you're looking to find someplace warmer, Orlando may be the perfect city, which comes in at No. 3 on our list. Speaking of the south, several other southern cities dominate the top 10 including Atlanta, Columbia, Irving, Tyler and Little Rock.
Whether you're looking for a big city feel in places like Atlanta and Baltimore, or want something mid-sized in Madison and Charleston, there's something for every type of couple on our list. And while there are a good portion of smaller cities with a population of under 250,000, many are located within a major metro area such as Dallas (Irving) and Houston (Sugar Land).
In order to determine our ranking, we analyzed data from more than 300 cities and compared them across five metrics: median household income, median home value, number of newlyweds, cost of raising a child, and the number of restaurants and dining options available.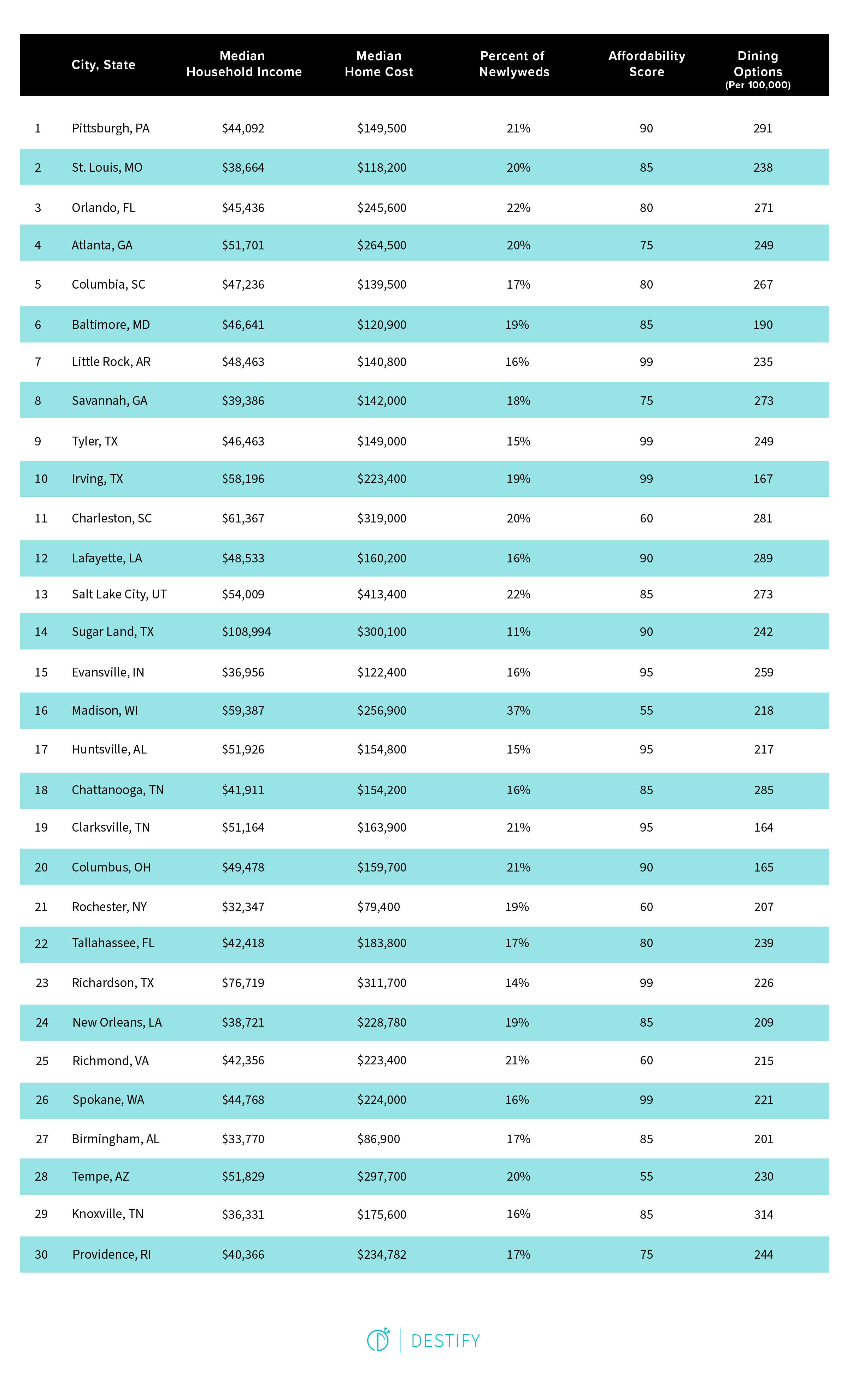 Median Household Income
One of the most important factors in choosing a place to live is being able to live comfortably wherever you settle. Across the cities that made our list of the 30 best cities for newlyweds, the average median household income was $48,988. Cities like Atlanta, Charleston, Tempe, Salt Lake City, and Richardson all had median household incomes higher than average.
Median Home Cost
When it comes time to start shopping for real estate, price is one of the most important elements of choosing a home to invest in. In the top 30 cities, the average median home cost clocks in at $198,135.
Percent of Newlyweds
Nobody wants to be lonely in a new city – that's why we made sure to take into consideration the percentage of population within the average newlywed age range (25-34). Madison is home to the most at 37%, but Orlando, Salt Lake City, Pittsburgh, Clarksville, Columbus, Atlanta, Charleston, and Tempe boast an impressive 20% or more.
Affordability Score
If you're thinking about settling into a new city, you'll also want to keep an overall budget in mind for things like food, transportation, taxes, entertainment and possibly raising a child. Across the 300+ cities we examined, we analyzed these costs to factor in an overall affordability score using the Economic Policy Institute's Family Budget Cost of Living Calculator. This calculator constructs cost estimates for a married couple with one child and consists of seven individual components: housing, food, transportation, child care, health care, taxes, and other necessities.
Dining Options
Whether it's sharing a plate of tapas or splurging on an award-winning restaurant, one of the best ways to get to know your city is by getting to know its food scene. Luckily for newlyweds, our top 30 cities offer an impressive amount of restaurants per 100,000 residents. For the most variety, head to Knoxville, which boasts 314; other cities such as Charleston, which has become a go-to foodie destination, as well as Pittsburgh and Lafayette offer close to 300 restaurants per 100,000 residents.
Methodology
To determine our ranking, we looked at more than 300 Census-defined places via U.S. Census Bureau data. We compared these cities across five key metrics: median household income, median home value, percentage of the population between the ages of 25 and 34, affordability, and the number of dining options per 100,000 residents.
We graded each metric on a 100-point scale. To determine an overall score, each city's weighted average was calculated across all metrics.
Median household income: 20 points
Median home cost: 20 points
Percentage of the population between the ages of 25 and 34: 20 points
Affordability: 20 points
Dining Options (per 100,000 people): 20 points
Sources: U.S. Census Bureau, Economic Policy Institute Family Budget Calculator, Zillow
Fair Use
Feel free to use this data and research with proper attribution linking to this study. When you do, please give credit and link to https://destify.com.
For media inquiries, contact media@digitalthirdcoast.net.