Pristine sandy beaches, turquoise sea, and the enchanting glimmer of the Caribbean sun – what more could you ask from a wedding destination? Maybe exciting nightlife, great cultural experiences, and first-class pampering you're certain to remember for life.
Playa del Carmen destination weddings provide you with that and more. But how do you choose the perfect resort for one of the most important events in your life? Don't worry, this article is here to help guide you through some of the most amazing wedding destinations at Playa del Carmen.
Allegro Playacar Wedding Resort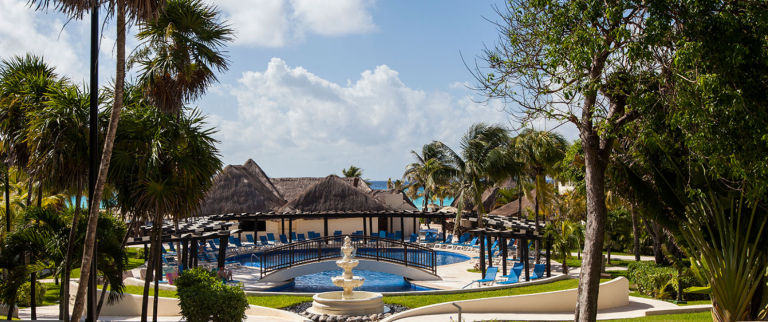 A stone's throw away from the vibrant Playa del Carmen, Allegro Playacar ensures an all-inclusive destination wedding experience. The Polynesian-style villas which open onto the mesmerizing white beaches have a unique charm. But there's more.
This resort can organize the entire wedding ceremony for you, while avoiding the classic, cookie-cutter wedding format. There are various venues, menu options, and additional benefits to personalize your festivities. However, the Allegro Playacar's foliage populated estate stands out as one of the most romantic options you should surely check out for your next Playa del Carmen destination wedding.
El Dorado Maroma Wedding Resort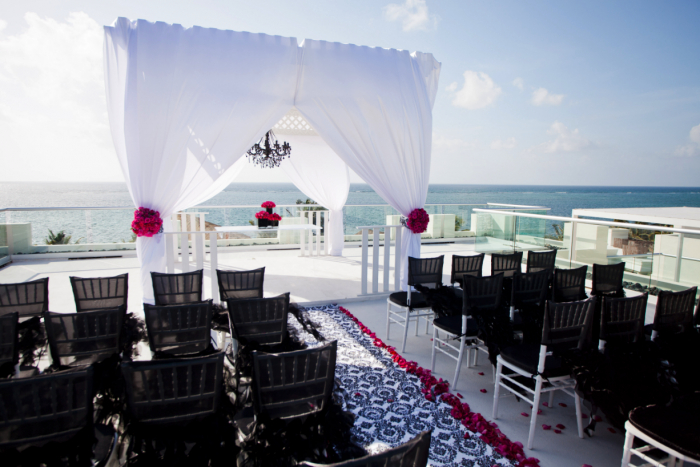 If you seek an exotic yet intimate wedding, El Dorado Maroma might be the answer. This adults-only getaway is located at Maroma Beach – a tantalizing slice of paradise. And when you see the velvet sand meet the cerulean waves, you'll understand why it made the list.
As for the resort's wedding ceremonies, they're always private, enabling you to close certain parts of the resort to create an exclusive experience with your friends and family. A hidden gem on the coast, El Dorado Maroma is a rather quiet place, ideally suited for intimate gatherings of the select few to celebrate matrimony.
Hotel Riu Palace Riviera Maya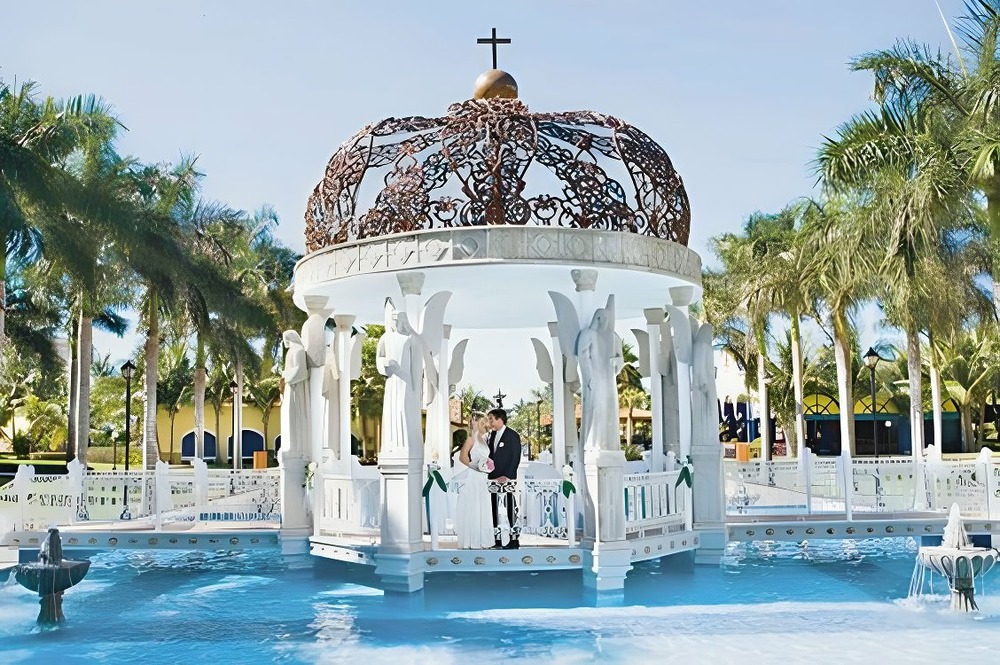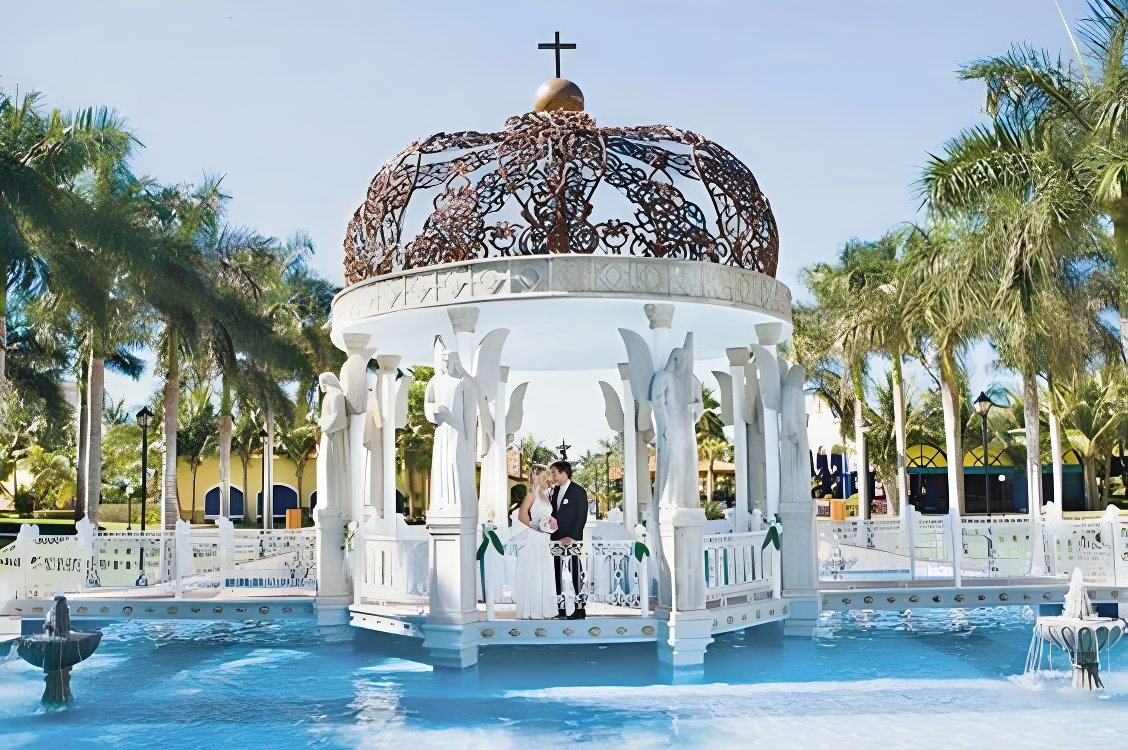 The list of top Playa del Carmen destination weddings wouldn't be complete without the Hotel Riu Palace Riviera Maya. This luxurious complex gives you a chance to host a ceremony worthy of royalty. The resort includes more than a few specialty restaurants, guest services, and venues to craft the wedding of your dreams. An added perk? The complex has recently undergone an extensive restoration.
Because of recent renovations, Hotel Riu Palace Riviera Maya has truly been transformed into an optimal Playa del Carmen destination wedding location. With revamped decor and suites, as well as other enhanced resort areas, your wedding experience will be heightened in this Caribbean slice of heaven.
Iberostar Quetzal Wedding Resort
Situated in the southern part of Playa del Carmen, Iberostar Quetzal Wedding Resort offers a majestic location few resorts can match. The combination of dense exotic vegetation and picturesque beaches can provide an unforgettable backdrop to your dream ceremony.
Feeling adventurous? You and your guests can explore the various jungle trails that sprawl throughout the resort. Afterwards, let your wedding weekend stresses float away at the vast pool and lavish spa, activities that are sure to liven up your wedding party.
Live Aqua Boutique Playa del Carmen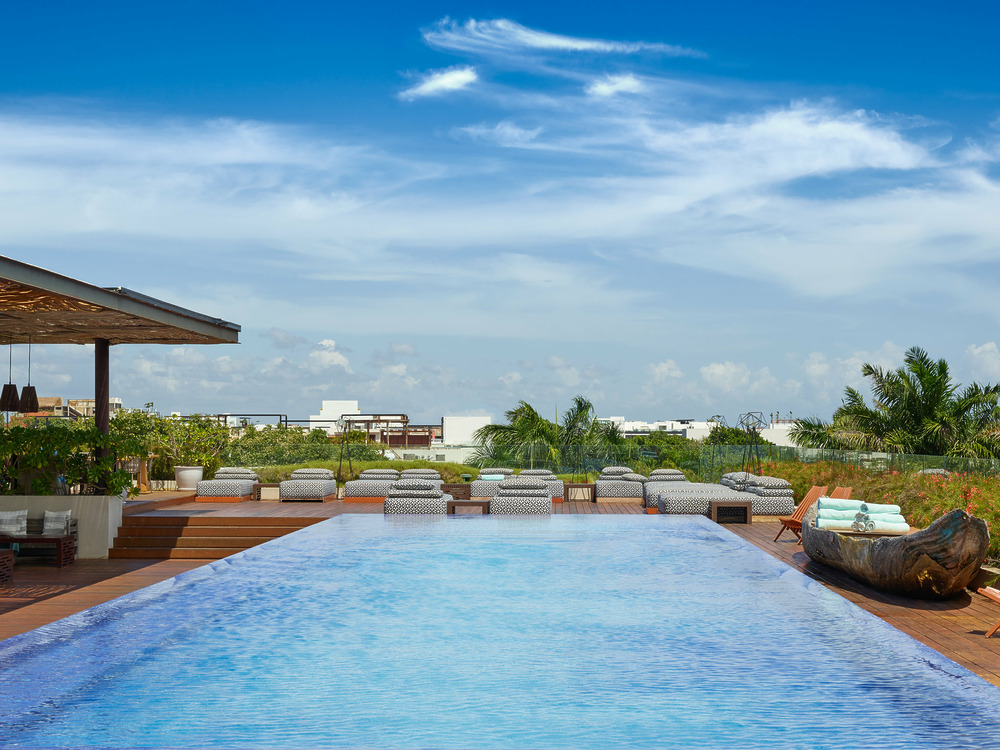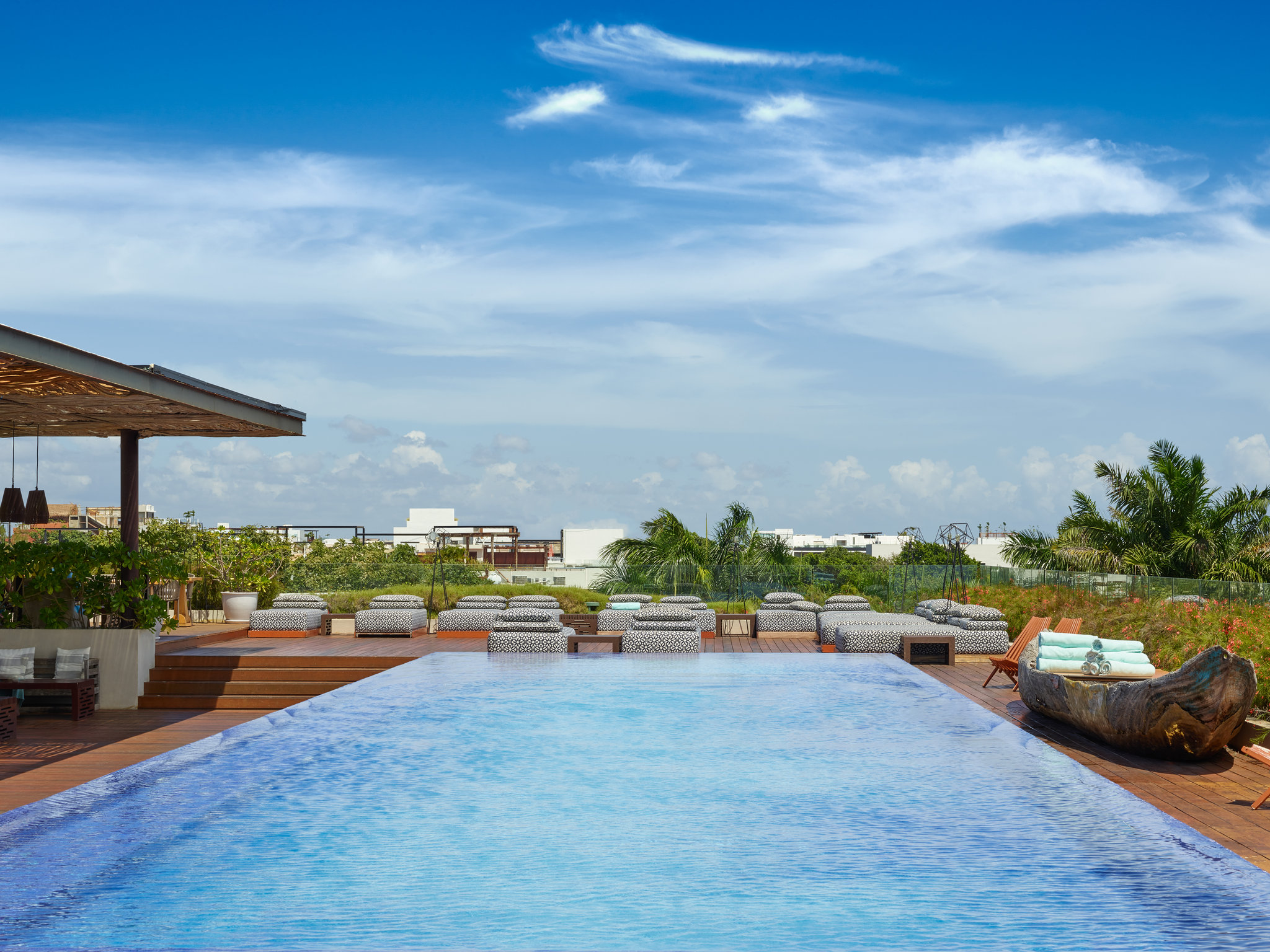 Live Aqua Boutique Playa del Carmen
Designed with the modern couple in mind, this contemporary resort stands out as the Fifth Avenue's cultural hub. The resort sports sleek structures and amenities that promote positivity, relaxation, and the finer things in life.
Due to its location and size, this hotel is geared towards smaller weddings. Conversely, the lack of sprawl is well compensated with the resort's poolside rooftop terrace. So, if you're looking to organize one of the most picturesque Playa del Carmen destination weddings, the Live Aqua Boutique Playa del Carmen is your go-to option.
Situated along one of the most beautiful stretches of the Mexican coastline, Playa del Carmen boasts immaculate weather, pristine beaches, where guests can experience elevating resorts. It's a paradisal space flourishing with vegetation, wildlife, and various picturesque backdrops ideal for stunning wedding ceremonies and receptions. Teeming with resorts equipped for an unforgettable day of romance, Playa del Carmen destination weddings are nothing short of perfect.
From customizable wedding packages to breathtaking ceremony views, Playa del Carmen's world-class hotels provide wedding experiences that you and your guests will rave about for years. So, let's see what all the fuss is about and dive into the second part of our list of Playa del Carmen destination wedding resorts.
Panama Jack Playa del Carmen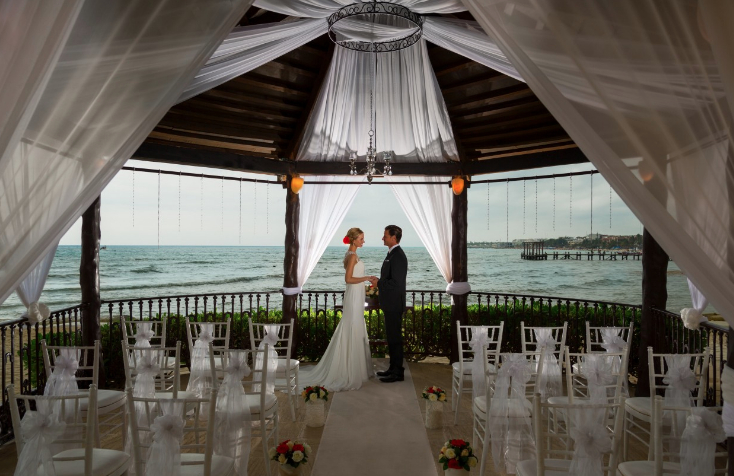 Wyndham Alltra Playa del Carmen all-inclusive resorts have the capacity to accommodate any sized wedding. What's more? A host of auxiliary venues and amenities are bound to keep guests of all ages entertained. From the sea breeze-infused Oceanfront Wedding Gazebo to North Beach which is able to host 100 guests, Wyndham keeps your wedding atmosphere preferences in mind.
Wine tastings, adrenaline-infused water sports, or a relaxing day on the beach, Wyndham Alltra Playa del Carmen offers it all at a price that won't challenge the limits of your wedding budget.
Royal Hideaway Playacar Wedding Resort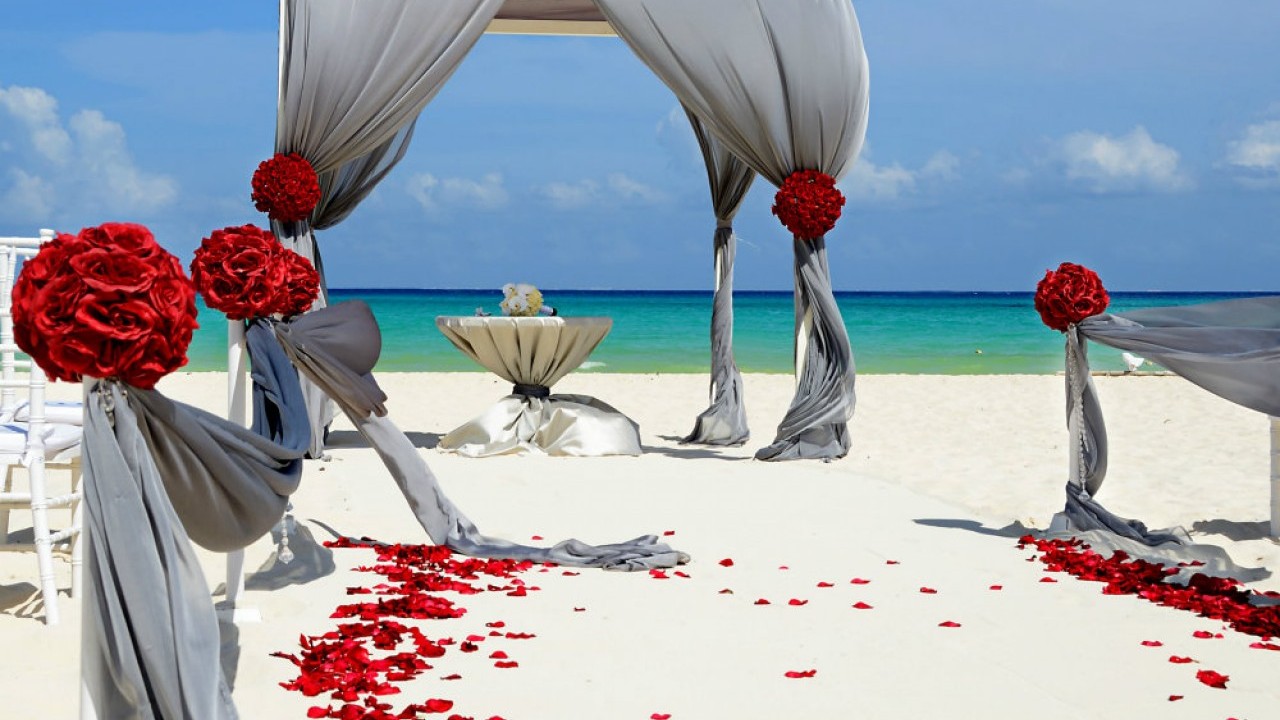 Royal Hideaway PlayacarMinutes away from Playa del Carmen, Royal Hideaway Playacar resort truly lives up to its name. Boasting a plethora of activities, as well as six different restaurants, the Royal Hideaway Playacar offers a dynamic Playa del Carmen destination wedding venue.
Royal Hideaway's location is truly unique: a mystical, secluded haven that is only an hour away from the airport. Reserve the chef's table at the Las Ventanas restaurant and indulge in interactive, culinary masterpieces that will have your wedding guests raving for weeks.
Sandos Playacar Beach Resort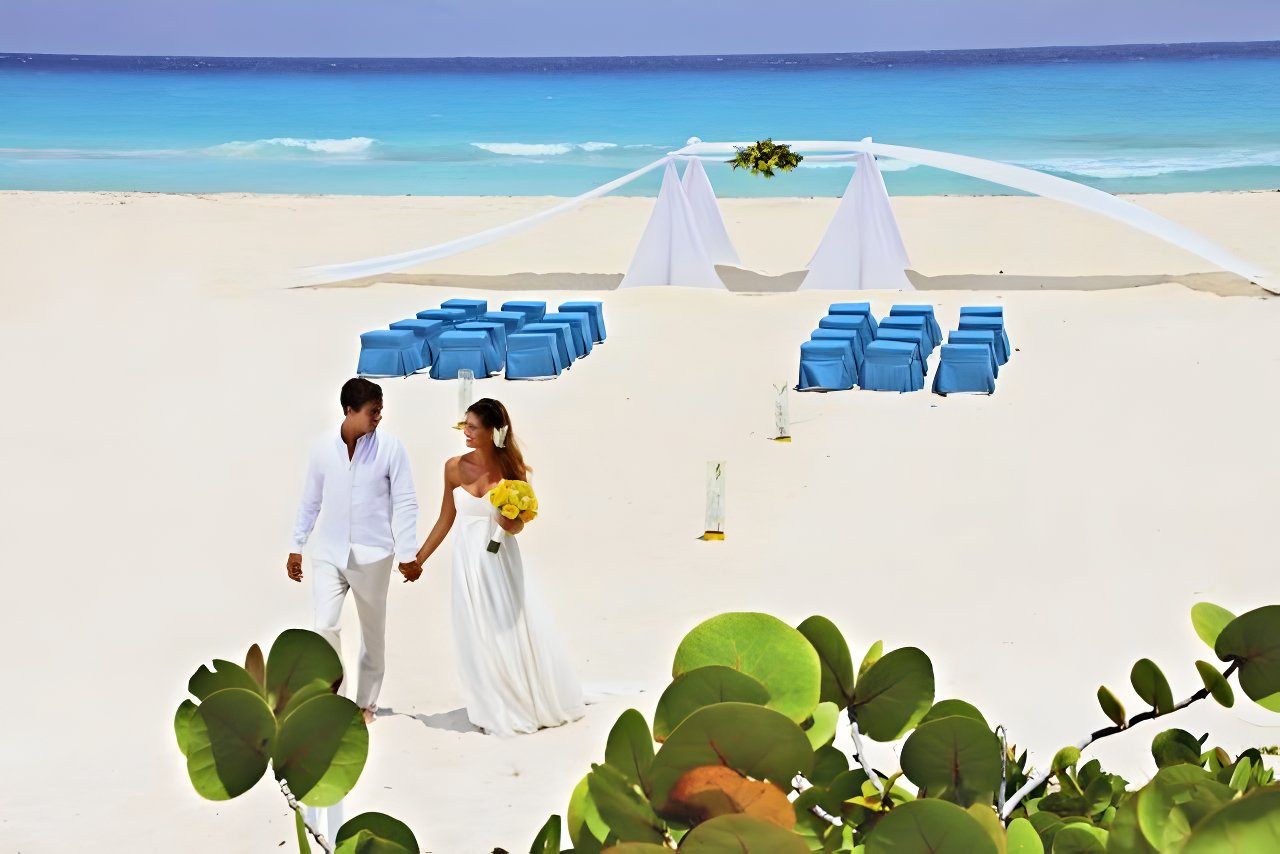 Sandos Beach Playacar Beach ResortNestled at a seemingly endless stretch of the Playa del Carmen coastline, Sandos Playacar resort provides a stunning wedding experience that's hard to beat. The resort offers three wedding venues, two of which can accommodate up to 100 guests. The best part?
A personal favorite reception venue? The Brazilian Rodizio restaurant. Capable of serving delectable Brazilian cuisine on-demand to hungry wedding guests, the space doubles as a ceremony and reception venue. Another thing that puts Sandos Playacar on the map is the abundant wildlife. Don't be surprised if you stumble upon a peacock or a monkey.
Saying Yes at the Beach
Playa del Carmen flourishes as a destination wedding paradise, a stunning backdrop that will leave lasting impressions on you and your guests. So if you're still interested in the tantalizing seascapes of the Mexican-Caribbean for your next destination wedding, hopefully this list helped you narrow down the breathtaking options.
Want to see even more stunning resorts in Playa del Carmen? Check out Part 1 of our blog or follow the button below to see more:
Explore Playa del Carmen Wedding Resorts
Want to see even more stunning resorts in Playa del Carmen? Follow the button below to see more: