The Caribbean is a stunningly beautiful region that comprises over 7,000 islands. With its clear turquoise waters, white sandy beaches, and lush green vegetation, it's no wonder that the Caribbean is such a popular destination for destination weddings.
There are so many beautiful places to get married in the Caribbean, but deciding on the perfect location can be daunting. To help you out, we've put together a comprehensive guide to the most beautiful Caribbean destinations available.
So, whether you're looking for a secluded spot for a small intimate ceremony or a bustling island with all the amenities for a large wedding, this guide has you covered. With so many choices available, you could close your eyes, point anywhere on the map, and still find a gorgeous location. However, we recommend gorgeous beach resorts as our preference! But which places deliver the best version of white sand beaches, azure waters, and all-inclusive resorts? Let's get started:
What Makes the Caribbean One of the Most Beautiful Places to Get Married?
As experts in these various regions, we can provide some key reasons that make the Caribbean one of the most beautiful places to get married:
1) Scenic beauty: The Caribbean boasts some of the world's most beautiful beaches, picturesque backdrops of lush green forests, beautiful waterfalls, and scenic views of the Caribbean Sea. These provide a beautiful natural setting for weddings and make it an ideal location for romance.
2) Ideal weather: With its tropical climate, the Caribbean has beautiful weather all year round, making it an ideal destination for outdoor weddings.
3) Diverse culture: The Caribbean is a melting pot of different cultures, including African, European, and indigenous cultures. This means weddings in the Caribbean can be a beautiful blend of different traditions and customs.
4) Luxury resorts and venues: The Caribbean is renowned for its luxury resorts, stunning villas, and unique venues that cater to weddings. These venues provide exclusive experiences that make weddings in the Caribbean all the more special.
5) Honeymoon hotspot: The Caribbean is a popular honeymoon destination, making it an ideal place to combine the wedding and honeymoon into a single trip.
Overall, the Caribbean's stunning landscape, diverse culture, ideal weather, luxurious resorts, and combined wedding and honeymoon packages make it a perfect destination for a memorable and beautiful wedding.
Riviera Maya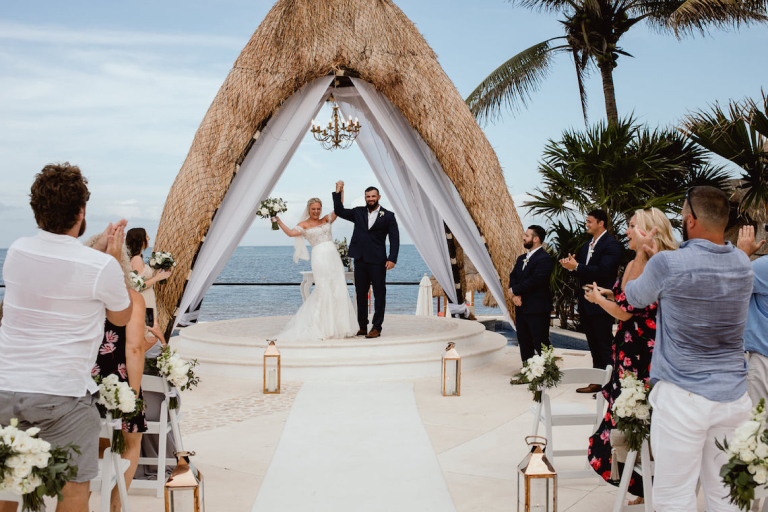 Riviera Maya is where you'll find some of Mexico's most stunning beaches. Even better? Maroma Beach has consistently been ranked as the world's best beach. The opulent coastline is located about 45 minutes south of Cancun, where you can discover expansive resorts and vast stretches of white sandy shores, ideal for a wedding ceremony with 20+ guests at your destination. This region is also renowned for its lush jungles filled with vibrant fauna and wildlife; you may even meet a peacock or two on your way to breakfast.
Recommended Top Resorts: Dreams Tulum, Royalton Riviera Cancun
Punta Cana
The Dominican Republic is another popular destination for Caribbean weddings. With its year-round warm climate and stunning beaches, your wedding can be absolutely magical here. From historic fortresses to luxurious villas and resorts, you have plenty of options for a perfect venue.
Plus, you can find a number of wedding professionals and planners that can help you turn your dream wedding into reality. With its affordability, the Dominican Republic is the perfect spot for a budget-friendly wedding. So whether you're looking for a luxurious seaside ceremony or a simple yet elegant celebration, the Dominican Republic can offer it all, which takes us to our favorite area, Punta Cana.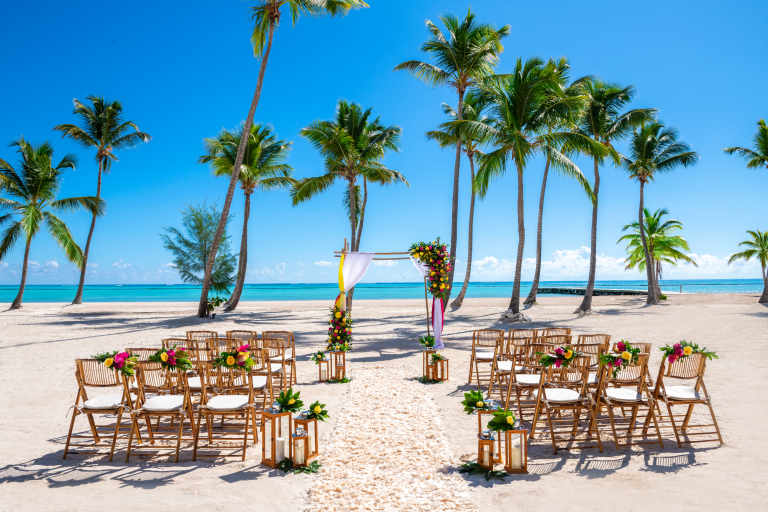 The easternmost part of the Dominican Republic, where the Caribbean Sea meets the Atlantic, is where Punta Cana resides. Punta Cana wedding resorts feature a 20-mile stretch of palm-clad beaches. Leading the pack, Bavaro Beach has been ranked by National Geographic among the top 10 beaches in the world. Because of this, every Punta Cana wedding provides the perfect ingredients for a memorable beach ceremony: crystal-clear waters and seemingly endless sunshine.
During your Punta Cana wedding, golf lovers can enjoy 10 beautiful courses spread throughout the city, many featuring ocean views. You can visit the casino for the nightlife, and travel time is just 20 to 30 minutes from the airport.
Recommended Top Resorts: Secrets Cap Cana, Hyatt Ziva Cap Cana
Antigua and Barbuda
With its tropical climate, turquoise waters, and stunning white sand beaches, Antigua and Barbuda is without a doubt one of the most beautiful places in the Caribbean to get married. Whether you want to walk barefoot on the beach and say your vows in a sand ceremony, or you envision yourself saying "I do" in a picturesque chapel or church at the top of a cliff with breathtaking ocean views, you can make your Caribbean wedding dreams come true in Antigua and Barbuda.
Considering the fact that one of the two islands is known for its amazing luxury resorts and excellent golf courses, you are sure to be able to host an unforgettable wedding celebration with all the necessary amenities. Plus, the long list of wedding venues includes everything from panoramic terraces to lush gardens, so you can choose the perfect setting for your special day.
Recommended Top Resorts: Royalton Antigua
Barbados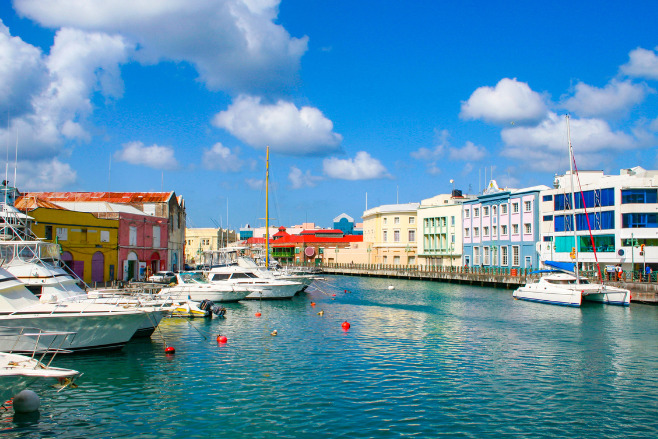 Barbados is another ideal spot for a Caribbean wedding. With its crystal-clear waters and powdery white sand, this beautiful island is the perfect backdrop for both intimate ceremonies and lavish celebrations. The unique Bajan culture will add a bit of spice to your wedding day.
From the traditional dress of the brides and grooms to the regional cuisine, you can rely on the experts to help you bring your special day to life. Not to mention, Barbados is home to world-renowned golf courses, award-winning spas, and stunningly beautiful venues for the perfect dream wedding!
Barbados isn't exactly known for having the cheapest destination weddings, in fact, just getting there can cost quite a bit for round-trip airfare. But what it makes up for in cost is a once-in-a-lifetime vacation and 5-star accommodations that will leave guests in awe. Maybe that's what makes it such a beautiful place to get married in the end.
Recommended Top Resorts: Crystal Cove Barbados
Negril
Jamaica is an iconic Caribbean destination that has become synonymous with destination weddings. With its tropical climate and exotic ambiance, Jamaica is the perfect spot for a romantic getaway. From beautiful private beaches to luxurious resorts, Jamaica is filled with amazing wedding venues.
Plus, the warm and friendly locals will help make your day even more special. Whether you're looking for a beachfront ceremony or an intimate dinner reception, Jamaica has something to offer everyone. This takes us to one of the most beautiful places to get married in Jamaica: Negril.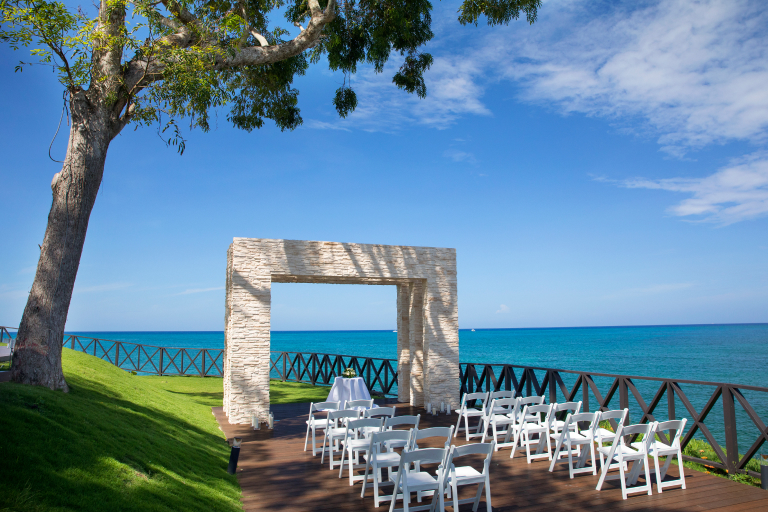 Negril's beach is also ranked as one of the world's top 10 beaches, offering powdery sand and turquoise water that can provide a beautiful backdrop for your wedding ceremony with 20+ guests at your destination. This is a safer and more relaxed area of Jamaica, just over an hour away from the airport, but you can find bars and restaurants that line Long Bay. There is also a lagoon where you can snorkel or scuba dive, surrounded by coral reefs. One of Jamaica's most popular locations is Rick's Cafe; visitors flock here to enjoy the colorful, uninterrupted sunsets and to leap from the 35-foot cliff into the ocean.
Recommended Top Resorts: Royalton Negril
These sun-soaked regions represent the pinnacle of destination wedding locations. Featuring refined luxury resorts and the best natural beauty in the world, Riviera Maya, Punta Cana, and Negril will guarantee a truly visually-striking experience for your wedding party. Perhaps the only "difficult" part? Deciding which of these alluring places is better than the other.
Curious about what your dream wedding would look like in one of these havens? Follow the button below to view our Destify Couples and their beautiful experiences: