Breaking News: you can book your dream oceanfront wedding for as little as ZERO dollars! *Whispers* This isn't a scam, we promise. Way too many of those going around these days. But yes, Majestic Weddings features one of the finest complimentary destination wedding packages in the industry. Teeming with all-inclusive benefits and affordable luxury amenities, Majestic's Free Wedding Package guarantees you and your guests budget-friendly elegance. Let's take a closer look:
Example Free Wedding Package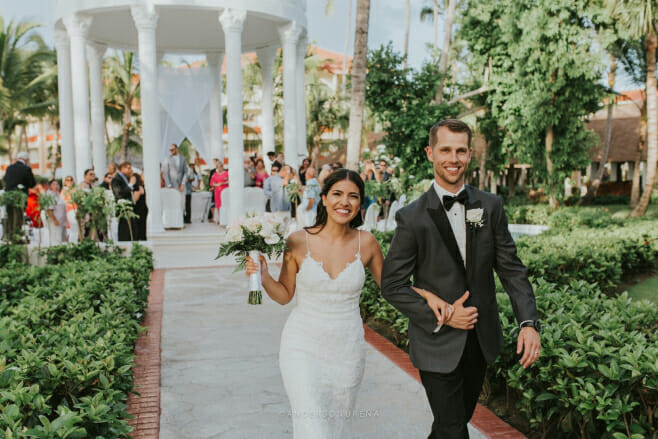 On-site wedding planners
Several ceremony locations
Room upgrade for the Bride & Groom
Early check-in & late checkout for the Bride and Groom
Special bracelet for the Bride and Groom with exclusive access to all 3 resorts
Services of a Civil Judge
Beautiful wedding cake
1 tropical flower table arrangement
Tropical bouquet for the Bride and boutonniere for the Groom
Ironing of Groom's tuxedo and Bride's gown
Sound system and simultaneous translation of the ceremony if needed
Marriage certificate in Spanish delivered by DHL
Champagne for the group after the ceremony
Romantic candlelight dinner with champagne for the couple
Romantic breakfast in your suite
Complimentary massage for the couple and use of water circuit
Basket of fruit in your room during your stay
Bottle of champagne in the room, twice during your stay
Room service included for the couple
How do I activate a Majestic Free Wedding Package?
Booking 15 rooms or more for a minimum of 7 night stay, or 105 room nights, entitles you to a FREE Majestic Wedding Package.
Where can I book a Majestic Free Wedding Package?
Majestic Elegance Costa Mujeres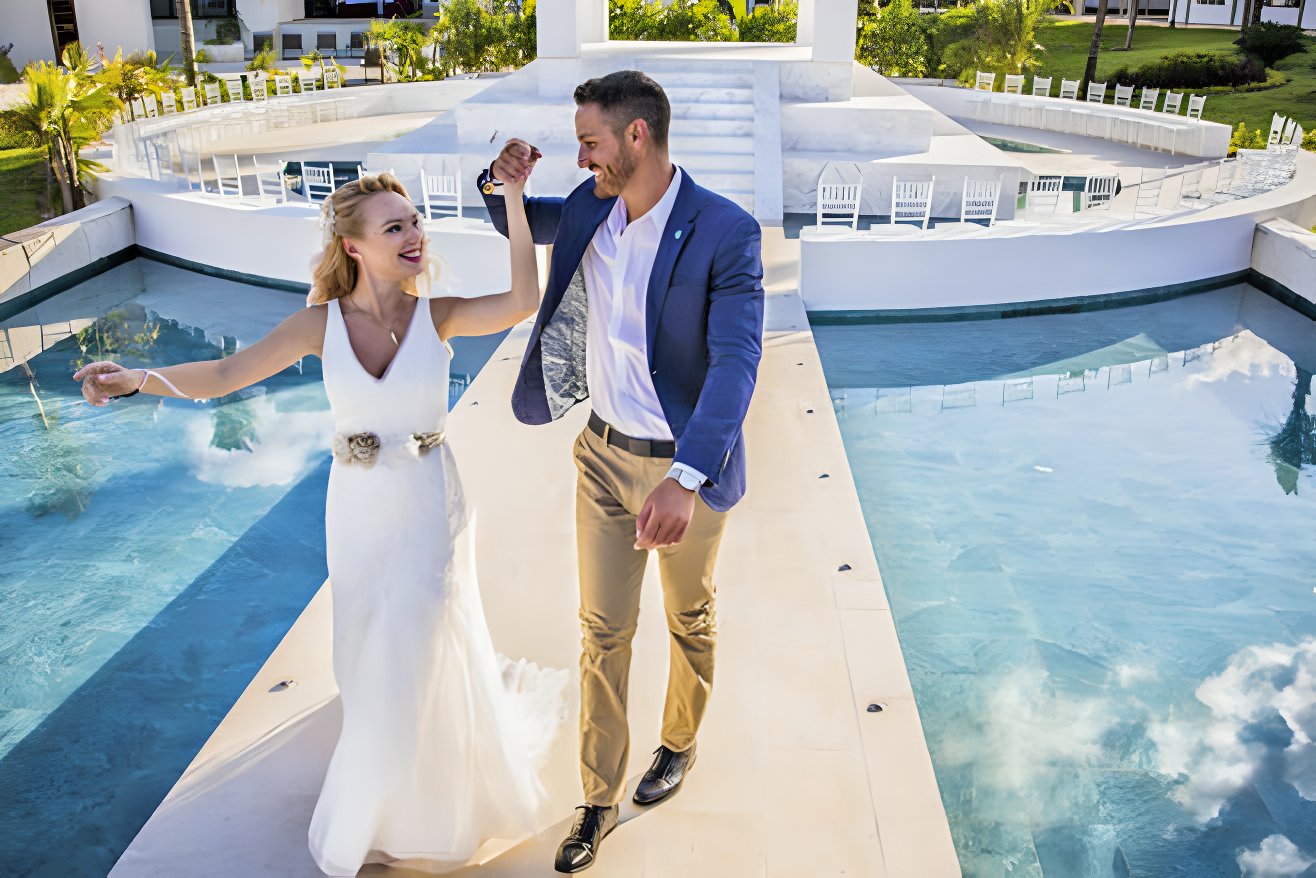 Since its inception, Majestic Elegance Costa Mujeres has led the way as one of Destify's most popular wedding resorts. The advent of the all-inclusive Majestic Elegance Costa Mujeres brings an elevated level of luxury and innovation to this stunning white-sand beachfront site just 20 minutes north of Cancun.
This spectacular 5-star Majestic Resorts wedding property offers a variety of spacious rooms and stunning ocean-view suites, as well as exceptional quality service, as part of one of Mexico's best all-inclusive resort programs, which includes unlimited visits to our restaurants, unlimited premium liquor, infinity pools with an ocean view, attentive butler service in The Club section, and more.
Majestic Elegance Punta Cana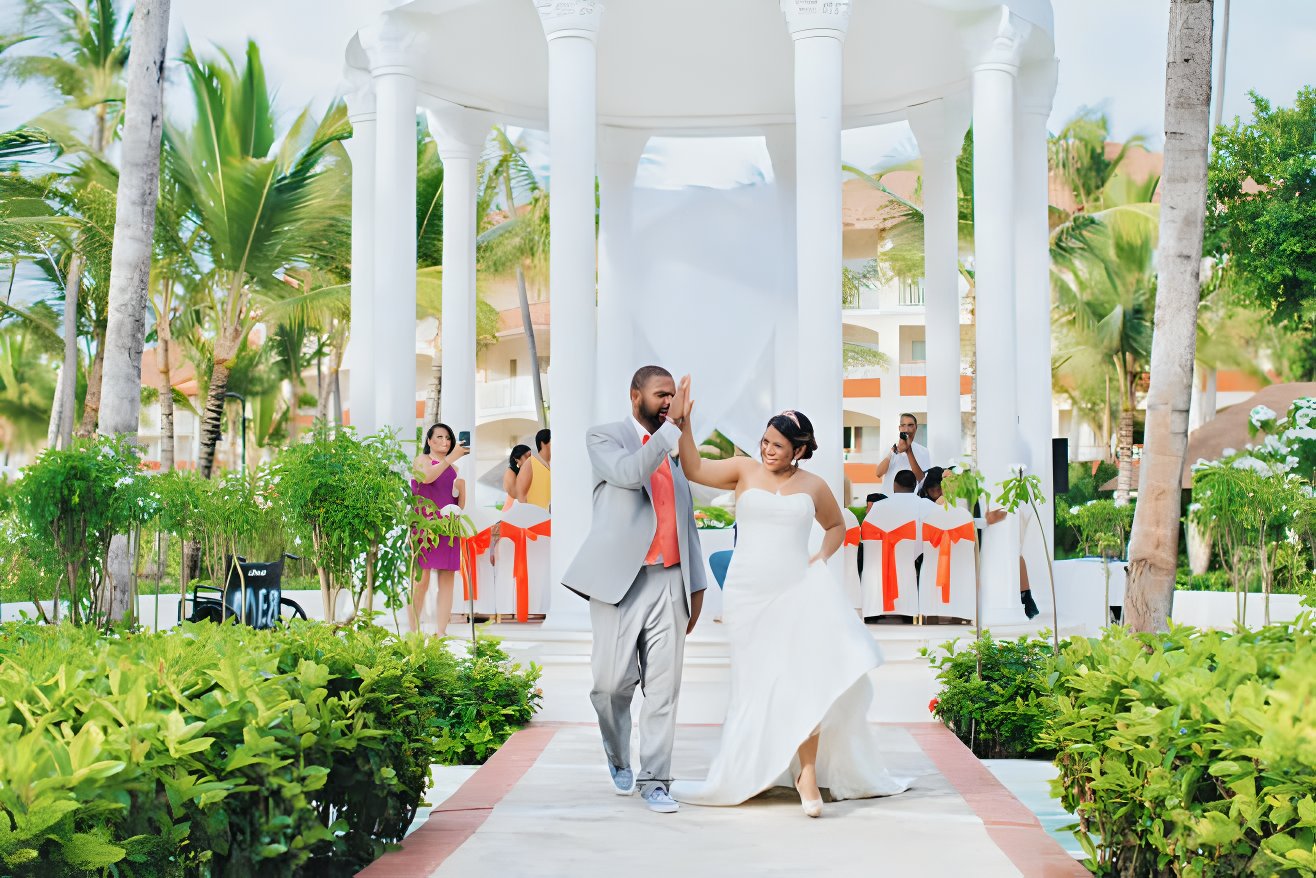 This stunning 5-star deluxe hotel, located on the idyllic Bavaro Beach and offering all-inclusive service, provides a one-of-a-kind experience for guests seeking a sophisticated Caribbean vacation.
The Majestic Elegance Punta Cana, nestled in a lush natural setting of beauty, offers the ideal combination of comfort, nature, beautiful beaches, unique amenities, and individualized high-quality care. If you want to experience the warm Caribbean environment, the best national and international cuisine, and one of the world's best beaches, this is the perfect choice for your Caribbean holiday.
Majestic Elegance Punta Cana is ideal for couples, families, and groups who want to relax, enjoy a privileged environment, participate in sports, relax in the Spa, savor excellent gastronomy, watch spectacular Caribbean rhythm shows, play golf on one of the many courses in the area, go shopping, and host private and corporate events. It also features an exclusive Elegance Club for adults, which offers lodging and specialized services to its visitors.
Majestic Colonial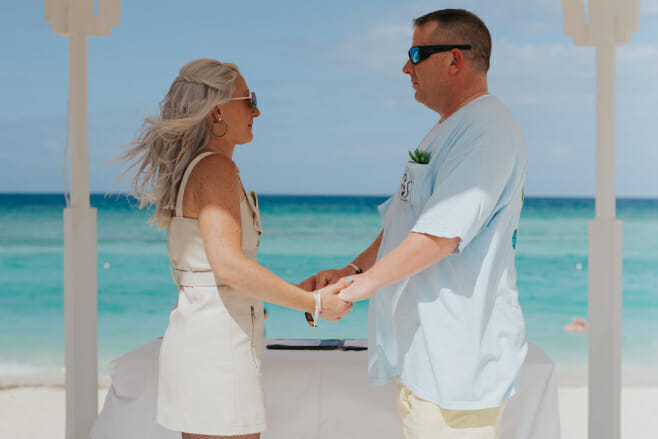 At the Majestic Colonial, you can get married in paradise! This 5-star all-inclusive hotel in Punta Cana, Dominican Republic, is nestled amongst lush tropical gardens and beautiful beaches. Its lovely beach gazebo, surrounded by sugar-white sand, blue water, and towering palm trees, provides an unequaled backdrop for romantic outdoor nuptials. A talented team of wedding consultants will work with you to help you select and design the ideal wedding package, ensuring that your entire experience is delightful from beginning to end. When you're not preoccupied with wedding preparations, the Majestic Colonial Punta Cana provides a variety of amenities and activities to choose from, including outstanding dining and a world-class spa. You'll be entertained and pampered during your stay! This beautiful resort will make your destination wedding a dream come true!
Majestic Mirage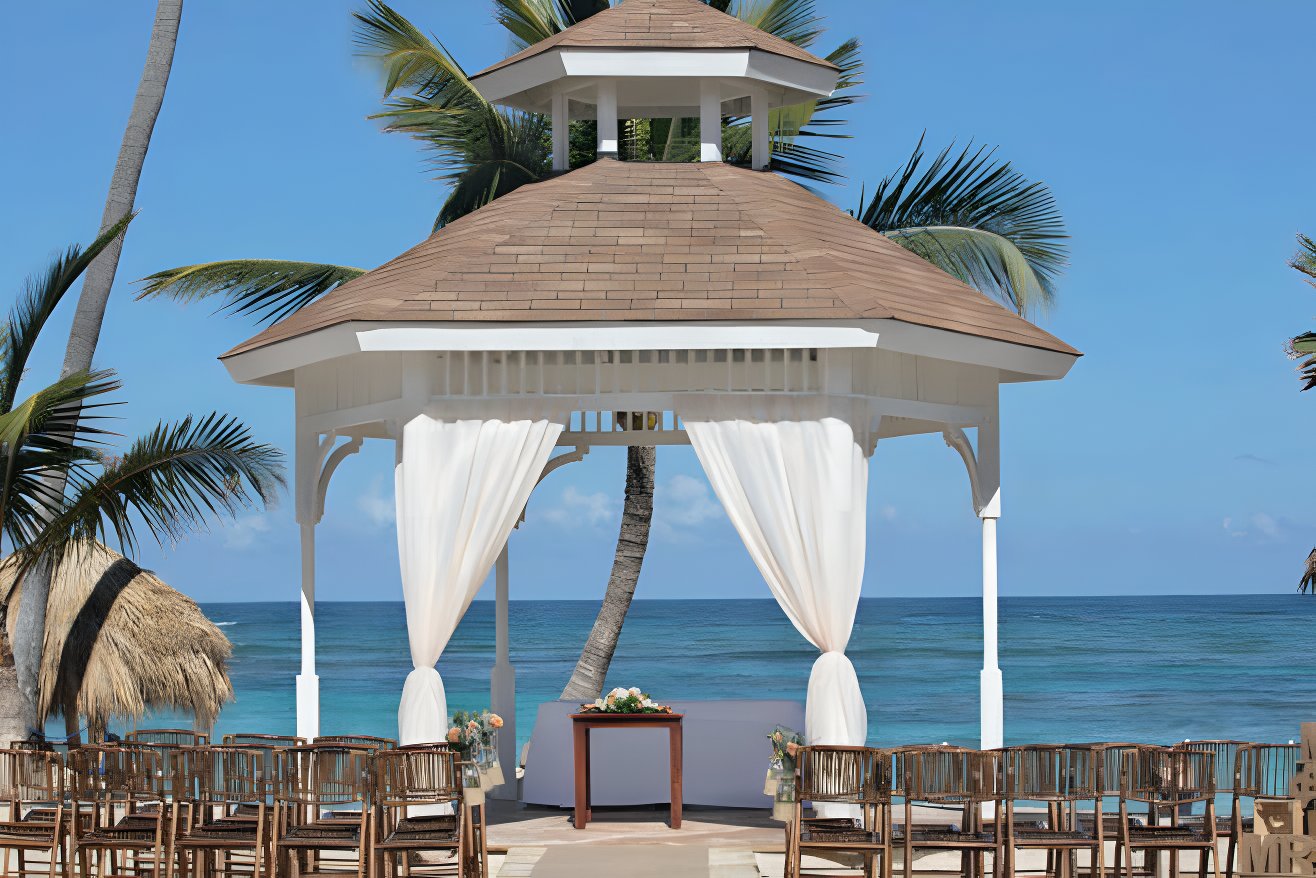 The Majestic Mirage offers five-star luxury. This all-suite, all-inclusive resort is located along Playa Bavaro, one of the Dominican Republic's most stunning beaches, and has everything you need to make your ideal wedding a reality. Against the backdrop of the resort's dazzling white sand and sparkling blue ocean, your beach wedding will be nothing short of breathtaking; it's a really unparalleled location to say "I do!" Add on extra services like a cocktail party, private dinner reception, or a beach party to commemorate this joyous event with a complimentary toast of champagne and cake. Regardless of how you choose to celebrate, you can rest assured that your Majestic Resorts wedding will be filled with great, personalized service and delectable cuisine in a stunning environment!