As the trend of having your wedding overseas in a beautiful location becomes more popular, more couples are looking into how they may do the same. It's easier than you might think, with wedding departments able to accommodate your greatest fantasies at all-inclusive resorts.
Many couples planning an Indian destination wedding are opting for destination weddings as a way to break the mold while maintaining the culture and significance of a traditional Indian ceremony. You'll discover that you may host all of the major rituals over the course of a wedding week, from a Mehndi evening on the first night to a dinner celebration on the sixth night, all while having a breathtaking beach as the backdrop.
Indian Destination Weddings in the Mexico-Caribbean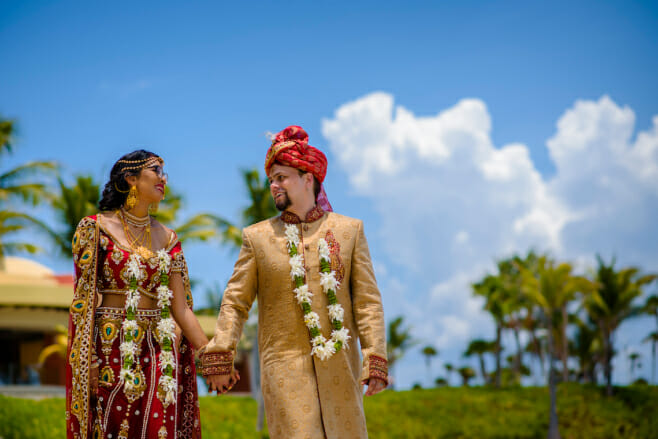 When an Indian wedding is held in a tropical location, the vibrant colors and clothing, as well as the ceremonial decor, take on even more intensity. The red of a traditional bridal saree seems to pop in pictures when the background is translucent turquoise waters.
Many couples are discovering that by organizing their wedding away from home, they are able to attract a large number of close relatives and friends who all want to attend, and everyone gets a vacation in addition to the wedding celebrations.
Indian wedding destinations in Mexico and the Caribbean are becoming increasingly popular, and all-inclusive resorts are eager to accommodate them. In fact, several provide specific packages that include many of the most frequent wedding rituals for couples to choose from.
Yes, some are equipped to rent the white horse that a groom rides in on at the baraat, dressed in traditional costume from head to toe. Plus, if you choose an all-inclusive resort, your package will include a wedding department, which will include a coordinator to manage all of the event planning before and during your wedding.
All-Inclusive Bliss at Wedding Resorts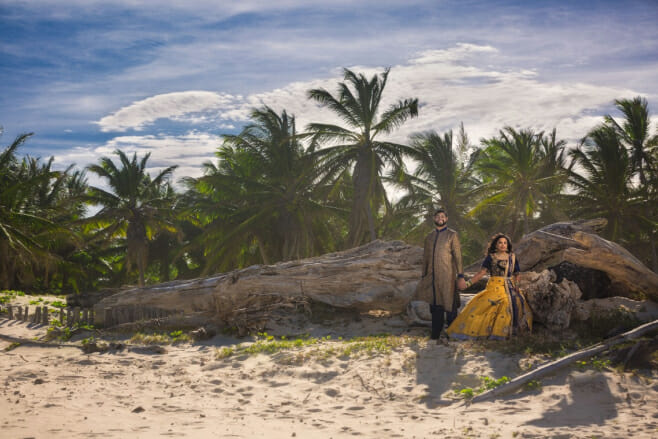 If you're planning an Indian destination wedding in the Caribbean or Mexico, here are some pointers to get you started. If you plan on inviting a large guest list (more than 100), it's a good idea to send out the invitations as soon as possible.
Even the most opulent all-inclusive resorts can have moments when they are entirely booked. Also, think about where your visitors are coming from. If the majority of your guests are traveling from the southern United States, we propose scheduling Indian weddings in the Dominican Republic. One of the biggest advantages of having your wedding in an all-inclusive resort is that your guests will have unrestricted access to food and beverages, which will save them a lot of money.
Make the most of the site by hosting events with ocean views (such as a cocktail hour on the beach) and leaving time in the schedule for your visitors to explore on their own. Most attendees will be ecstatic just to be asked to such an amazing occasion, but be aware that not everyone will be able to attend.
Advice For Guests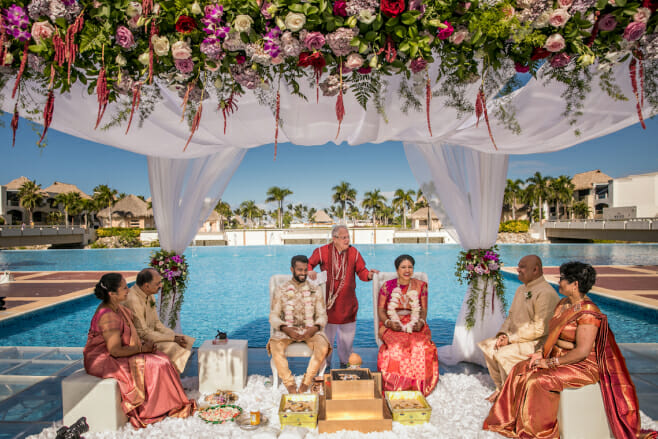 If you're going to your first Indian destination wedding, here are some helpful tips. Wear brightly colored clothing, the more brilliant the better! Colorful jewelry and bold hues will help you blend in. A sparkly dress and shawl would be a nice alternative for those who don't want to wear a conventional sari. Just keep in mind that red is generally the color of the bride's gown.
Some events you may be invited to, while others you may not. A priest often performs a ceremony for just the wedding party and close relatives on the first night. Before the wedding, this ritual could take place at home. Many individuals want to know what to anticipate at an Indian destination wedding, and the simplest response is "fun." They are frequently lavish occasions at which everyone enjoys themselves while celebrating a couple's new life together. From the extravagant entrances to the blend of Western and Indian music played during the reception, where practically everyone is happy to dance and let loose, excitement is another perfect word to characterize one.
With vast spreads of delectable cuisine, Indian all-inclusive weddings are frequently a foodie's dream. You'll have access to views and sceneries beyond the wedding events if you attend a destination Indian wedding, where you may relax and enjoy every minute. One thing is certain: it will be difficult to return to reality thereafter. Follow the link below to learn more about an Indian destination wedding from one of our Destify Couples, Priyanka and Ushan:
Planning an Indian destination wedding and ready to find your sun-soaked paradise? Follow the button below to explore our Top Destination Wedding Resorts for 2022: