What's old is new again, thanks to the new wave of vintage fashion and wedding aesthetics. Incorporating past styles, aesthetics, and trends is a great way to give your destination wedding that extra splash of memorability.
Not sure where to start with incorporating vintage wedding aesthetics into your destination wedding?
Don't worry, you've come to the right place!
Let's take a walk down memory lane and show you how to incorporate vintage aesthetics into your destination wedding.
Difference Between Vintage and Antique Wedding Aesthetics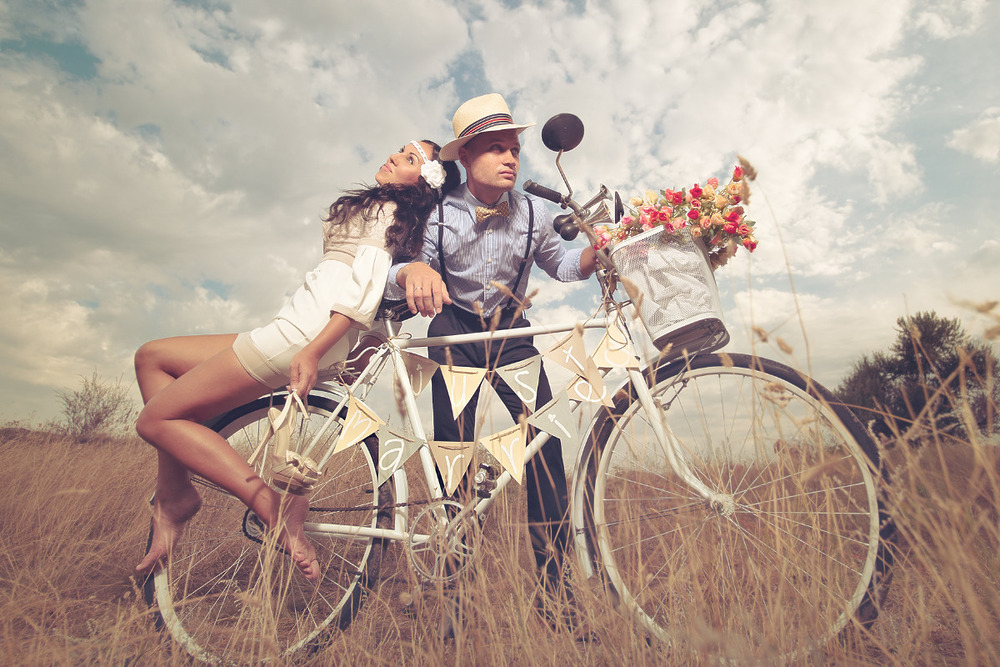 Vintage wedding aesthetics typically refer to a style inspired by a specific time period, such as the 1920s, 1940s, or 1950s. Vintage weddings often feature soft, muted color palettes, delicate floral arrangements, and elements like lace, pearls, and antique silverware. The overall look is romantic, elegant, and somewhat whimsical.
On the other hand, antique wedding aesthetics are characterized by a more ornate and opulent style. Antique weddings often feature darker, richer color palettes, with elements such as velvet, brocade, and intricate gold or silver details. The overall look is more formal and grand, focusing on luxury and glamour.
Another critical difference between vintage and antique wedding aesthetics is the level of authenticity. Vintage weddings often feature items inspired by a particular era but may not necessarily be authentic. On the other hand, antique weddings often feature genuine antique items, such as furniture, artwork, and decor, which can add a sense of history and heritage to the event.
Examples of Throwback Eras for Your Vintage Destination Wedding
Roaring 20s: A Great Gatsby-style wedding with Art Deco decor, flapper-style dresses, and a champagne tower could be a great way to transport your guests back to the 1920s. You can hire a jazz or swing band to play music from the era, such as Duke Ellington, Benny Goodman, or Louis Armstrong, and this will add to the ambiance and transport your guests back in time.
The 1950s: A vintage rock and roll wedding could feature a jukebox, milkshake bar, and a dress code that includes poodle skirts and leather jackets. You can incorporate retro elements into your decor, such as checkered tablecloths, vinyl records, and old-fashioned soda bottles. You could also use vintage items such as classic cars or bicycles as part of your decor. To go the extra mile, you could work with your wedding coordinator to set up a projector and screen and show classic movies from the 1950s, such as Rebel Without a Cause or Grease. You could also create a mini drive-in movie experience with vintage cars and popcorn.
The 1960s: A groovy, flower-power-inspired wedding could include psychedelic decor, a flower crown station, and colorful tie-dye attire. For the bride, consider a flowy bohemian dress with flower crowns or headbands. For the groom, consider a relaxed suit with a colorful tie or a patterned shirt. You can also encourage guests to dress in 60s attire, such as tie-dye shirts and bell-bottom pants. You could even provide a DIY flower station where guests can create flower crowns or boutonnieres. This adds a fun and personal touch to your wedding and is an excellent activity for guests to enjoy.
The 1970s: A disco-themed wedding could include a light-up dance floor, funky disco balls, and guests dressed in their best bell bottoms. For the bride, consider a flowy maxi dress with a floppy hat or a bohemian jumpsuit. Consider a colorful suit or a patterned shirt with wide-leg pants for the groom. For music choices, hire a disco band to play music from the era, such as Bee Gees, ABBA, or Donna Summer. You could also have a dance contest or a mirror ball as part of your entertainment.
The 1980s: An '80s-themed wedding could feature neon colors, big hair, and a soundtrack of iconic hits from the era. Incorporate retro elements into your decor, such as cassette tapes, Rubik's Cubes, and boom boxes. You could also use vintage items such as arcade games or VHS tapes as part of your decor. The 80s were famous for their cocktails, so consider serving a signature drink such as a Cosmopolitan or a Blue Hawaiian. You could also have a candy bar or a popcorn machine as part of your reception.
Beachy 90s: A throwback to the 90s beach style could have an endless summer vibe with guests in tie-dye. Attire-wise, the bride can wear a slip dress with a choker necklace or a denim jacket over a white dress. For the groom, consider a colorful suit with a tie-dye shirt or a flannel shirt with ripped jeans. You can also encourage guests to dress in 90s attire, such as crop tops and overalls. Try incorporating retro elements into your decor, such as mixtapes, inflatable furniture, and lava lamps. You could also use vintage items such as Game Boys or cassette tapes as part of your decor.
20 Ideas to Incorporate into Your Vintage-Inspired Destination Wedding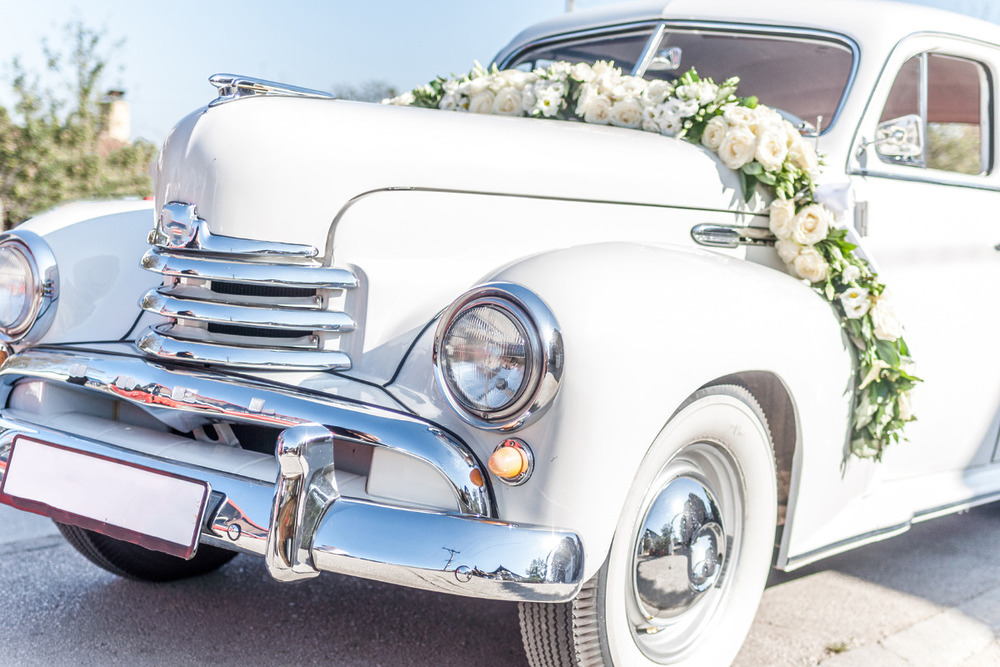 Vintage-inspired wedding invitations with classic fonts, calligraphy, and motifs.
Incorporate antique or vintage brooches, pins, or heirloom jewelry into your bridal bouquet.
Consider a vintage-inspired wedding dress with lace or intricate beading.
Use an old-fashioned typewriter for your guest book.
Serve classic cocktails like martinis, old fashioned, and negronis.
Use vintage suitcases as decor or as props for your wedding photos.
Rent vintage cars or transportation for the bride and groom, such as a classic convertible or a horse-drawn carriage.
Use antique china or silverware for your reception dinner.
Incorporate vintage books or newspapers into your decor, or use them as centerpieces.
Use vintage postcards or travel posters for your wedding decor or invitations.
Incorporate vintage furniture, such as an antique sofa or chairs, into your reception seating.
Use vintage photo frames to display family photos or pictures of the bride and groom.
Use vintage tea cups or teapots for your tea or coffee service.
Create a vintage-inspired photo booth with props like old-fashioned hats, gloves, and parasols.
Use vintage lanterns or chandeliers for your outdoor reception lighting.
Use vintage cameras or binoculars as table centerpieces.
Incorporate vintage sheet music or vinyl records into your reception decor.
Have a vintage-inspired dance floor, such as a checkered pattern or an Art Deco design.
Use vintage luggage tags for your escort cards or place cards.
Serve classic desserts like pie, cake, or macarons on vintage cake stands or plates.
Montego Bay Weddings

Infuse your Jamaica destination wedding with historical elegance at the world-famous Rose Hall Great House, located just a short stroll from this Montego Bay masterpiece, elevated by a luxurious array of tropical amenities.

Hilton Rose Hall:

Read more

Venues: 9
Family Friendly
15 Minutes

Package Costs:

$

2,039

–

$

9,509
Hilton Rose Hall Resort & Spa is located on the site of a former 18th-century sugar plantation, which adds a unique historic charm and ambiance to the property. This setting provides a perfect backdrop for vintage-inspired wedding themes.
The resort is situated on the beautiful Caribbean coast of Jamaica, offering breathtaking views of the sea, lush gardens, and the Blue Mountains. This stunning location is perfect for vintage-themed weddings, often incorporating natural and earthy tones.
Hilton Rose Hall Resort & Spa offers a variety of venue options for weddings, including an oceanfront gazebo, a grand ballroom, and a historic sugar mill. Each of these venues provides a distinct setting for vintage-inspired weddings.
The resort has experienced event planners who can help couples bring their vintage-inspired wedding vision to life. They can assist with everything from choosing decor to selecting the perfect menu.
Hilton Rose Hall Resort & Spa offers luxurious amenities such as a full-service spa, a championship golf course, and an on-site water park. These amenities allow guests to relax and enjoy their stay while adding to the overall ambiance of the vintage-inspired wedding.
Book Your Vintage-Inspired Destination Wedding Today
Ready to bring the past to the present with your vintage-inspired destination wedding?
Talk to one of our destination wedding experts today!