We've got 700 reasons to have a destination wedding – the 700 islands of the Bahamas! However, you might wonder how you can have your wedding in the Bahamas.
With crystal-clear waters, white sandy beaches, and a relaxed island vibe, it's no wonder the Bahamas is a popular wedding destination.
However, planning a wedding in a different country can seem overwhelming.
Luckily for you, you've come to the right place! We've sent hundreds of couples to the Bahamas. We've got the know-how, passion, and dedication to make you have the most comprehensive, stress-free destination wedding in the Bahamas!
So sit back, grab yourself a tropical cocktail, and let's dive in!
What is The Bahamas Like?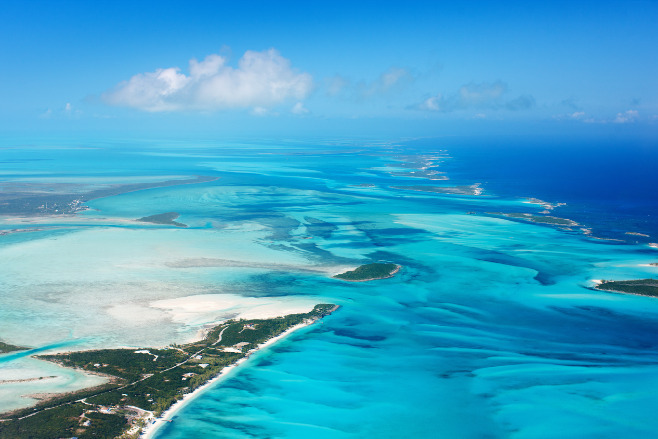 The Bahamas is an archipelago of 700 islands located in the Caribbean Sea. It's known for its beautiful beaches, crystal-clear waters, and vibrant coral reefs. The country has a tropical climate, with warm temperatures year-round.
It's a living example of the 3 S's of destination weddings: sun, sand, and sea! 
In fact, The Bahamas are so gorgeous that NASA astronaut Scott Kelly once said that the Bahamas are "the most beautiful place from space."
The vibrant culture of The Bahamas is influenced by its colonial history and African heritage. These extraordinary islands are known for their colorful music, art, and cuisine. The capital city, Nassau, is a popular port of call for cruise ships and a thriving hub for shopping and nightlife.
Fun fact: The Bahamas are home to pink sand beaches, the only place in the world with such rosy-colored shores! These pink sands are found on Harbour Island, and stretch out for more than 3 miles!
Legal Requirements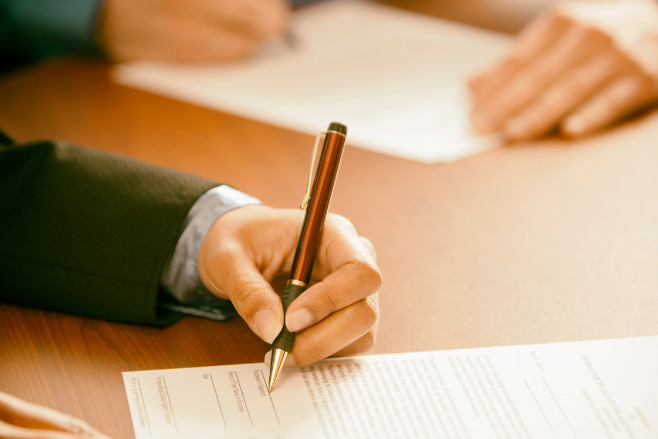 To get married in The Bahamas, there are several legal requirements that must be met. 
Firstly, both partners must be at least 18 years old. If either partner is under 21, they will need to provide a notarized consent form signed by their parents or legal guardians. Both partners will also need to provide valid passports or birth certificates as well as a Bahamas Immigration Card.
Additionally, if either partner has been previously married, they will need to provide proof of divorce. All documents must be in English, or certified translations must be provided.
Declaration Form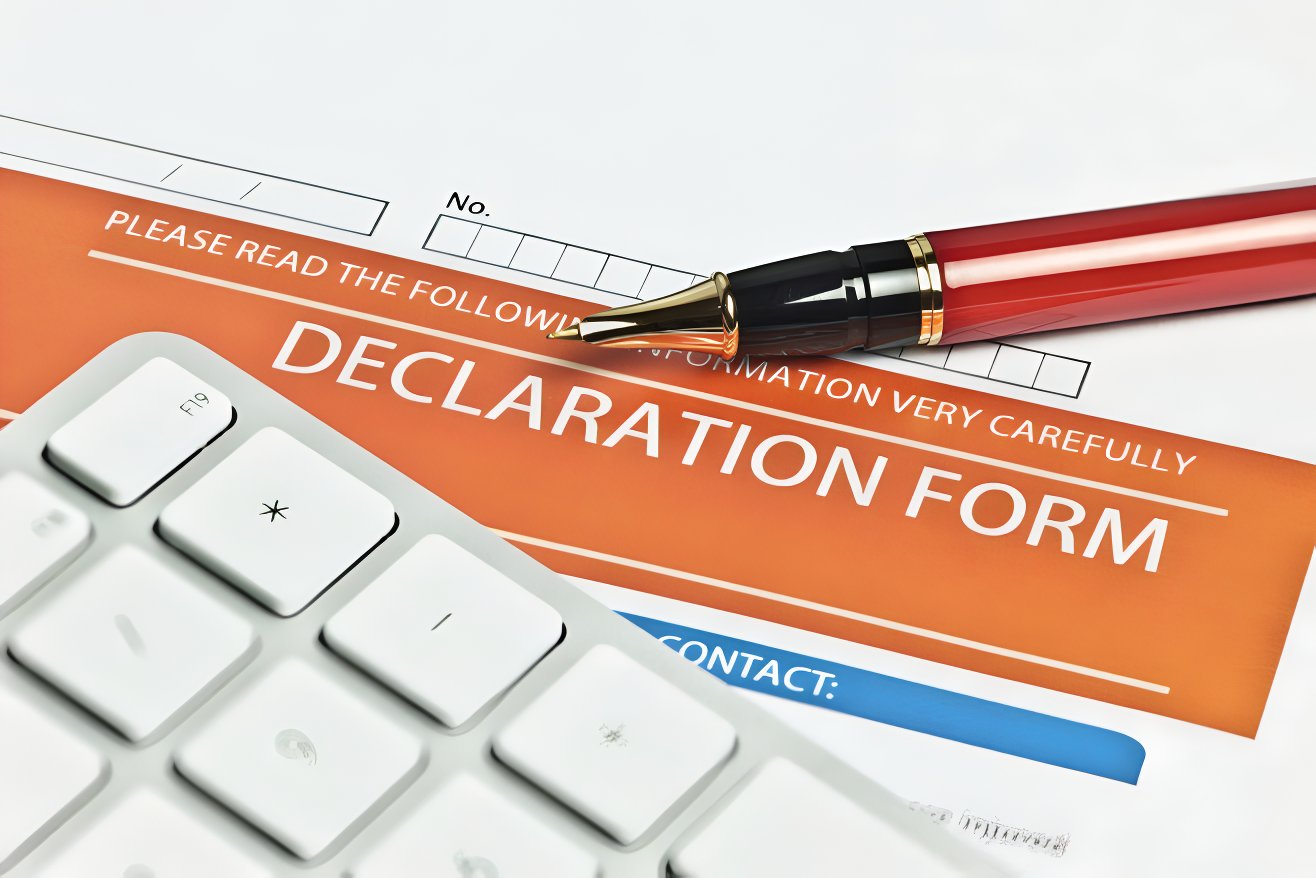 A person (the declarant) who is aware of the upcoming marriage must fill out a declaration form. The document must be signed in front of a justice of the peace (JP), who officiates civil unions.
A declarant may be a friend, relative, or another representative.
Obtain a Marriage License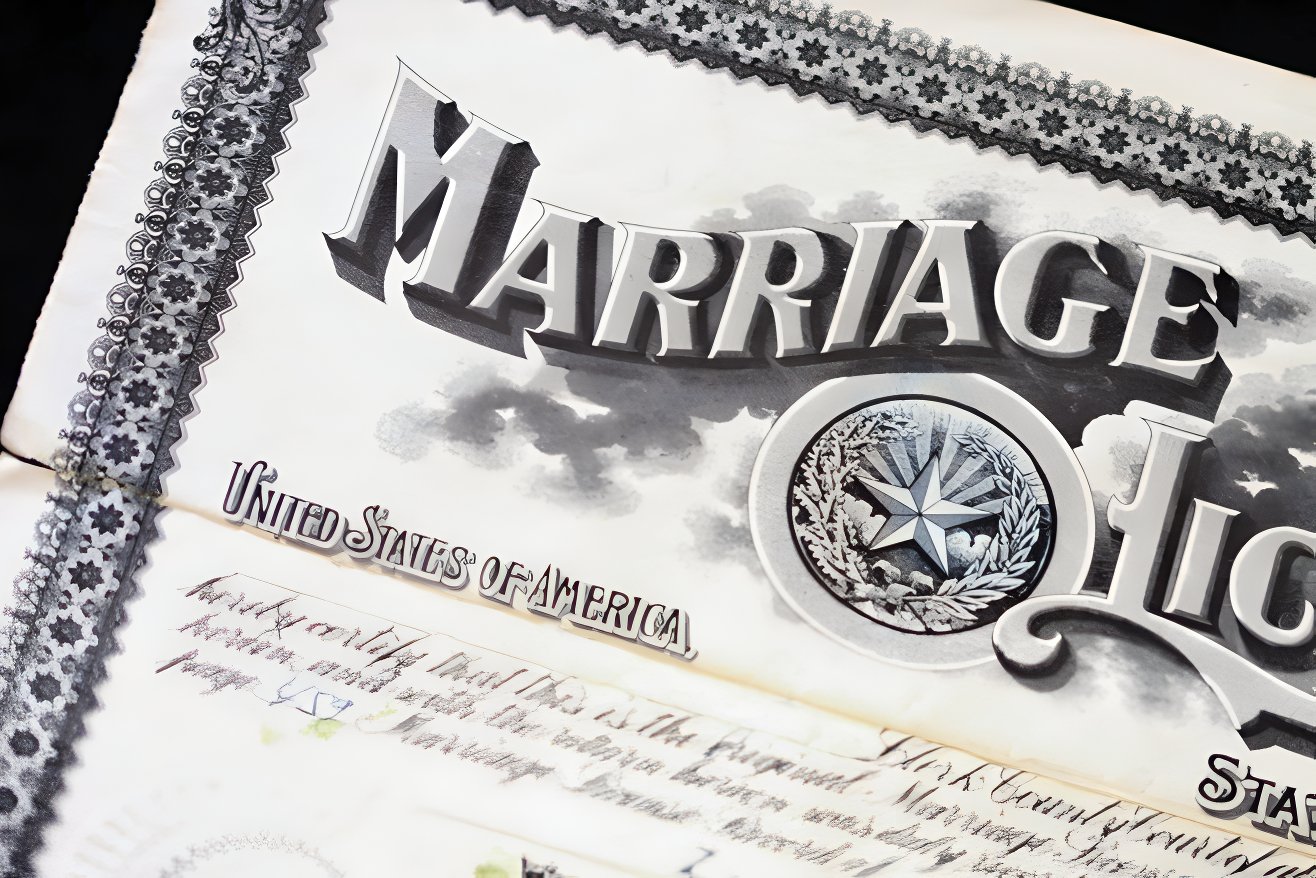 You and your partner will need to apply for a marriage license at the Registrar General's office in the capital city of Nassau.
Both partners must be present, and you will need to provide documents such as passports or birth certificates and proof of your marital status. You must acquire a marriage license before you may wed lawfully in The Bahamas. The day after you apply, or perhaps the same day, you will have your marriage license. A marriage license in the Bahamas is $120 USD.
Wedding Planning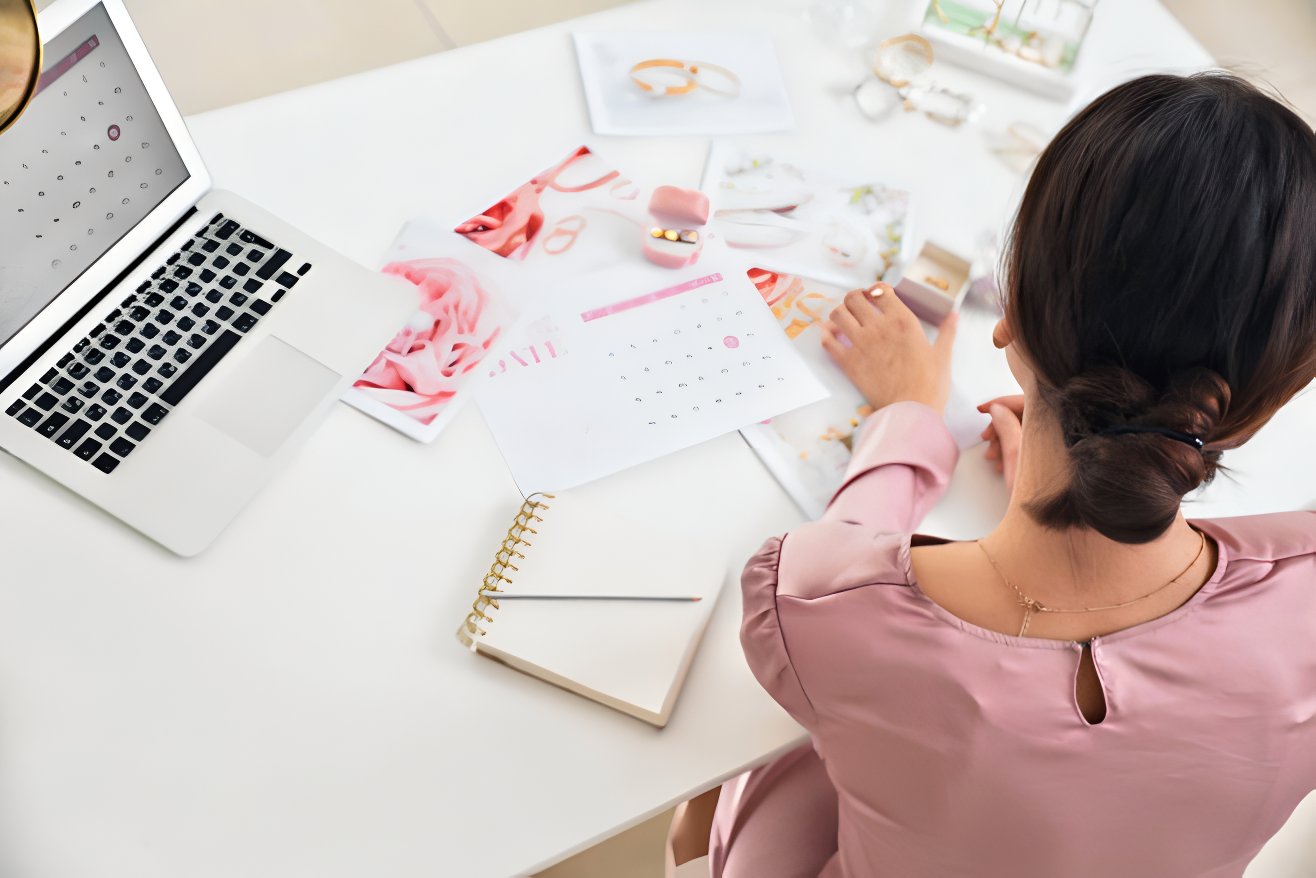 Once the legal requirements have been met, the fun part begins – planning your wedding in The Bahamas.
Some popular venues in The Bahamas include the Exuma Cays, which are made up of 365 small islands that are perfect for intimate weddings, or the capital city of Nassau, which offers a wide range of venues from luxury hotels to historical landmarks.
Other popular locations include Harbour Island, which is known for its pink sand beaches, and the secluded island of Andros.
Luckily for you, working with Destify guarantees a fee-free wedding planning experience! We're here to ensure that every detail of your Bahamas destination wedding goes off without a hitch, including the legal aspects!
Bahamas Wedding Resorts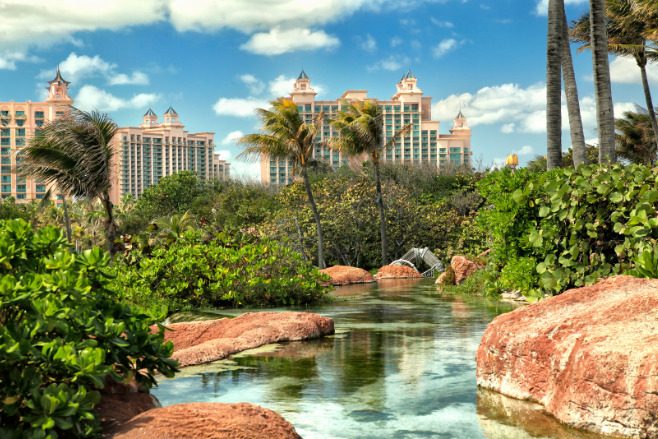 The Bahamas has an abundance of accommodation options, ranging from all-inclusive resorts to private villas. Depending on your preferences and budget, you can choose to stay in a luxury resort or rent a private villa or condo for a more intimate experience.
Some of our favorite choices are: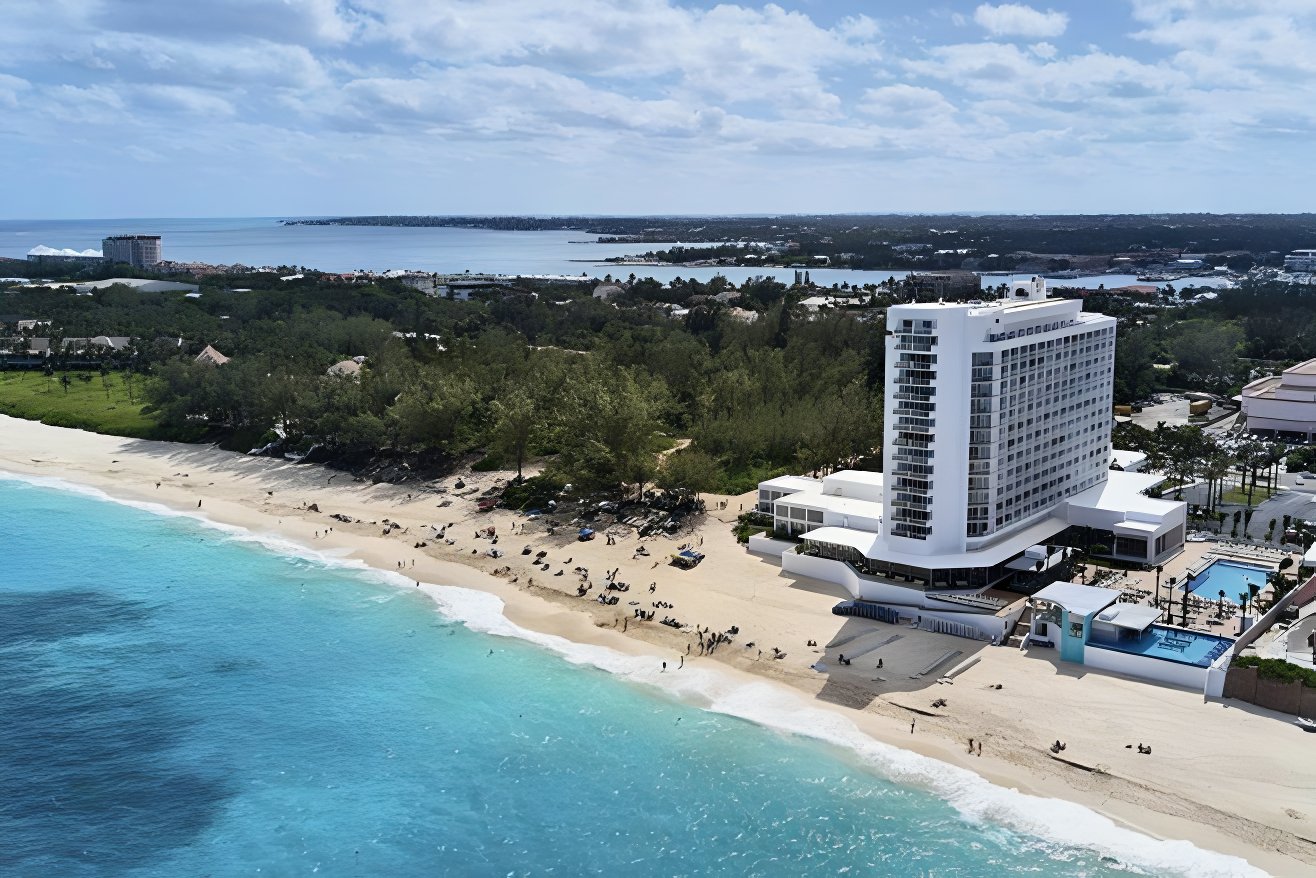 Riu Palace Paradise Island is an all-inclusive resort located on Paradise Island in the Bahamas. It features 379 guest rooms and suites, multiple dining options, several bars and lounges, a spa, a fitness center, an outdoor swimming pool, and direct access to a beautiful white-sand beach. The resort offers a range of activities and entertainment options for guests, including water sports, nightly shows, and a casino. It's an ideal destination for couples, families, and groups looking for a relaxing and fun-filled vacation in a tropical setting.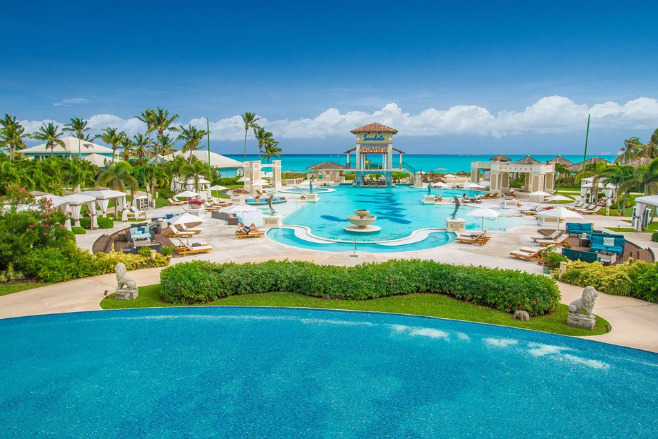 This all-inclusive resort on Great Exuma Island offers a range of wedding packages, including beachfront ceremonies and intimate chapel ceremonies. Its secluded location and world-class amenities make it an ideal spot for a romantic getaway.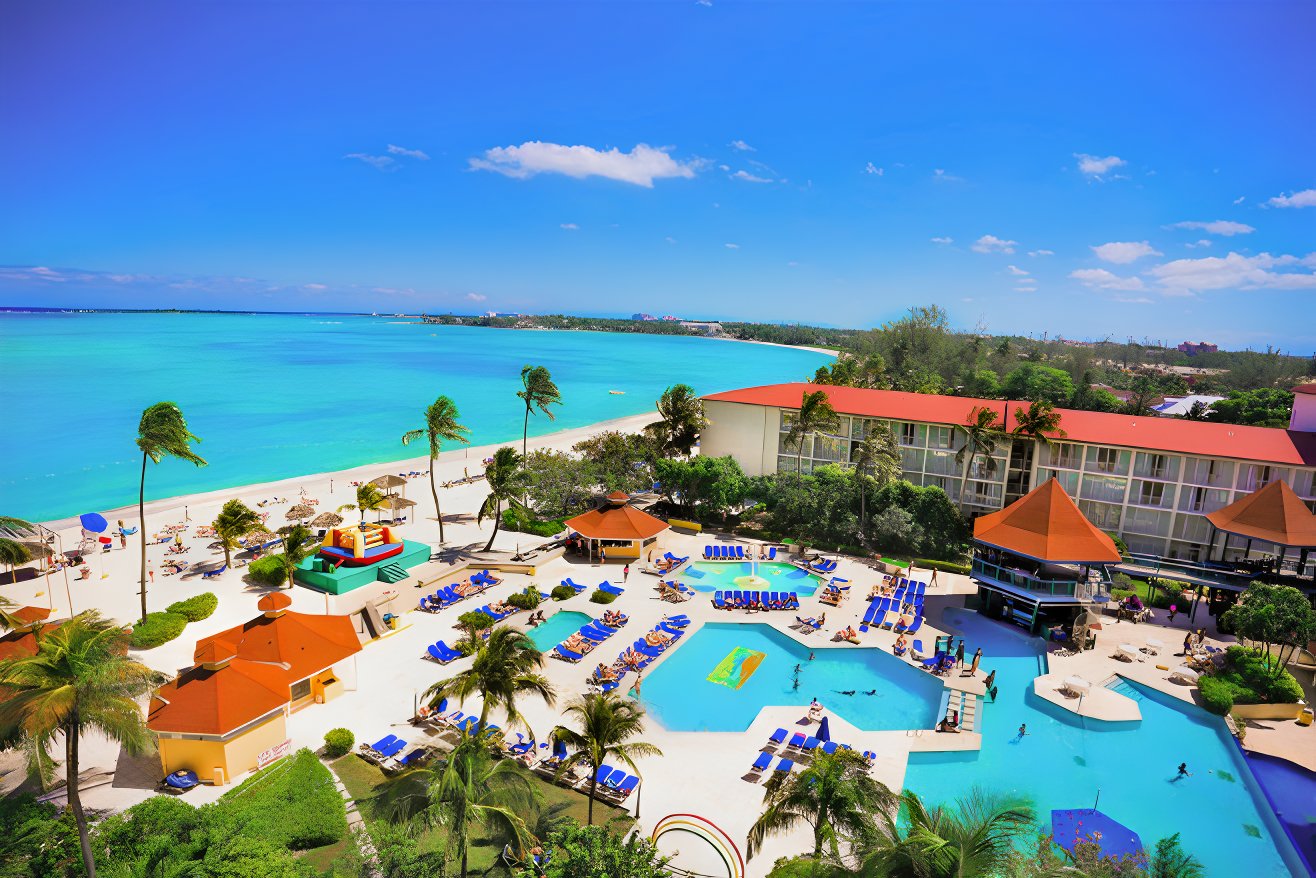 Breezes Bahamas is an all-inclusive resort located on Cable Beach in Nassau, Bahamas. It features a variety of amenities, including multiple restaurants and bars, a swimming pool, water sports activities, and live entertainment. The resort also offers various packages, such as wedding and honeymoon packages and is popular for its lively atmosphere and beachfront location.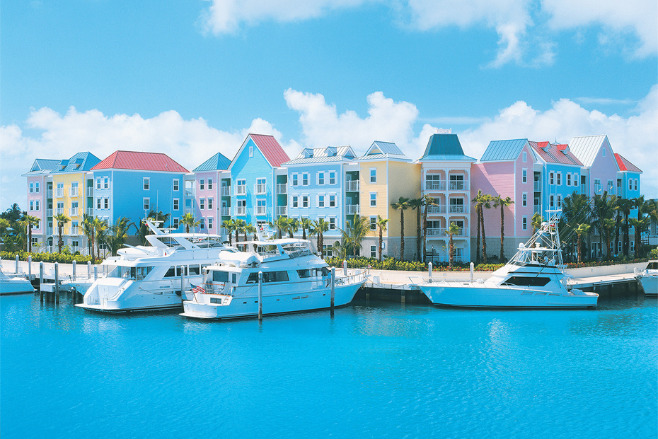 Atlantis Harborside Resort is a vacation property located on Paradise Island in the Bahamas, part of the larger Atlantis Bahamas resort complex. It features spacious villas with one, two, or three bedrooms, a fully equipped kitchen, and separate living and dining areas. The resort offers a variety of amenities, including a private pool and hot tub area, access to the Atlantis water park and marine exhibits, and a complimentary shuttle to nearby attractions. Additionally, guests have access to a variety of dining options and activities offered throughout the larger Atlantis resort complex.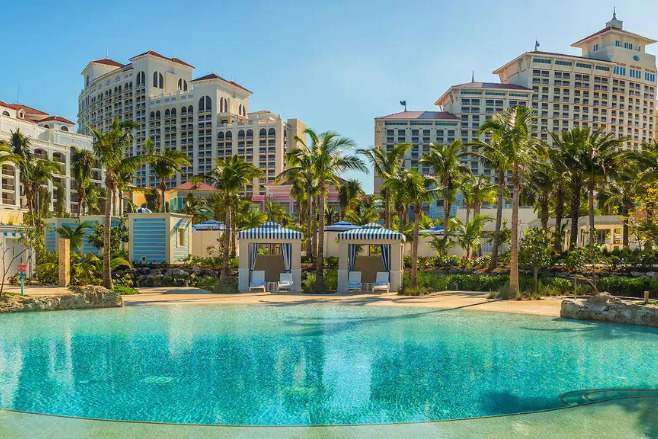 Grand Hyatt Baha Mar is a luxury resort located in Nassau, the Bahamas. It features 1,800 guest rooms, suites, and villas; a 100,000-square-foot casino; multiple pools; a spa; and numerous dining and entertainment options. The resort also offers access to a white sand beach and a variety of water activities, such as snorkeling and kayaking. Grand Hyatt Baha Mar is a world-class destination for relaxation, entertainment, and indulgence.