Yes, the title is right. Free weddings do exist at all-inclusive resorts, and they're more accessible than you might think. For the past decade, complimentary wedding packages have risen in popularity and quality. Offering the finest wedding week amenities, these all-inclusive properties lead the pack, guaranteeing unforgettable tropical decor, delectable catering, and luxurious accommodations. Without further ado, let's discover more reasons why free weddings are truly the deal of a lifetime.
What resorts offer free weddings?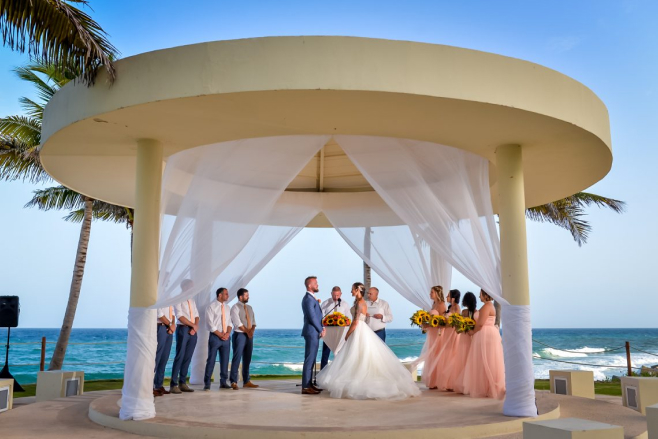 One of our favorite things about Destify's Top Resorts? Every property offers free weddings. With complimentary packages filled with luxurious amenities, all Destify resorts guarantee inexpensive ceremonies. The word "complimentary" would mean lower quality accommodations right? Not quite. Each free wedding includes many of the same add-ons that you'd expect from upgraded packages.
Let's take a look at Hyatt Ziva Cancun's free wedding package:
Symbolic ceremony (bilingual available)
Beachfront couples massage
Romantic beachfront dinner for the couple
1 bouquet and 1 boutonniere
Suite decoration with flower petals
Complimentary wine and late checkout (3 pm)
Complimentary online bridal registry
Sparkling wine toast
Signature wedding cake
Decorated ceremony venue
Aisle runner, ceremony table, white chairs
Sound system for the ceremony
Hyatt Ziva Cancun wedding specialist
As you can see, a complimentary wedding package comes with enough luxurious amenities and customizable additions to host an enchanting wedding. From ceremony decor to world-class entertainment, resort groups like AM Resorts, Playa Resorts, and Blue Diamond Resorts will ensure your dream ceremony.
How do I get a free wedding ceremony?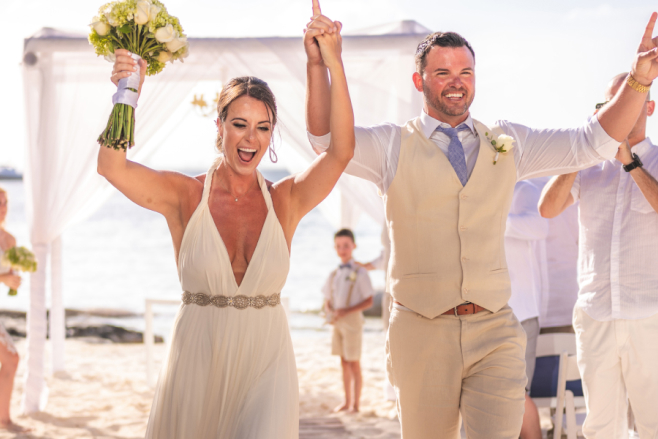 The process is quite simple, and definitely not a sham. Available to all couples and newlyweds, free wedding ceremonies require one essential factor: room bookings. For most Destify Top Resorts, wedding departments will offer entry-level packages that become complimentary once a certain number of suites and room nights are reserved.
Circling back to Hyatt Ziva Cancun's free wedding package, the base package is $1289 and includes 10 guests but is complimentary if your party books 25 room nights in qualifying room categories. Inviting a smaller guest list? AM Resorts has you covered with the following requirements.
Here's Dreams Vista Cancun's criteria: The entry-level wedding package becomes complimentary when booking at least 7 nights in the Dreams Vista Deluxe Ocean View or when a combination of 5 rooms is booked for 3 nights each.
Are all-inclusive weddings cheaper?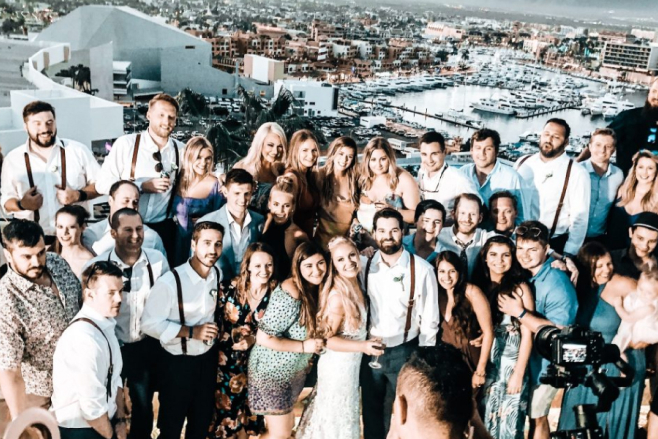 Yes! Not only do you have an expansive selection of packages to choose from, but complimentary bundles can make a much cheaper wedding week. Remember, you don't have to upgrade your amenities. But that shouldn't stop you from considering a higher-tiered package. While your ceremony would no longer be "complimentary," adding more accommodations such as upgraded decor and live musicians still results in a manageable bill.
Free weddings are no longer taboo. In this day and age, all-inclusive resorts are not only built to provide stays filled with lavish amenities but also affordable wedding ceremonies. Let your destination wedding save you money, and plan your complimentary ceremony today!
Want to learn more about free weddings? Follow the button below to view more guaranteed complimentary inclusions and requirements: