Planning a destination wedding can be a daunting task, but with a little research, it doesn't have to be. The Dominican Republic is a popular choice for destination weddings, and for good reason. The island has something for everyone, from stunning beaches to historic landmarks.
If you're thinking about saying "I do" in the Dominican Republic, then read on for 10 Dominican Republic wedding tips you need to know!
1. Choose the right time of year: 
The best time to get married in the Dominican Republic is from December to April when the weather is dry and sunny. During these months, you can expect generally sunny and warm weather with low chances of rain. 
Additionally, the government offices where you can acquire the necessary documents for marriage are open (should you pursue a legal marriage in the country), which can be closed or have shorter hours during the hurricane season from June to November. However, keep in mind that peak tourist season is also during the dry months, meaning that some venues and vendors may be more expensive or harder to book.
2. Find the perfect venue and wedding resort: 
These wouldn't be true Dominican Republic wedding tips without sharing the many beautiful resorts and venues to choose from in the Dominican Republic, so do your research and find one that suits your style and budget. Punta Cana is a popular destination for weddings due to its beautiful beaches, top-notch resorts, and warm weather all year round.
The area offers wedding packages and services that cater to all types of couples and budgets, and the backdrop of lush greenery and crystal-clear waters makes for a picturesque wedding setting. Many couples also choose to combine their wedding with a honeymoon trip at Punta Cana, adding to the allure of the location.
Some of our favorites include:
There are many beautiful resorts and venues to choose from in the Dominican Republic as it is a popular tourist destination. Some of the most popular resorts in the country include:
Excellence Punta Cana – a romantic resort for adults only, Excellence Punta Cana is located on a secluded beach and offers gourmet dining, relaxing spa treatments, and stunning ocean views.
Punta Cana Weddings

The Excellence Punta Cana adults-only resort along the beautiful eastern coast of the Dominican Republic sits on fine white sand in a gorgeous palm grove, ready and waiting for a perfect destination wedding.

Excellence Punta Cana:

Read more
Hard Rock Hotel & Casino Punta Cana – located on Macao Beach in Punta Cana, this rock-themed resort has a casino, a golf course, and numerous restaurants and bars.
Punta Cana Weddings

Pump up the volume on your Punta Cana destination wedding at this award-winning Hard Rock diamond set on the crystalline sands of Macao Beach. From out-of-this-world amenities ranging from the interactive Music Lab to a whopping seven wedding venues, your beachfront matrimony will blow yours and your guests' minds.

Hard Rock Punta Cana:

Read more

Venues: 9
Family Friendly
30 Minutes

Package Costs:

Included –

$

5,000
Hyatt Ziva Cap Cana – is a stunning all-inclusive resort located in Punta Cana, Dominican Republic. The property boasts an impressive range of amenities and features, making it a popular choice for couples, families, and solo travelers alike. 
Punta Cana Weddings

This recently constructed resort is as pristine as the white sand Juanillo Beach it's built atop — offering state-of-the-art facilities dotting the 40-acre enclosed domain that are guaranteed to make any destination wedding getaway truly one of a kind.

Hyatt Ziva Cap Cana:

Read more

Venues: 5
Family Friendly
24 Minutes

Package Costs:

$

1,499

–

$

16,999
These are just a few of the many beautiful resorts and venues you can choose from in the Dominican Republic. Whether you're looking for a relaxing beach vacation or an adventure-filled escape, there's a perfect spot for you in this tropical paradise.
3. Hire a professional planner: 
Covered within our Dominican Republic wedding tips is the importance of having a local wedding planner to help you navigate the logistics and legal requirements for getting married in the Dominican Republic. Luckily, at any of our chosen resorts, a dedicated wedding team comes free of charge with your selected wedding package. From the initial planning stages to your time at the resort, they'll be with you every step of the way.
4. Get your paperwork in order: 
You'll need to provide your birth certificates, passports, and potentially divorce or death certificates to legally get married in the Dominican Republic if you're hosting a legal ceremony. In general, to travel to the Caribbean, you must have a valid passport. Additionally, some countries require visas, vaccination records, or other specific documents.
These documents are necessary to prove your identity and permission to enter the country. Failure to provide the required paperwork could lead to being denied entry into the Caribbean, which could potentially ruin your travel plans. Although we wish we didn't have to include this one, it's still a very important wedding tip for Dominican Republic travelers.
5. Consider a local wedding tradition: 
Incorporate local traditions and customs to add a unique and memorable touch to your wedding ceremony. Popular Dominican Republic wedding tips and traditions include:
Arras: This is a custom where the groom places 13 coins in a tray or pouch and gives them to the bride as a symbol of his commitment to taking care of her financially.
Las Cascaras: During the reception, guests will throw eggshells filled with confetti at the couple. It's not only fun but it's also believed to bring good luck to the newlyweds.
Lasso: The lasso is a garland or rosary that's been blessed by the Catholic Church. The groom loops this around the bride and then around himself, symbolizing their union and commitment to one another.
Money Dance: During the reception, male guests will pay to dance with the bride. This is a way for the couple to earn extra money for their honeymoon or to help pay for their wedding.
La Hora Loca: Translating to "The Crazy Hour," this tradition is a wild carnival-like celebration with music, costumes, and party favors. It usually takes place near the end of the reception and is a way to send the couple off into marital bliss with a bang!
6. Cater to your guests: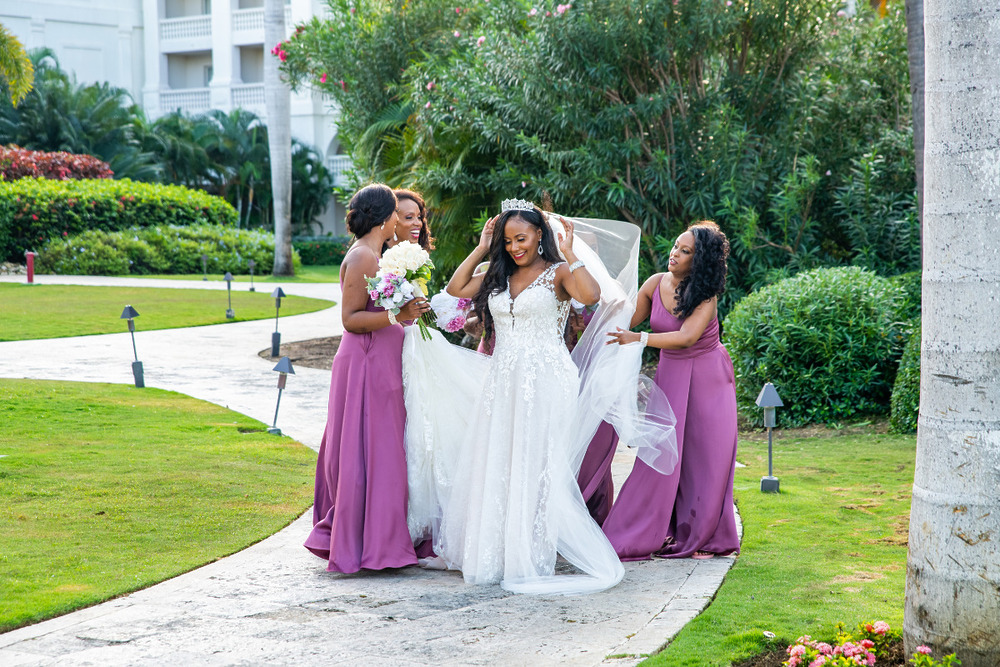 Perhaps our most fun Dominican Republic wedding tip is to make the trip worthwhile for your guests! Make sure to provide accommodations and activities for your guests to enjoy during their stay on the island. Hire a live band or DJ to play music and get your guests dancing. Set up a photo booth with fun props and backdrops where guests can take goofy pictures.
Hire a caricature artist to create unique drawings of guests. Organize a scavenger hunt or trivia game across your wedding resort that highlights the stories and memories of the couple. Set up a dessert bar with a variety of treats for guests to enjoy. Get creative with the fun you can provide guests, and create memories that will last a lifetime.
7. Consider the weather and Have A Backup Plan: 
Be prepared for rain or humidity by choosing a venue with indoor and outdoor options and providing umbrellas or fans for your guests. In case of unexpected weather or other issues, have a backup plan in place to ensure your wedding day runs smoothly.
8. Plan for transportation: 
Arrange for transportation for your guests to and from the wedding venue and other activities. Destify allows for this to be done easily, and guests can even book directly from their dashboard.
9. Enjoy the scenery: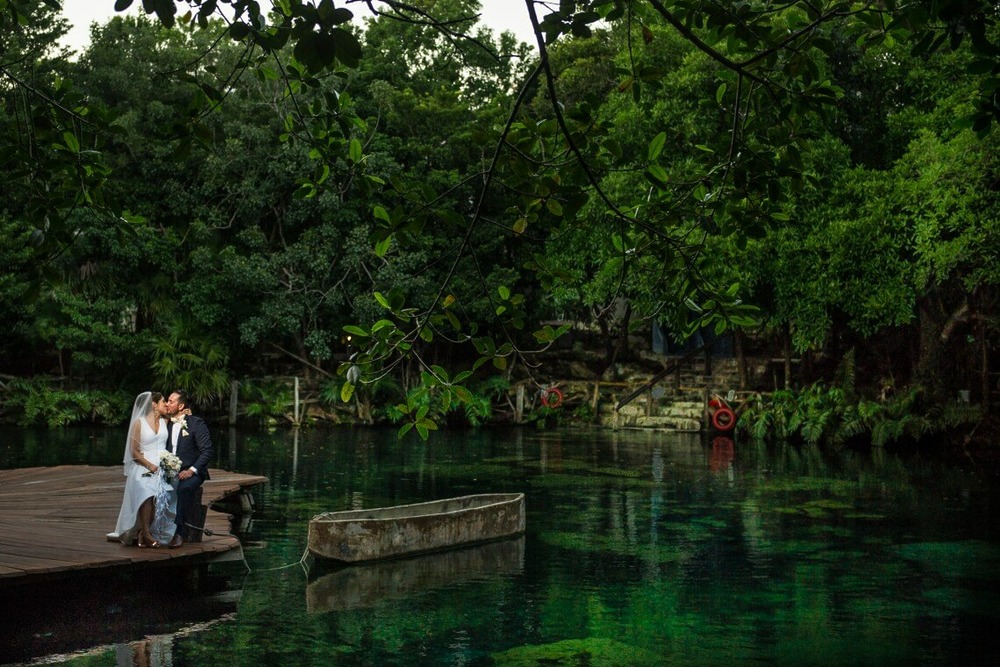 The Dominican Republic is a beautiful destination, so take advantage of the local scenery for your wedding photos and enjoy the island's natural beauty.