It's easy to see why the Dominican Republic is consistently at the top of the list of most-visited Caribbean countries. The clear water and white sand beach environment is a romantic getaway for couples looking to tie the knot in paradise at a Dominican Republic wedding.
As well, everything you and your guests could want will be covered with all-inclusive resorts and wedding packages in stunning locations like Puerto Plata, Cap Cana, Santo Domingo, La Romana, and so many more.
While the end result can be picturesque, the ideal Dominican Republic destination wedding requires some forethought. Whether you're planning a symbolic wedding or a formal ceremony, you'll want to approach the process carefully. Let's take a look at some of the Dominican Republic's legal criteria for getting married:
Legal Requirements for a Dominican Republic Wedding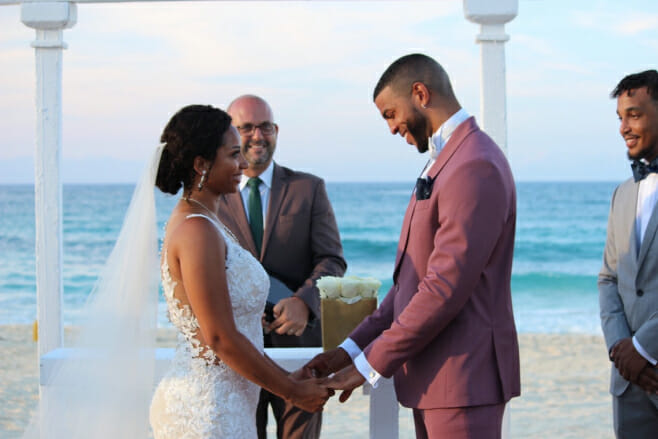 The following is a list of the legal documentation required for marriage by Dominican Law:
Birth Record of Wedding Couple or certified copy of birth certificate. If parents' names are not shown on the certificates, please indicate them separately.
Notarized Declaration of Single status for the Wedding Couple. If previously married, submit two copies of the Divorce Decree or Death Certificate. There is a mandatory waiting period for women, 10 months before they are allowed to legally marry.
A photocopy of Wedding Couple's Passports.
Photocopies of all Witnesses Passports. Cannot be family members. If necessary, resort will provide witnesses.
Wedding couple must be in the country 3 business days prior to the wedding. Non-legal and symbolic wedding ceremonies allow flexibility for arrival date. Please speak with the wedding coordinator to discuss requirements for your Dominican Republic wedding!
Additional Requirements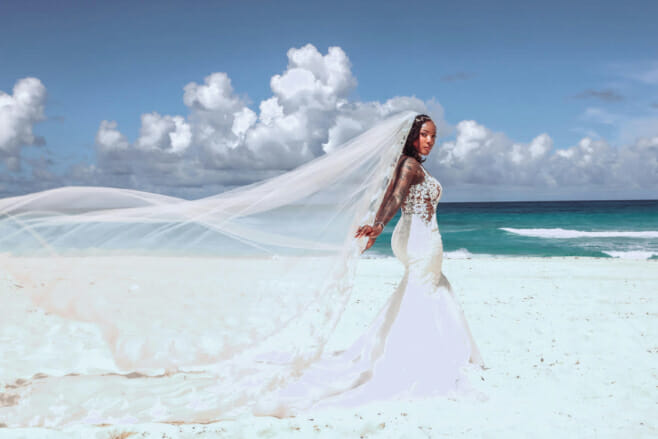 Please note that because the Dominican Republic has joined the La Hague Convention, your official documents must be apostilled by your Secretary of State Office.
Except for passports, all documents must be translated and authorized by the Dominican Consulate prior to arrival in the Dominican Republic. The Dominican Consulate should legalize the documents no later than three months before the wedding date.
It is the obligation of the couple to have all of the necessary paperwork in order before your Dominican Republic wedding.
Things to Consider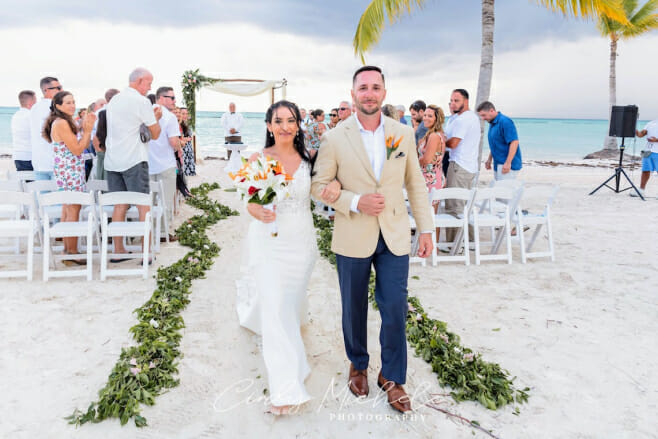 The Judge is a provided by the Dominican government outside service. The Judge will properly file your wedding certificate with the Central Civil Board. They will then authorize it with the Dominican Republic's Foreign Affairs Department.
Because most on-site Civil Ceremonies are held in Spanish, you will receive your marriage certificate in Spanish. Therefore, you will likely need to have the certificate translated and legalized into English after your Dominican Republic wedding.
Symbolic Ceremonies for a Dominican Republic Wedding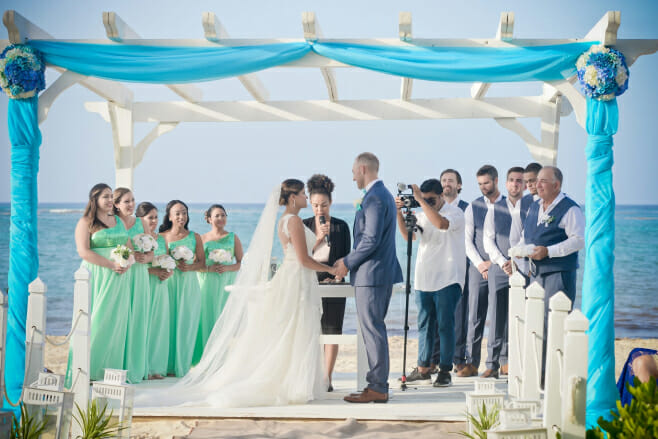 While legally tying the knot does eliminate an extra US courthouse visit, symbolic ceremonies can be much easier logistically.
For those unaware, a Symbolic Ceremony is something known as a 'commitment service.' It's a ceremony that allows couples to honor their relationship and express their personalities and styles.
From the decor, the ceremony, and every other detail, a symbolic ceremony is a testament to the specific couple's taste and love.
The most important thing to know about symbolic ceremonies are their lack of legality. They have no binding, legal power.
For every Dominican Republic symbolic ceremony:
No paperwork is required.
The wedding planner or a designated member of the wedding department will officiate. (You can however bring your own Minister or pay for the service of one locally)
Now that you know the specifics, are you ready for your Dominican Republic wedding?