A blend of star-powered romance in a tropical paradise
A picturesque setting, star-powered guests, and a love story that spans decades – these elements sum up the captivating Blair Underwood wedding in Alto de Chavón, Dominican Republic.
This tropical Mediterranean-styled ceremony not only encapsulates the romantic saga of Blair and his new wife but also highlights the allure of Dominican Republic wedding venues. Curious to know more about this celebrity affair that has everyone talking?
Keep reading for some breathtaking true-love wedding inspiration.
Celebrity Charm in the Dominican Republic
When celebrities have destination weddings, they tend to choose spots that merge natural beauty with a touch of luxury and elegance. Blair Underwood, known for his stellar performances and dashing looks, chose the pristine shores of the Dominican Republic for his nuptials for exactly this reason. Alto de Chavón is a paradise that blends classic Caribbean luxury with Mediterranean charm for an ambiance that sends you back in time. It's no wonder stars find it hard to resist.
From NBA legend Michael Jordan's bachelor festivities to Derek Jeter's sun-kissed celebrations, many have been smitten by this paradise. But who did Blair Underwood marry to make this destination even more special? Let's uncover the romantic tale set amidst the turquoise waves and sandy beaches.
The Long-awaited Union of Blair Underwood and Josie Hart
You know those stories that just make you believe in fate? Blair Underwood and Josie Hart have one of those tales. Picture this: two 16-year-olds, sharing shy glances and teenage banter, building a friendship that, even in its innocence, had the depth to last a lifetime.
Sure, life played its part, pushing them in different directions with marriages, demanding careers, and all the miles in between. But destiny's always got a funny way of keeping the plot interesting.
After both navigating the ups and downs of divorce, guess what the universe had in store? Our teenage friends rediscovered each other in the most heartwarming way. Beyond old memories and youthful laughter, they stumbled upon a love that felt undeniably right.
Blair, in a moment of pure romance, asked Josie to marry him last autumn. And when he speaks of their love, it's as if they're reading from a timeless storybook. It's a poignant reminder that life has a funny way of bringing things full circle, especially when it comes to love.
Destination Weddings Are A Grand Affair
Beyond the couple's beautiful love story, their wedding celebration in the Dominican Republic was a spectacle. Orchestrated by the meticulous planner Theresa Calcos, every detail was carefully curated.
From the intricate decor to the lavish spread, it was evident that meticulous planning went into making the event unforgettable. Caribbean Celebrations enhanced the ambiance, setting the stage for a welcome party of 100 guests that seamlessly led to the main wedding event.
Heartfelt vows were exchanged amidst a serene backdrop alongside an electrifying fireworks display after their first dance — the event was truly beyond magical. It's not hard to see why celebrity weddings in such illustrious settings are coveted by many. And such a spectacular setting is one many people are choosing for themselves.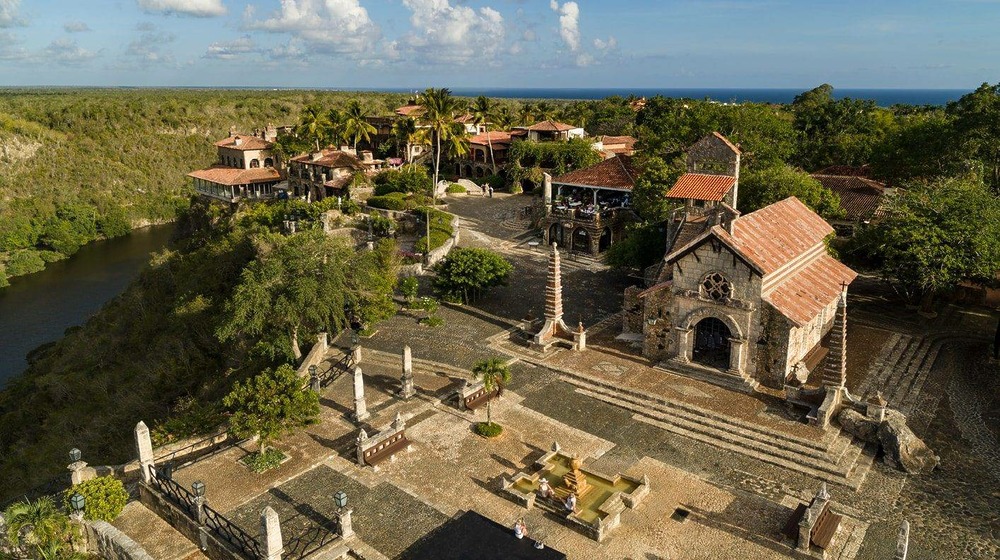 The Allure of Alto de Chavón
Alto de Chavón isn't just another venue; it's a historical masterpiece. A fine ode to Mediterranean wonders, nestled in the heart of the Caribbean. Cobbled pathways and panoramic views of the Chavón River make it the ideal backdrop for dream weddings. But its fame isn't limited to weddings.
The luxury retreat served as a backdrop for iconic shoots, such as Drake's music video and even episodes of Keeping Up with the Kardashians. These Dominican Republic weddings and events speak volumes about the venue's grandeur.
Our Top Dominican Republic Destinations
While Blair Underwood's wedding in Alto de Chavón has put the Dominican Republic's romantic allure into the limelight, we at Destify have been singing the country's praises for years. Thinking of a wedding in the Dominican Republic? Here are some picturesque wedding destinations that couples find irresistible without breaking the bank:
Trust us, there's a slice of paradise for every couple in the Dominican Republic!
Create Your Fairytale Wedding
From the star-studded guest list to the picturesque Dominican settings, Blair Underwood and Josie Hart's wedding showcases why the Dominican Republic stands out as a premium wedding destination. Ready for your destination wedding journey in the Dominican Republic to begin? Contact us today to craft your dream wedding.