Los Cabos is one of Mexico's premier locales for destination weddings, in the same league as the ultra-popular Cancun.
It sits on the opposite side of Mexico from Cancun and is known for the stunning, otherworldly scenery found on the Baja Peninsula.
We've sent hundreds of couples to their happily ever afters in Los Cabos, and we've got the inside scoop on the popular Los Cabos resorts for destination weddings in 2023!
Let's take a stroll and see the best destination wedding resorts in Los Cabos for 2023!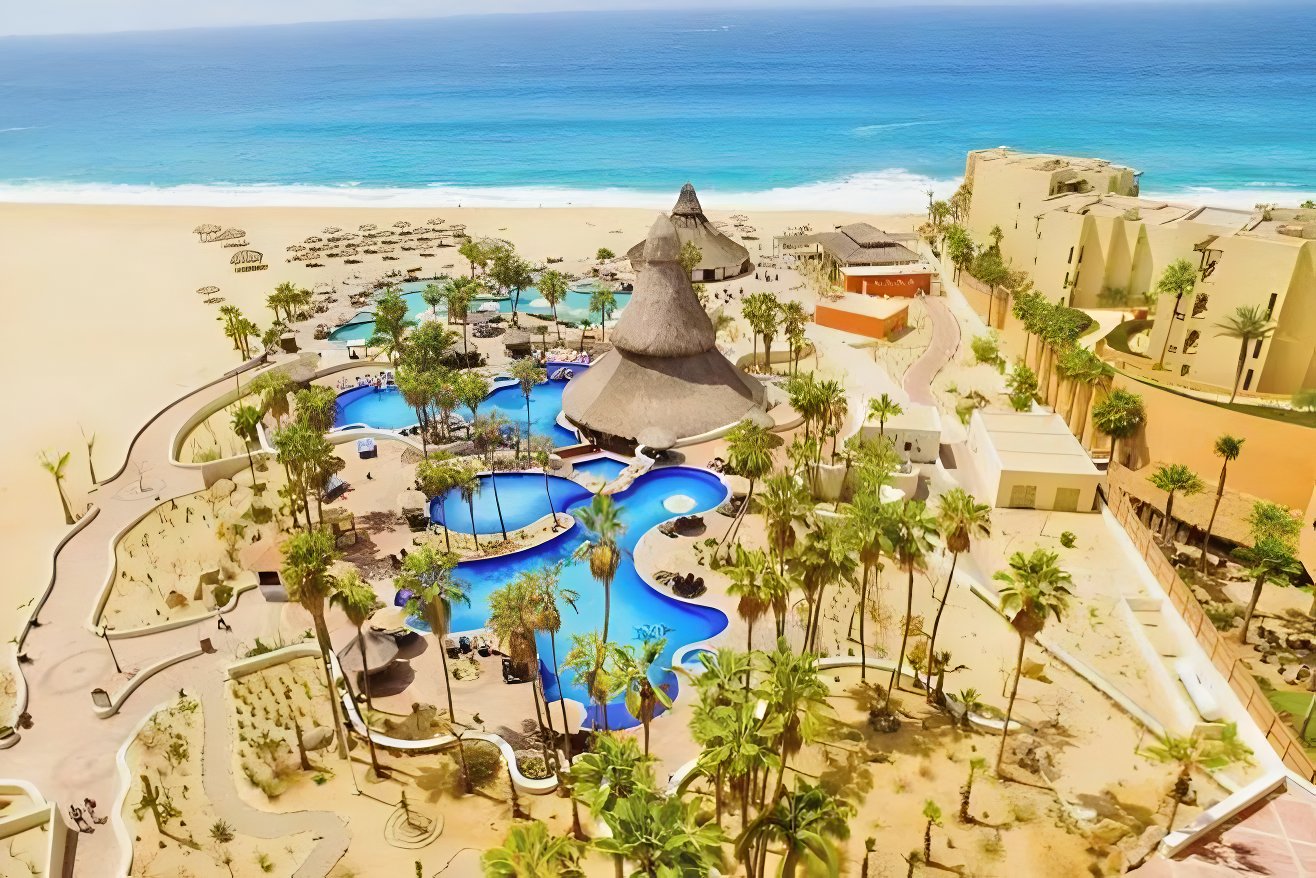 Sandos Finisterrra is one of Los Cabos' most revered properties, offering gourmet restaurants, fun nightlife at the nearby downtown Cabo San Lucas, and affordable wedding packages.
This all-inclusive resort's most unique feature is its suites in the Finisterra Section.
These contemporary and stylish suites are built right into the surrounding cliffsides, creating gravity-defying lodgings for wedding couples and their guests.
Los Cabos has never looked better from these suites!
Sandos Finisterra offers many stylish venues for wedding ceremonies, but we recommend booking the Plaza Finisterra space.
This open-air venue offers kaleidoscopic views of Los Cabos and the unique desert-inspired architecture and cacti.
Resort Features:
24/7 room service
4 Pool
7 Bars
4 Restaurants
Sprawling and pristine beach setting with palapas.
Chic Finisterra Suites with standalone jetted tubs.
Spa, sauna and hydrotherapy area.
Modern fitness center with views, plus two tennis courts.
A short walk to the marina and downtown action.
Kids' and baby club.
Free Wi-Fi.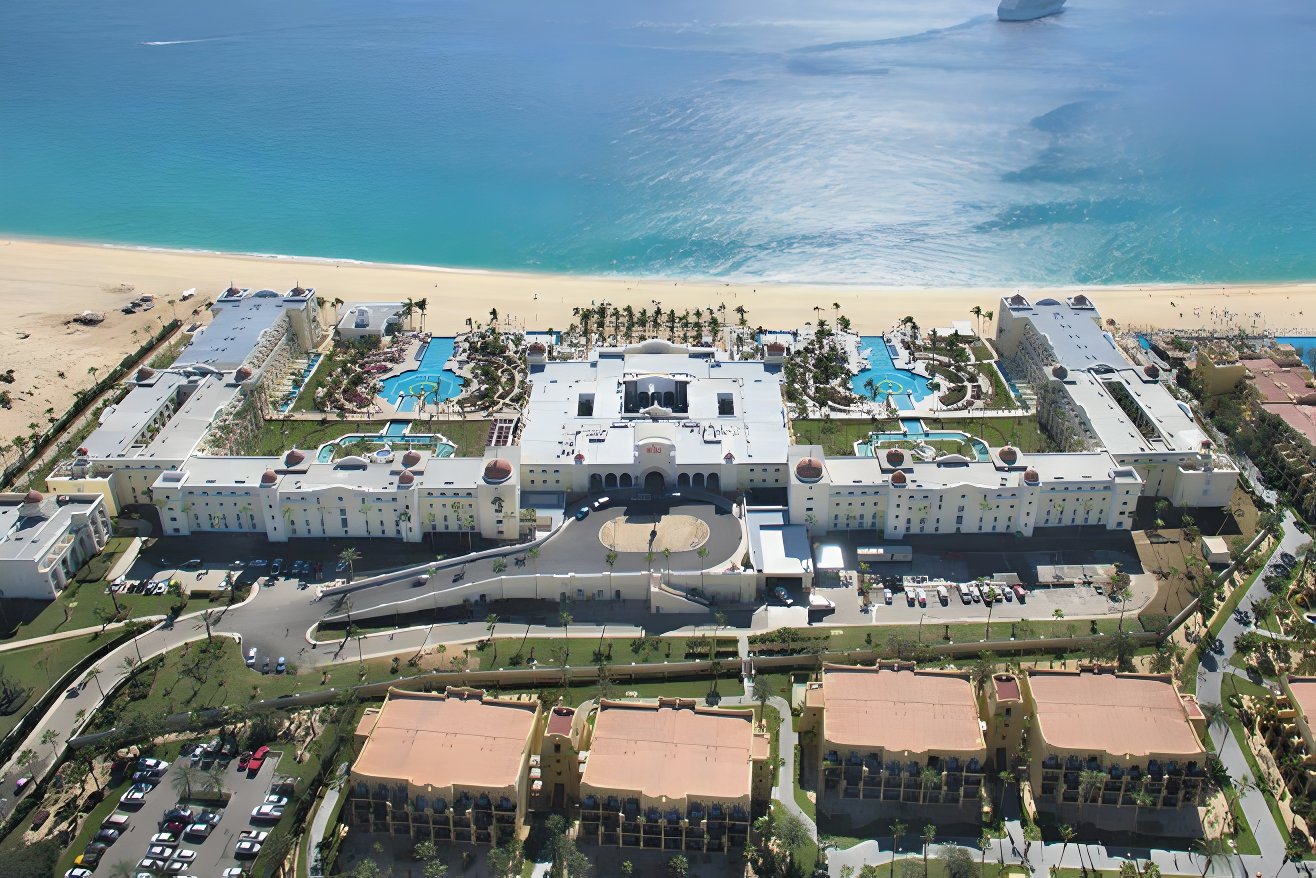 Riu Palace Cabo San Lucas sits on Los Cabos' stunning Baja Peninsula.
The pearly-white sand beaches surrounding the resort make for fetching wedding destinations. The churning seaside makes for quite the stunning wedding photo backdrops!
For wedding guests, Riu Palace Cabo San Lucas offers luxurious inclusions like a full spa, 5 gourmet restaurants like an Asian-fusion spot, and live entertainment at the resort and nearby in downtown Cabo San Lucas.
Riu resorts are some of our couples' favorites because of their commitment to offering budget-friendly wedding packages without lessening the luxury.
Look no further than Riu Palace Cabo San Lucas' 'Indulgence' wedding package. This affordable package offers a lavish wedding experience for couples and their wedding guests.
With fantastic amenities like a rehearsal cocktail hour, a semi-private dinner at one of the resort's gourmet offerings, and a couples massage
Resort Features:
24/7 room service
6 Bars
5 Restaurants
4 Pools
Peaceful location away from Cabo's party atmosphere.
Spacious rooms with palatial bathrooms and great views.
All-inclusive concept includes meals, activities, and entertainment.
Two large pools, one designated for relaxation, one for activities.
Variety of evening entertainment such as a Michael Jackson impersonator.
Decent-sized fitness room with primarily cardio machines.
Scenic resort with manicured grounds and swim-up bar.
Wi-Fi available in all rooms.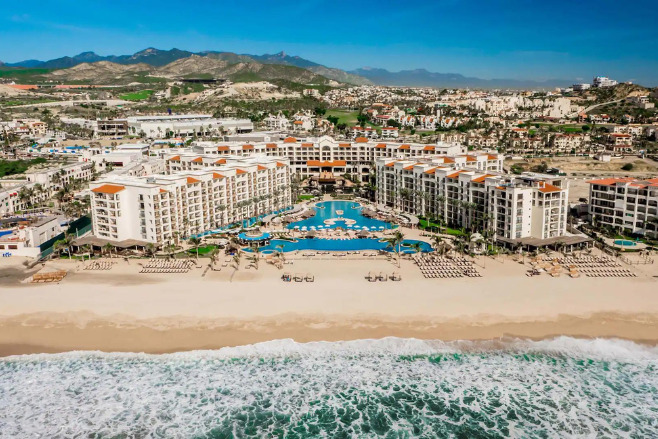 The desert dunes of the Baja California Peninsula, cerulean blue waters, and all-inclusive extravagance meet at Hyatt Ziva Los Cabos.
This all-ages sanctuary offers seven distinctive restaurants, over 35,000 square feet of flexible event space, and separate adults-only and kids-only pools with floating fire pits.
Your ceremony is never far from the gorgeous backdrops thanks to their numerous stunning wedding venues, such as the Hacienda Beach and Oceanfront Gazebo.
Their 'Lavish & Opulent' wedding package starts at $6,099 and offers heaping helpings of indulgence, like a private three-hour wedding reception, a couple's massage, romantic decor for the couple's suite, and tons more.
Resort Features:
24/7 room service
6 Bars
7 Restaurants
5 Pool
Fitness Center
Basic Wi-Fi Internet Access
Spa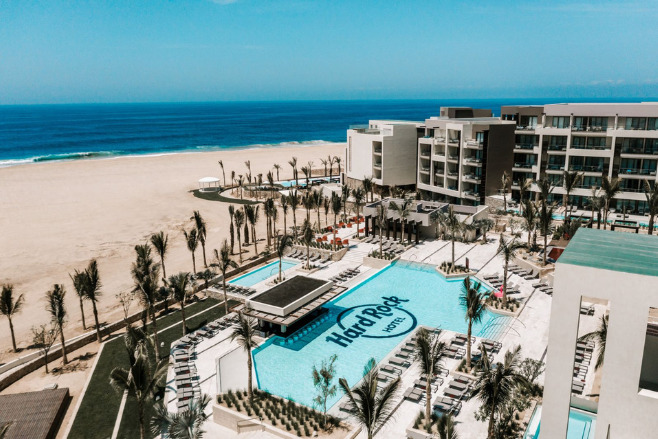 Plug in the amp and get ready to party, because the musically themed Hard Rock Los Cabos will rock your socks off!
This unique property is perfect for couples whose love language grooves to the heavy riffs of rock n' roll.
The resort's halls and walls are lined with musical symbols, guitars, and the faces of Rock legends like Jimi Hendrix, Elvis, and Mick Jagger.
That musical verve and vibrancy carry on through the live entertainment, the gourmet restaurants, the full service Rock Spa®, and the nearby Cabo Real Golf Course.
Looking for the perfect spot to tie the knot here? Try out the Tune Terrace.
This open-air space offers kaleidoscopic ocean views, seating for 100 guests, and a stylish setup underscored with musical-themed accents.
Resort Features:
24/7 room service
9 Bars
8 Restaurants
5 Pools
ROCK ROYALTY ® Program
Fitness center
Live entertainment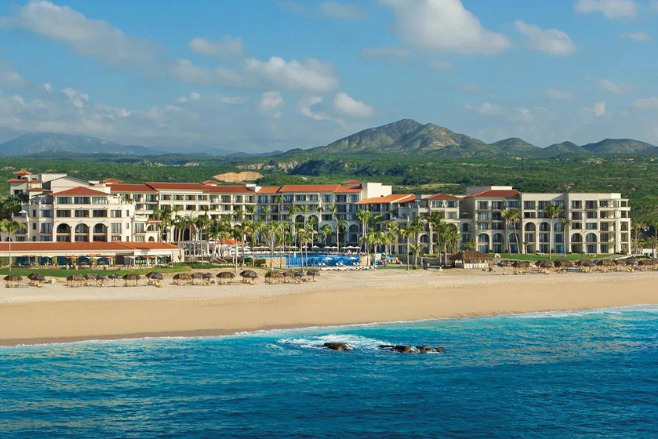 Los Cabos is world famous for its golf courses, and Dreams Los Cabos is one of the premier resorts to tee off inches away from the untamed Sea of Cortez!
Dreams Los Cabos is surrounded by eight championship golf courses designed by golf legends like Jack Nicklaus, Roy Dye, Tom Weiskopf, and Robert Trent Jones Jr.
Hitting the greens under the Caribbean blue skies is a truly one-of-a-kind experience for golf lovers or otherwise!
Inside the resort, wedding couples and their guests have almost 300 luxury suites, modern spa facilities, water sports on the beachfront, unlimited dining at gourmet restaurants like the French-cuisine Bordeaux, and so much more.
Despite all of this high-life luxury, Dreams Los Cabos offers extremely affordable wedding packages.
Their 'Wedding in Paradise' package starts at $999 and includes amenities like breakfast in bed with mimosas, an on-site wedding coordinator, free nights for the couples' anniversary, and much more.
Resort Features:
24/7 room service
5 Bars
5 Restaurants
3 Pools, including kiddy pool and adults-only, and a Jacuzzi.
Great beachfront location near a historic town and tons of activities, including multiple golf courses.
On-site spa and fitness center with personal trainers.
Night-time outdoor movies and evening craft market.
All rooms are suites with kitchenettes
Extensive Kid's club
Book Your Los Cabos Destination Wedding Today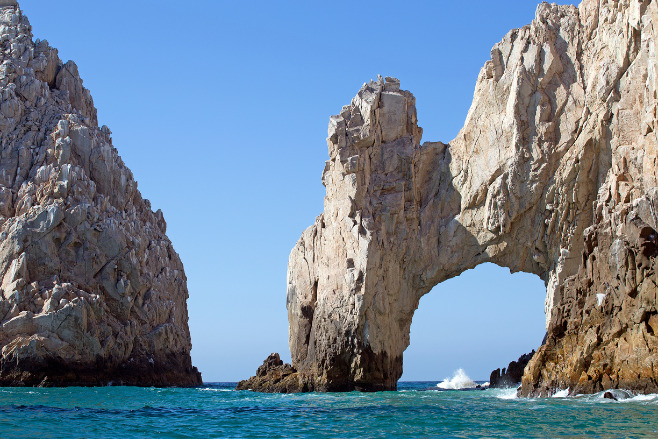 You've seen the sights, now are you ready to tie the knot in Los Cabos?