If you are looking to have your destination wedding in a beautiful location, look no further than our Barbados wedding venues, where many couples have had beautiful ceremonies and receptions. Barbados is located on an eastern Caribbean Island and is an independent British Commonwealth nation.
The capital and one of the most popular destination choices is Bridgetown, which is famous for the cruise ship port and the unique colonial buildings. That doesn't mean that the potential wedding venues are that same, however. They do still have all the charm but they are fully loaded with the personal services you desire and the modern luxury you deserve.
The island of Barbados is varied in landscapes too. You can see gorgeous natural locations that will offer you plenty of options for pictures and trips. The beaches are luxurious and comfortable – and pristine. There are also some great nightlife options, restaurants, and boutiques.
So what are some of the best Barbados wedding venues? Follow below as we do indepth:
Accra Beach Hotel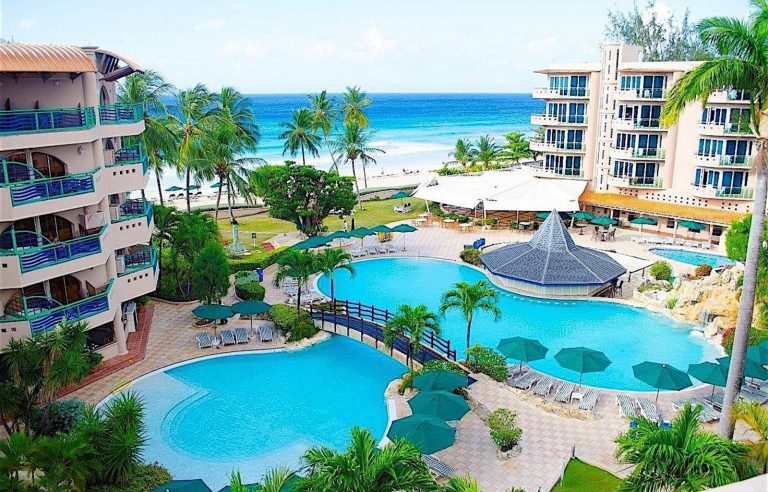 Accra Beach Hotel
Located only 20 minutes away from the airport, the Accra Beach Hotel features some of the most amazing views of the Caribbean waters. This is a family-friendly resort, so if you are planning to have children and families with you this is a great option. There are plenty of amenities on-site as well, including spas, fine dining, activities, and plenty of stunning wedding setups.
If you are looking for an elegant wedding, the Accra Beach Hotel is a premier option. There are packages that range from just the bride and the groom to a wedding that fits many, many people (up to 200 guests). With those Barbados wedding packages, it includes sparkling wine, room upgrades, wedding cakes, and some decor like the arch and flowers. You will also get an Accra Beach Hotel wedding specialist. Every day, there can be up to two destination weddings held at this venue.
Crystal Cove Barbados Wedding Venues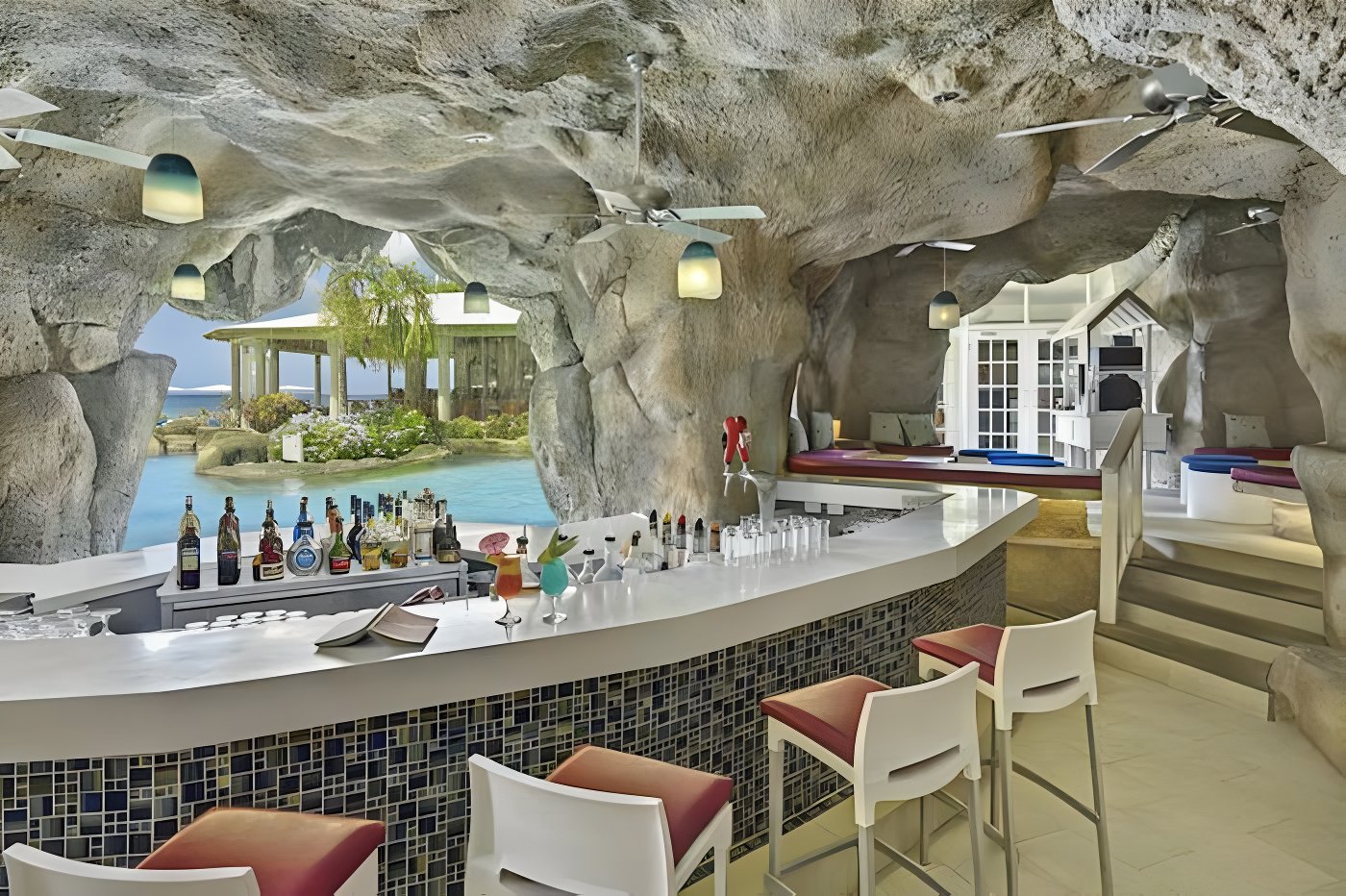 Crystal Cove Resort
The Crystal Cove Resort is located along the Platinum Coast, which features scenic beach views and is among the top choices for wedding pictures on the island. This is a more contemporary Barbados wedding venue, that offers many amenities. It also has a kids club, a beautiful pool, and even has one of the most unique bars on the island.
Crystal Cove weddings are always growing and changing, so it is important to talk to them about what their hotel offers now – as whatever it may be, it will be special. The packages for weddings range from a 2 person wedding up to welcoming many guests. Wedding packages include a registration fee, round-trip transportation, officiating services, flowers, champagne toast, a wedding cake, and breakfast in bed. It is important to note that this is a smaller wedding venue in Barbados, so we recommend booking with months in advance.
Ocean Two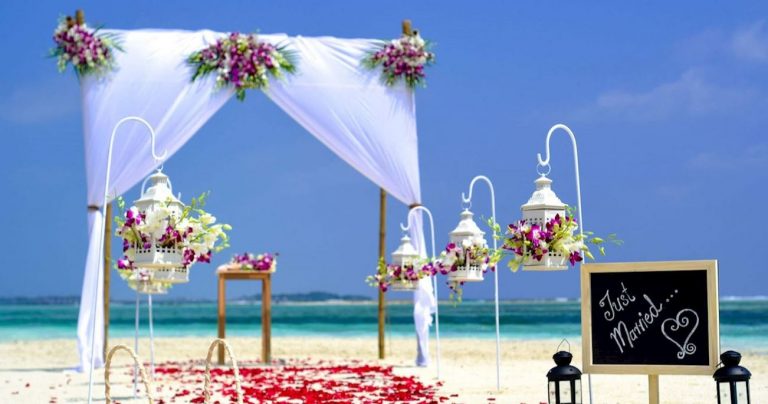 Ocean Two
The Ocean Two Resort is on the southern coast of Dover, offering beautiful Barbados wedding venues. This is a more traditional resort with chic interiors but has immersed in the Caribbean lifestyle. The resort grounds and Ocean Two wedding venues are modern, don't let it fool you. It's located right near the St. Lawrence Gap, which means there will be plenty of nightlife options for those who choose to leave the resort. And of course, there's plenty of time to relax on the beachfront.
The entry-level package starts at 12 guests and comes with wine, a coordinator, a keepsake photo, wedding cake, flowers, sparkling wine, honeymoon champagne, and other small luxurious touches. You can host up to 200 wedding guests, depending on where you have your ceremony.
Turtle Beach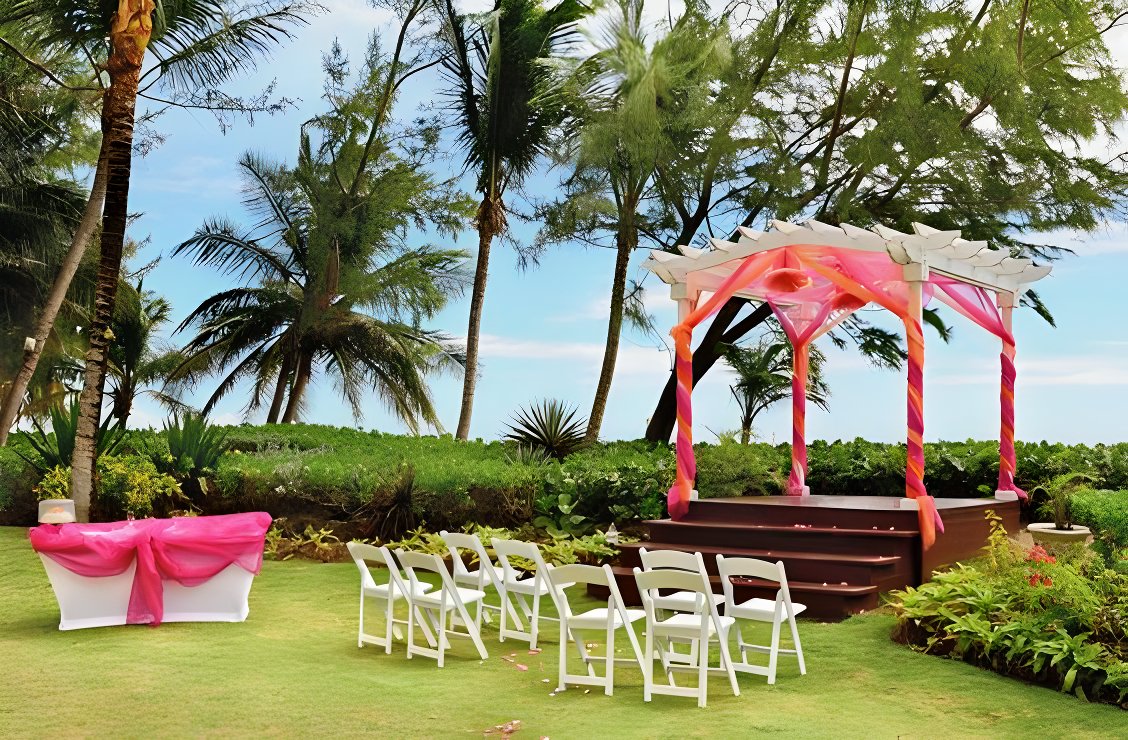 Turtle Beach
Turtle Beach Resort is one of the most elegant venues that you can have for your Barbados wedding. This is perfect for anyone who wants to have an unforgettable vacation for both you and your guests. The Turtle Beach Resort offers tons to do on-site and offers many off-site excursions as well. This includes restaurants, bars, and night clubs.
There is the Flying Fish Kid's Club that will keep the children entertained and allow adults to have fun on their own. Turtle Beach also offers vow renewal and non-denominational ceremonies, so you can have any ceremony you envision. Your wedding package will allow for flowers, a wedding cake, champagne toast, breakfast in bed, a marriage license, and a wedding coordinator too.
Overall, there are so many amazing options to choose from when it comes to selecting your Barbados wedding venue. To see more of our resorts on this stunning island, follow the button below: