Looking for a resplendent destination to say "I Do" other than the Caribbean? Costa Rica has something to say about that. Brimming with vivid flowers and unique fauna in its lush rainforests, Costa Rica wedding resorts are perfect for couples searching for a nature-imbued getaway. Destination weddings in Costa Rica are great for active newlyweds who want to visit national parks, trek volcanoes, or explore eco-parks. Even though Costa Rica is densely packed with rainforests, you can discover stunning beaches for your forever-after along the coast. These five-star properties are located on the Pacific side of the nation in the Guanacaste and Papagayo districts, with darker sand and deep blue ocean to set the tone. Without further ado, here are our top all-inclusive Costa Rica wedding resorts:
Secrets Papagayo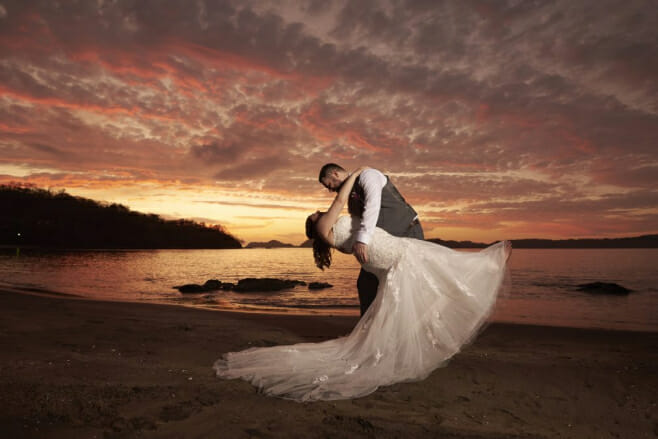 With two lovely locations of Arenilla Beach to explore along the Gulf of Papagayo, Secrets Papagayo weddings in Costa Rica set the stage for a magnificent vacation wedding. Views of native flora and animals, as well as views of the pristine Pacific Coastline, may be had from your wedding ceremony, which is set between two rocky hills in a private location.
If your wedding guests choose to venture out of the resort, the Marina Papagayo is close by, with scenic pathways and world-class sports fishing. The beach is made up of black volcanic sand, which the Secrets Papagayo wedding ceremony venues take advantage of for their intimate wedding ceremony settings. The resort is ideal for smaller wedding groups, with an expansive layout and a limited number of rooms available overall, giving your destination wedding a boutique hotel feel.
Planet Hollywood Costa Rica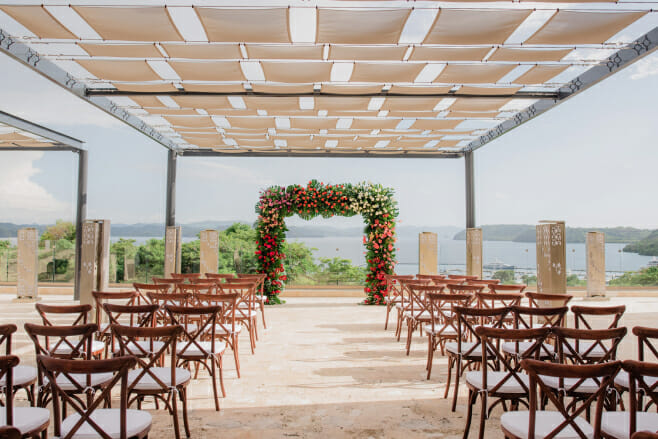 Your destination wedding will be ready for the red carpet treatment at the brand-new Planet Hollywood all-inclusive resort in Costa Rica. The wedding ceremony settings at Planet Hollywood Costa Rica are designed to take advantage of the stunning ocean vistas, and guests will enjoy the glittering pools, exciting Hollywood-style entertainment, and delectable a-la-carte restaurants in addition to the wedding festivities.
The handmade mattresses manufactured expressly for the resort are part of each suite's comfort design. Book the Planet Hollywood Costa Rica wedding terrace for an amazing event with breathtaking views of the Pacific Coast. There are a plethora of dining options to choose from, ranging from a buffet with live cooking stations to 24-hour on-demand room service.
Dreams Las Mareas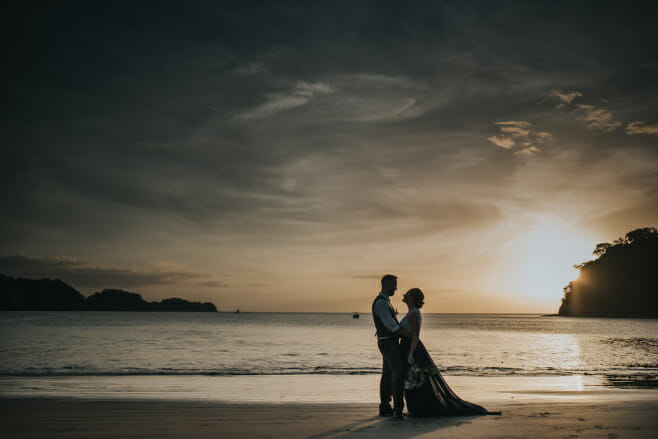 Relax on the palm-studded El Jobo beach or soak up the sun from your private and fully-furnished balcony at the Dreams Las Mareas all-inclusive resort. Enjoy a romantic supper on one of Costa Rica's most remote beaches. The property is surrounded by the tropical jungles of the Santa Rosa and Guanacaste National Parks. Take a ride down the two-story waterslide that leads to the large pool. This resort provides a pleasant environment to ensure that your Dreams Las Mareas wedding is as stress-free as possible!
This is Costa Rica's only resort with swim-out rooms, as well as the country's largest pool. Wildlife enthusiasts will like a Dreams Las Mareas wedding since monkeys may be seen in the trees and sea turtles can be seen breeding along the shore. They provide babysitting, a kids club, and a teen club, allowing you to engage all of your family and friends in your wedding!
RIU Palace Costa Rica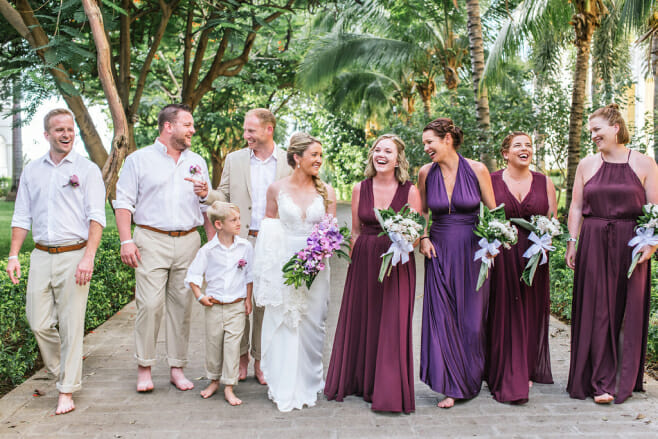 The luxurious Hotel RIU Palace Costa Rica is located on the picturesque Playa Matapalo. A wedding ceremony on the sandy beach or on the exquisite rooftop terrace overlooking the surrounding mountains would be appropriate. With unrestricted access to the many restaurants and resting at the multiple on-site pools, a destination wedding here might offer unending relaxation in an elegant Colonial setting. A wedding at the RIU Palace Costa Rica is ideal for couples seeking the perfect balance of adventure and relaxation.
A supervised kid's club and 24-hour room service are included, allowing parents to have some alone time during your Hotel RIU Palace Costa Rica wedding. The beach isn't always swimmable, especially during high tides, but it's wonderful for jogging or taking photos after the ceremony. If you are a strong swimmer, the resort is better suited for you. If guests opt to leave the property, they will be only 20 minutes away from Tamarindo's excellent beaches and vibrant environment.
Did one of our Costa Rica gems catch your eye? Fill out the form below to secure it with a Destify Booking Coordinator today: