It's time to set sail for a little place we like to call, the "Captivating Caribbean" (Trademark pending). Throughout this stretch of secluded and intimate islands, many Caribbean wedding destinations can be found – all sporting opulent grounds filled with white-sand beaches, lush rainforests and jungles, as well as cliffside waterfalls. An abundance of natural beauty and five-star luxuries? It's easy to see why Destify Couples around the country have chosen the Caribbean to host their special weekend. Taking advantage of its breathtaking surroundings, all while delivering award-winning elegant experiences, these Caribbean destination wedding resorts should be at the top of your wedding planning list:
RIU Palace Aruba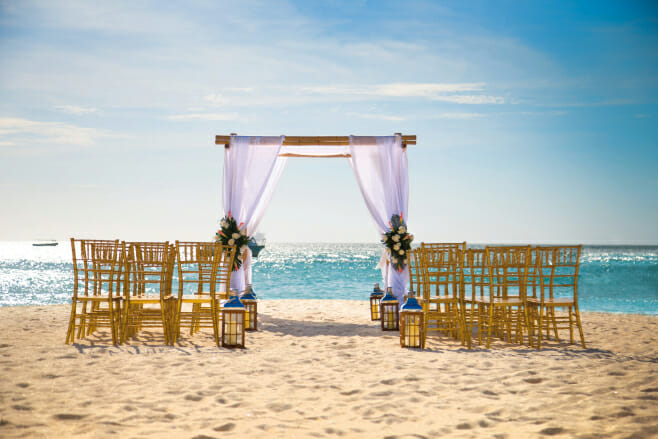 RIU Palace Aruba is located on beautiful Palm Beach, making it an ideal venue for a beach wedding celebration. Beautiful pools, fountains, and opulent design blend seamlessly with Aruba's characteristic emerald Caribbean waters on the beach. An invitation to a wedding at RIU Palace Aruba is an invitation to paradise, with plenty of shopping and entertainment nearby, which your guests will love.
A nearby district with plenty of retail and dining options beyond the all-inclusive selections, as well as a prominent casino with gaming machines, are among the entertainment possibilities. Despite the fact that the resort has a kids' club, it is more suited to wedding parties made up of adults who want to live it up, with liquor dispensers in every room and cocktails available 24 hours a day. The hospitable multi-lingual locals make the surrounding area feel like a welcoming refuge to explore at any time of day or night.
Royalton Antigua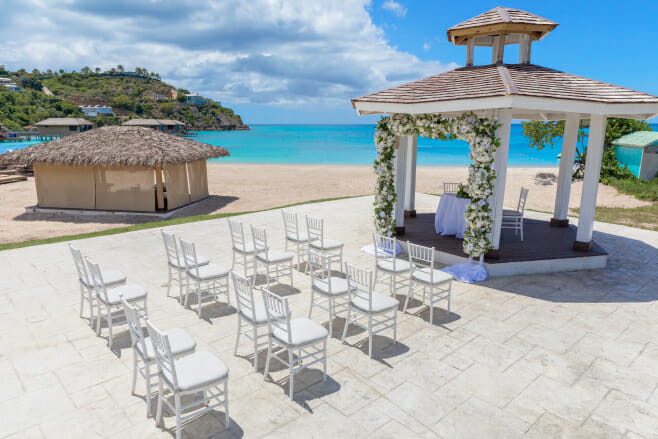 Royalton Antigua, set on a private beach, offers a luxurious wedding stay unlike any other. Neslted near Deep Bay Beach, your Royalton Antigua wedding can include stunning seascapes atop the magnificent Sky Terrace or a classic oceanfront backdrop at the aforementioned beach. Take a hike up the hill to see beautiful views of Fort Barrington and a ship sunken in the crystal-clear seas, or dine at one of the many delicious restaurants.
Book a couples' massage at the Royal Spa for couples looking for the ultimate in relaxation before or after their wedding ceremony. The spectacular sky terrace was created with panoramic views in mind, allowing you to fully appreciate Antigua's surroundings and make your Royalton Antigua wedding ceremony one to remember.
Dreams Curacao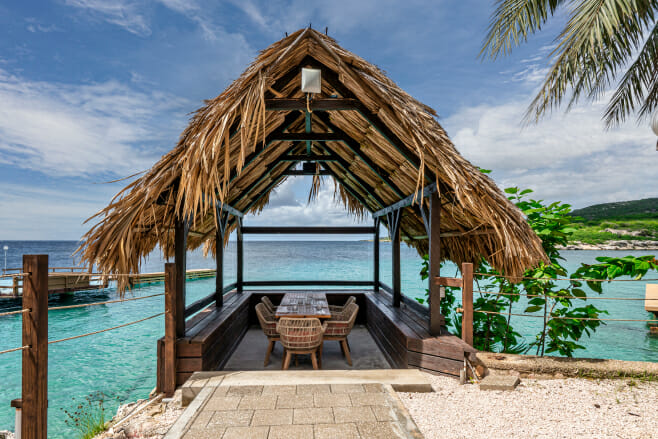 Dreams Curacao welcomes you to celebrate your dream Caribbean wedding on the sandy shores of Piscadera Bay on the sun-kissed island of Curacao. Dreams Curacao weddings will ensure that your ceremony is nothing short of amazing, whether you tie the knot under a beach gazebo or inside a colonial Dutch fort. Today is the day to celebrate your romantic paradise!
This resort avoids the cookie-cutter wedding by encouraging engaged couples to upload photos of their fantasy wedding, with the objective of making your vision a reality. Strap on your snorkeling gear and take in the island's vast marine flora and wildlife, which is located near to the hottest dive spot in the Caribbean. With your Dreams Curacao wedding guests, dine on traditional Creole food and more at any of the resort's seven restaurants.
Royalton St. Lucia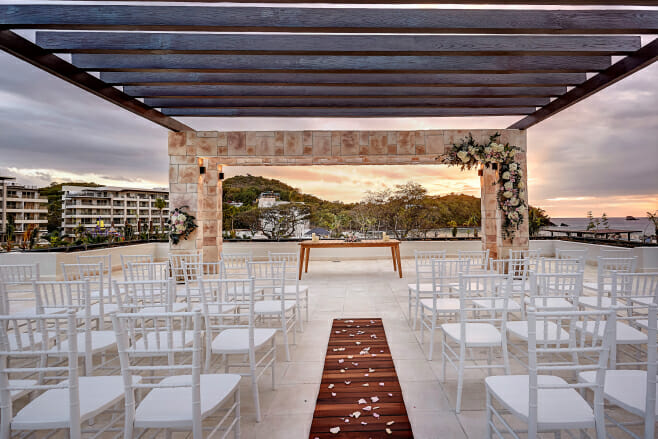 Royalton St. Lucia is one of the most beautiful locations in the Caribbean for a destination wedding. Your guests will remember your tropical ceremony since it is held in a private cove with wonderful views of green hills and lovely shoreline. Book the rooftop terrace, which views the entire bay, for an exceptionally spectacular Royalton St. Lucia wedding ceremony or reception.
The feeling of being tucked away in a secret cove adds to the intimacy of your Royalton St. Lucia wedding. A remote venue entails a 90-minute travel time, which should be factored into your wedding party's plans. The resort is fairly new, making it ideal for a bridal couple seeking modern accommodations.
Ready to get started on planning that Caribbean matrimony? Fill out the form below to connect with a Destify Booking Coordinator today: