We're getting down and dancing the night away! Planning your wedding reception is one of the most exciting parts of your wedding process. It's the perfect ending to your perfect day, where you and your loved ones can let loose for an evening. Sounds great, but where do you start? Every resort's reception area is somewhat the same right? Not exactly. Sourcing years of Destify Couple testimonies, we've put together 8 Unforgettable Reception Venues that'll send your matrimony off in lavish fashion, and leave your guests in awe:
Hyatt Ziva Cap Cana – Rooftop Terrace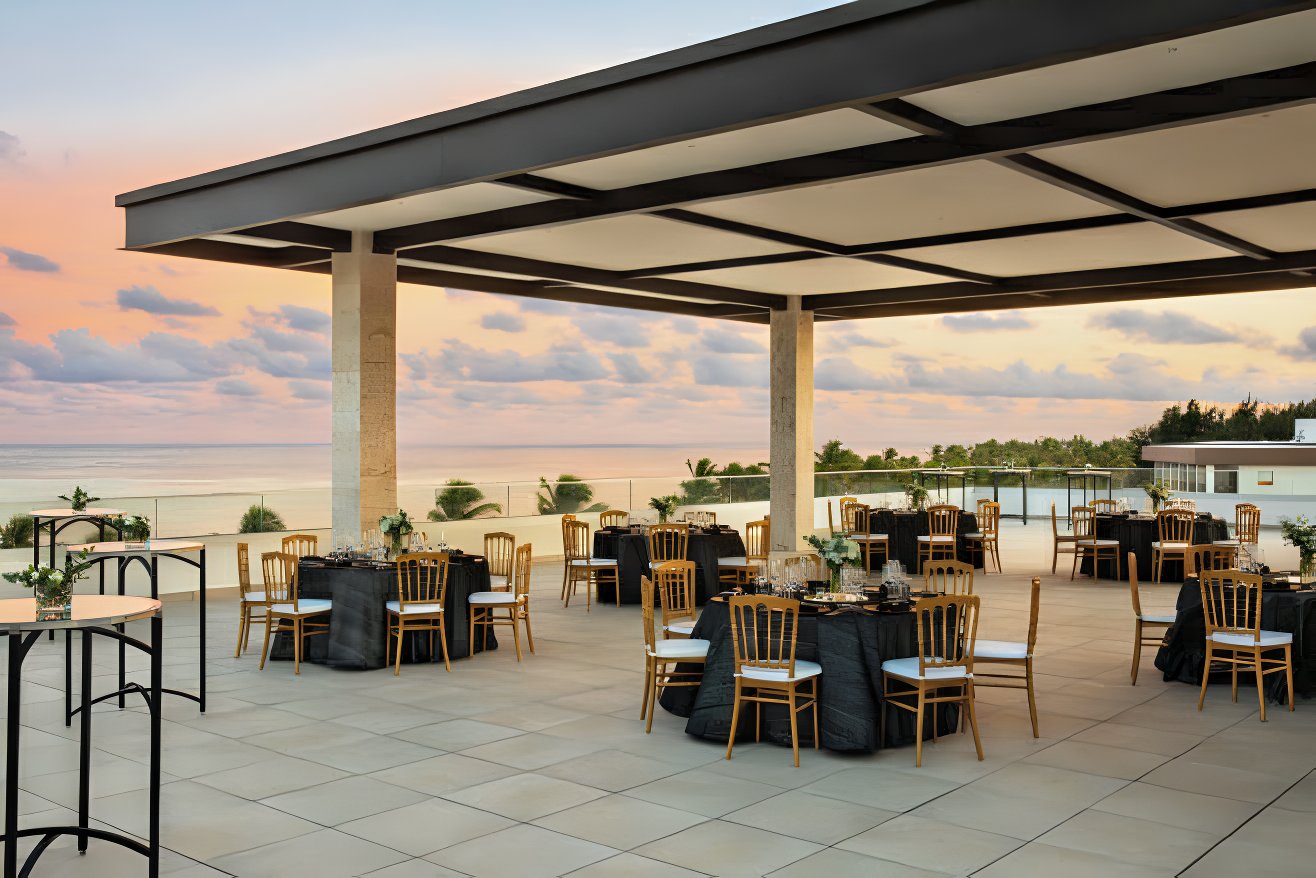 Location: Punta Cana, Dominican Republic
Location: Venue Title: Rooftop Terrace
Location: Max Capacity: 100 Guests
Step onto Hyatt Ziva Cap Cana's Rooftop Terrace, and you'll understand why it has become one of the most popular Punta Cana reception venues. Complete with sweeping views of azure Caribbean waters and crystalline white sand, the area captures the essence of Caribbean chic. You're guaranteed an unforgettable event, as it was designed specifically with destination weddings in mind.
Panama Jack Cancun – Oceanfront Wedding Gazebo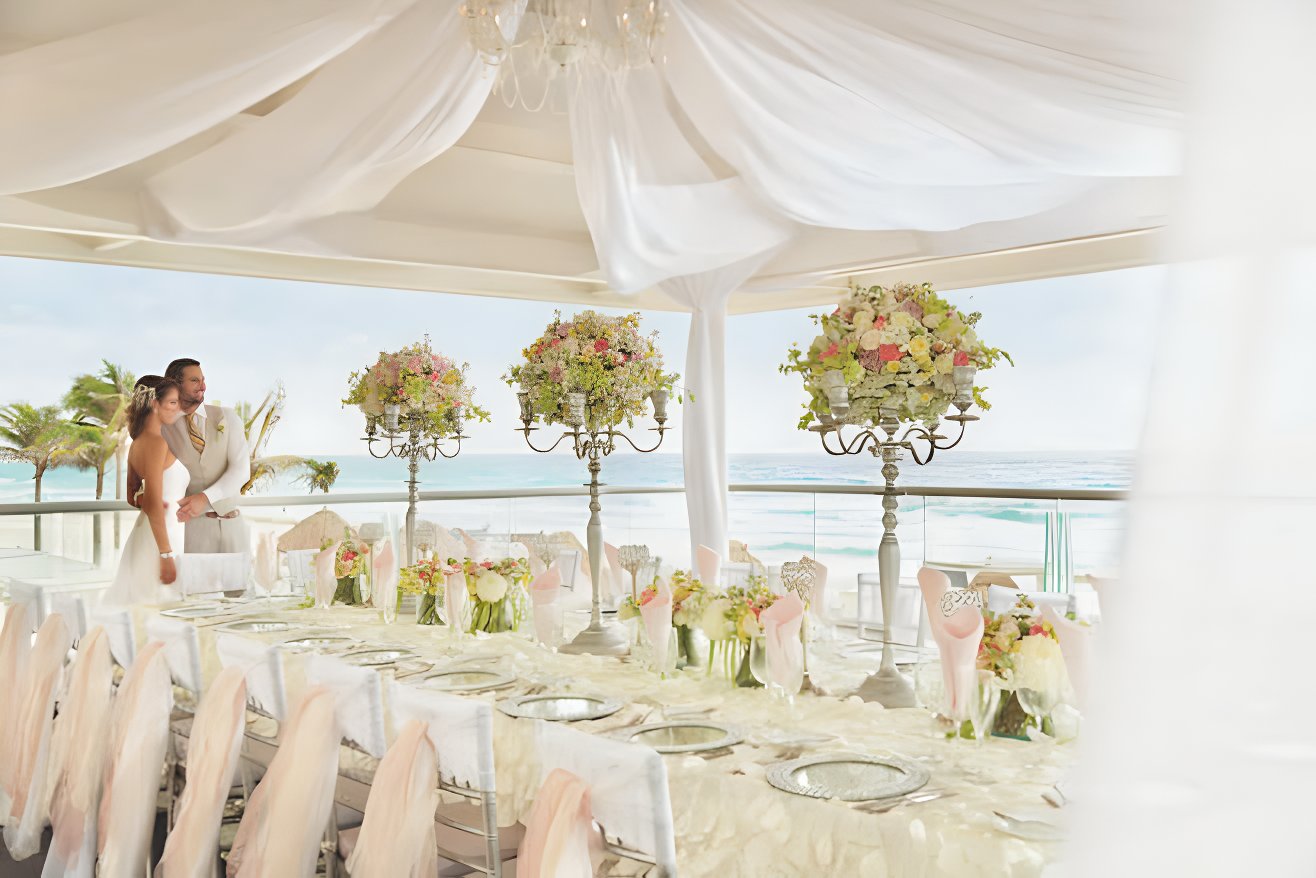 Location: Location: Cancun, Mexico
Venue Title: Oceanfront Wedding Gazebo
Max Capacity: 20 Guests
This five-star wedding resort redefines the meaning of the word "gazebo." Perched atop a grand rock, the gazebo provides a dynamic ceremony space that accommodates intimate celebrations with perfect seascapes no matter where you sit. From beautifully designed hardwood flooring to handcrafted decor, the reception venue's intimate balcony effortlessly frames the shimmering Cancun ocean in all its splendor.
Hard Rock Los Cabos – Coda Garden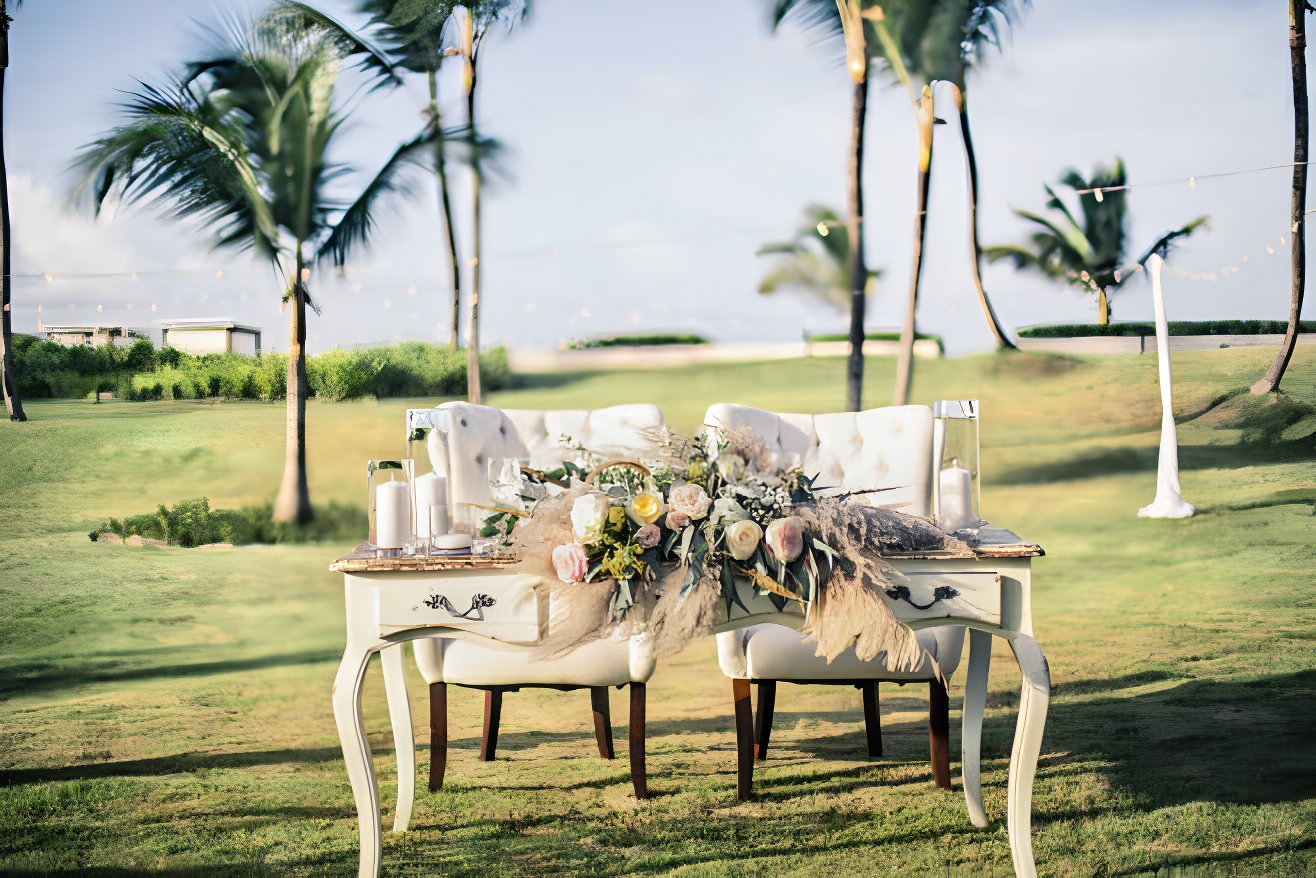 Location: Los Cabos, Mexico
Venue Title: Coda Garden
Max Capacity: 200 Guests
Let's get on the dance floor and boogie. Fusing together the natural beauty of Los Cabos and a groovy rock n' roll atmosphere, the Coda Garden at Hard Rock Los Cabos invites you to host the soirée of a lifetime. With voluminous tropical foliage and contemporary decor coming to a crescendo, this beautiful venue is the perfect example of tropical elegance. Hard Rock's reception food and decor options are top-notch as well, so you can bring the nightclub experience straight to your wedding.
Dreams Tulum – Secret Garden Gazebo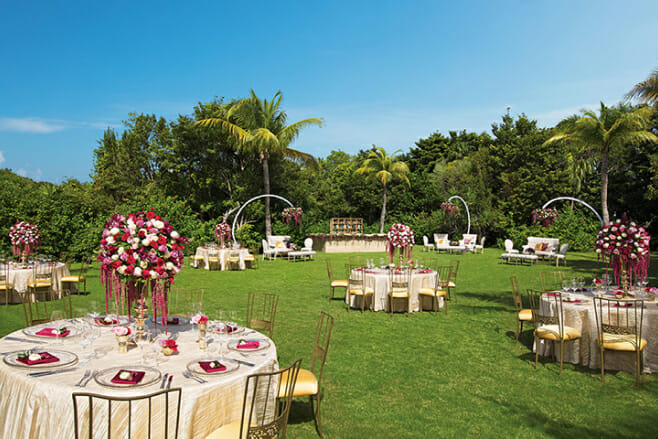 Location: Riviera Maya, Mexico
Venue Title: Secret Garden Gazebo
Max Capacity: 150 Guests
Embrace the whimsical aura of Dreams Tulum's Secret Garden Gazebo. Situated deep into the property's lush fauna, the reception venue's perfect location offers a truly isolated party. Let your wanderlust run wild while celebrating your love, where you and your guests will be transported into the mystical realm of Riviera Maya. Utilize decor packages that could include natural wood elements of chic white drapery to up the fancy factor at the fraction of the cost of a reception venue in the states.
Breathless Cabo San Lucas – Pool Side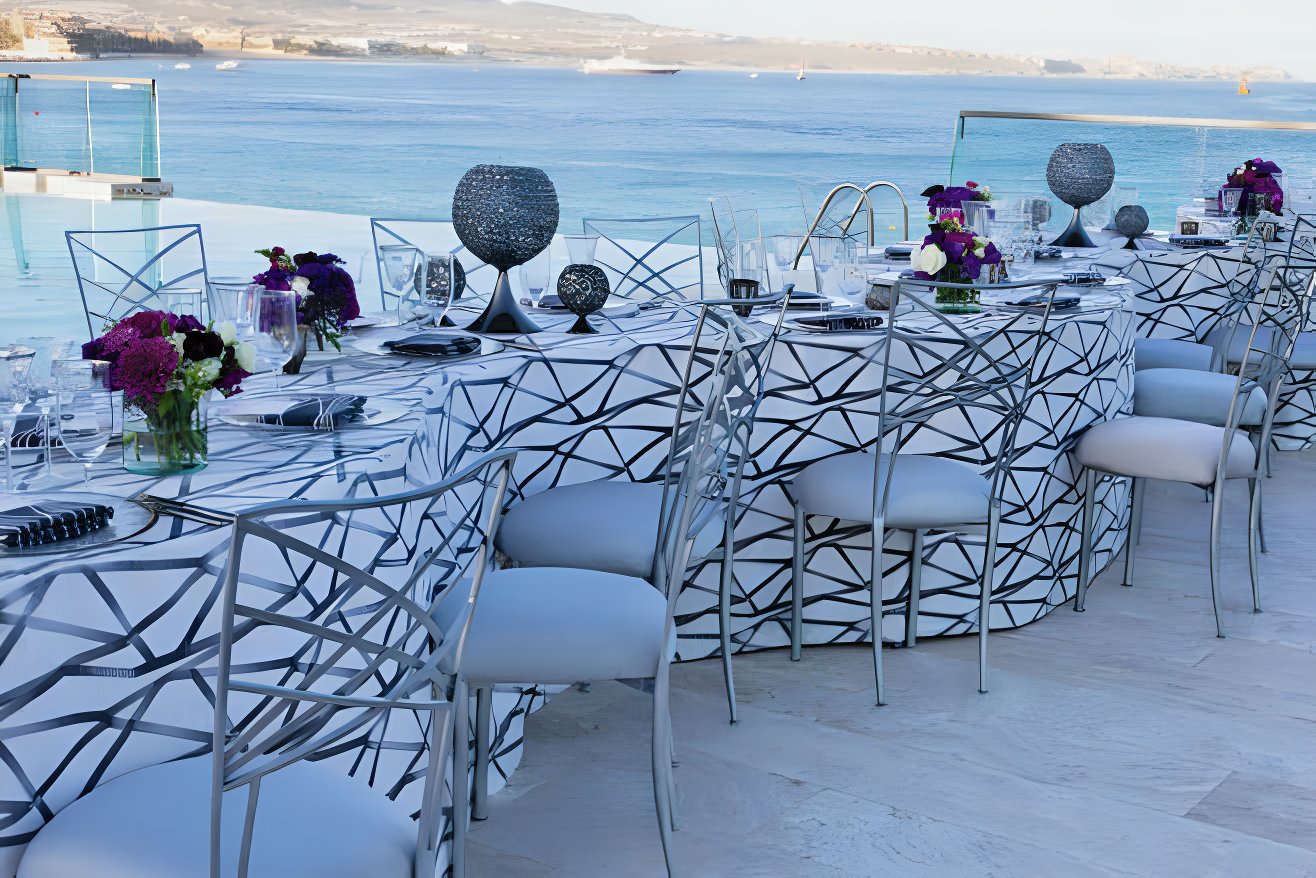 Location: Los Cabos, Mexico
Venue Title: Pool Side
Max Capacity: 200 Guests
Become one with the sea while you're partying it up with your loved ones. "One with the sea" as in you're literally steps from the ocean. A private section of Breathless Cabo San Lucas' U-shaped pool deck, Pool Side is a fantastic choice for couples seeking unique reception venues. Kissing the soft waves of the Pacific with glorious panoramas, this seabreeze-infused Cabo reception area beckons all lovers to experience the pinnacle of oceanfront luxury. Plus, with Breathless' party atmosphere, your guests will surely enjoy the opportunity to continue the party into the night–perhaps even with a trip to downtown Cabo just seconds away.
Hyatt Ziva Rose Hall – Ocean Gazebo Decks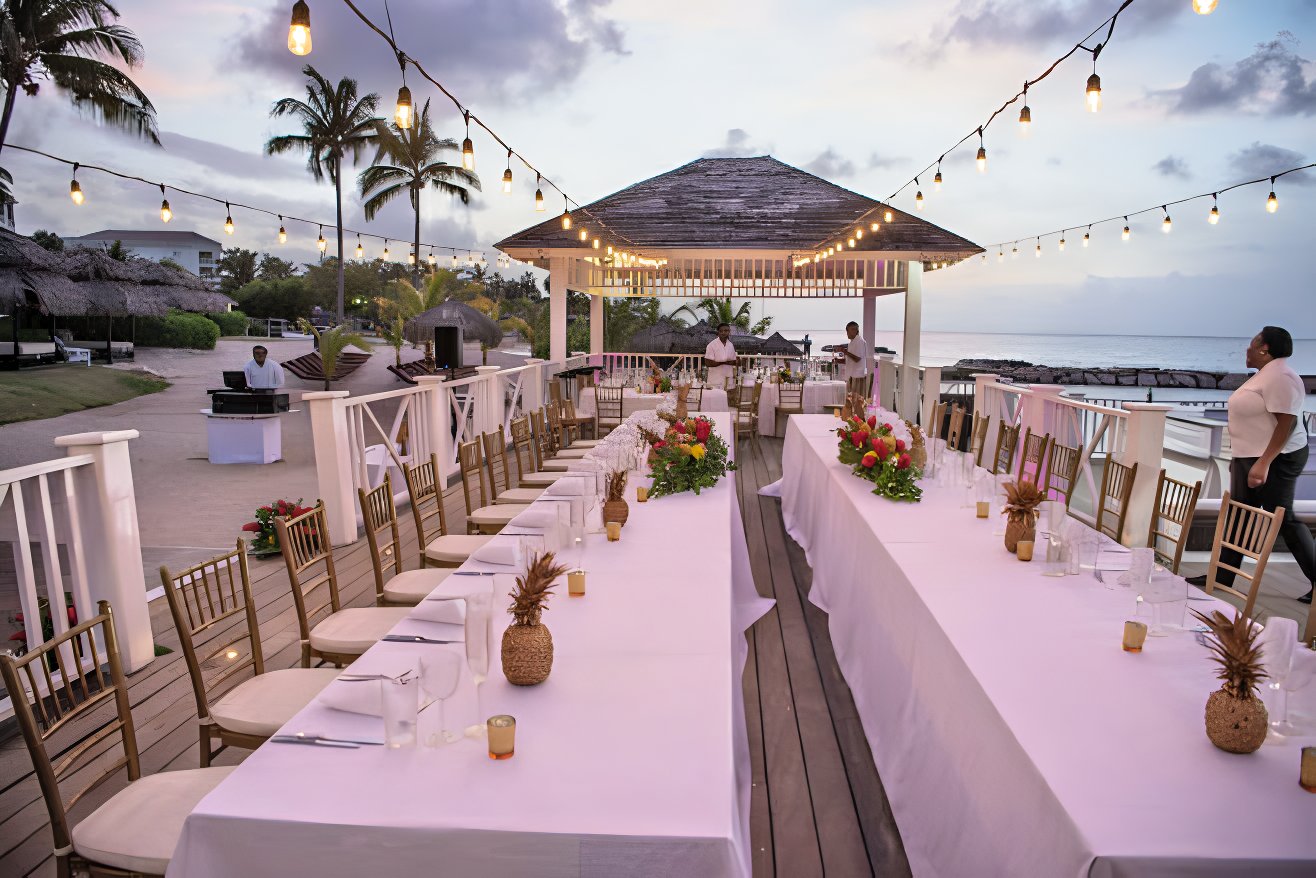 Location: Montego Bay, Jamaica
Venue Title: Ocean Gazebo Decks
Max Capacity: 200 Guests
Simple is often best, and Hyatt Ziva Rose Hall is no exception to that statement. A popular reception venue amongst our Destify Couples, the resort's Ocean Gazebo Decks radiates Montego Bay splendor. Unassuming and spacious, this reception gem will ensure your exclusive shindig with plenty of quality photo-ops. Experience the Jamaica vibes with delicious food and authentic Caribbean music as an add-on to your reception.
Sandos Finisterra Los Cabos – Mountain Top Terrace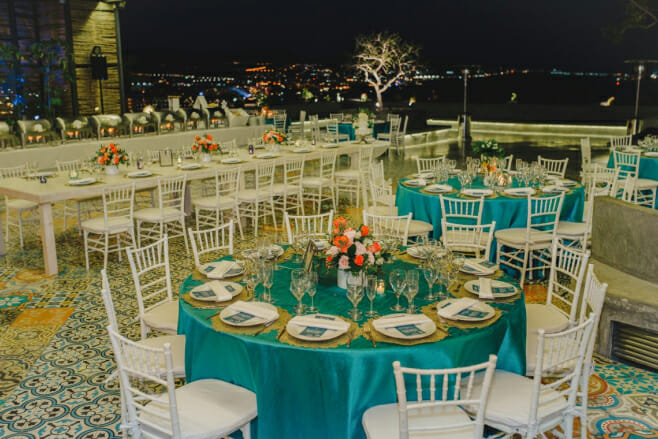 Location: Los Cabos, Mexico
Venue Title: Mountain Top Terrace
Max Capacity: 100 Guests
We return to the majestic shores of El Medano Beach, where our next reception venue actually showcases a different slice of natural beauty: the mountains. Tucked away in a towering rock formation, Sandos Finisterra's Mountain Top Terrace overlooks the world-famous Cabo marina below. With desert-inspired architecture and an intricately crafted stone courtyard, the venue exemplifies the epitome of desert elegance.
Hilton Rose Hall – Rose Hall Great House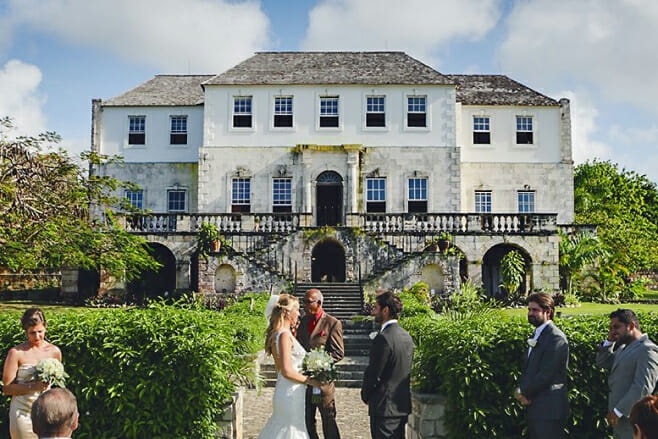 Location: Montego Bay, Jamaica
Venue Title: Beach
Max Capacity: 100 Guests
History surrounds our final featured reception venue; history that populates every reception with Jamaica class. One of Montego Bay's most treasured landmarks, the Rose Hall Great House is optimal for couples seeking a plantation-style celebration. Only a short cart drive away from the award-winning Hilton Rose Hall, the mansion serves as a grand backdrop for every Caribbean wedding week. Just note, this venue will cost extra…but the pictures you'll have forever will make it SO worth it.
Want to learn more about our top-tier reception venues? Follow the button below to explore our Destination Wedding Ceremony Types: