Let it be known that although children can be adorable additions to any ceremony, they can ultimately either liven the experience or hinder the potential of your dream destination wedding depending on what you desire as a couple. For those that would rather have an 18+ ceremony, we're prepared to remedy this situation with 5 Beautiful Adults-Only Resorts, a concise list of secluded, children-free properties that will enable you to enjoy your wedding week as much as possible:
Secrets Papagayo
Papagayo, Costa Rica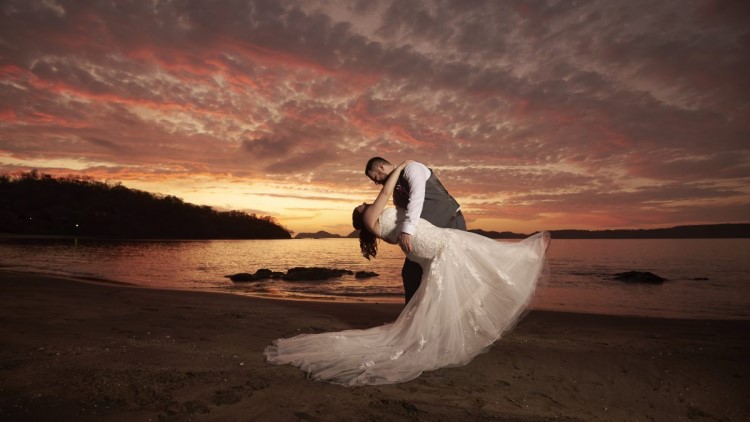 Secrets Papagayo
A rich stretch of golden-sand beaches and oceanside hamlets, the Papagayo Peninsula prospers as the perfect remote wedding destination. Despite its popularity amongst travel groups, newlyweds can breathe easier knowing that Secrets Papagayo delivers a week of unbothered romance separate from the crowded hotels of Guanacaste.
From the customizable all-inclusive wedding packages to the immense variety of elevated amenities, the property is perhaps best known for its impeccable venues and their accompanying views. Situated in the heart of the Gulf of Papagayo, Secrets leverages the surrounding natural beauty to accentuate your special day for groups of all sizes. Feel the calming gusts of wind sweep across the shimmering gulf as you walk down the aisle, or opt for a more intimate garden venue teeming with the country's finest flora.
Blue Bay Villas Doradas
Puerto Plata, Dominican Republic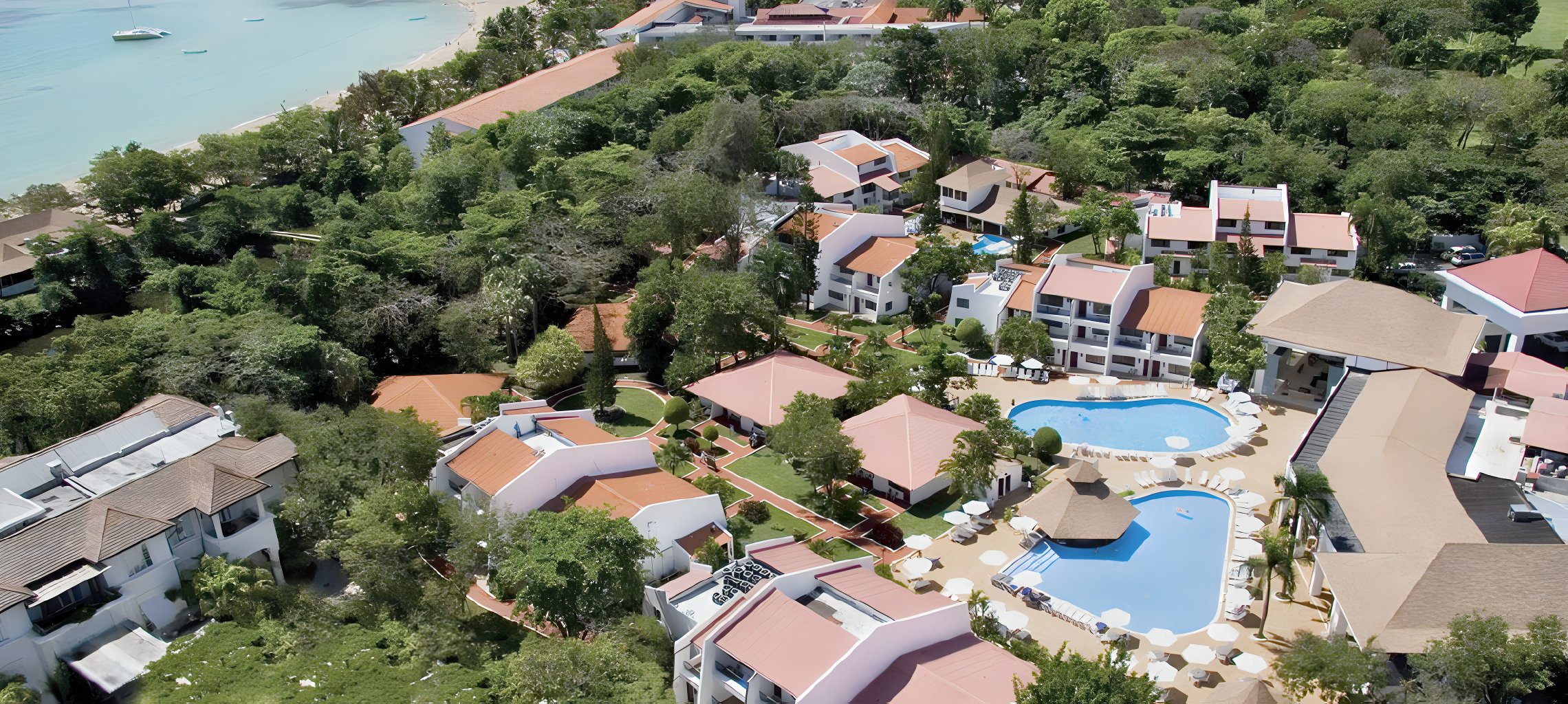 Blue Bay Villas Doradas
Just outside of downtown Puerto Plata, Blue Bay Villas Doradas provides its guests with an adult-oriented paradise, garnering secluded beaches and amenities. A Blue Bay Villas Doradas wedding enables couples the opportunity to coordinate their dream Dominican Republic ceremony along the divine coast. Although the hotel only offers one venue for wedding parties to utilize, its exclusivity promises a tranquil, private set of festivities throughout the week.
Blue Bay Villas Doradas weddings typically host 1 wedding per day, between Monday and Saturday, with symbolic ceremonies being held on Sundays. Due to this regulation, the resort consistently delivers undisturbed Caribbean weddings.
Sandals Royal Caribbean
Montego Bay, Jamaica Sandals Royal Caribbean
Ever wondered what it'd be like to wake up to an underwater wonderland? Sandals Royal Caribbean has the answer. In the midst of seemingly endless options of Montego Bay adults-only wedding resorts, this opulent property garners a unique set of over-the-water wedding venues and suites idyllic for couples desiring a visually stimulating retreat.
Featuring oceanfront villas and spaces equipped with clear glass-floors, couples can enjoy an interactive getaway with Jamaica's marine wildlife, providing a truly distinctive resort experience. Additionally, Sandals Royal Caribbean offers a gorgeous selection of 6 wedding venues capable of accommodating anywhere between 120 and 200 guests max.
RIU Palace Baja California
Los Cabos, Mexico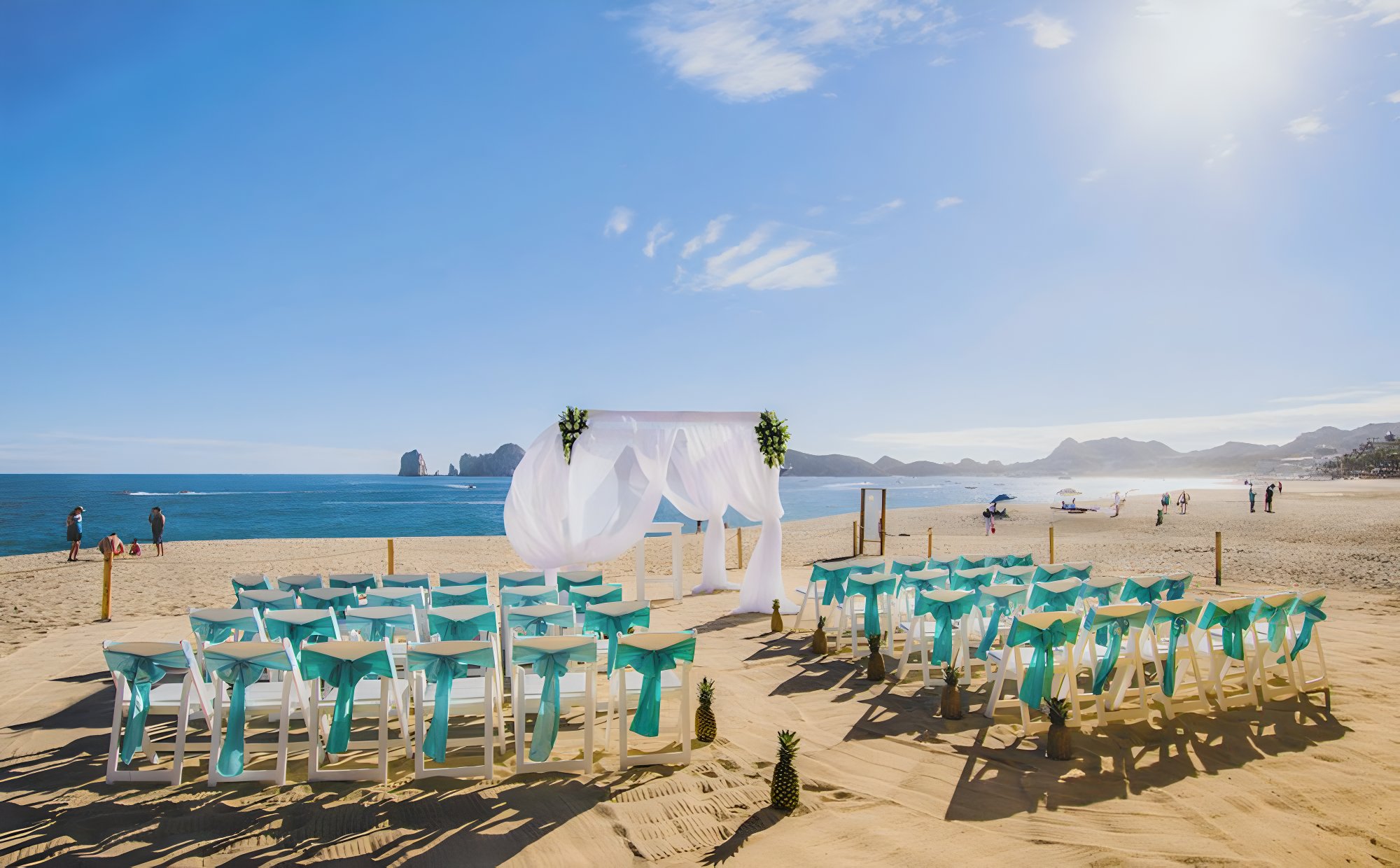 RIU Palace Baja California
Nestled on the glorious El Medano Beach, RIU Palace Baja California not only guarantees a peaceful Mexico getaway, but also breathtaking seascapes of the Pacific. Strategically located far from the bustling hub of Cabo San Lucas, couples can reap the benefits of a remote, luxurious property.
For your RIU Palace Baja California wedding, you can expect, above all, an unbeatable location. Your wedding ceremony can truly capitalize on the stunning Pacific Ocean views, with iconic rock structures jutting out from the ocean, making for the perfect photobombs.
Hyatt Zilara Cap Cana
Punta Cana, Dominican Republic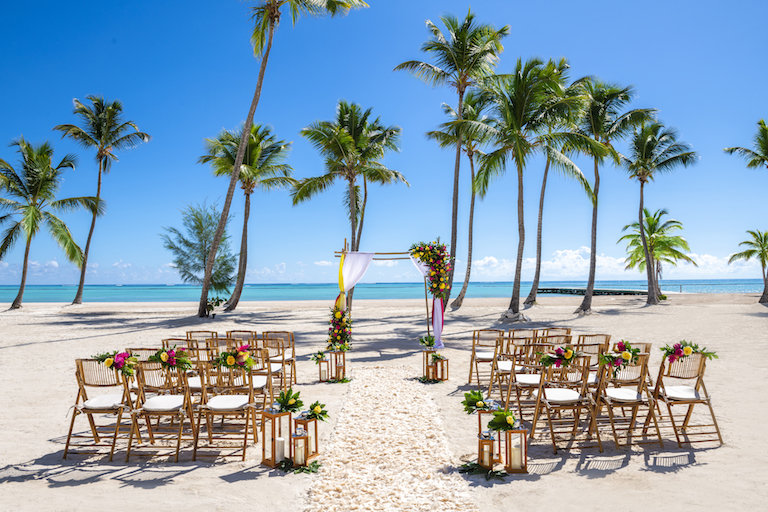 Hyatt Zilara Cap Cana
On the glistening shores of Juanillo Beach sits the effervescent Hyatt Zilara Cap Cana, a lavish Punta Cana resort with delightful landscapes to mold your ceremony around. Sharing the same customizable wedding packages as the Hyatt Ziva Cap Cana, Hyatt Zilara Cap Cana weddings provide couples with the opportunity to structure their dream destination wedding, all with the best backdrops and accommodations in mind for you and your guests. A Hyatt Zilara Cap Cana wedding is perfect for couples who desire a large wedding ceremony without children.
Hyatt Zilara Cap Cana will host no more than 3 weddings per day. Hyatt Zilara Cap Cana weddings are performed Monday – Sunday. Same-sex and LGBT marriages are available at this resort.
For those newlyweds out there in the thick of deciding between family-friendly and adults-only wedding resorts: This is your wedding. An important factor to consider is whether or not you want to include more extravagant activities that would omit an entire age group. Additionally, if you're truly seeking a more exclusive, adult-friendly wedding experience, there's no shame whatsoever in researching properties specifically designed to boost your day of romance.
Want to learn more about our partnered adults-only wedding resorts? Follow the button below to discover which hotel best suits you and your guests: