Sun-kissed shores, the gentle ebb and flow of the Caribbean waves, and a love story waiting to be told – welcome to Riviera Maya, the crown jewel of weddings in Mexico. This isn't just a destination; it's the backdrop to a celebration that blends the magic of nature with the luxury of world-class resorts.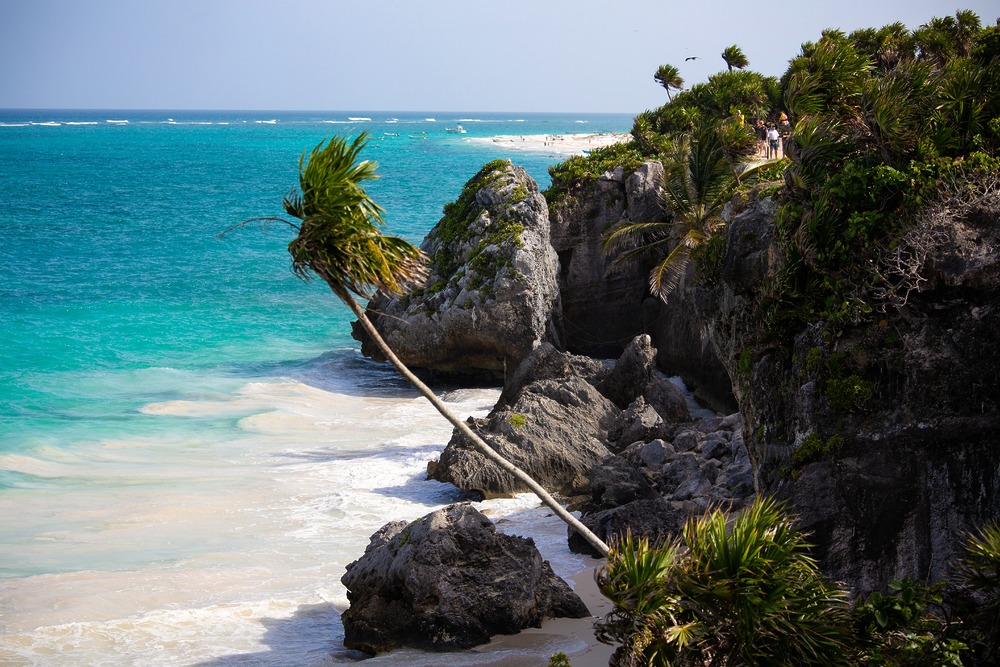 From the allure of pristine beaches to the charm of exclusive venues, Riviera Maya is where dream weddings come to life. And if you've been envisioning that perfect wedding venue in Riviera Maya, you're in the right place. With us by your side, every choice becomes an opportunity to craft unforgettable moments. Let's get started.
Riviera Maya Weddings

Featuring an exclusive adults-only elevated experience, and stylish and wholly unique additions perfectly suited for music lovers, this all-inclusive hideaway sets the stage for a harmonious wedding and a melodious vacation.

Hard Rock Riviera Maya:

Read more

Venues: 19
Family Friendly
65 Minutes

Package Costs:

Included –

$

5,000
1. Hard Rock Riviera Maya
At the heart of Riviera Maya's coastline, the Hard Rock Riviera Maya takes the stage, offering couples a harmonious blend of sophistication and rock 'n' roll vibes for their special day. Picture this: a serenade of ocean waves, guitar solos in the background, and you, celebrating love with the rocking backdrop of iconic music memorabilia.
Whether it's a beachside ceremony or an elegant ballroom reception, your wedding here becomes an event to remember. And don't just take our word for it; a recent feature by Business Insider sings praises of how Hard Rock weddings set the stage for unforgettable love stories.
All-inclusive music-themed resort with exclusive adults-only amenities.
Wedding perks are based on group sizes, including free buffets, open bars, and grand events in the expansive Epic Ballroom.
The Heaven Section provides an elevated experience with private beach access, fine dining, and unique musical amenities.
Riviera Maya Weddings

Sleek and contemporarily styled, this extravagant edifice has a slew of amenities and luxuries to offer guests of all kinds, from families on budgets, to couples seeking privacy and intimacy, to even those looking to upgrade their stay and indulge themselves in opulence.

Royalton Riviera Cancun:

Read more

Venues: 4
Family Friendly
18 Minutes

Package Costs:

$

999

–

$

11,199
2. Royalton Riviera Cancun
Nestled in the pristine sands of Riviera Maya, the Royalton Riviera Cancun emerges as an epitome of tropical charm. This venue takes elegance to a whole new level, boasting architectural wonders that seamlessly blend with the lush landscapes. Couples can revel in the magic of its sparkling infinity pools, sophisticated suites, and grand ballrooms that turn any wedding into an upscale affair.
But what truly sets Royalton apart is its commitment to crafting bespoke wedding experiences, ensuring each celebration is as unique and radiant as the couples themselves. At Royalton, timeless elegance meets the wild beauty of the Riviera.
Diverse amenities, from budget-friendly family options to luxurious experiences for couples desiring the utmost privacy and intimacy.
Wide range of customizable all-inclusive wedding packages, complemented by an attentive wedding department, set against the backdrop of turquoise waters.
Family-friendly amenities include the Splash Safari waterpark and dedicated Kids and Teens Club.
Royal Spa, Casino del Mar, and premium services like the Late Night Food Station.
Riviera Maya Weddings

This high-end, adults only property has amazing perks for groups of 50+ guests. Perks include free event time based on the number of room nights booked as a group. Free events include the location, set up, basic white linens, buffet, open bar and service and can range from a free cocktail hour to two free five hour events (free wedding ceremony, cocktail hour and reception and full rehearsal dinner!)

UNICO 20°87°:

Read more

Venues: 5
Adults-Only
70 Minutes

Package Costs:

$

5,800

–

$

8,500
3. Unico 20°87°
Situated amidst Riviera Maya's enchanting beauty, Unico 20°87° stands as a beacon of contemporary luxury and authentic Mexican charm. Beyond its architectural marvels, it's the unique blend of tradition and innovation that makes weddings here simply unforgettable.
Couples can indulge in ceremonies set against backdrops of serene beaches or lush terraces, while personalized touches, such as curated menus and local artisanal decor, elevate the experience. Every aspect of Unico, from its world-class spa retreats to the exclusive 20°87° Experience Wedding Package, is crafted with precision, ensuring your wedding perfectly encapsulates the magic of weddings in Mexico.
High-end adults-only resort.
A unique, immersive experience with touches deeply rooted in the local culture, complemented by dedicated wedding specialists.
Three tailored wedding packages that cover essentials from venue décor, menus, and entertainment, to details like audio systems and specialized ceremony options.
Riviera Maya Weddings

Perfect for couples who like a mix of romance and fun! Secrets Riviera Cancun is more laid back with a focus on romance. All guests have access to the active and fun Breathless Riviera Cancun right next door, featuring…

Secrets Riviera Cancun:

Read more

Venues: 10
Adults-Only
20 Minutes

Package Costs:

$

999

–

$

11,999
4. Secrets Riviera Cancun
Secrets Riviera Cancun is more than just a luxury resort; it's a promise of unparalleled exclusivity and romance for couples. Tucked away in Riviera Maya's pristine corners, this adults-only haven offers a blend of sophistication and nature's beauty, making it a top pick for destination weddings in Mexico.
With its commitment to the 'Unlimited-Luxury' experience, every wedding here is treated to limitless gourmet dining, top-shelf spirits, and breathtaking oceanfront settings. Imagine saying 'I do' amidst verdant gardens or on silken sands under the Caribbean sky. And the cherry on top? Their world-renowned spa services ensure pre-wedding relaxation like nowhere else.
Adults-only luxury experience, ideal for intimate weddings and 'Unlimited-Luxury' experiences, blending gourmet dining with captivating oceanfront views.
Premium amenities like the Preferred Club suites to diverse entertainment, including Spanish lessons, wine tastings, and live Flamenco shows.
World-class spa treatments by Pevonia, state-of-the-art fitness facilities, and recreational activities, from snorkeling to paddleboarding.
5. Riu Palace Riviera Maya
Set against the stunning Caribbean backdrop, the Riu Palace Riviera Maya redefines luxury for couples dreaming of that perfect Mexico destination wedding. This architectural masterpiece effortlessly merges regal palatial vibes with beachfront charm.
Every nook promises an Instagram-worthy photo, from its lavish pools to its grand hallways adorned with intricate designs. For couples, the magic lies in the details: gourmet dining experiences under the stars, serene spa sessions to calm pre-wedding jitters, and bespoke wedding packages crafted to mirror every love story. At Riu Palace, you're not just celebrating a union; you're stepping into a royal love tale.
24-hour all-inclusive service, complete with f diverse gastronomic options and engaging entertainment for all ages.
Multiple pools, including one with a swim-up bar and a dedicated beach zone with lounge chairs.
Varied entertainment, including shows, live music, and activities, is complemented by the exclusive RiuLand program for kids and the rejuvenating Renova Spa for adults.
Venues: 10
Adults-Only
20 Minutes

Package Costs:

$

999

–

$

3,799
6. Breathless Riviera Cancun
Step into a world where contemporary sophistication dances with oceanfront allure at Breathless Riviera Cancun. This venue, famed for its pulsating energy and stylish ambiance, is a top choice for couples who desire a blend of modernity with the timeless beauty of the sea.
Picture rooftop soirées under a canopy of stars or intimate beachfront ceremonies with waves serenading your vows. Added perks? Their world-class spas and vibrant nightlife offer the perfect pre and post-wedding revelries. For those looking for a fresh, vibrant, and utterly romantic setting, Breathless is the destination du jour.
A blend of high-energy happenings and calm retreats.
Unlimited Luxury promises top-shelf amenities, 24-hour room service, gourmet dining, chic bars, and dynamic events.
Two magnificent pools catering to both high-energy and relaxed moods.
Your Love Story Awaits in Riviera Maya
The sun-kissed embrace of Riviera Maya offers more than just a beautiful setting; it offers dreams turned into reality. Every resort crafts a narrative that resonates with love stories awaiting their perfect chapter. From the modern flair of Breathless to the timeless chapels of Iberostar resorts, Riviera Maya presents the finest wedding venues that are nothing short of magic.
We've only touched on 6 here, but we can assist in sharing so many other beautiful locations once you reach out to us. If you've been entranced by the promise of a truly enchanting Mexico destination wedding, the best wedding venues in Riviera Maya beckon.
Ready to weave your own tale of romance amidst the Caribbean charm? Contact Destify to transform your dreams into lasting memories.