By hosting a destination wedding, couples have the unique perk to instantly go from ceremony to honeymoon! Just picture it, you're already staying at a beachfront resort, the perfect place for a romantic getaway, so why not stay awhile after you say "I do"? In today's post, we're going to cover some tips to turn your destination wedding into the perfect honeymoon, so you can get the most for your money while creating everlasting memories as newlyweds.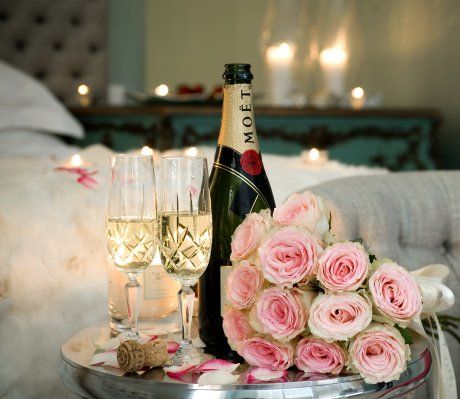 Upgrade Your Room
One of the simplest ways you can make sure your destination wedding also feels like a honeymoon is by upgrading your room. As part of your wedding package, you may even be offered a complimentary room upgrade, but this is typically based on availability. Going from an entry level room to a honeymoon suite can up the romance factors, and if you splurge you just may enjoy the extra perks that came with your upgrade.
Room categories vary by your chosen resort. Depending on where you're at, you may have the possibility to book rooftop suites, swim-out suites, or rooms that feature their own plunge pools or balcony jacuzzis. Perks may not stop there, by upgrading categories you may have access to private butler service or exclusive restaurants, bars, and beach areas exclusive to club level guests!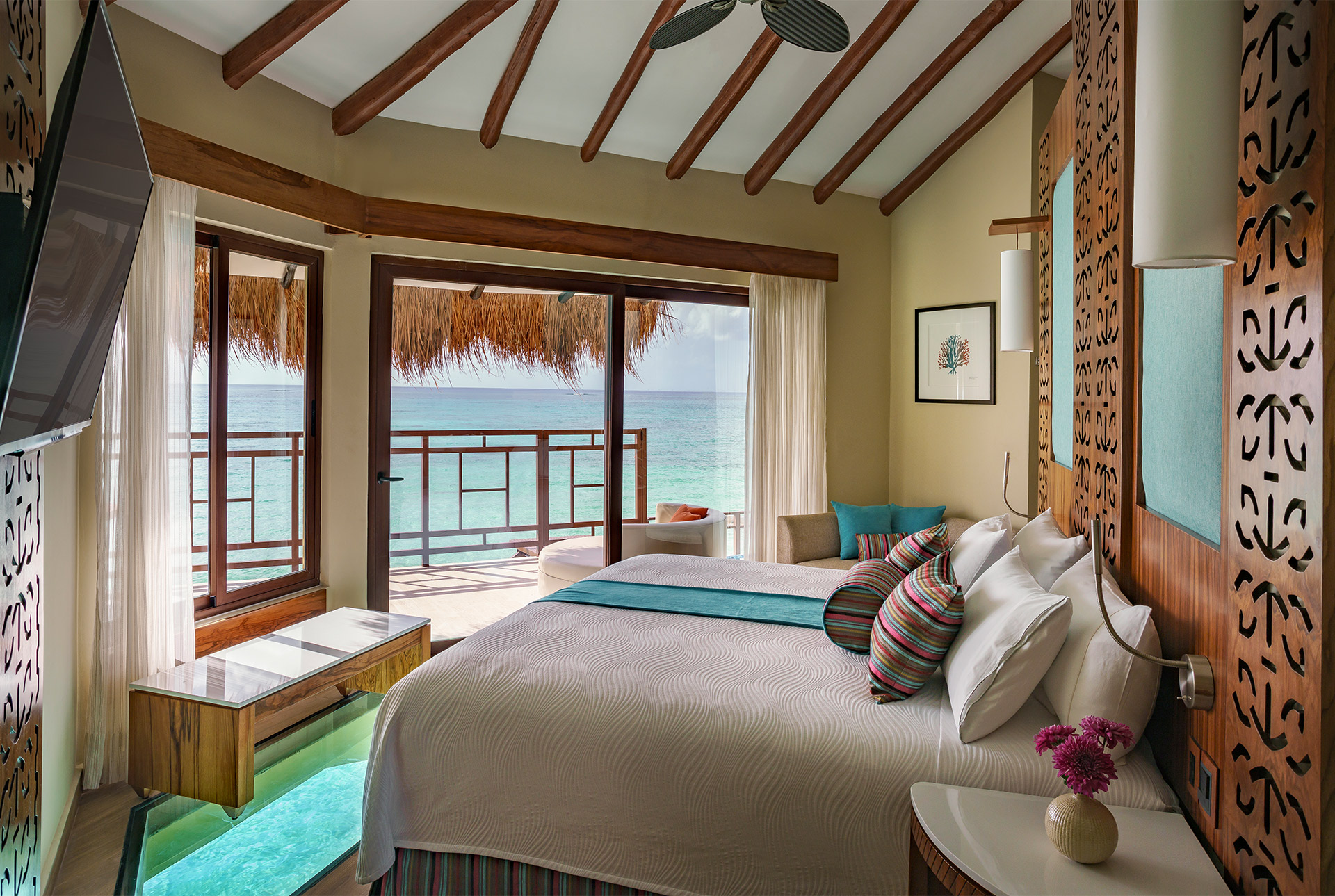 A honeymoon bungalow at El Dorado Maroma
Book an Excursion
If you're not the type of couple that wants to stay in the room the whole time, or tire quickly of lounging by beautiful beaches and infinity pools, then one way to get an added dose of excitement is to participate in excursions. Every all-inclusive resort has access to tour companies who may even pick you up directly from the hotel to take you on adventures! Excursions cover a range of activities, from scuba diving and snorkeling to catamaran cruises and dune buggy trips.
Exploration can be a great way to start off your life as newlyweds. Just imagine the memories you could create swimming through underground river systems in Riviera Maya, or ditching the formal wedding attire for a muddy ATV trip in the Dominican Republic. For truly adventurous couples, consider hosting your destination wedding in Costa Rica, as there's no shortage of exciting excursions you can take, from sky bridges high in the rainforests to volcano tours, and even mud baths and hot springs.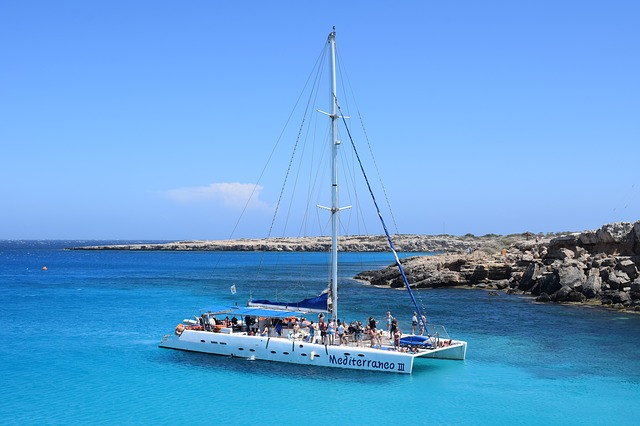 A Carribbean catamran cruise.
Utilize a Honeymoon Package
Many resorts offer a complimentary honeymoon package by hosting your wedding with them. Inclusions could be a romantic rose petal turndown, to drawn baths and aromatherapy, to gifts for the newlyweds on the night of your ceremony. If you're skipping brunch with relatives after your ceremony then consider another common perk of honeymoon packages; breakfast in bed (with mimosas of course) following your wedding day.
One of our favorite resort groups, Secrets, offers amazing inclusions with their honeymoon packages. They include sparkling wine in your suite, a tension release massage, and free anniversary nights for future stays. We've recently included a section of our site focusing on honeymoon packages to give you a better sense of what they may include. Where some couples purchase a honeymoon package separately for travel after their local wedding, you could actually add one of these onto your wedding at your chosen resort!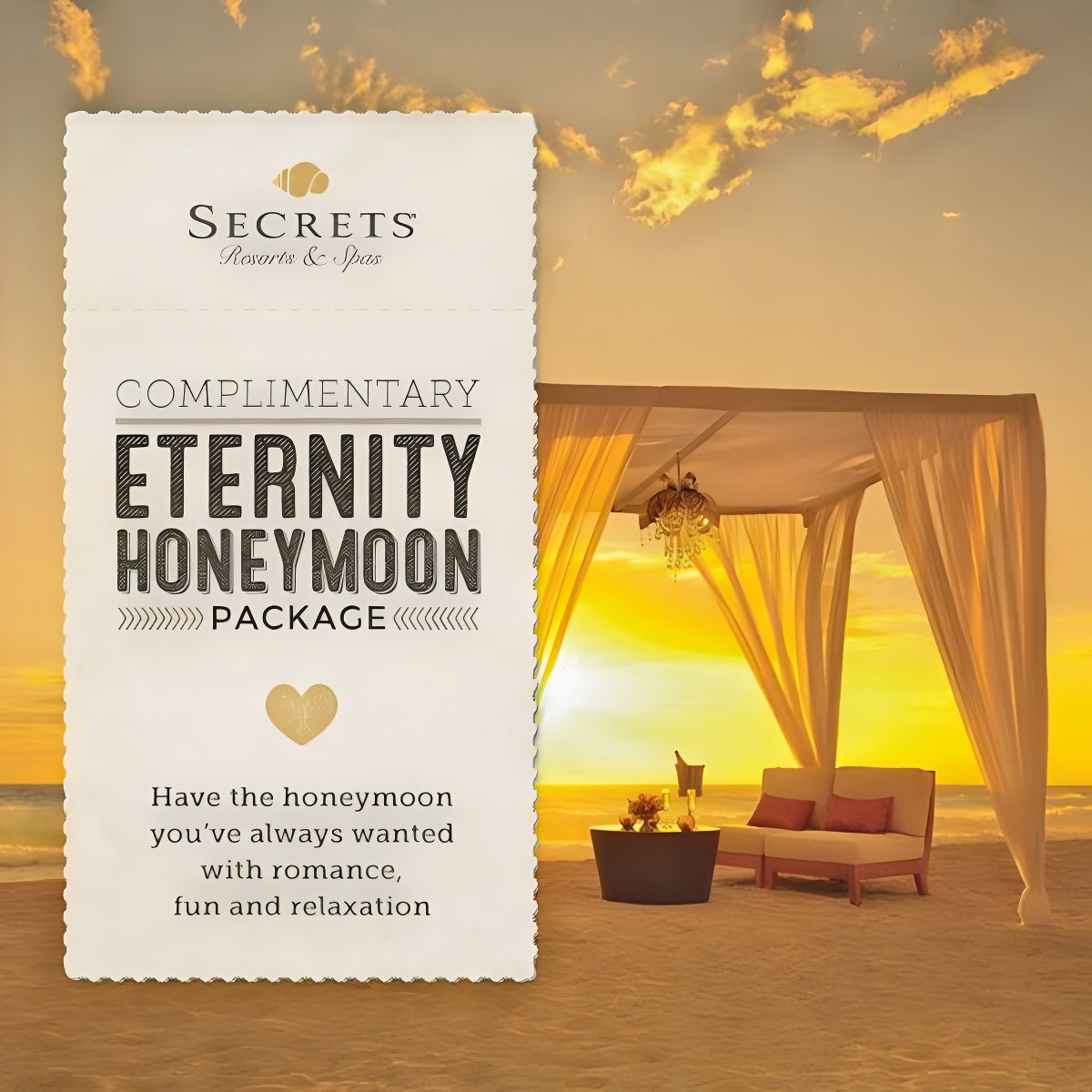 A promotional flyer for Secrets Resorts
Romantic Dinner for Two
Take some time for just the two of you with a romantic dinner just for two. Your concierge would be happy to set this up for you, and some honeymoon or wedding packages have this as an inclusion. Just imagine yourselves, with a private waiter, dining from a delectable menu at a private table overlooking the ocean. Some resorts pull out all the stops, with canopy covered bungalows or candlelit tables straight out of an episode of The Bachelor.
Romantic dinners can be a great way to carve out some alone time if you're hosting a large wedding, some special time away from family and friends. Guests won't mind their own time to explore too. If you're booking a romantic dinner at a special charge you can be assured your own personalized attention and private area all to yourselves, and they may include unique tasting menus and romantic dessert options.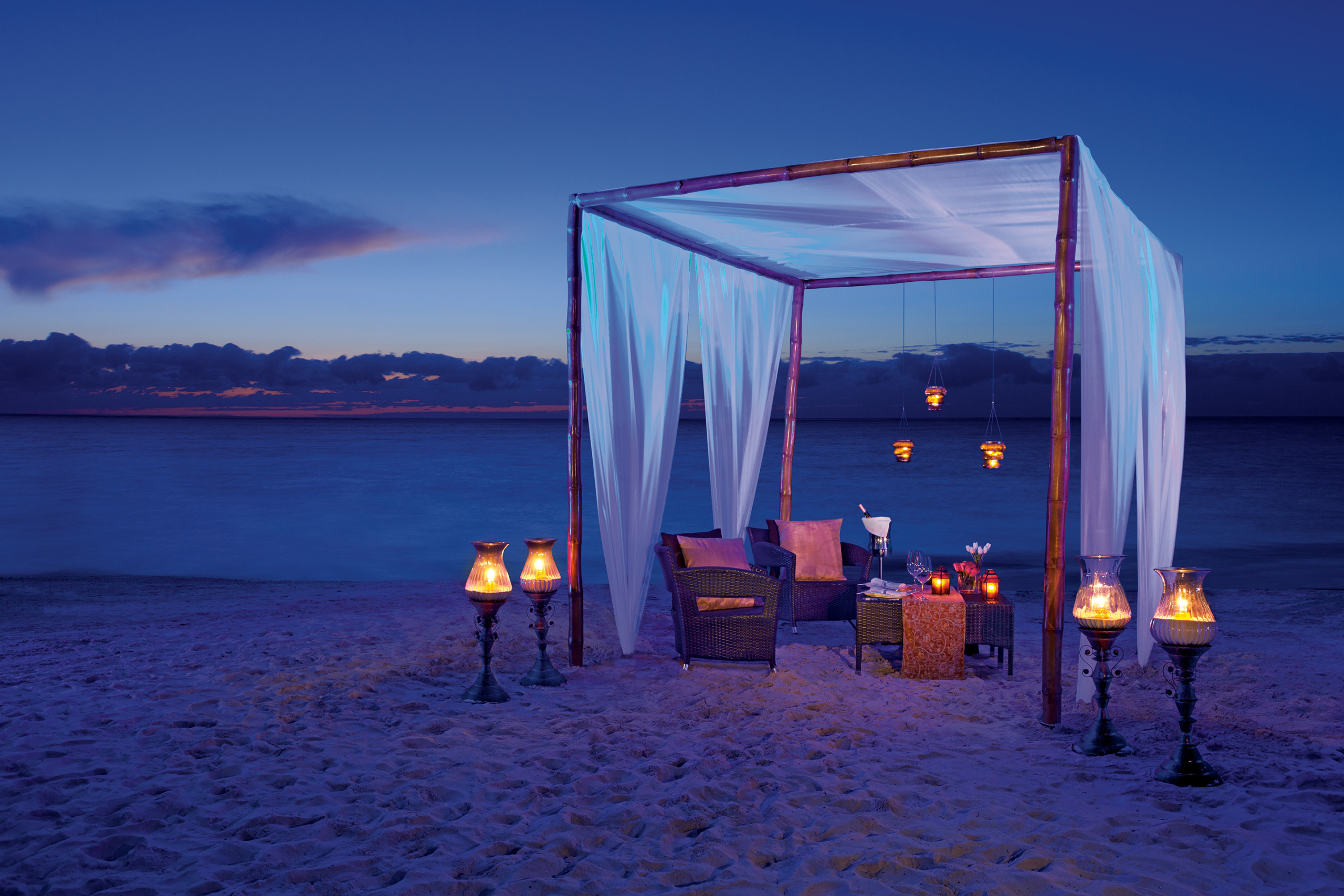 A romantic beachfront dinner setup for Dreams Resorts.
Move to Another Resort or Section
One of the more interesting ways couples have capitalized on turning their destination wedding into a honeymoon is by moving to another resort! You're already in a prime oceanfront location, so moving to a nearby resort could be affordable, while still adding the flair of changing locations so you can focus more on romance. A great example is a wedding that is family-friendly. Some couples choose to have a ceremony at a resort that welcomes guests of any age and then transitioning to an adults-only resort after, where the vibes are more romantic and mature.
Some resorts offer different sections of the resort too, from club levels to adults-only sections. Let's use the Royalton Luxury Resort in Negril as an example. You could book a romantic suite within the Hideaway, and all of your other guests could stay at the other section of the resort so you have your own space without kids around. Many honeymoon rooms are sectioned together, from bungalows to swim-out suites, so you can expect a smaller crowd of couples who are there to celebrate their own special occasions too, offering further privacy.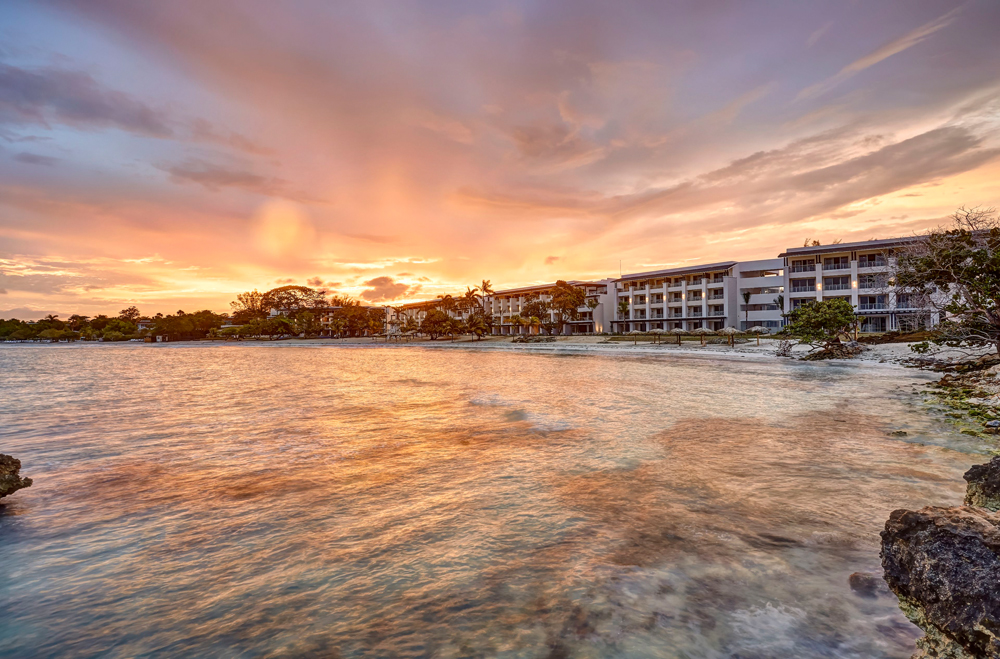 The Hideaway at Royalton Negril
Are you ready to turn your destination wedding into a honeymoon? Are you just considering a destination wedding in general? We're always available to answer any questions you may have, contact us today: