Located on the second largest barrier reef system in the world, and with a booming tourism industry to support you and your guests, why wouldn't you want a Riviera Maya wedding? After all, the gorgeous beach views are a given in this coastal city.
With a long history in the tourism industry, the city has quite a few venues for your perfect destination wedding. Lucky for you, we've scoped out the best Riviera Maya wedding venues for your walk down the aisle into forever.
Hard Rock Riviera Maya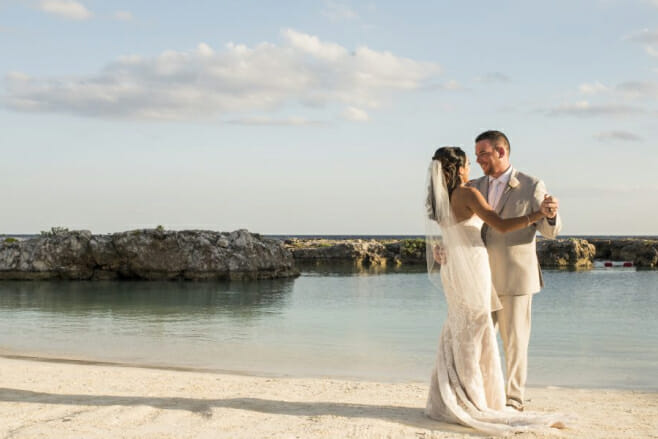 Don't be surprised by the name! Hard Rock Riviera Maya is like no Hard Rock Cafe you've seen before. This all-inclusive resort sits right on the beach, so you're just a hop, skip and a jump away from beautiful seascapes at any given moment.
However, just because the hotel is on the beach, don't feel limited to a beach wedding. This stunning and enormous resort boasts 20 different locations for your Riviera Maya wedding, offering you incredible flexibility when it comes to your ceremony, reception and cocktail hour.
Take an online tour of the many terraces and gazebos, like the grand and breezy Starlight Terrace for up to 120 guests. Or maybe your style leans closer to the sweet and intimate Pandero Terrace for parties of 40 under a beachy roof.
If those don't suit your fancy, you can always try the tropical Backyard, beachy Arpa Inlet, or even the sleek San Charbel Chapel.
In addition to its expansive selection of Riviera Maya wedding venues, the adults-only Heaven section and beautiful bridges over the winding premises make Hard Rock Riviera Maya a perfect destination wedding venue.
Royalton Riviera Cancun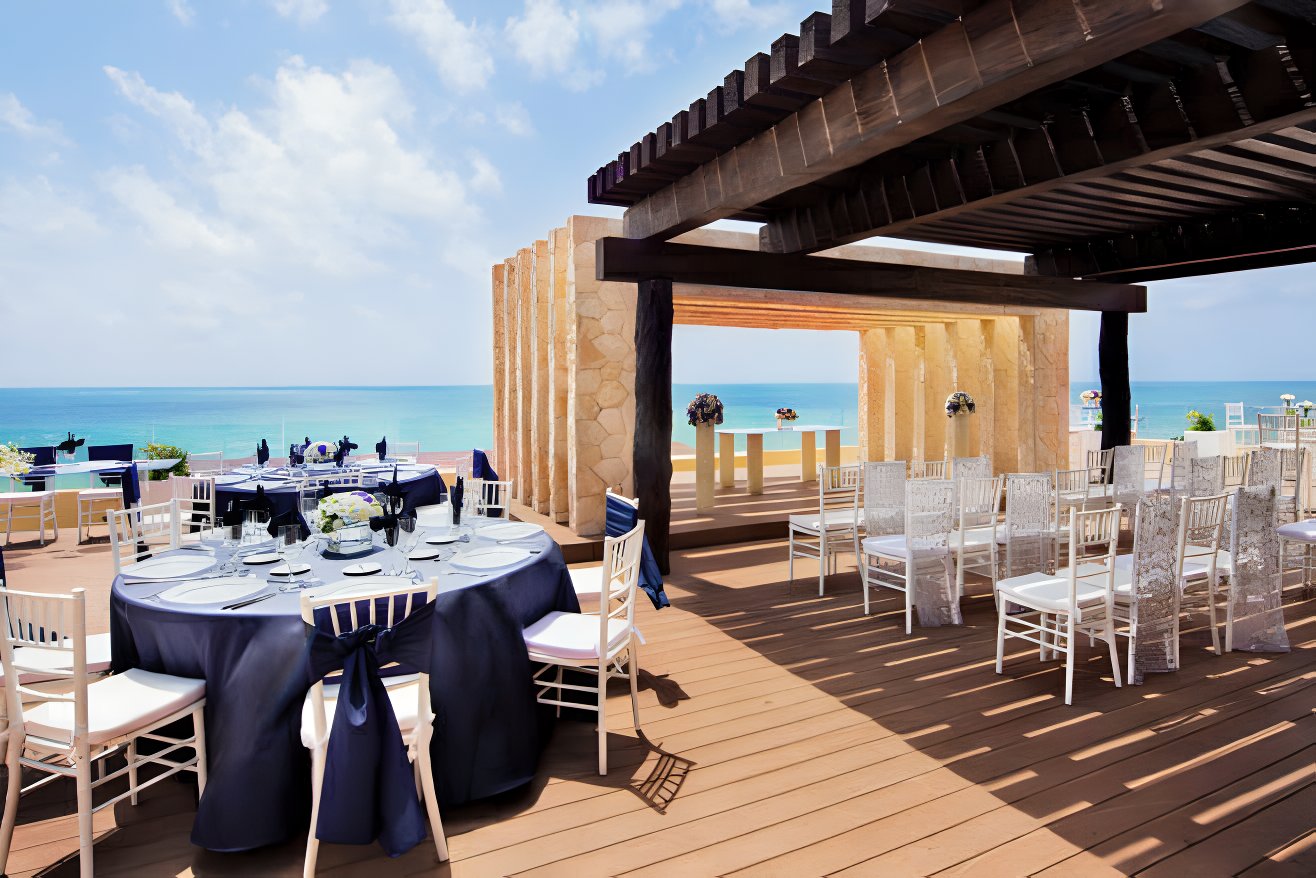 Though the Royalton Riviera Cancun has fewer areas to host your Riviera Maya wedding, the hotel definitely isn't short on breathtaking scenery. The resort has six different areas for you to host your ceremony, reception and cocktail hour.
When it comes to the ceremony itself, you can choose from three different locations: Beach 1 and 2, the Royalton Sky Wedding area or the Ocean View Gazebo.
Beach 1 and 2 is perfect for larger parties. The sandy, sun-soaked and beautiful space can host up to 300 guests just beside the ocean. On the other hand, the Ocean View Gazebo is the most intimate space, featuring a uniquely designed rooftop surrounded by tropical flora and fauna. Finally, the Royalton Sky Wedding options offer either the Sky Terrace or the more intimate Hideaway. These terraces scrape the sky and capture all the best bird's eye views of the Riviera Maya's breathtaking nature.
The hotel also has spaces for receptions and cocktail hour, including the Nautica Beach Bar, the indoor Ballroom, and the Poolside Terrace. The view from each area will steal you and your guests' hearts. As you can see, you don't have to limit yourself to a Riviera Maya wedding on the beach at this hotel either.
Royalton Riviera Cancun is also a top Riviera Maya wedding venue thanks to its 11 different pools and its daily afternoon tequila tastings. Beyond your heartfelt ceremony, you will make the memories of a lifetime with your new spouse and all those you hold dearest.
Dreams Riviera Cancun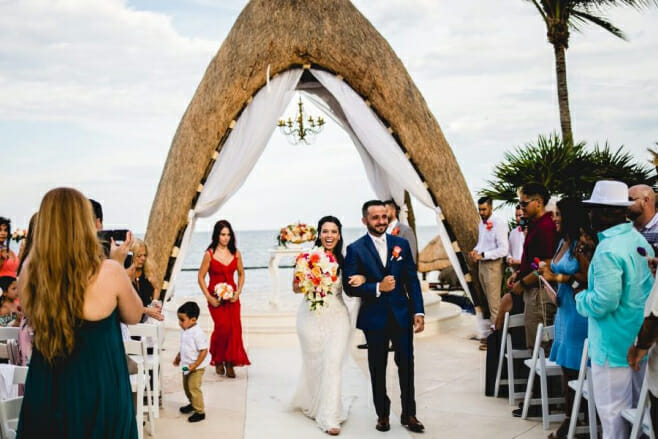 When it comes to available wedding spaces, Dreams Riviera Cancun is the perfect middle ground between the last two Riviera Maya wedding venues. So if you love choices, but too many options overwhelm you – look no further!
This stunning oceanside resort offers 12 venues for your Riviera Maya Wedding, and the choices are just as diverse as the beautiful Mexico landscape. Hosting a large guest list? There is an expansive beach venue with a deck that can be used for your reception.
The other wedding ceremony spaces include the Grand Lobby Staircase, which lives up to its ornate name, the Gazebo which is right by the beach with beautiful natural structures, the Oceana Terrace for a more modern feel, and the Ceiba Tree to make you feel in touch with the natural landscape.
Dreams Riviera Cancun also has several striking indoor reception spaces. The romantic, curtained Ballrooms host up to 250 guests. Ready to mix it up? The El Patio hosts just as many guests but has unique archways, columns and colors to breathe life into your reception. There are also more outdoor reception spaces.
What else makes this hotel one of the best spots for your Riviera Maya wedding? Well, the rooms and suites are all shaped like octagons, so every room looks onto the gardens and oceans. The resort also has an intimate wine cellar and access to the barrier reef.
No matter where you choose to host your Riviera Maya wedding, you can't go wrong with these beautiful, spacious and diverse venues!
Did one of these resorts catch your eye? We don't blame you! Fill out the form below to connect with a Destify Booking Coordinator and start planning your forever-after today: