Attention deal seekers! Looking for a discount on your dream wedding at a Dominican Republic all-inclusive resort?
You're in luck!
We've got a majestic deal for you – $500 resort credit towards your destination wedding if you book in December 2022!
After sending thousands of couples on their fantasy destination weddings, Majestic Resorts have solidified itself as one of our favorite brand offerings in the Dominican Republic. 
They offer 5-star resorts in drop-dead gorgeous environments like Costa Mujeres and Punta Cana. These sweeping properties are terrific for large wedding parties with a variety of guests, providing separate sections for adults without kiddos and Family-Friendly areas. 
And on top of that, Majestic Resorts delivers highly affordable destination weddings that don't trade savings for decadence.
At any of our favorite Majestic properties, you can have it all (and more, with our $500 deal)!
Let's tour these fantastic Dominican Republic All Inclusive resorts and make your 2023 destination wedding everything you've ever dreamed about!
Majestic Wedding Packages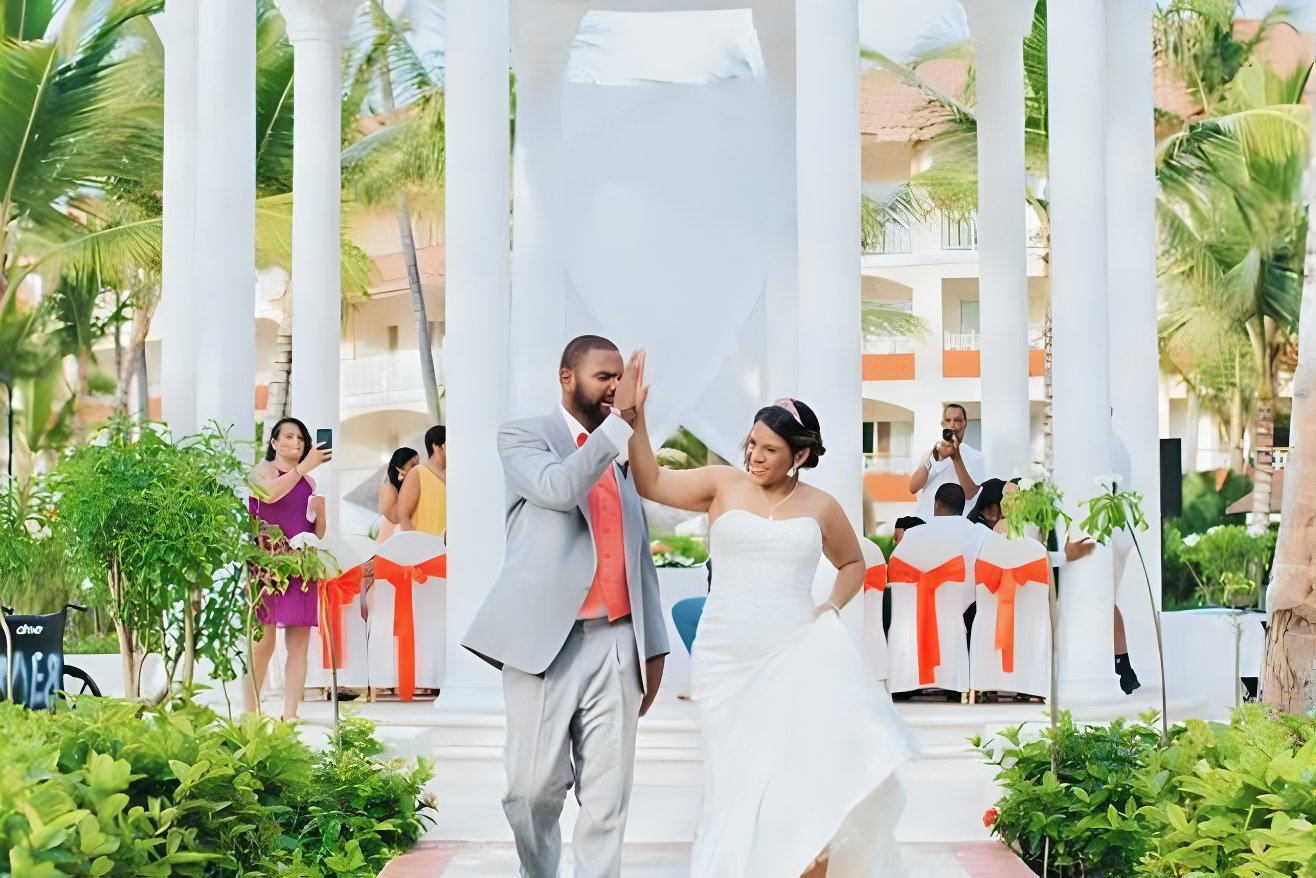 Receive a $500 Resort Credit On Majestic Resorts in The Dominican Republic!
We wanted to share one of our favorite perks about the Majestic brand before we dive in further! 
Majestic resorts offer a simple, affordable, and highly customizable wedding package in the form of their 'Free Wedding' Package. 
This easy package requires no deposit fee or additional cost per guest. This offering is an excellent option for those on a tight budget with a large wedding group, and it gives couples and their guests a lot of bang for their buck!
And for those with more room in their budget beyond the $1,750? Your onsite wedding planner can assist you in adding any additional a la carte flourishes and customizations to your ceremony!
And as for that 'Free' portion of this Dominican Republic All Inclusive resort wedding package?
The 'Free Wedding' package becomes complimentary when you and your wedding party book 15 or more rooms for 7 nights. 
This offering may pay for itself if your Dominican Republic destination wedding has a large guest list!
'Free Wedding' Package 2023 Price: FREE to $1,750+
Guests: 20 (Maximum 60)
Extra Guest Fee: $0 
Wedding Package Inclusions:
Onsite wedding planners
Several ceremony locations
Room upgrade for the Bride & Groom
Early check-in & late checkout for the Bride and Groom
Special bracelet for the Bride and Groom with exclusive access to all 3 resorts
Services of a Civil Judge
Beautiful wedding cake
1 tropical flower table arrangement
Tropical bouquet for the Bride and boutonniere for the Groom
Ironing of Groom's tuxedo and Bride's gown
Sound system and simultaneous translation
of the ceremony if needed
Marriage certificate in Spanish delivered by DHL
Champagne for the group after the ceremony
Romantic candlelight dinner with champagne for the couple
Romantic breakfast in your suite
Complimentary massage for the couple and use of water circuit
Basket of fruit in your room during your stay
Bottle of champagne in the room, twice during your stay
Room service included for the couple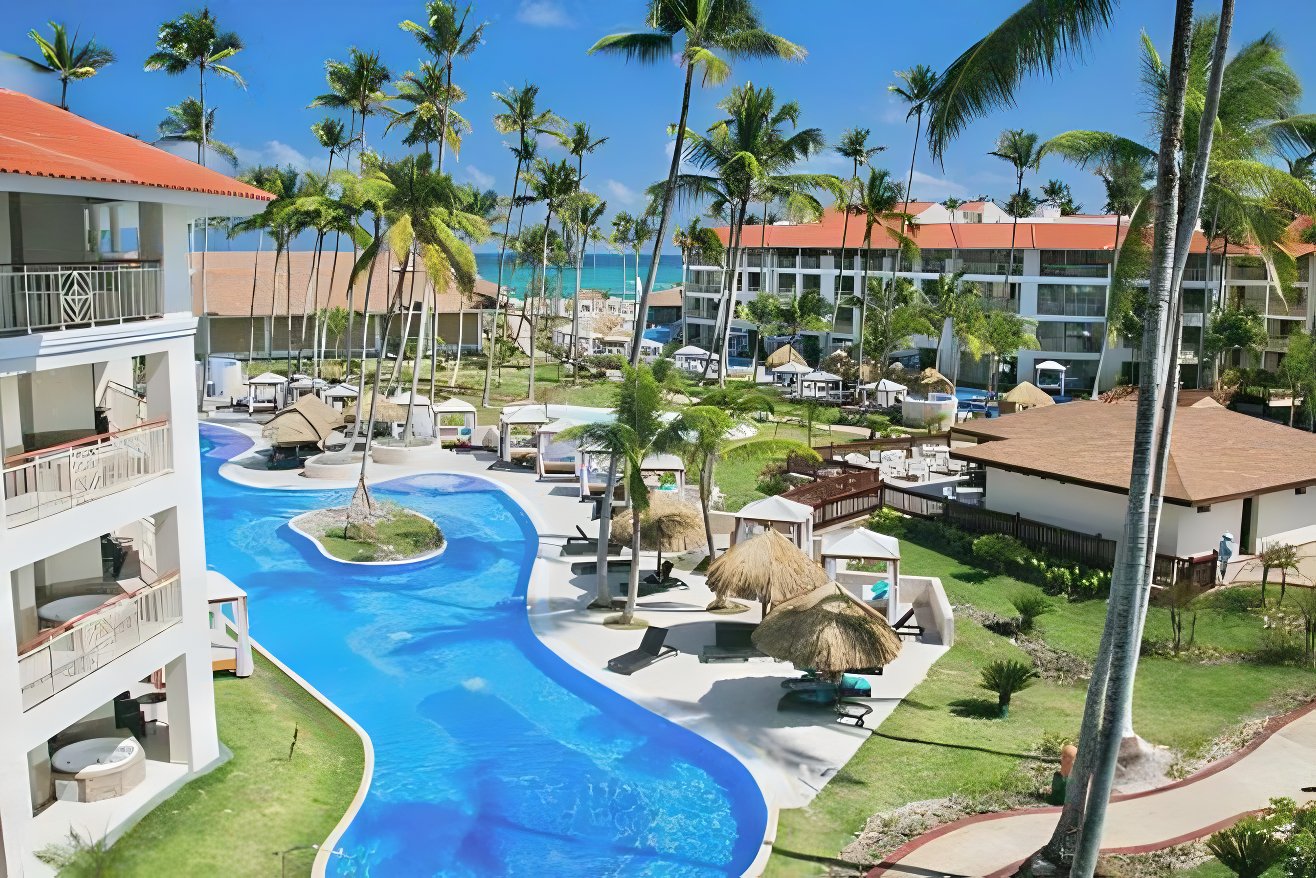 Receive a $500 Resort Credit On Majestic Resorts in The Dominican Republic!
This all-inclusive oasis is no mirage.
Majestic Mirage is one of Punta Cana's premier resorts, an all-inclusive resort that has hosted hundreds of outstanding destination weddings for our couples and their guests. Punta Cana's flawless beaches, fantastic climate, and tropical, laidback vibes have made it one of the most sought-after destinations in the Caribbean.
All of that beauty makes for some unforgettable wedding day pics, too!
Majestic resorts pride themselves on servicing luxury and sophistication to visitors of all budgets. Their lavish services include unlimited food and beverages at their 8 restaurants and 11 bars, separate Family Club and adults-only Mirage Club areas, and butler services for each and every suite!
After their big day, couples and their wedding parties will enjoy the endless tapestry of activities offered, such as snorkeling, kayaking, windsurfing, and tons more.
Resort Features:
24/7 room service
11 Bars 
8 Restaurants
8 Pools
Welcome cocktail upon arrival.
Free entrance to Casino, located at Caribbean Street. Drinks included.
Golf located just 5min away by golf cart from the hotel main entrance, called Punta Blanca golf course.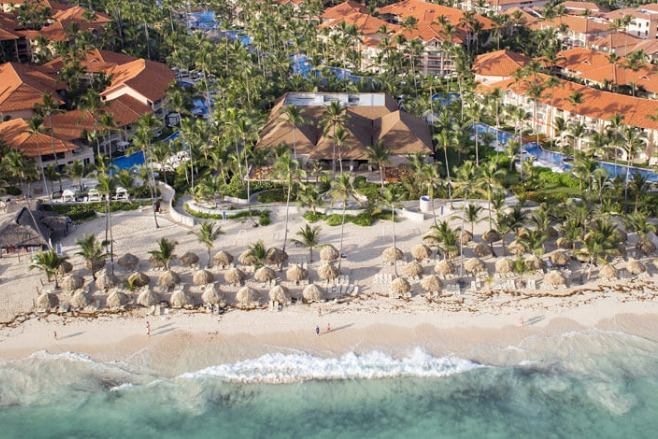 Receive a $500 Resort Credit On Majestic Resorts in The Dominican Republic!
Comfort, indulgence, affordability, and nature's beauty are all mixed together in this all-inclusive cocktail. 
Take a sip — it's hard not to feel intoxicated by all of that splendor!
The sweeping paradise of the surrounding Playa Bavaro is seen best at Majestic Elegance Punta Cana. 
Unspoiled beaches, swaying palms, and almost year-long spotless skies await the would-be-spouses aiming to get hitched in paradise!
Beyond the unmatched majesty of the environment, Majestic Elegance Punta Cana offers a modern haven of services and amenities. This striking property is perfect for couples and their guests who don't want to compromise extravagance for affordability. 
Some unbeatable amenities include manicured gardens, a 985-foot-long lagoon-style swimming pool, modern suites, and exceptional gourmet options like the Argentinian-styled El Asadito.
Although Majestic Elegance Punta Cana is not adults-only, we highly recommend it for younger groups without little ones, thanks to the fabulous Colonial Club. This 18+ section houses over 300 suites with exclusive services and facilities, like two private pools, the tasty 'Le Gourmet' restaurant, and access to the VIP Lounge. 
The premier VIP Lounge facility provides personalized concierge services and delectable snacks, among many more perks!
Simply put, this Dominican Republic All Inclusive resort is an elegant delight.
Resort Features:
24/7 room service
16 Bars 
7 Restaurants
9 Pools
Live music in the Plaza bar every evening
Free entrance to Coco´s nightclub. Drinks included
 Pickleball court, with free group lessons and private lessons ($) available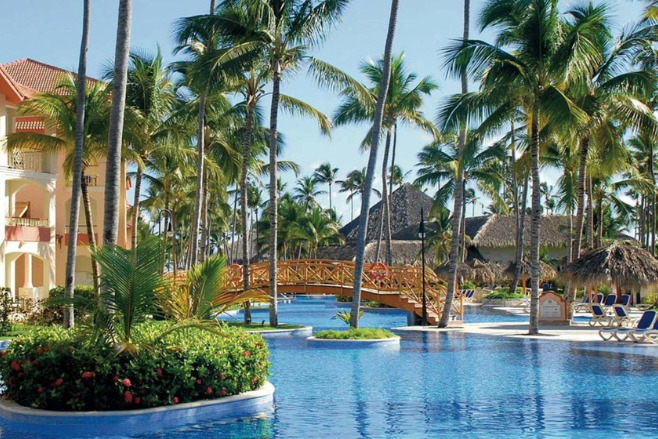 Receive a $500 Resort Credit On Majestic Resorts in The Dominican Republic!
Get ready for something a little more tropical, because the combination of this resort's colonial-style architecture and crystal blue oceanfront will transport you and your guests to paradise.
This idyllic tropical haven has made Majestic Colonial extremely popular for destination weddings. The resort offers numerous beautiful locations for your ceremony, like their onsite Chapel, Colonial Gazebo, or their sweeping white sand Beach. 
They also provide many stylish venues for your Cocktail Hour or Wedding Reception, like the Colonial Ballroom, Presidential Suite, and the Parrots Bar. 
After your special day, Majestic Colonial will continue to enchant newlyweds and their families and friends. 
And what better way to tee off the luxury than with a free round at a state-of-the-art golf course? Guests who book at least a five-night stay at the resort receive this complimentary deal. 
Afterward, keep the fun flowing with a trip to the onsite casino, a stop at any of the four tennis courts, or a drink at Coco's Discotheque.
And if you're looking to wind down after all of that fun? 
Grab a cocktail, pay a visit to the resort's 400-meter lazy river, and soak up the Caribbean sunshine of this Dominican Republic All Inclusive resort in style!
Resort Features:
24/7 room service
9 Bars 
5 Restaurants
2 Pools
30-minute cab ride from Punta Cana International Airport.
Adults-only, 318-room Colonial Club available for those traveling without little ones.
After-Hours Snack Bar: La Bodeguita de Majestic
Make Your Destination Wedding Majestic and Book Today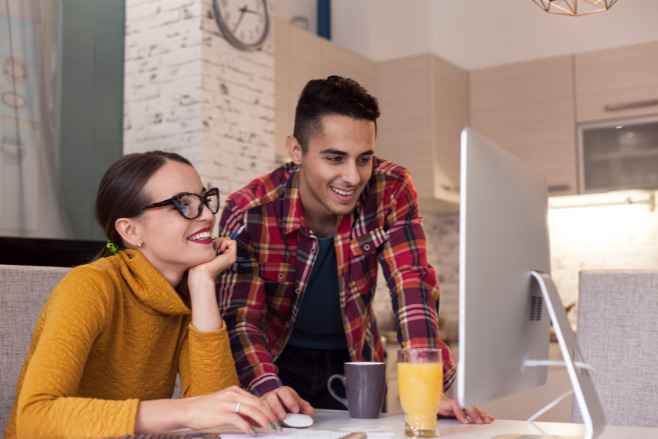 Majestic resorts are some of Destify's favorites! 
These Dominican Republic All Inclusive resorts fuse affordability with luxury.
Our clients have loved saying 'I Do' at these gorgeous properties, and we hope they'll love them even more with our $500 credit deal!
Book our $500 Majestic resort credit deal and reserve your affordable destination wedding before it's too late!