Luxury weddings are one of the first things that come to mind when thinking about something 'romantic.' Declaring your love to the person who matters the most to you in front of your friends and family. What could be more love-affirming and heartfelt?
The answer to that question, of course, is a destination wedding. Having your special day at a beachside resort with the sea breeze caressing your faces. Not to mention the baby blue sky up above painting your wedding in glorious sunlight. It just can't be topped. Something about the air quality in these luxurious destinations makes everything crackle with excitement and romance.
There are plenty of stellar resorts in some of the most gorgeous pockets of land on Earth. Because of this, determining where you want your destination wedding to take place might be a tough decision.
Let us showcase our top luxury weddings and destinations that will make your dream come true!
What is the most romantic wedding destination?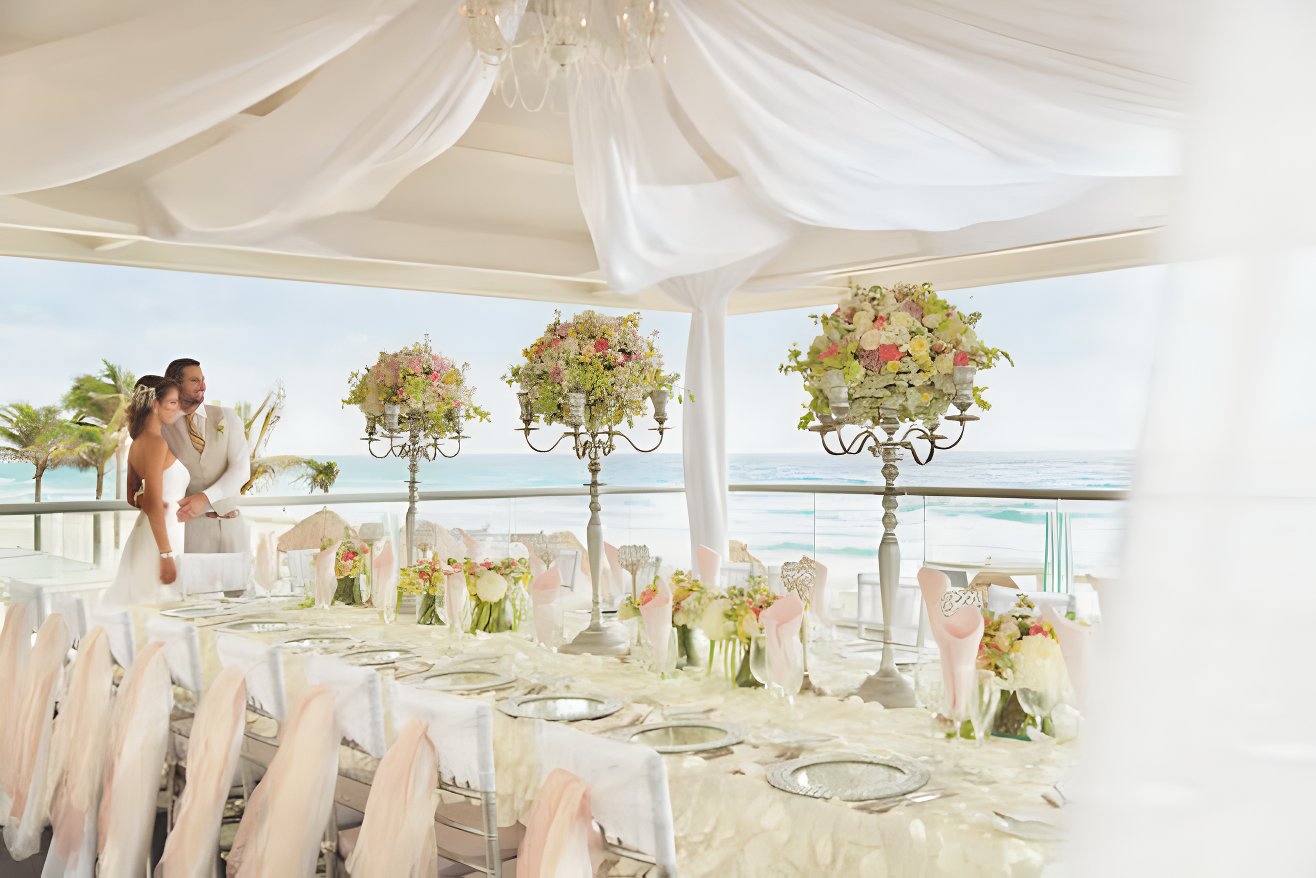 While any wedding with your special person will feel romantic, there are just some special places in the world that ooze love and romance. Let us take a tour of some of those places, shall we?
Cancun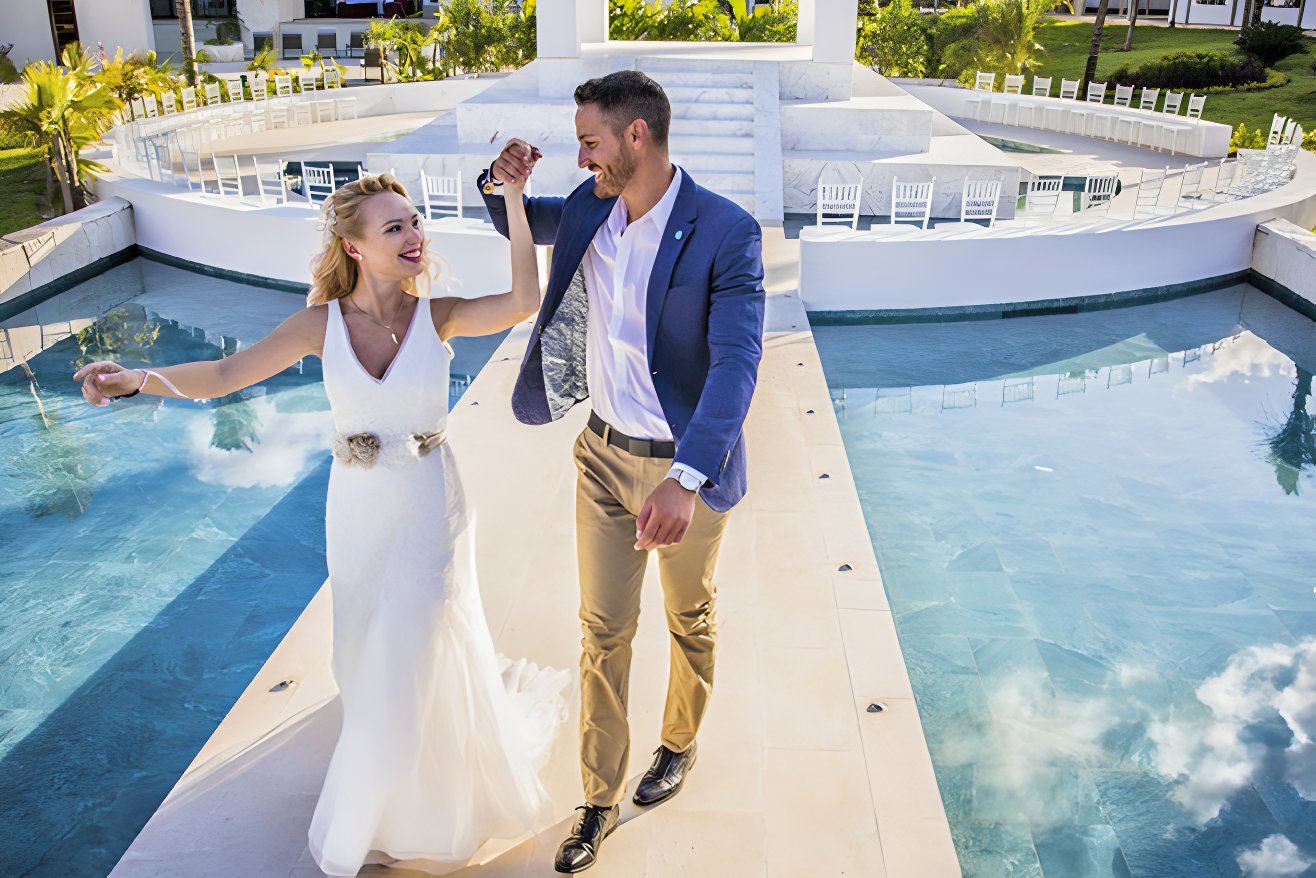 Cancun is one of the most frequented tourist destinations in the world for a reason.
Sitting on the Yucatán Peninsula's crown, Cancun is an idyllic romantic spot for luxury weddings, complete with an enchanting tropical climate and white sand beaches.
Los Cabos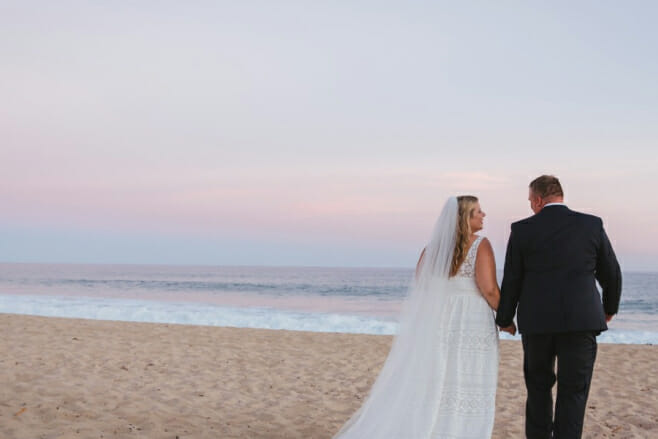 Los Cabos rests at the very bottom of the Baja California Peninsula, where the sea and arid desert meet. A highly booked destination, Los Cabos boasts a hot climate relieved by cool Pacific Ocean winds and a thriving collection of luxury resorts.
If you host your Los Cabos destination wedding during the right season, you could be greeted by whales journeying right off the shore!
Jamaica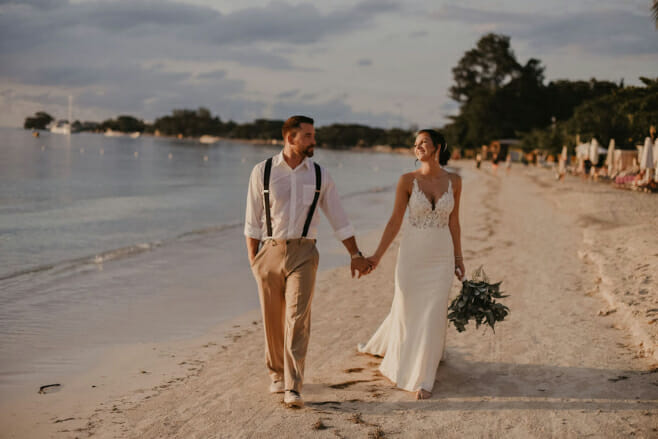 An alluring jewel, Jamaica lays its claim as the third largest island in the Caribbean. Jamaica boasts a lovely tropical climate and a diverse array of flora and animals, offering a truly unique and paradise-like environment.
Full of natural wonders and thrilling nightlife, Jamaica has something to offer everyone, especially those seeking romance with their partners.
What is the most elegant luxury wedding resort?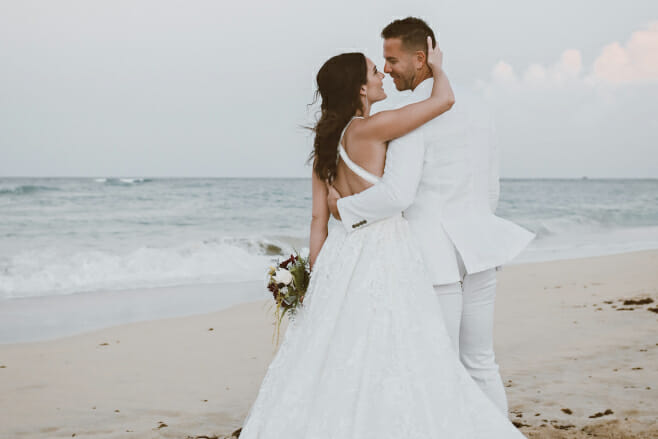 These destinations sound great from a bird's eye view, but they look even better closer to the ground. Standing hand in hand with the love of your life, take in the luxury weddings these resorts showcase.
Hyatt Ziva Cancun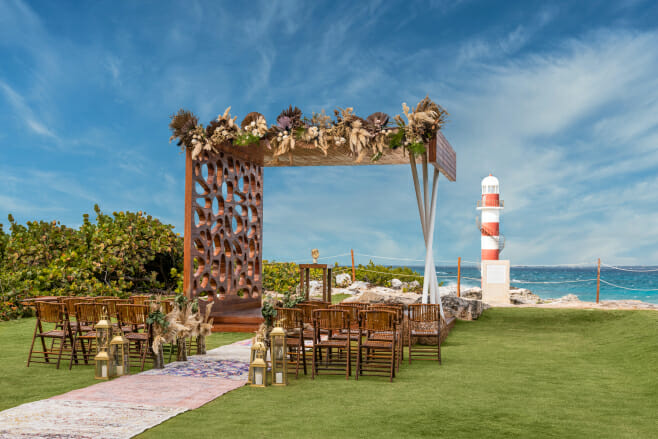 Featuring a stunning cliffside gazebo with a view into the Caribbean Ocean, Hyatt Ziva Cancun is an unbelievably romantic wedding resort.
Welcome to the perfect setting for the romantic wedding of your dreams. With its unblemished white beaches, world-class pools, on-site bars and restaurants, Hyatt Ziva is a blissful oasis equipped with adventure and excitement.
Sandos Finisterra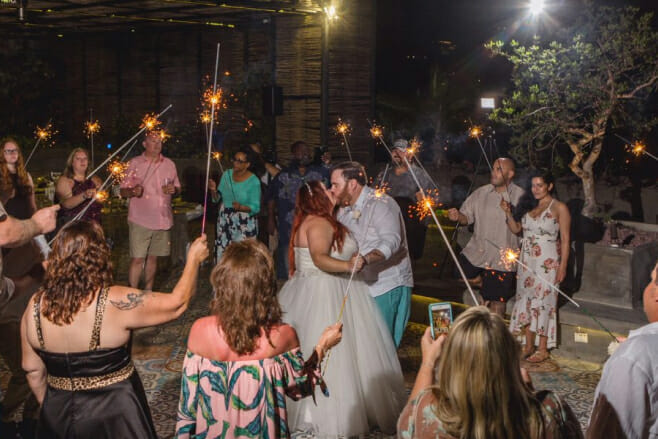 Sandos Finisterra is a premium luxury resort in the heart of beautiful Los Cabos.
With the bustling downtown Los Cabos just a short walk away, Sandos Finisterra has become a well-known destination for romantic vacations and weddings. Fun fact: the resort famously hosted The Rolling Stones' Keith Richards' 1983 wedding. Experience Sandos Finisterra's bewildering resort suites built directly into the nearby rock face that the resort is built around.
Royalton Blue Waters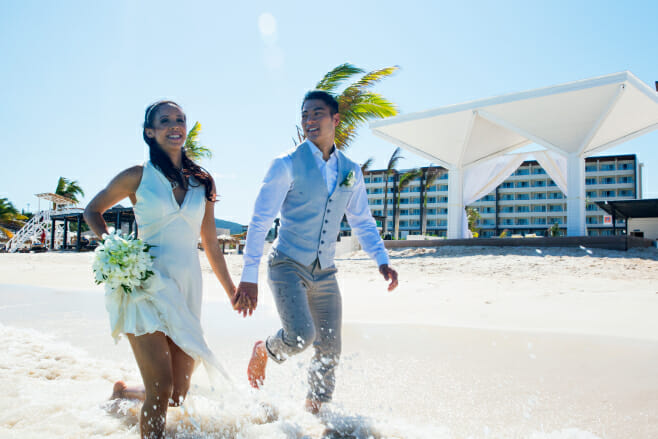 Famously built onto a man-made island, Royalton Blue Waters is a secluded spot for any romance seeker. A recent construction, Royalton Blue Waters features sleek and modern architectural design contrasted with an astonishing view of the ocean on all sides. For those seeking more private luxury weddings, Royalton Blue Waters might be what you are looking for.
Which destination wedding venues will make my dreams come true?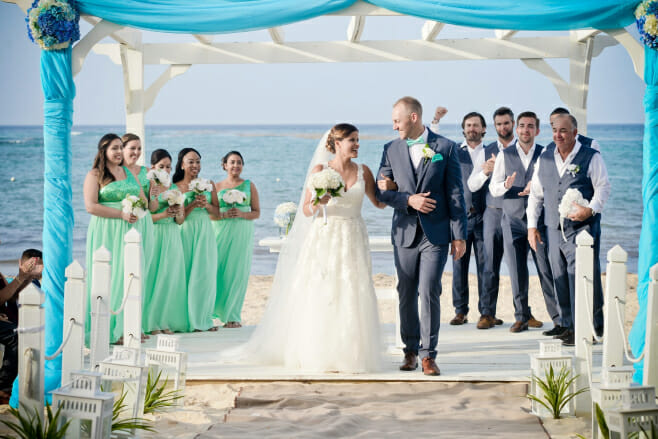 Each all-inclusive resort comes with a number of iconic wedding venue options. Let us make it easier for you to pick the perfect venue to make your romantic dreams come true.
Cliffside Gazebo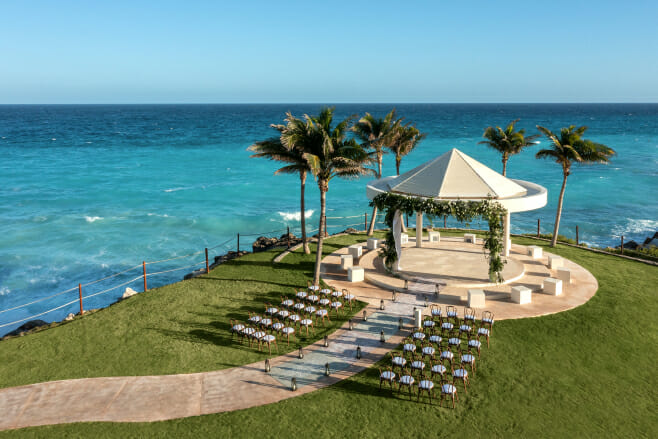 Hyatt Ziva Cancun's Cliffside Gazebo is simply staggering.
Hanging over the edge of an oceanside rock face and flanked on all sides by the ferocious Caribbean Sea, the Cliffside Gazebo puts you and your soulmate face to face with the natural world's beauty and intensity as you exchange vows.
Sounds like something out of a movie, but after all, what could be more romantic than that?
Plaza Finisterra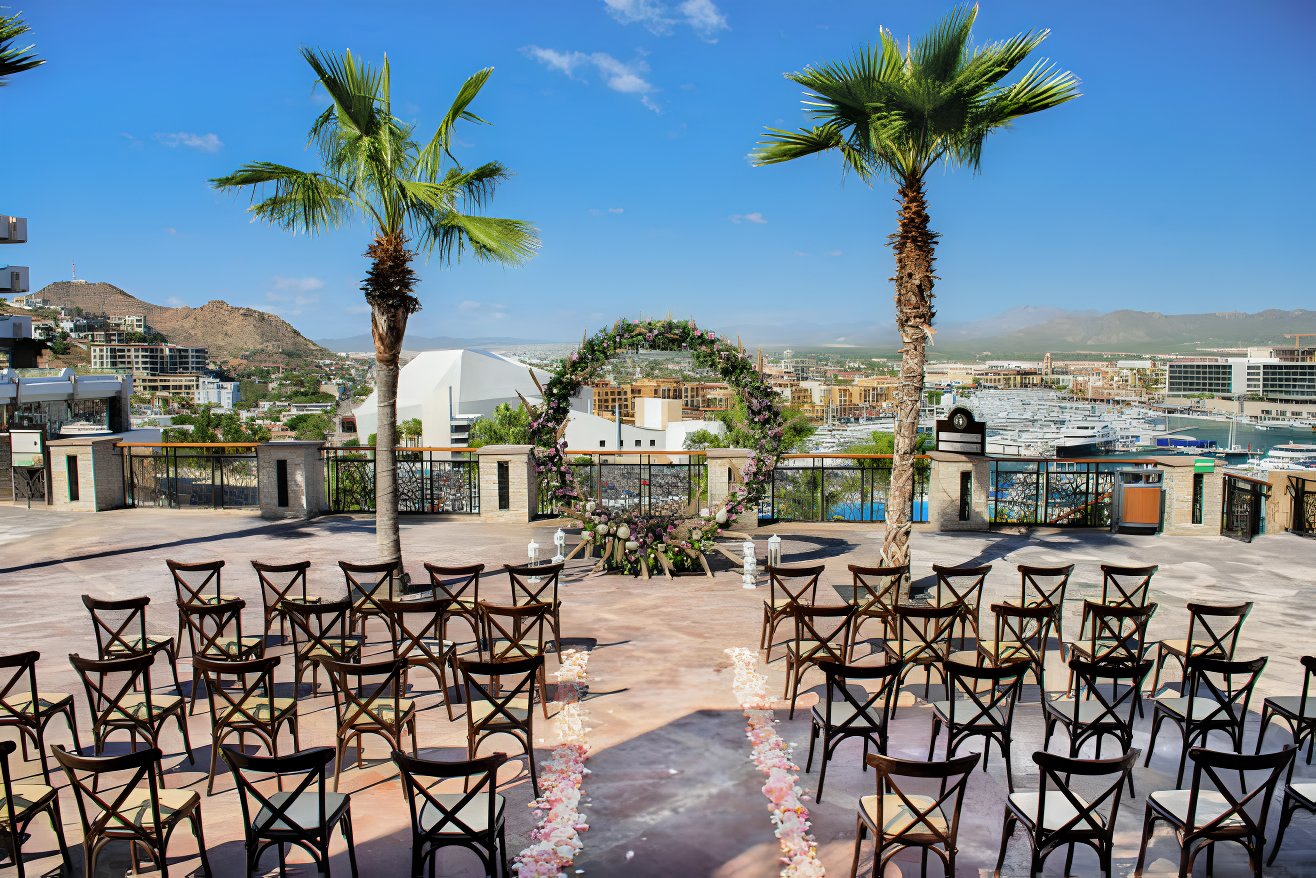 Plaza Finisterra is one of the crown jewels of Sandos Finisterra.
Featuring a stunning panoramic view of Sandos Finisterra and the surrounding city of Los Cabos, Plaza Finisterra is a photogenic and iconic space. Booking this venue will showcase you and your partner's love on the platform that it deserves.
Beach Gazebo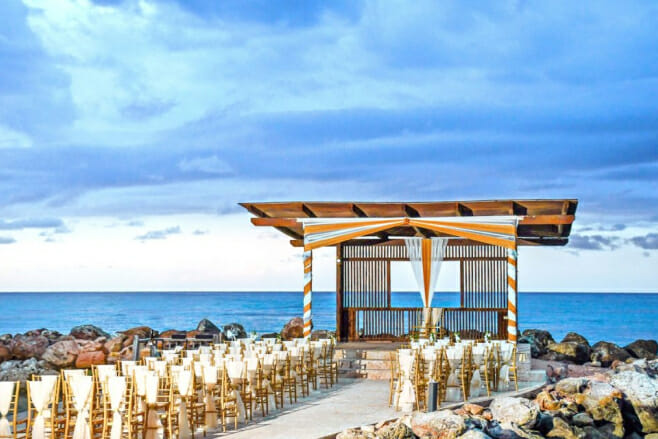 Simple yet effective, Royalton Blue Waters' Beach Gazebo serves as a romantically intimate destination wedding venue on an already intimate and private island. With a handcrafted gazebo overhead and the Pacific Ocean behind, the Beach Gazebo is perfect for couples seeking an alluring ceremony space.
Love knows no bounds, and that includes destination. While true love lives in any climate, it blossoms at these luxury resorts and idyllic getaway destinations.
Let us help you give your wedding the day the romantic backdrop your love deserves!