The Caribbean Islands is a destination with a myriad of distinct, vibrant cultures and all-inclusive resorts. For queer couples, they might wonder which of the LGBTQ+ Destination Wedding Resorts are the best resort locations to say 'I do?'
After sending hundreds of couples to the Caribbean Islands for the destination wedding of their dreams, we are happy to present you our list of the best LGBTQ+ Friendly Destination Wedding Resorts in the Caribbean Islands for 2023!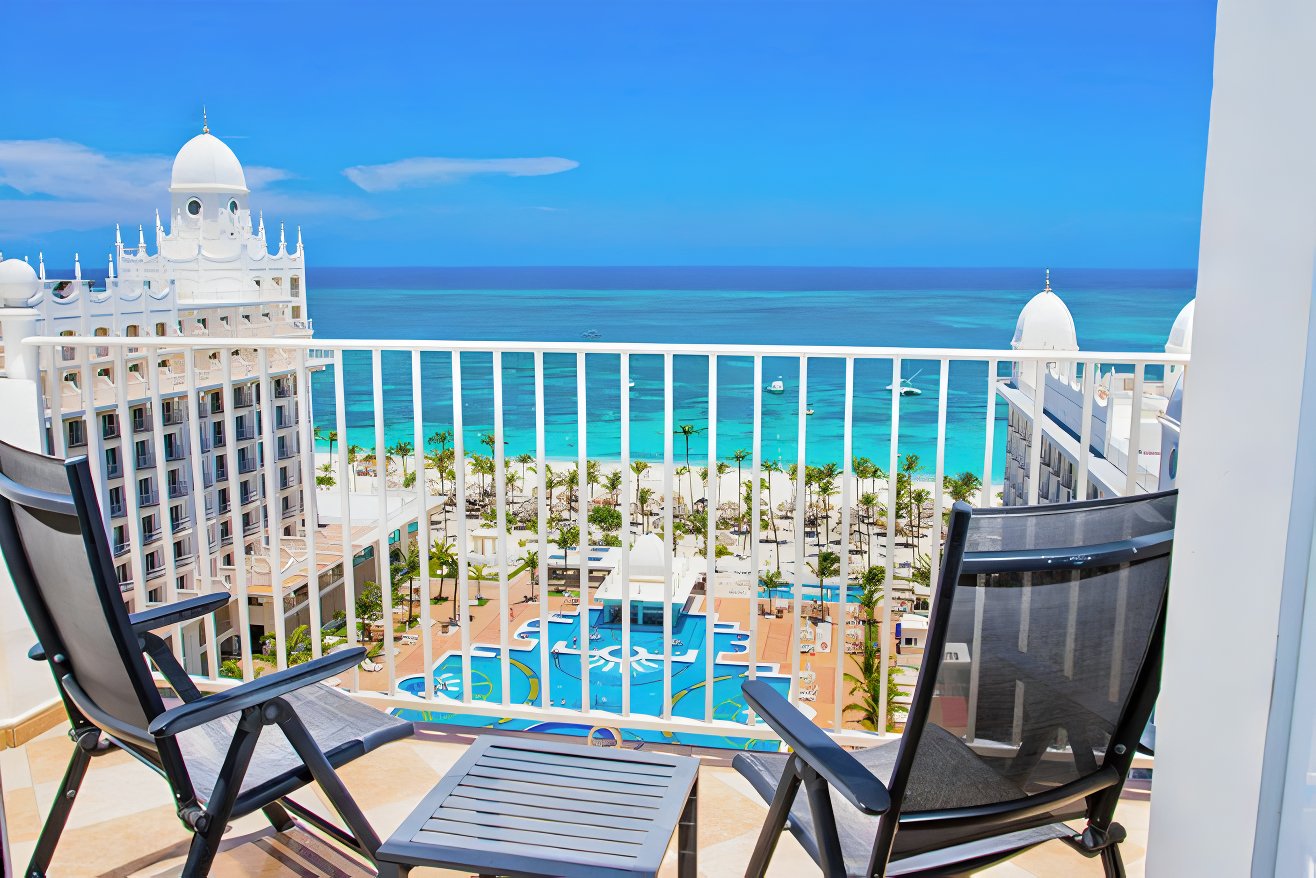 Riu Palace Aruba's gorgeous beachfront is the platonic ideal for a sandy and sunshine-filled gay wedding!
Beautiful fountains, swimming pools, and opulent furnishings flow seamlessly onto the beach and into the distinctively emerald Caribbean seas of Aruba.
In addition to the all-inclusive amenities, a prominent casino with gaming machines is nearby and offers a ton of shopping and dining opportunities.
The resort has a kids club, but with surrounding nightlife, liquor dispensers in every room, and cocktails available around-the-clock, it is more suited to wedding parties of adults eager to party.
Although gay marriage isn't legally recognized in Aruba, Aruba's friendly island atmosphere makes it a repeat-travel destination!
Despite this, Riu Palace Aruba allows symbolic ceremonies for gay weddings, which is an alternative that a lot of our couples take!
Resort Features:
24/7 room service
2 Pool
5 Bars
5 Restaurants
Free WiFi throughout hotel
Free gym and whirlpool bath
Exceptional service and knowledge of LGBT community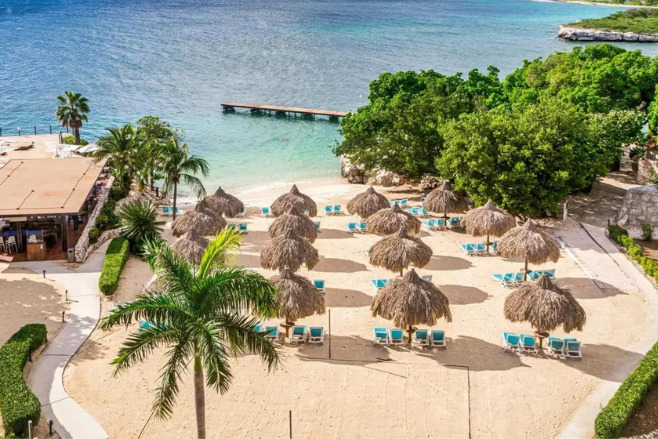 With a history that includes the Arawaks, the Spanish, the British, and even the Dutch, Curacao is a one-of-a-kind melting pot of cultures.
These various cultural touchstones are alive and well in the city's uniquely multicolored architecture, outstanding cuisine, and one-of-a-kind liqueur, Blue Curacao. This exceptional alcohol is created from the dried peel of the native Laraha Orange.
Your big day will be nothing less than exceptional, thanks to Dreams Curacao. Your special day will be as distinctive as Curacao, regardless of whether you say "I do" in a beachside gazebo wedding venue or close to a Dutch colonial fort ceremony space!
And after your special day, don your snorkeling gear to explore the vast marine life of the island while standing close to one of the Caribbean's most well-liked diving destinations.
Enjoy authentic Creole cuisine and more with your Dreams Curacao wedding guests at any of the resort's seven restaurants.
Although Curacao doesn't currently legally recognize gay marriage, Dreams Curacao offers symbolic ceremonies for gay couples seeking to tie the knot on the vibrant Caribbean island of Curacao!
Even though gay marriage isn't legal in here, Curacao is a very queer-friendly destination for LGBTQ+ couples and travelers!
Resort Features:
24/7 room service
3 Pool
4 Bars
7 Restaurants
Snorkeling and Scuba diving
Kids Club
Theme nights and parties
Big Screen Movies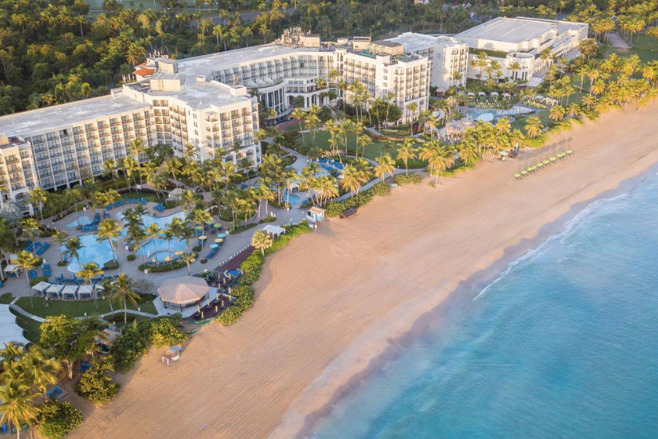 Wyndham Grand on Rio Mar Beach is a chic and modern setting for destination wedding couples from all walks of life!
Visitors will find all they need in the stunning area of Rio Grande in Puerto Rico, from supervised child care to evening entertainment throughout the resort.
The lovely ocean terrace might be one of several locations for your wedding ceremony, and guests will like the gorgeous stretch of immaculate copper-colored beach to lay and unwind on during the downtime.
Guests have access to idyllic tropical locations with a Wyndham Grand Rio Mar Beach wedding and exceptional service that guarantees a wonderful stay for you and all of your guests!
Puerto Rico is an amazing locale for gay couples and travelers! Not only is it LGBTQ+-friendly, but it's also our only Caribbean Island that has made gay marriage legal!
Resort Features:
24/7 room service
3 Pool
2 Bars
9 Restaurants
Pet Friendly
Spa
Air Conditioning
Pet Friendly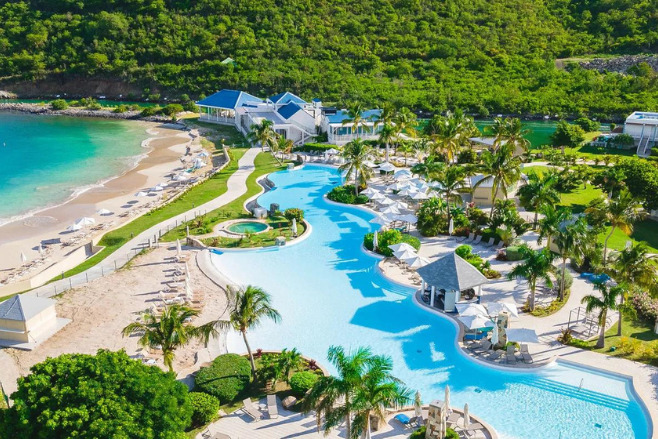 St. Martin is home to more than 120 different nationalities, and because of its hospitality toward visitors and travelers, it is known as "The Friendly Island."
This open attitude extends to LGBTQ+ couples and travelers!
The island's language, design, and gastronomy all reflect its multicultural background and the vibrant culture around and inside of Secrets St. Martin!
The cuisine in the resort's all-inclusive gourmet restaurants, which feature some favorites like Italian food at Portofino, Mediterranean nibbles at Olio, Pan-Asian food at Himitsu, and so many more, will make your taste buds sing!
Their "Wedding in Paradise" package is an incredible deal at $999! Secrets St. Martin guarantees a seductive atmosphere for your ceremony and post-wedding parties.
This affordable Caribbean Island wedding package is a great way to live it up!
Resort Features:
24/7 room service
2 Pool
5 Bars
9 Restaurants
Spa By Pevonia®
Pool & Beach Wait Service
Walking tours of the surrounding nature
Nightly musical performance
Karaoke evenings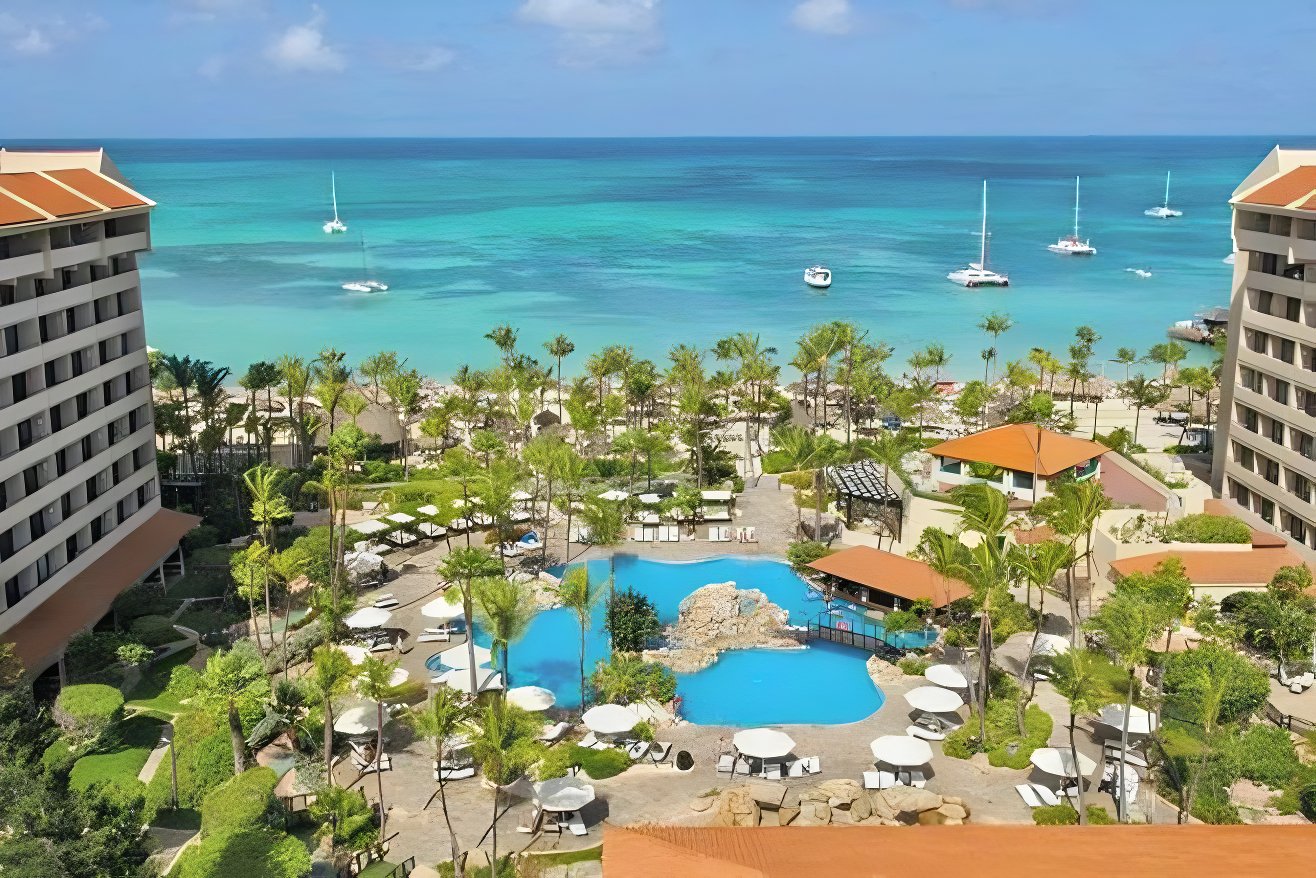 Barcelo Aruba is located on a gorgeous, serene stretch of beachfront land called Palm Beach.
Thanks to the beach's crystal-clear waters and sparse seaweed, the snorkeling at Barcelo Aruba is excellent.
Beyond the water, Barcelo Aruba is a charming resort overflowing with luxury. It offers a wide variety of food options, has a design scheme with distinctly Danish pastel colors, and has a fun late night scene at Liv Casino!
We suggest paying a visit to their exquisite Argentinian steakhouse El Gaucho.
Our couple loves Barcelo Aruba for destination weddings because of the tranquil ambiance, stunning location, and reasonable wedding packages!
And our gay couples and their LGBTQ+ couples love Barcelo Aruba thanks to its welcoming, dedicated staff and friendly, open vibes!
Resort Features:
24/7 room service
1 Pool
3 Bars
7 Restaurants
Beachfront hotel, easily accessible
Perfect atmosphere for the whole family
Wide selection of restaurants
Excellent location in Palm Beach
Book Your LGBTQ+ Caribbean Islands Destination Wedding Resort Today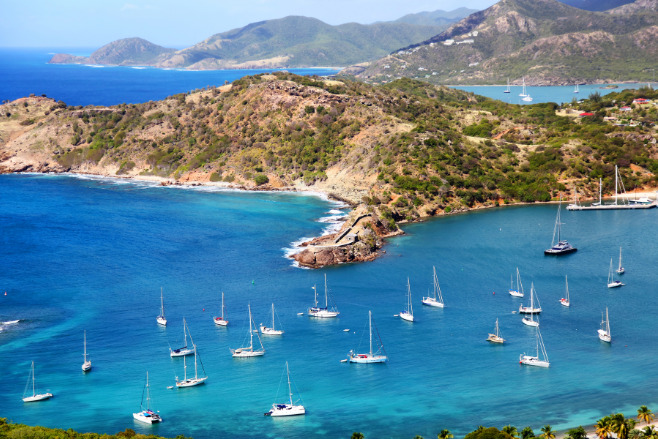 Are you ready to start planning the LGBTQ+ destination wedding of your dreams?
We love to hear it!
We're here to take the anxiety and confusion out of wedding planning, so you enjoy every moment of your destination wedding, from your suite to saying 'I Do' to your sweetheart!