Searching for a marvelous stretch of unbothered, all-inclusive property to host your expansive guest list? Panama and its accompanying hidden gems and 5-star resorts have your back. A spectacular Central America region infused with astonishing beachscapes, rich culture, and remarkable history, Panama should be on your list of locations for sizable ceremonies. With a host of immersive excursions and oceanside venues at your fingertips, large destination weddings in Panama rival any Mexico or Caribbean retreats. Here are a few reasons why this romantic sanctuary requires more than a second glance:
Hard Rock Panama Megapolis
Panama City, Luxury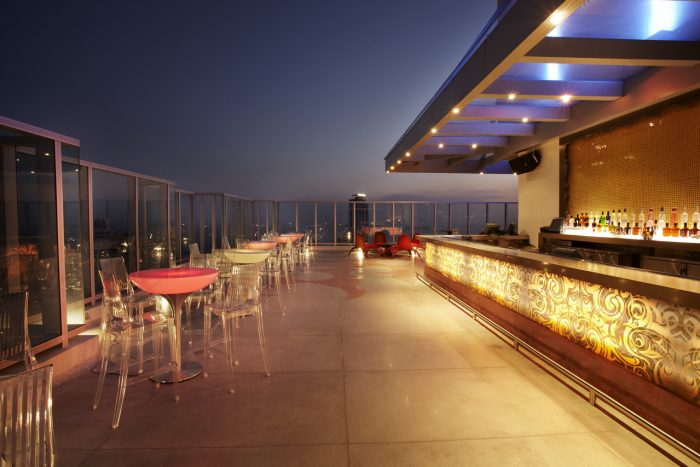 Hard Rock Panama Megapolis
Rent those flashy tuxedos/dresses and bring your rock n' roll persona when you coordinate a Hard Rock Panama Megapolis wedding. What makes the Hard Rock so appealing to large Panama wedding groups isn't simply the brand name; rather, the multi-story complex delivers unforgettable experiences for every guest. Younger guests and adults alike can step into their favorite musician's shoes and rock out at the state-of-the-art Sound of Your Stay studio. Choose from a wide selection of Fender guitars and sound samples, and produce a hit track to remember your wedding week! Although the resort isn't all-inclusive, the hotel offers breakfast and meal plans with a variety of delectable cuisines.
The piece de resistance, however, is the resort's 300 guest max Event Terrace, where dream large Panama destination weddings are graced with a panoramic view of the vivacious Panama City skyline and Caribbean waters. A rooftop oceanview wedding space, the Event Terrace literally elevates every ceremony, amplifying a visually striking landscape for every guest.
RIU Plaza Panama
Panama City, Intermediate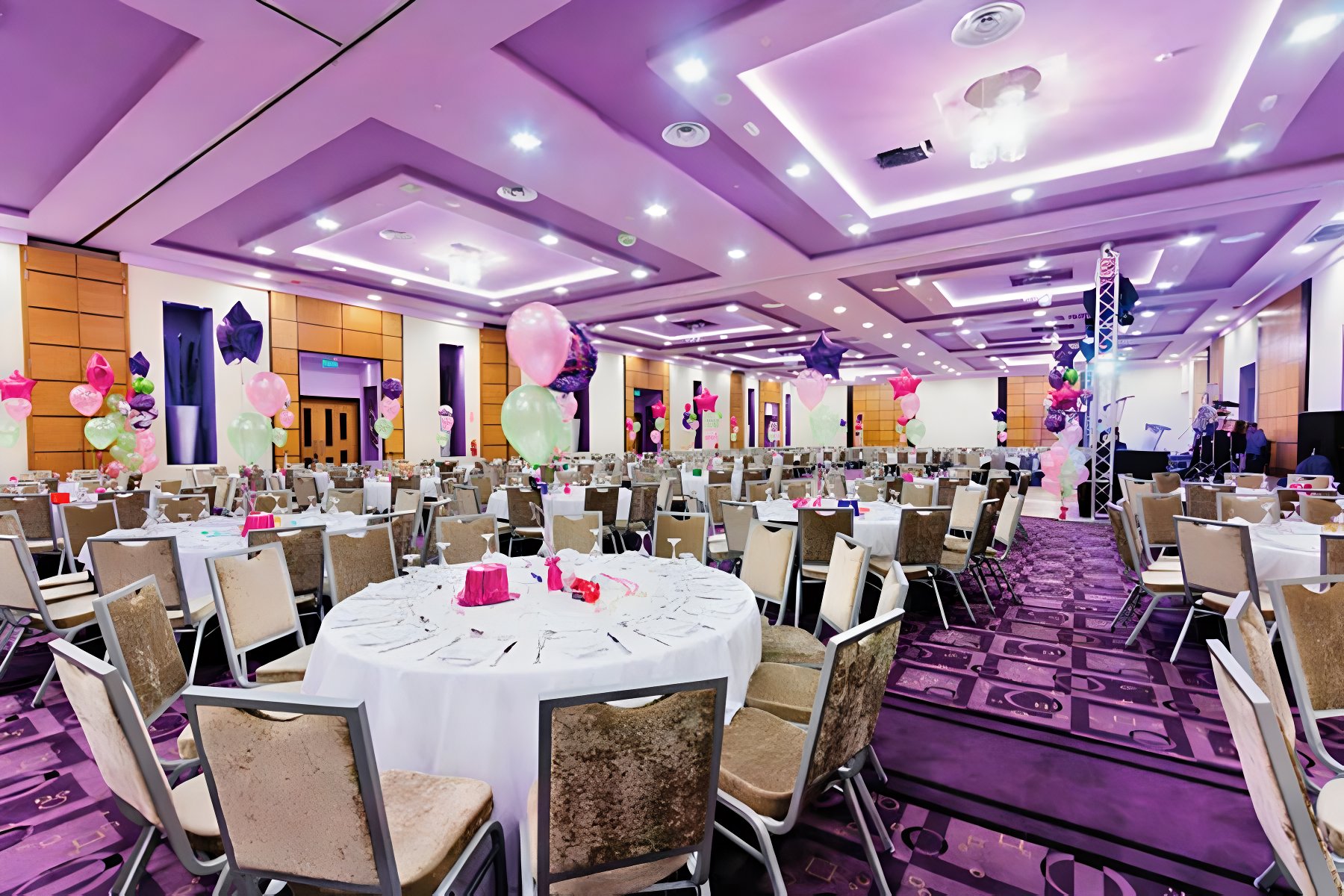 RIU Plaza Panama
Journey into the epicenter of Panama City, and you'll find one of the most luxurious all-inclusive wedding resorts in the world: RIU Plaza Panama. Boasting an expansive 600 rooms and 34 floors, this Panama gem will accommodate larger guest lists with ease. Guests also have the option to elevate their stay with Crown Level, a program designed for travelers seeking executive-style suites and hotel life. Because of its close proximity to local attractions, wedding guests can relish in dazzling excursions such as Panama Bay and Panama Viejo, a stunning World Heritage site steeped in history.
Similar to Hard Rock, RIU Plaza Panama features a stunning Rooftop Terrace capable of hosting 100 guests max. Garnering mouth-dropping vistas of the glistening Caribbean and a variety of customizable wedding packages, the resort ensures an immaculate large Panama destination wedding. Although RIU Plaza is non-inclusive, the resort features an eclectic mix of exquisite meal plans and catering options.
Dreams Playa Bonita
Panama Bay, Economical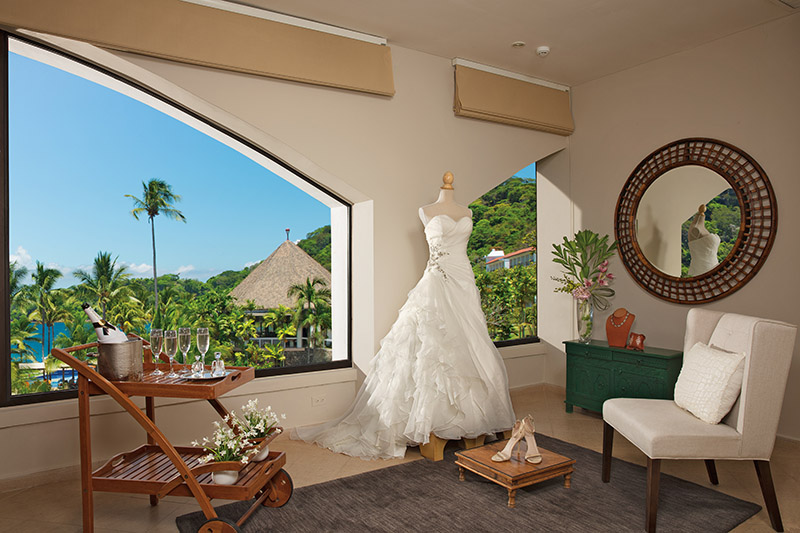 Dreams Playa Bonita
Get ready for the all-inclusive Panama wedding of a lifetime. A majestic oceanfront resort providing endless beach days and poolside elegance, Dreams Playa Bonita, and its beautiful weddings will leave you speechless. Surrounded by acres of Panama greenery and turquoise swells, the resort offers truly secluded group travel retreats and the perfect tropical getaway for your love to blossom.
Featuring a wide selection of activities ranging from baby turtle rescue programs to marine life snorkeling tours, Dreams Playa Bonita is idyllic for large Panama wedding parties desiring a resort-centered wedding stay. Still itching for an afterparty location? Worry not, the property features a bevy of tantalizing bars and on-site nightclubs teeming with top-shelf liquor and professional DJs.
Perhaps the most attractive aspect of Dreams Playa Bonita, the resort's 6 wedding venues offer a variety of immersive ceremonies. From the glorious oceanview Sun Terrace to the charming Dreams Palapa, this wedding resort caters to your preferred vibe and backdrop, crafting a day of romance that is unquestionably yours.
RIU Playa Blanca
Panama Bay, Intermediate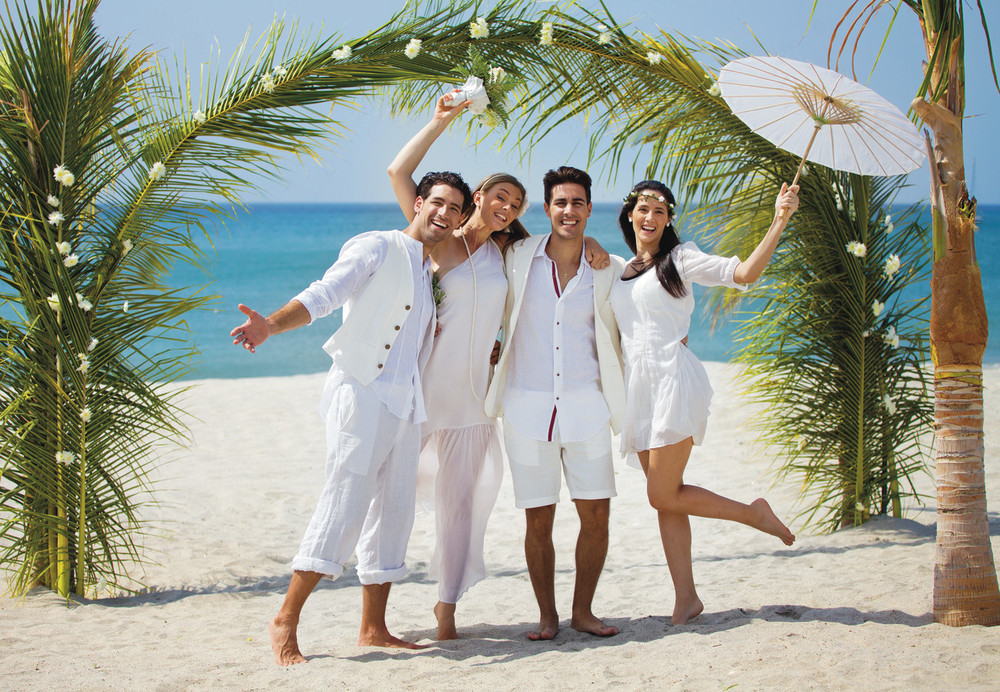 RIU Playa Blanca
Discover a pristine white sand Panama wedding that'll have your guests raving for years at RIU Playa Blanca. Prospering along the shores of Cocle Beach, this resort specializes in delivering one of the finest beach ceremonies in the region. This excellence is mainly due to the property's U-shaped architecture, enabling guests to take in gorgeous view imbued with azure waters and lush tropical gardens. RIU Playa Blanca possesses an eclectic mix of exciting on-site activities that will keep your guests busy throughout your wedding week. Children can leverage the interactive Riuland, while adults can enjoy the invigorating sensations of the resort's world-class spa.
Circling back to RIU Playa Blanca's ravishing Beach wedding venue, the space provides a sea breeze-infused wonderland elevated by its surrounding natural beauty. Capable of accommodating 60 guests max, the resort comfortably fulfills extraordinary large wedding parties while maintaining a private and intimate setting.
Sheraton Bijao Beach Resort
Panama Bay, Intermediate

Sheraton Bijao Beach Resort
An intricately designed Panamanian beachfront oasis, the Sheraton Bijao Beach Resort features an all-inclusive wedding week unlike any other. Strategically interwoven with refreshing waterfalls and expansive emerald foliage, the resort provides an unparalleled slice of paradise that automatically accentuates every wedding. Only a stone's throw away from professionally structured golf courses and tennis courts, the Sheraton is perfect for couples and guests looking for a more active Caribbean vacation. With a diverse assortment of fine dining options available, the alluring Panama haven promises a delectable culinary flair with every reception.
With 7 magnificent wedding venues providing a variety of vibrant auras, the Sheraton Bijao Beach can host anywhere between 40 and 650 guests max per ceremony. Whether you're walking the aisle while soaking in irresistible seascapes or tying the knot under a handcrafted poolside gazebo, the Sheraton will ensure the gold standard of large destination weddings.
Through the test of time, Panama continues to prosper as a prominent destination for travelers young and old. Garnering pure white sand beaches and all-inclusive paradises, it's no secret that the Central America gem is idyllic for large destination weddings. Wherever you find yourself and your spouse in Panama, you will discover an abundance of enchanting properties that'll surely secure lifelong memories.
Want to learn more about Panama's rich landscape and wedding resorts? Follow the button below to research your ideal getaway: