Top FREE Destination Wedding Packages
The best thing about hosting free weddings at all inclusive resorts is just how affordable it can be. In fact, at some all-inclusive resorts, your destination wedding package could be free! Many resorts offer free packages because they will make their money from the room accommodations, and you may qualify for an top shelf free wedding package simply by bringing a certain amount of guests.
There may still be taxes and fees involved with free packages, but they're still one of the best ways to have a wonderful wedding while saving big. Below we're going to feature some of the best free destination wedding packages resorts offer, and tell you about some of the inclusions each all inclusive wedding package features.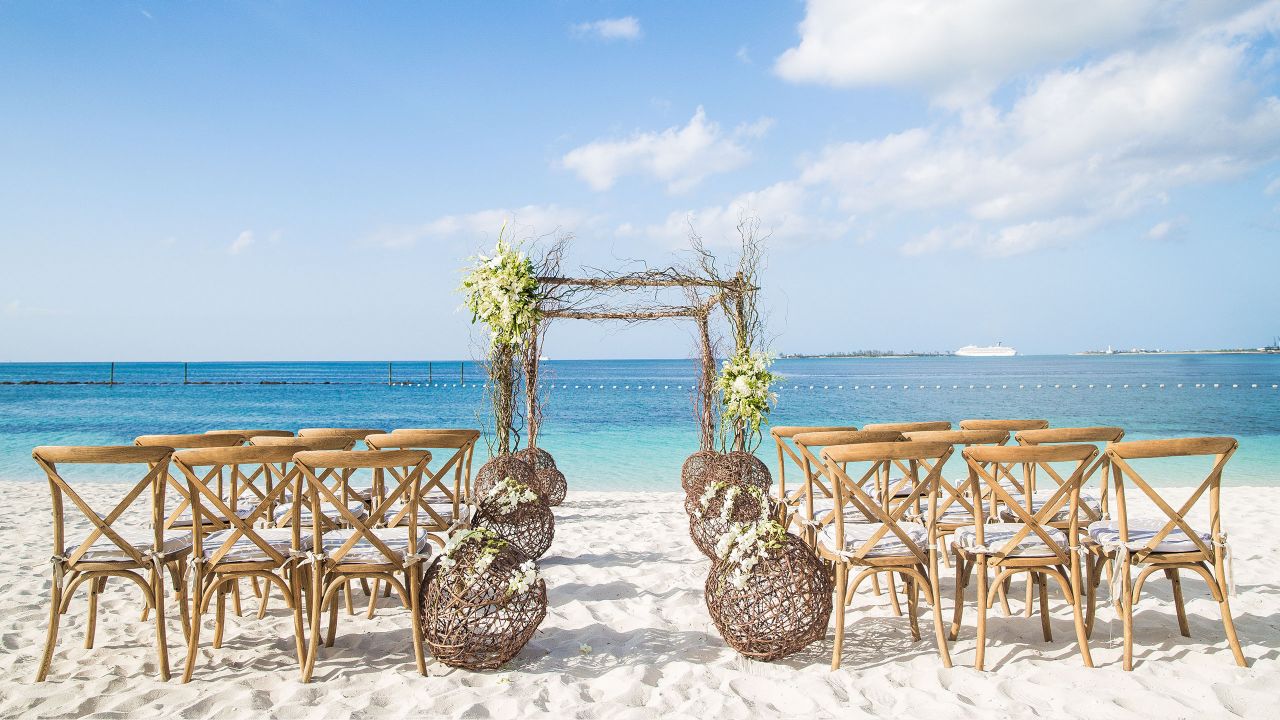 RIU Resorts
The classically elegant chain of RIU Resorts span far and wide across the globe, and their all-inclusive options cover beautiful beaches just about everywhere, from Panama Bay to Puerto Vallarta. You can rest assured knowing your wedding can be simple and beautiful at a RIU destination wedding resort, plus they're truly economical for your traveling guests. At each resort, you'll find serene beaches, swim-up bars, and delicious a-la-carte restaurants.
RIU has standardized their packages at their all-inclusive resorts, so you can find a similar Free Destination Wedding package at each resort, and there is often NO requirements or room category that must be met to qualify for one.
Free Destination Wedding Package:
Bouquet
Boutonniere
Ceremony location set up and decoration
Playlist for ceremony
Semi-private dinner at one of their specialty restaurants (10 people total)
Wedding cake for 10
Sparkling wine for the first toast (10 people total)
In-room romantic decoration
Surprise spa gift
RIU Wedding Planner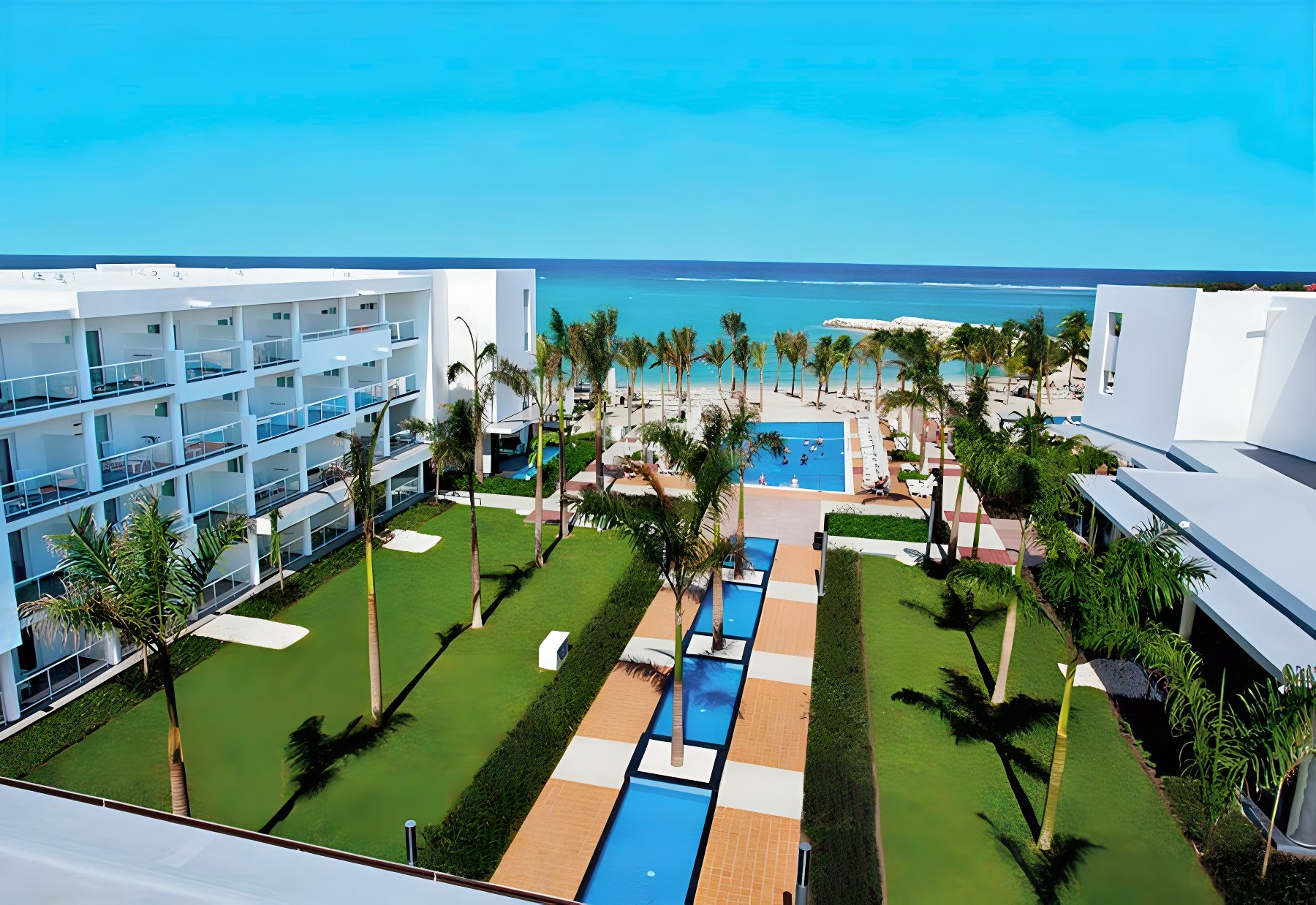 Which RIU should you choose? There are so many to pick from, it's certainly a hard choice, but perhaps consider a RIU Palace Jamaica in Montego Bay, featuring stark modern architecture, and a superb location along the white Jamaican sands.
Breathless Resorts
The all-inclusive Breathless resorts are situated on some of the most stunning beaches in the world, and guests can expect an adults-only atmosphere, with exciting nightlife and rejuvenating daytime activities. The brand caters well to large sets of couples, bachelor and bachelorette parties, and a special day full of lively guests. At each resort, from Los Cabos to Punta Cana, you'll find opportunities to let your hair down and indulge with crafted cocktails and delicious food or hit a casino or nightclub.
With Breathless' "First Comes Love" all inclusive beach wedding packages, destination weddings can invite up to 8 guests and be free so long as a certain room category is booked for 7 nights, or 5 rooms of any category are booked for at least 3 nights each. You'll have to book your reception separately, or just take advantage of one of the many on-site restaurants by booking a table with your party.
First Comes Love:
Dedicated wedding coordinator
Symbolic Ceremony
Bouquet(s) and/or boutonniere(s) for the wedding couple
Preparation of the couple's wedding day attire
Wedding cake for up to 10 guests
Sparkling wine toast for up to 10 guests
Seductive Wedding Night Turndown Service
Late checkout for the couple (upon request and availability)
Late checkout for the couple(upon request and availability)
20% off spa treatments (boutique purchases not included)
24 hour room service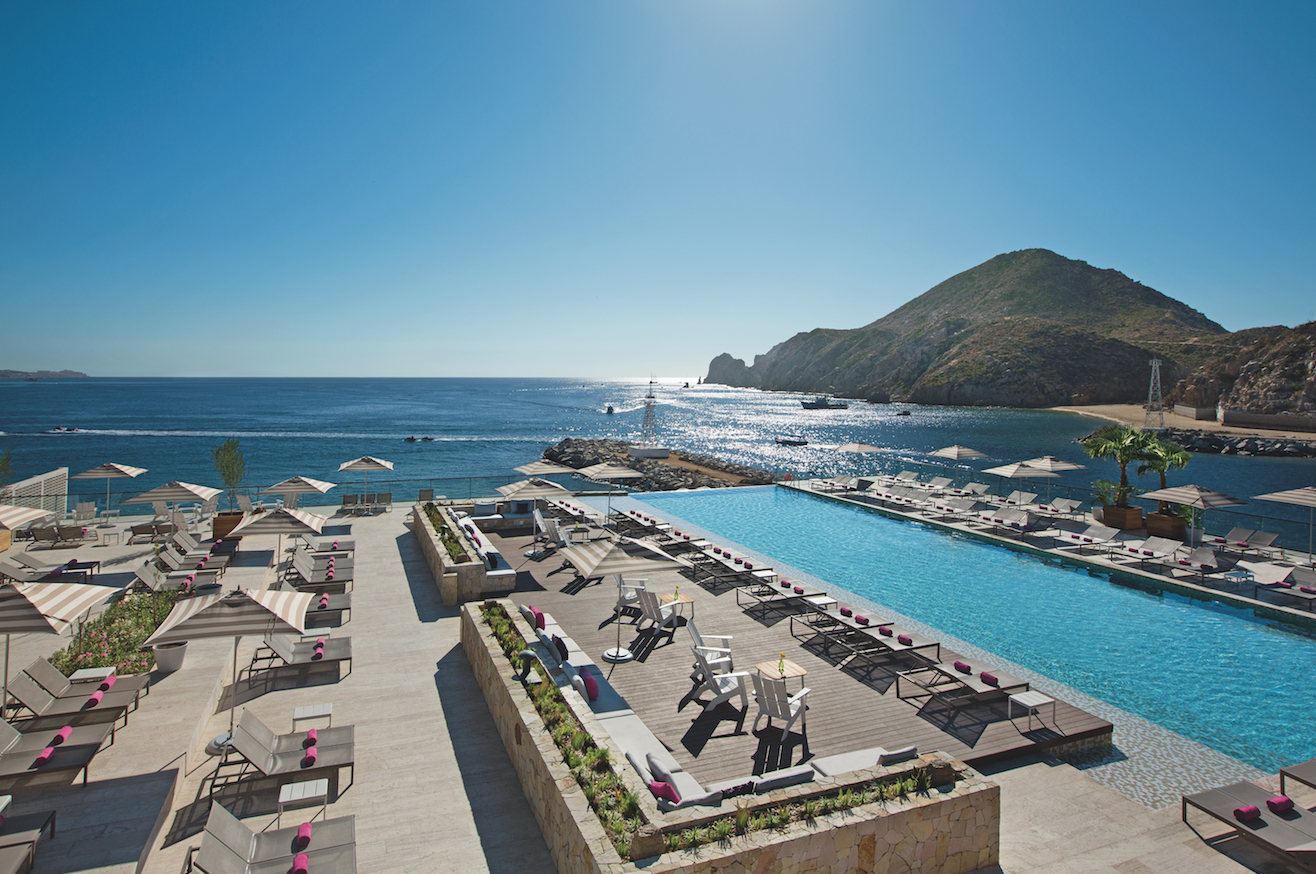 Which Breathless should you pick? We recommend two exciting choices, Breathless Cabo San Lucas and Breathless Riviera Cancun. Both feature tantalizing atmospheres, where the party is just as exciting as the stunning panoramic Riviera Maya ocean views.
Dreams Resorts
Dreams destination weddings are the family-friendly alternative to Secrets destination weddings, and they feature striking architecture and plenty of stuff to do for wedding guests of any age. They're placed in some truly adventurous locations, from Costa Rica to Cancun, and for guests who would like to leave the resort, there's always the opportunity to book an excursion.
Parents can get some alone time by utilizing child supervision services, and some of the wedding venues are drop-dead gorgeous, including rooftop terraces (at an additional charge) and pristine beachfront gazebos.
By meeting a set of room requirements the "Wedding in Paradise" all inclusive cancun wedding package becomes complimentary. These requirements vary slightly by your chosen resort, but often you must book 7 nights in a specific room category or higher, or have your guests stay for a certain amount of time. You get a lot of inclusions with this Cancun wedding packages all-inclusive price, it's easy to see why it's one of our top free destination wedding packages.
Wedding in Paradise Package:
Symbolic Ceremony
Wedding organization and personal touch of on-site wedding coordinator
Preparation and ironing of couple's wedding day attire
Complimentary room for the wedding cou[;e the night before the wedding (based on availability and upon request)
Bouquet and Boutonniere
Wedding cake and sparkling wine toast (for up to 10 guests) – Special turn-down service the night of the wedding – 15% discount on all spa treatments (boutique purchases not included)
Newlywed Package: Welcome letter, Fresh fruit, Bottle of sparkling wine, Breakfast in bed with Mimosas (Reservations must be made in advance with concierge)
Late check-out for the couple (based on availability and upon request)
Free Anniversary Nights (stay a minimum of 5 paid nights over the first-anniversary date and receive 2 additional nights free or stay 4 paid nights over the first-anniversary date and receive 1 additional night free)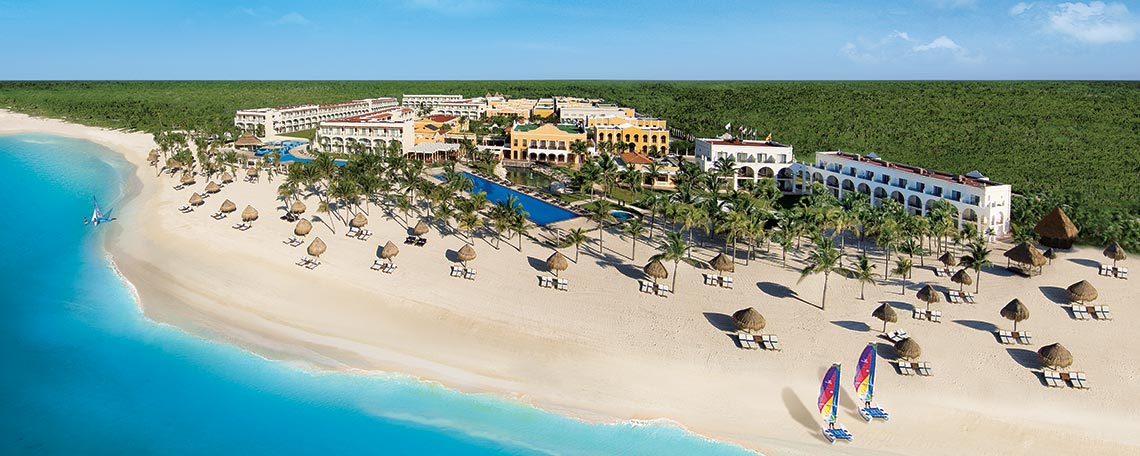 So which Dreams' resort would we choose? It's a tough one, but we especially love Dreams Tulum due to some recent venue options, a rooftop terrace or their secret garden. Both would be fabulous venues to book a private event for, like a welcome cocktail hour or a private reception following your free destination wedding ceremony.
Barcelo Resorts
The Spanish chain of Barcelo resorts offers an enormous amount of amenities and facilities with very affordable room rates. These resorts work well for large wedding parties, from corporate retreats to affordable family gatherings. At each resort, you'll find colonial detailings, tranquil pools, and everything else you can imagine from casinos to sports bars. Some are so large you may need a shuttle just to get from one end of the beach to the other.
Barcelo's free wedding destinations packages are no different, you get a lot for your money, or even for free! Check out the Coconut Paradise package below, which becomes complimentary for you and your guests based on a combination of 105 room nights (an example would be 21 guests staying 5 nights each).
Coconut Paradise:
Personalized assistance with our wedding specialist.
Basic decoration for wedding location
Wedding Cake
Sparkling wine for the toast
Payment of minister symbolic ceremonies included
King-size bed by request.
1 bouquet (Tropical flowers or Roses).
1 Boutonniere (Tropical flowers or Roses).
Special decoration in the room and rose petals on the bed.
Special Amenities and bottle of sparkling wine sent to the room.
Basic audio system for the ceremony.
Area reserved for dinner in one of the a la carte restaurants.
In Love Honeymoon Package
Late check-out until 3:00 pm (on request, subject to availability).
Upgrade to the next room category booked (subject to availability for wedding couple only).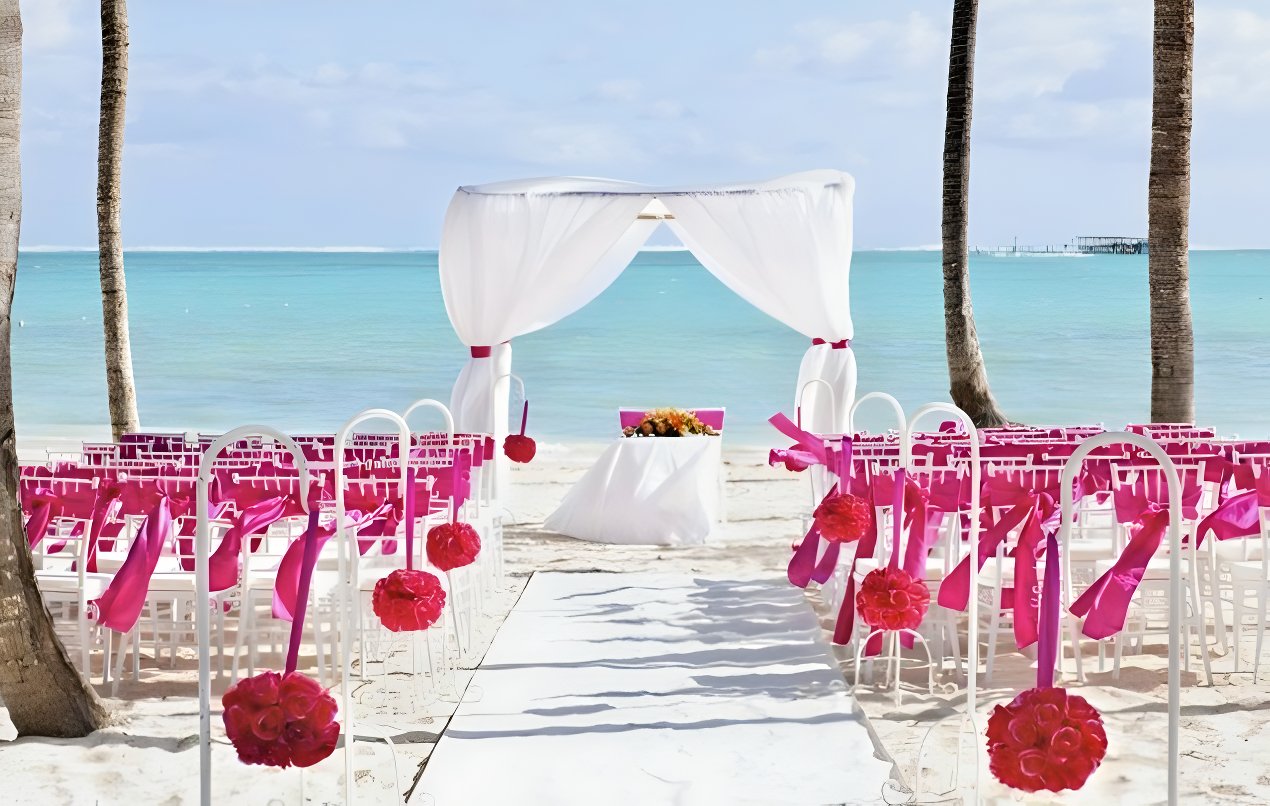 Which Barcelo should you choose? Well, the Barcelo Bavaro Beach megaresort will leave guests' heads spinning, with a bowling alley, humongous nightclub and cost-effective room rates. Plus it's completely renovated, so it has that shiny new resort smell.
Royalton Luxury Resorts
The beautiful Royalton Luxury Resorts are truly modern resorts located in some of the most lavish locations, like Saint Lucia and Negril, Jamaica. Guests will love the contemporary design, with restaurants that are design wonders, and inviting pools that include grotto bars and oceanfront views.
Royalton has just recently redesigned all of their regular and free destination wedding packages, so you'll find the same splendid inclusions at every one of their resorts. Although room rates may be a bit higher than economical resorts, you'll get a more unlimited luxury atmosphere, and still save a ton with their destination wedding free package, guaranteeing a spectacular big day.
The Luxury Wedding package becomes complimentary when booking a combination of 35 room nights, think of it in terms of 10 friends and family staying for 4 nights and you'll be amazed at what all the package includes!
Luxury Wedding:
Wedding Stay
Personal wedding planner & onsite coordinator
VIP welcome & late checkout for wedding couple (based on availability)
Wedding couple room upgrade (based on availability)
"Getting Ready" refreshments & fruit platter for the wedding couple on the wedding day
10% discount on spa services for entire wedding party (applies to 50 mins massage & spa services, not salon services)
Ceremony and location (excluding Sky Terraces)
Symbolic ceremony
Chairs included
Sound system for ceremony
1 tropical bouquet and 1 tropical boutonniere
Ceremony table with linen & tropical centerpiece
Sparkling wine toast Semi-Private Reception
Semi-private dinner at one of our restaurants¹ (2 hours)
Personalized menu cards
1-tier wedding cake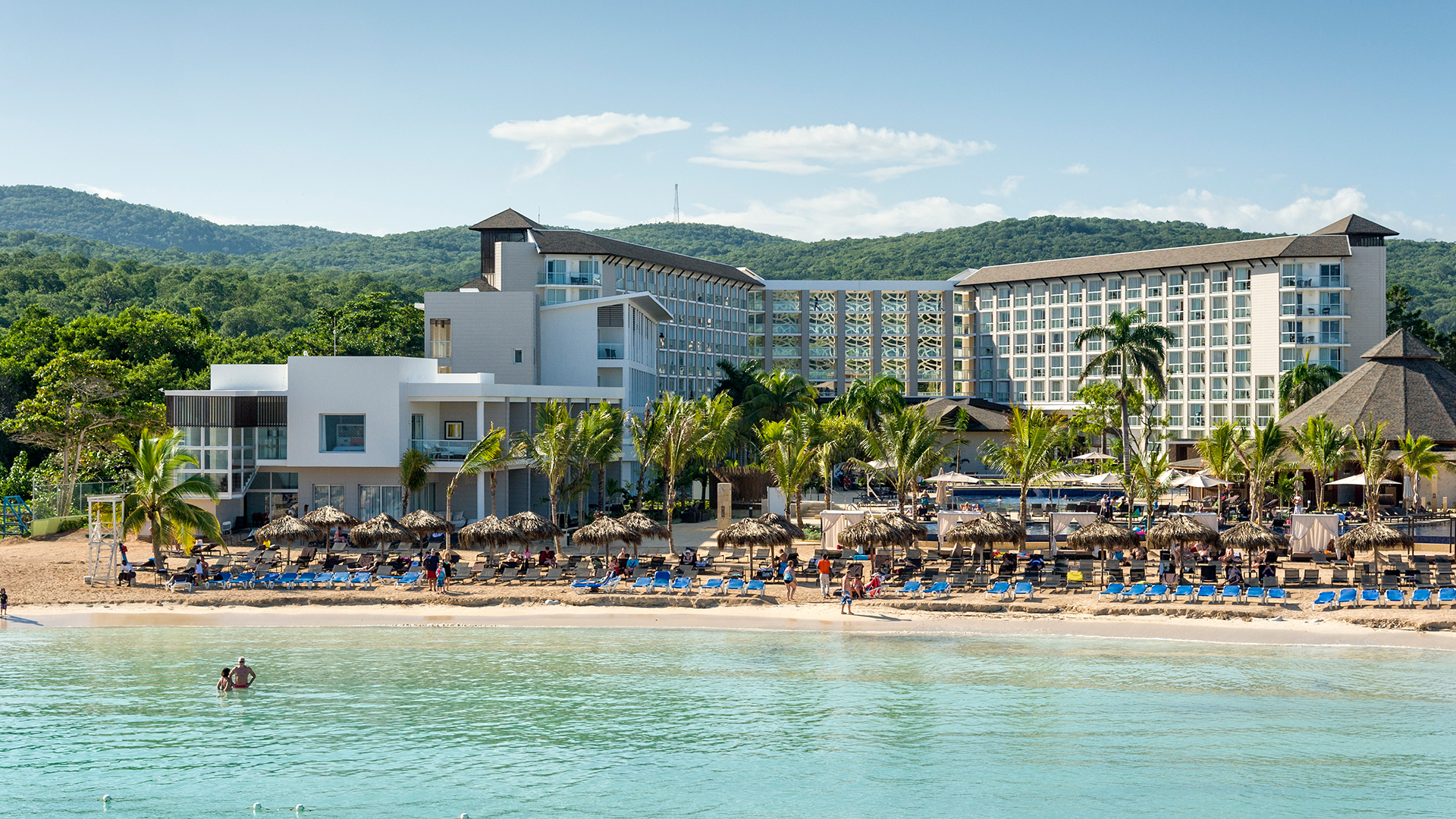 Which Royalton Luxury Resorts should you host your destination wedding at? You can't go wrong with any, but perhaps the Royalton White Sands resort in Jamaica is worth some consideration. It's located on a private stretch of beachfront, and the resort's design maximizes the ocean views, guaranteeing a jaw-dropping gorgeous Jamaican wedding.
Ready to book and want to learn more about free destination wedding packages? There's a ton out there! Click the button below to contact an agent today and get the conversation started. And remember, our services are always 100% free (just like the wedding package we can help you find).