Ocho Rios is a beautiful corner of Jamaica that offers a relaxed alternative to the much more popular Montego Bay. It's become so popular that we've sent hundreds of couples to idyllic Ocho Rios destination weddings!
This lovely Jamaican region is home to dozens of excellent all-inclusive resorts. Narrowing down your dream resort might take a lot of time and online research.
But that's where we come in! We strive to make every aspect of your destination wedding stress-free, from the first call to your first kiss!
Read on and discover the best Ocho Rios destination wedding resorts for 2023!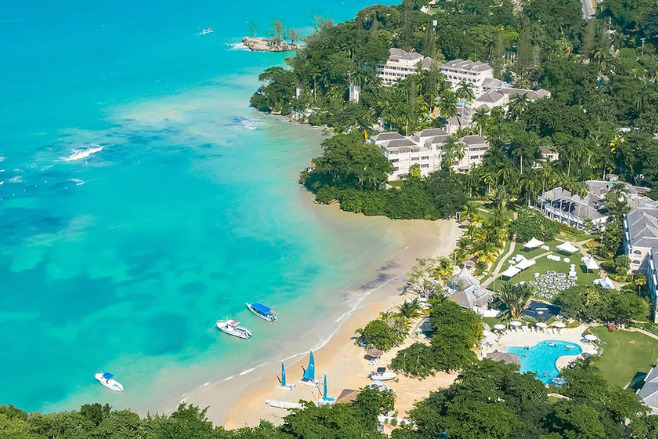 Couples Sans Souci combines the untamed beauty of Ocho Rios with modern all-inclusive luxuries, making it on of Jamaica's premier locales for a destination wedding.
For nature lovers, look no further than this resort. Mountains, the seaside, and the lush foliage of Ocho Rios surround the property.
That natural feel continues into the resort property, thanks to Couples Sans Souci's mineral pool and natural spring, a rejuvenating natural feature that is guaranteed to squeeze every ounce of sweat from your body.
Couples Sans Souci's tranquil atmosphere and amenities promise you'll leave your destination wedding lighter and less stressed than you arrived!
Our couples have tied the knot at the Private Sunset Beach venue, an intimate part of the property's beach area.
The intimacy of the venue, coupled with the majesty of the ocean, evokes a one-of-a- kind romantic air!
Resort Features:
24/7 room service
7 Bars
5 Restaurants
3 Pools
Located on a quiet and secluded cove.
Rooms have 32-inch flat-screen TVs, MP3 players, and free Wi-Fi.
All units have private furnished balconies.
Truly all-inclusive: free top-shelf booze, Wi-Fi, meals, water sports (including scuba diving), excursions, and airport transportation.
Beautiful native landscapes with waterfalls, grottos, and jungle throughout.
No children allowed (a con for some)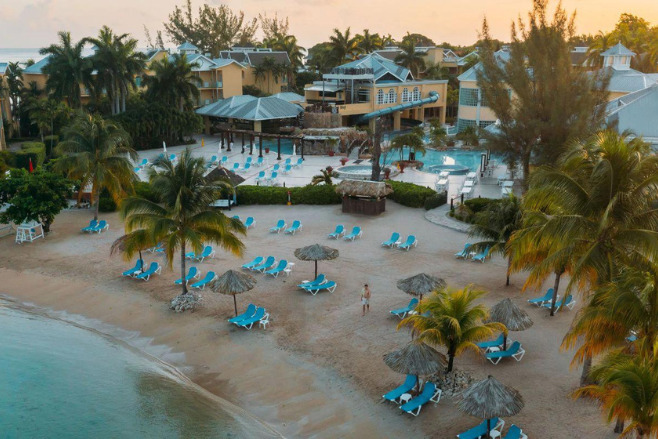 This adults-only haven presents health-conscious wedding couples and their guests with a tranquil getaway of spa services at the Radiant Spa, modern-day fitness centers, and gourmet restaurants focusing on fresh ingredients and healthy dishes.
Jewel Paradise Cove lives up to its 'paradise' title with its gorgeous beachfront, pool concierge services, and its proximity to the beautiful Runaway Bay.
Runaway Bay is just east of Ocho Rios and is a captivating, picturesque utopia. It's a quiet town surrounded by lush foliage, rivers, waterfalls, and beautiful beaches enclosed by a massive tropical coral reef system. This coral reef is home to vibrant undersea life and makes for an amazing snorkeling spot!
Jewel Paradise Cove is an intimate shoreline perfect for saying 'I do' amongst all of Ocho Rios' beauty.
This resort offers a highly affordable wedding package for couples on a budget in the form of their 'Intimate Elegance' offering.
At just $1,275, this package provides extra amenities for couples, like a romantic dinner and couples massage, among other fantastic comforts.
Resort Features:
24/7 room service
6 Bars
7 Restaurants
3 Pools
Dive-In Movies: Enjoy a movie poolside
Night Life: The fun doesn't stop when the sun goes down
Fitness Center- Keep up with your exercise routine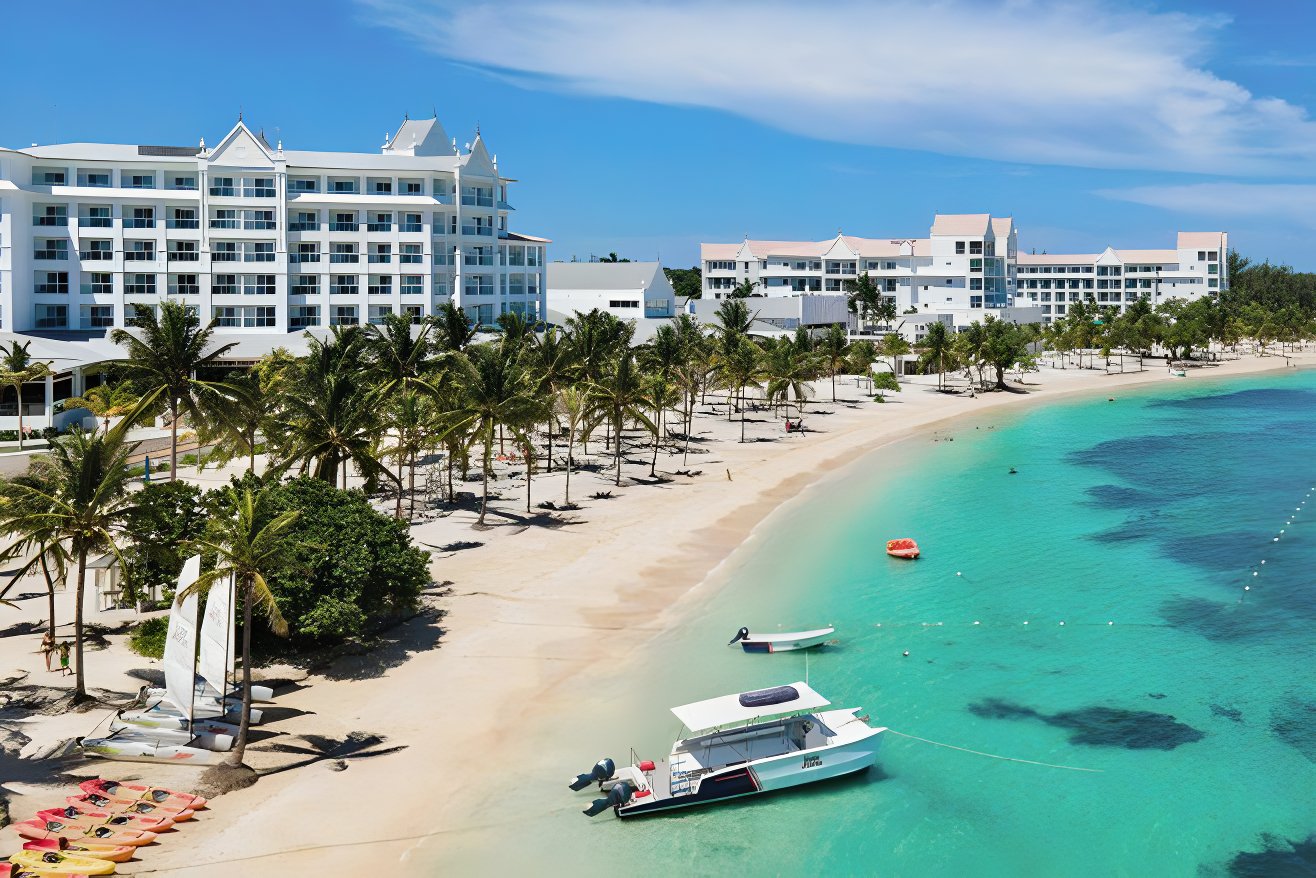 Riu resorts provide our couples affordable wedding packages, all-inclusive accommodations, and stunning views of the beautiful surroundings.
It's hardly surprising that some of our couples' favorite destinations are Riu hotels!
Riu Ocho Rios is one of our premier Riu-partners in Jamaica. The word "Rios" comes from the word "river," which fits like a glove — Riu Ocho Rios is simply overflowing with extravagance!
The resort provides live entertainment, upscale restaurants, an onsite waterpark, an activity center for kids and teenagers, and so much more!
The wedding packages offered by Riu Ocho Rios range from $1,499 to $7,999, making it one of our most versatile locations. You've come to the right place if you're searching for a private, romantic ceremony in a tropical paradise.
Or, if you and your partner want an opulent wedding day with a 4-hour reception, private cocktail events with live music, complimentary spa services, and other decadence tastes, Riu Ocho Rios also has you covered with their 'Indulgence Wedding Package,' starting at $7,999.
Resort Features:
24/7 room service
6 Bars
8 Restaurants
3 Pools
Beautiful beach, less crowded than at many all-inclusives
Free in-room mini-bar includes quality liquor and beer.
10-15 minutes ($5-$10 cab ride) to the attractions in Ocho Rios.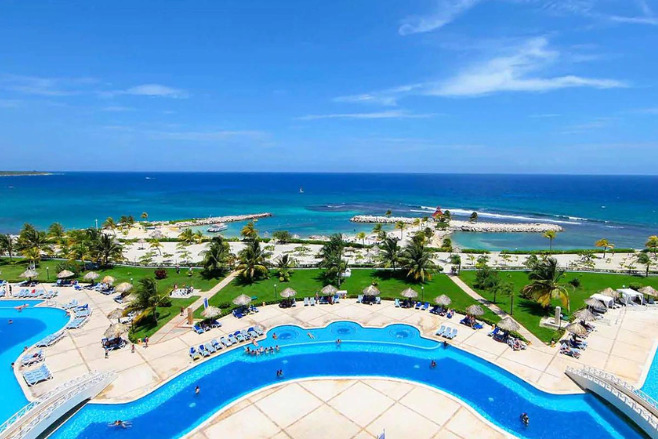 Bahia Principe Grand Jamaica is a vast, family-friendly, truly grand property. It combines authentic Jamaican culture with state-of-the-art, contemporary luxuries.
Some luxury inclusions at this all-inclusive resort include a Kids' activity club, a brand new onsite waterpark, a theater with live performances, over 800 modern suites, 6 gourmet restaurants, and even a free daily hour of either snorkeling, tennis, kayaking, and catamarans.
Bahia Principe Grand Jamaica is another prosperous property that offers highly affordable wedding packages.
Their entry-level 'Sunshine' package starts at $940 and offers a stylish, standard ceremony setup for couples who want to keep their tropical wedding lowkey.
For a little more indulgence, try out the highest-priced package, the 'Emerald' package. This offering starts at $3,760 and comes with inclusions like 1 hour cocktail party with appetizers and drinks after the ceremony, 2 hour open bar after the dinner, live music during the ceremony and in the cocktail, and much more.
Resort Features:
24/7 room service
3 Bars
4 Restaurants
3 Pools
All rooms are spacious junior suites.
All-night dining options.
All-night karaoke bar.
Fantastic pool, among Jamaica's best.
Long, sprawling beachfront (with a seperate nude beach).
Tasty and popular jerk shack.
Book Your Ocho Rios Destination Wedding Today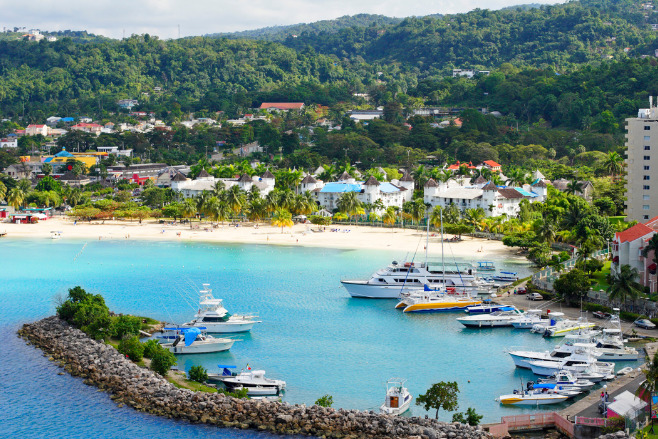 You've explored Ocho Rios, now are you ready to tie the knot in Ocho Rios?