The great thing about hosting a destination wedding reception is that it can be widely different then your typical reception you may host stateside. Of course, you can have the buffet or a plated menu, and the DJ spinning the tunes, but there's much more you can add to your reception if you choose a destination wedding at one of our all-inclusive resorts. Follow below for 5 unique destination wedding reception ideas, along with some of the resorts you could host these ideas at: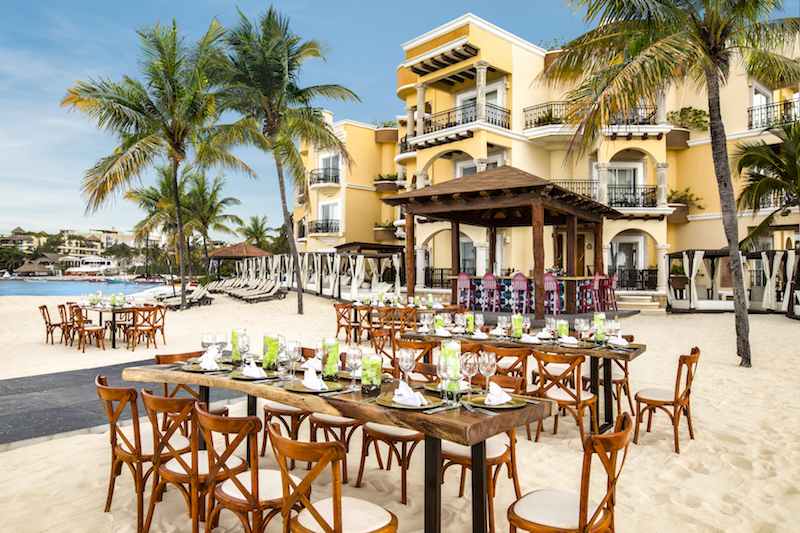 A reception setup at Panama Jack Playa del Carmen.
International Buffets or Cultural Delicacies
Take the wedding food up a notch by drawing on the local surroundings for the menu you'll be serving to guests. In Mexico, you can serve authentic Latin-inspired dishes, with signature meals like a chicken mole or the shrimp and seafood entrees of Puerto Vallarta. Explore what your Caribbean destination could mean for the desserts, like rum cakes in Jamaica or the Dominican Republic, followed by delectable rum shots, of course. Think bold for your unique destination wedding reception.
Late Night Stations and Dessert Bars
After the food has been served, and the dancefloor needs a breather, why not invite the hungry to last call in a most enticing way. Many all-inclusive resorts can now feature taco bars, jerk chicken carts, or delicious dessert buffets that will make the ultimate cameo towards the end of your reception. But the biggest hit of all could be if you purchase an ice cream bar, which guests of any age will enjoy, decked out with all the toppings and flavors your heart desires.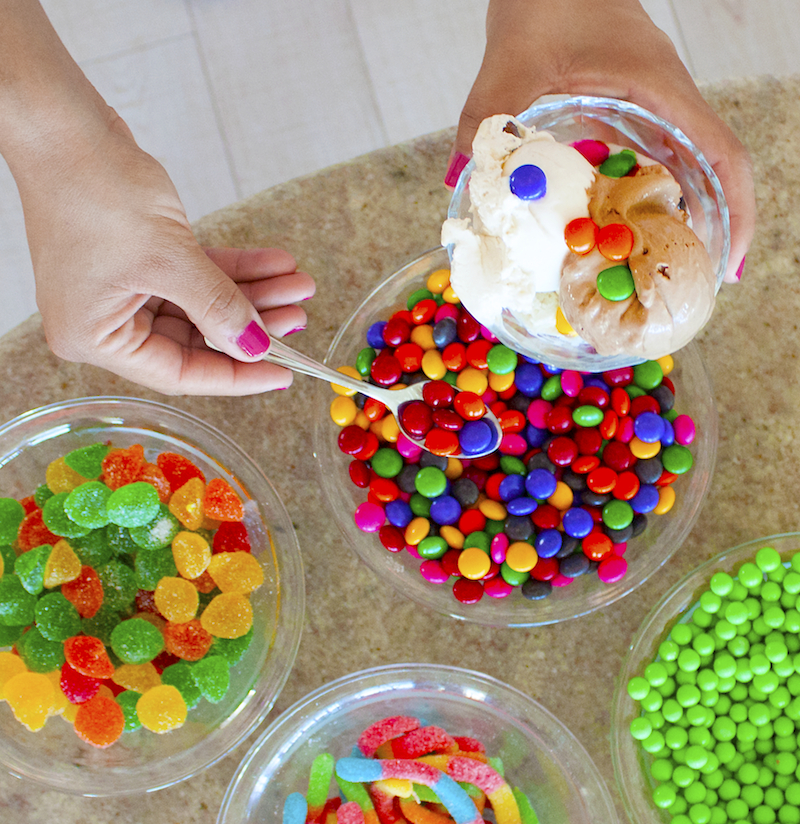 A dessert bar at Playa resorts.
Musical Entertainment
Of course, you can book a DJ who will keep the dancefloor packed throughout your reception, but with all-inclusive resorts, there are more musical options available to you as well. Depending on your destination, you may have access to Caribbean steel-drum bands, mariachi bands, classical orchestra groups, or even guitar-driven ensembles.
Fire-dancers and Wild Hour
Also with our all-inclusive resorts, you'll have the chance to book showstopping groups who will really leave a lasting memory on guests. You can book fire dancers, dressed in full Mayan-inspired getups, who will dance with and swallow fire, putting on a thrilling show for guests. Many of our Caribbean resorts also feature "wild hour" dance troupes. The wild hour is a Caribbean tradition that's meant to inspire energy in your wedding party, and the dancers will come out to authentic music, some on stilts, and will interact with your guests.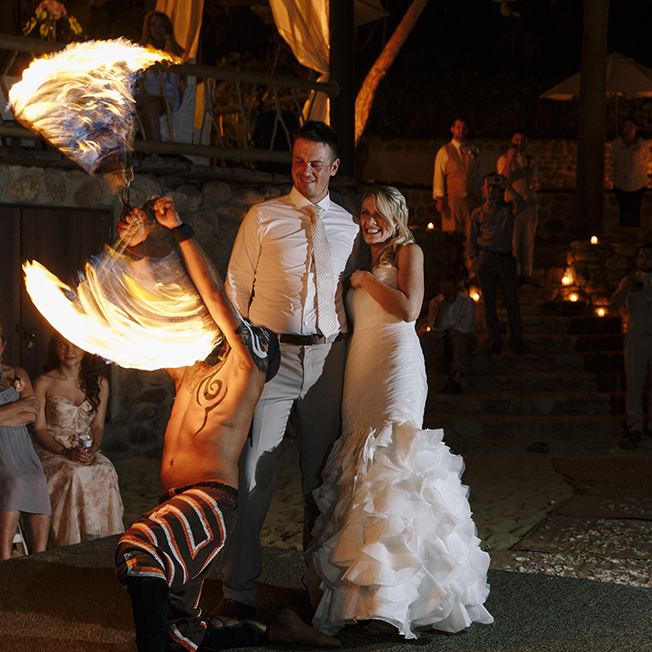 A wedding in Puerto Vallarta.
Fireworks and Cold Fireworks
Depending on your location, a truly unique destination wedding reception idea is to feature fireworks towards the end of the reception. You can order sparklers for your grand exit, forming a unique arch your guests will form as you leave the reception. Or purchase some unique cold-firework sprinklers, which shoot high into the air without being hot to the touch, the perfect wow-factor during your first dance as newlyweds.
Ready to find your perfect wedding location? Click the button below to begin exploring: